As the gateway to Guanacaste, visitors who fly to Liberia International Airport are ones looking to explore the rich coast with its beautiful beaches and rural landscapes. Being a small airport with limited flights, most travelers will have to stay at one of the hotels near Liberia International Airport before they fly out or if they land late at night.
Though Liberia is not as big of a city as San Jose, there are several options if you are in need of an airport hotel. In this post I'm going to breakdown the best hotels near Liberia International Airport so you don't have to!
Disclaimer: There are affiliate links in this post.
Best Hotels Near Liberia International Airport
Tip: Remember that Liberia Airport is about a 10-15 minute drive from Liberia city. Liberia is not as big or a developed city as San Jose so there are not many hotels near Liberia Airport that offer free airport shuttle.
Hilton Garden Inn Liberia Airport
For the closest and most convenient hotel, the Hilton Garden Inn Liberia Airport is the best choice. The hotel is right across from the road to the airport with free shuttle service.
Rooms are modern, clean and come with full bathroom amenities (shampoo, conditioner, soap, body lotion). Enjoy their on-site restaurant with one of the best breakfast buffets we've ever had, large pool, souvenir store, free Wi-Fi, business center or gym.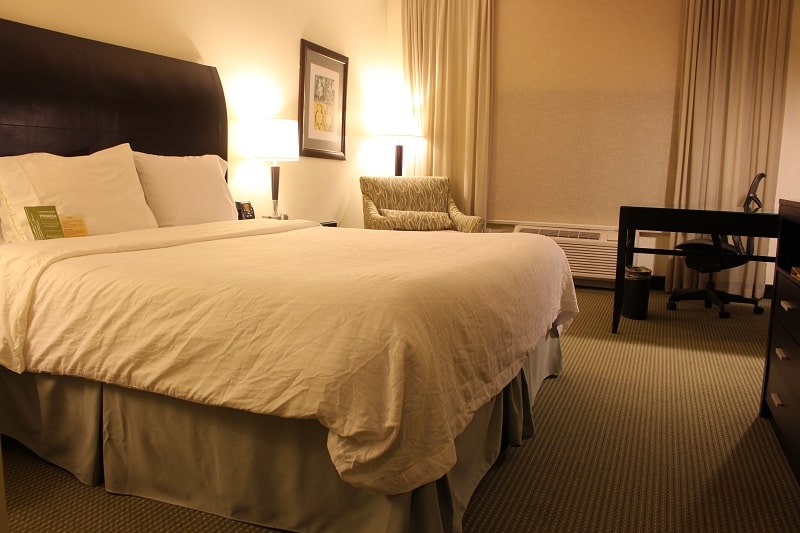 Members of the HHonors program will want to book this 4 reward category Hilton to earn points.
Click here to see the latest prices for the Hilton Garden Inn.
Hotel Santa Ana
The Hotel Santa Ana Liberia Airport is a standard/budget hotel offering basic rooms with hot water, AC, cable and Wi-Fi.
Bathrooms come with basic amenities and the property has services such as an on-site restaurant, laundry service and house keeping.
If you're not looking for anything fancy and just a place to rest your head for the night before your flight out, this hotel is a reasonable wallet friendly option. The location is great for both exploring Liberia the city and getting to the airport as it's five minutes driving in either direction.
Tip: It's about a $15 taxi ride from the airport.
Click here to get the latest prices for Hotel Santa Ana
Hotel Rincon del Llano
This small family operated hotel is only around 5 kilometers from the airport so the location is quite convenient. This is another excellent wallet friendly choice if all you're looking for is a place to rest for the night.
They have a pool, restaurant, AC and a bar. Rooms are spacious with free Wi-Fi.
This hotel does not offer complimentary shuttle service so you will have to take a taxi to get there (around $10-15). It's a tad cheaper than the Hotel Santa Ana but both hotels are purely best if they are used just for transiting to the airport.
Click here to get the latest prices for Hotel Rincon del Llano
Hotel Boyeros
Hotel Boyeros is a reasonably priced hotel about a 15 minute drive from LIR. They have a conference center, restaurant, inner courtyard and pool.
You're close to restaurants and shops in Liberia so the location is convenient. Expect basic but comfortable rooms. The hotel is on the older end but the upkeep and cleanliness is acceptable. This is a better choice for those looking to explore Liberia or just to sleep.
Click here for the latest Hotel Boyeros rates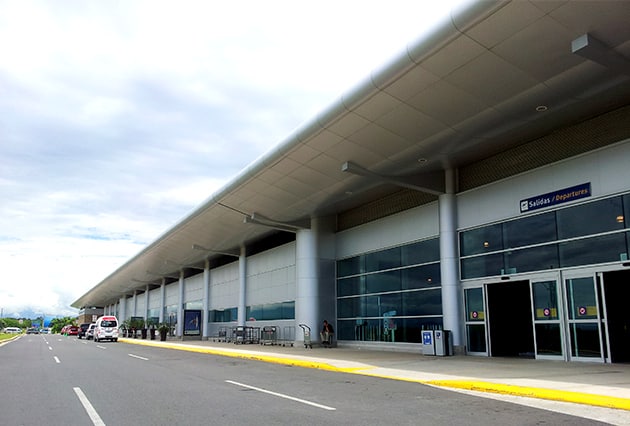 Best Western El Sitio
If you plan to stay in Liberia for a couple of days but still want to be near the airport, the Best Western El Sitio is a top choice. It's located about 15 minutes from LIR driving and is right in town, close to shops, restaurants, the bank and a supermarket.
The best part of this hotel is the pool. It's huge with a section for children. For a standard Best Western, this one is especially great for families. It also has a casino which can be something to do for the adults.
Tip: Make sure you ask for a room towards the back. There is a night club across the street which can get loud in the wee hours of the morning.
Click here to get the latest rates at Best Western El Sitio
Hotel Las Espuelas
This hotel is right off the Pan-American highway in Liberia, you're close to all of the attractions such as Rincon de la Vieja National Park, Palo Verde National Park, Miravalles Volcano and the beaches such as Tamarindo, Conchal, Coco and Hermosa.
The hotel is comfortable and has breakfast included. They have a nice pool area and breakfast buffet is not too shabby with Western and Costa Rican options. Rooms are pretty comfortable and are far away enough from the construction that you won't be bothered by the noise.
Click here to check the latest rates at Las Espuelas
Hotel Guanacaste Lodge
For solo travelers, backpackers or those on a budget, Hotel Guanacaste is the best option. More like a hostel, they offer shared and private rooms with beds as $10 in a dorm. Private ensuites start around $25 for 2 people so it's very wallet friendly for somewhere to sleep for the night.
This hostel is located in the heart of Liberia so you're close to all the city sights, restaurants, food options and stores. There is also a restaurant on site if you don't want to leave the property.
Airport transfers cost $20 and the ride is about 15 minutes.
Click here to get the latest rates on Hotel Guanacaste
Which is the Best Option for You?
This is our list of the best hotels near Liberia International Airport. When it comes down to it, there are not a whole lot of choices but luckily, none of the hotels are super expensive so you won't be splurging on your last (or first) night.
Other Options
Visions Art Center: Art gallery with a few rooms
Another option is to stay at one of the Gulf of Papagayo beaches for your last night. Playas del Coco to Liberia Airport is only a 25 minute drive so if you have a car, then that is a nice option as it is more fun to stay at a beach town than in Liberia to be honest! You can spend your last night watching the sunset on the beach, souvenir shopping and enjoying happy hour.
Need a hotel by San Jose International Airport? Check our list of best hotels by San Jose Airport here. Plus find out what it's like to go through immigration and customs in Costa Rica.