Yeison and I have started Airbnb'ing our way around Costa Rica and it's been a delightful experience. It's the first thing we use when we need to book accommodation now instead of hotels! Our experiences with Airbnbs in Costa Rica have been that great.
And boy, did we luck out with the Monteverde Airbnbs we chose ! It was the reason why our trip to Monteverde was so amazing, no joke. So if you're looking for an Airbnb in Monteverde to give you a rich local experience, this one is excellent. They are perfect for couples like us who don't want to be in town, have a car and want a unique experience.
Airbnb in Monteverde
We spent a long time finding an Airbnb in Monteverde because our first three choices were full (even though we Instant Booked, they cancelled our reservation). However, that worked out for the best for us! We ended up staying at a small house called Las Marias #1 owned by a local family in Monteverde.
Communication was excellent, they emailed us right away to confirm and check in if we needed anything for our trip. We met them at the house to pick up the keys and they showed us around the property. Directions in the house manual were very accurate and the house was easy to find.
Our hosts, Elberth and Alex gave us a bag of San Luis coffee when we arrived as a welcome gift which was so nice. But what it's even better was that when we told them we were huge wildlife lovers and were hoping to get photos of the Resplendant Quetzal during our trip, they didn't hesitate to tell us when and where to go to see them as they were both naturalist guides.
It was awesome to have them as our hosts and we ended up going to Curi-Cancha Reserve and a night walk with them.
The Cabin
The house we rented is one of 3 on a large property about an 8-10 minute drive outside of Santa Elena.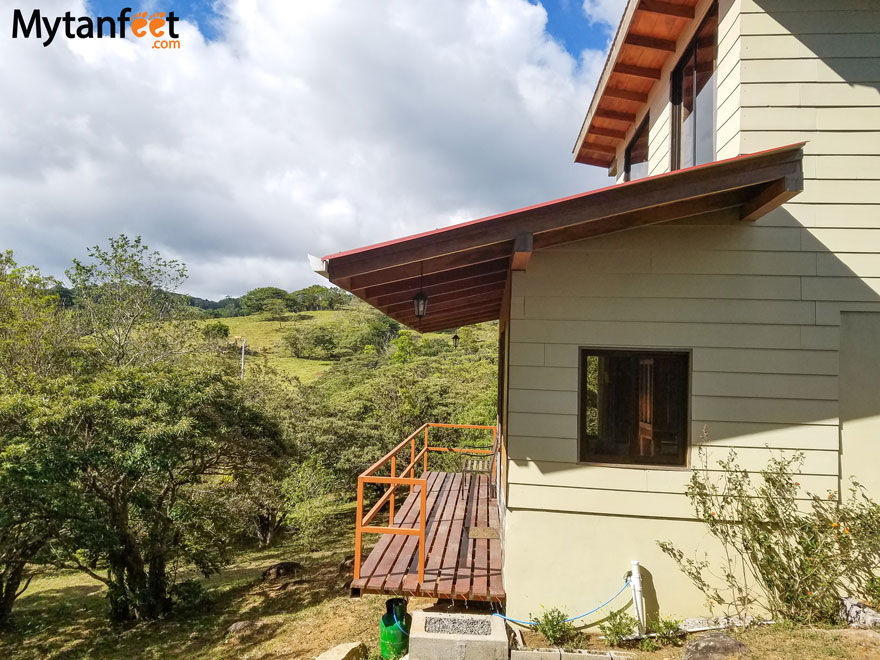 Our cabin had 2 stories, the other 2 houses have 1 story. The top floor is the main bedroom and the bottom floor is the kitchen, bathroom and sitting area. It has a nice view of the surrounding hills where you can see cows and horses roaming around.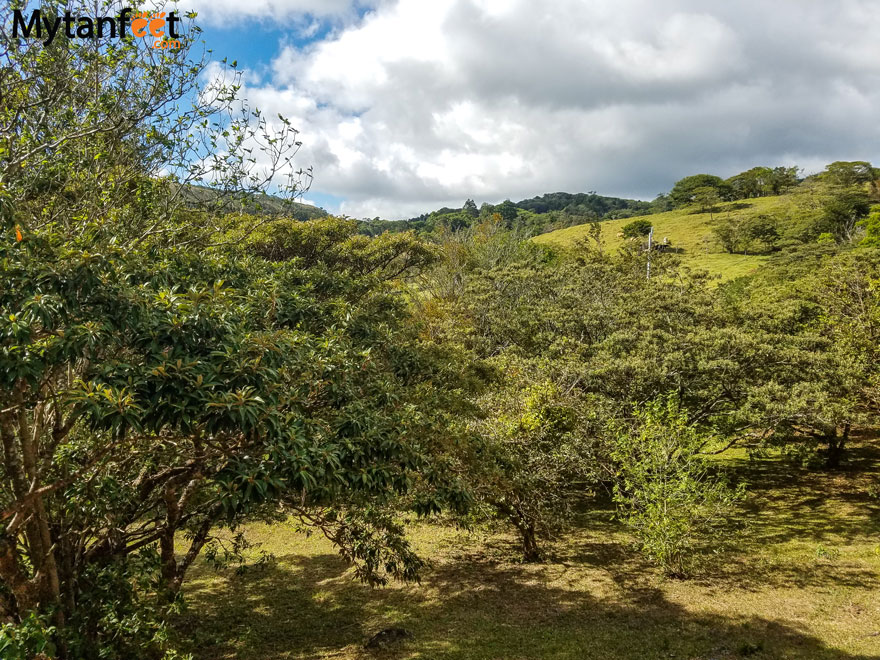 This cabin fit sup to 3 people so it's perfect for couples or a family with one kid. The bed downstairs is a single and the bed upstairs is a full. The kitchen comes fully equipped with everything you need.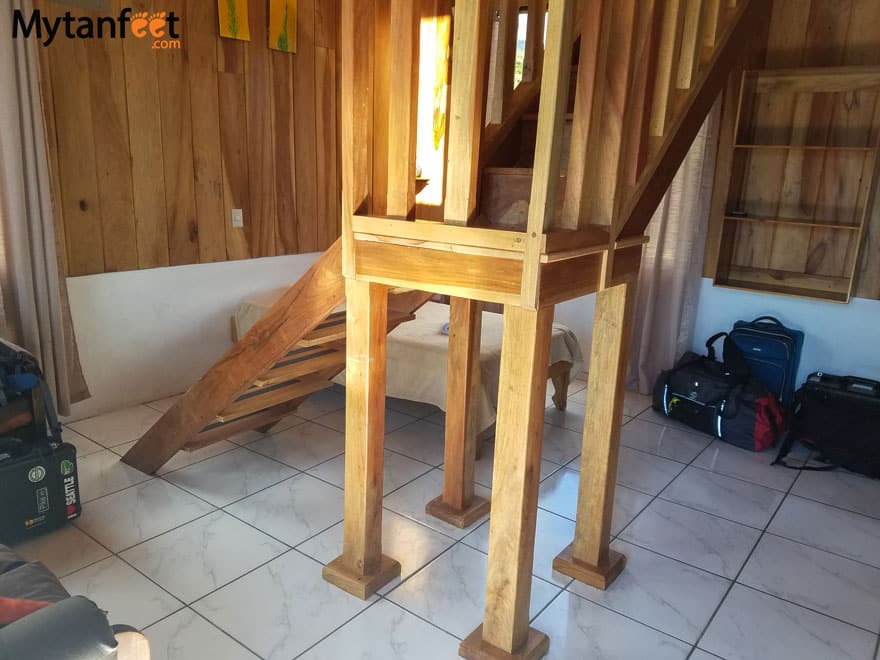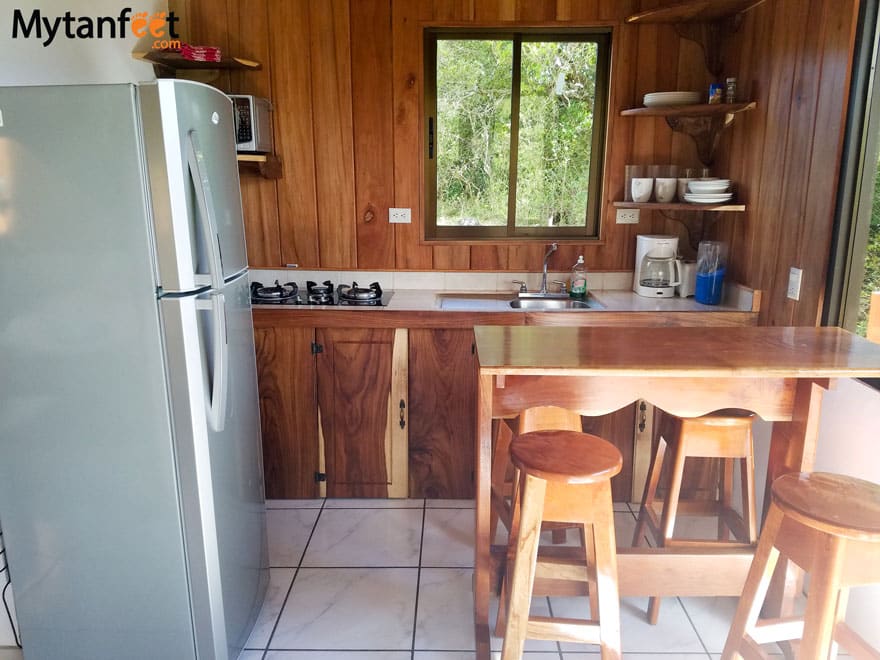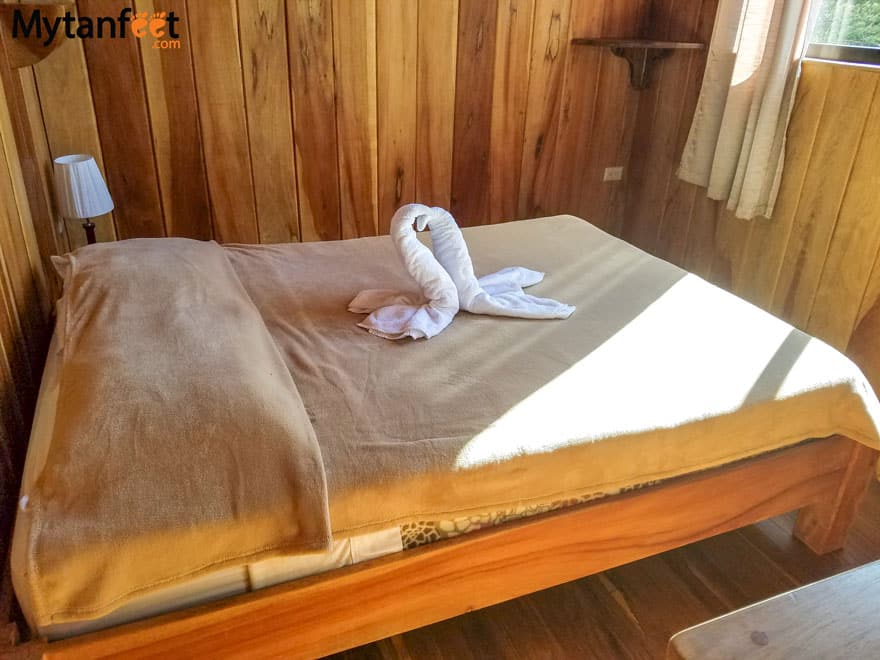 From Santa Elena downtown, the house is no more than a 10 minute drive away. The road is unpaved (like most of Monteverde) but the directions are very clear in the house manual.
We felt very safe and secure at this Airbnb which was a big point for us since we travel with expensive video and camera equipment.
It was incredibly nice to sit on the porch in the morning with a cup of coffee, listening to the birds. We saw rainbow toucans in the trees nearby and were visited by a friendly cat. Elberth and Alex were available whenever we needed something and it was awesome having local naturalist guides as our hosts! I learned so much about Quetzals from them.
We stayed at this Airbnb for 3 nights. We have also stayed at their other house with my parents as it has two bedrooms.
This Airbnb is also dog friendly! We visited again in 2021 with our two pups and they absolutely loved it since they had a ton of space to run around.
Tips for Using Airbnb in Monteverde
First time using Airbnb? No problem! Read our guide to using Airbnb in Costa Rica so you are prepared.
For some reason, Airbnb was a bit harder for me to book in Monteverde than other places in Costa Rica. I don't know if it's because it's still new to locals but I tried to book 3 different places using Instant Book and each host wrote back to me that it was not available because they forgot to update the calendar. So make sure you have at least 3 options!
Make sure to look carefully on the map where the Airbnb is. Remember, Monteverde is the name of the entire area, Santa Elena is the main town and Cerro Plano is the smaller town. So if you want to be close to town, find something close to Santa Elena. Read our guide to visiting Monteverde.
You'll need a car to most of the Monteverde Airbnbs as they are fairly spread out. You can walk but since the neighborhoods around Monteverde are kind of rural (really unpaved roads, not many street lights, no sidewalks), I don't recommend walking at night.
Both of these Airbnbs require a 4×4, but it is recommended to rent a 4×4 for Monteverde.
Bring your own bathroom products as most Airbnbs in Costa Rica don't provide any (and look on the listing features to check).
Use Waze for GPS. Some listings had directions, some didn't. Even at Toucan Paradise, we got lost using Google Maps. Waze is the best.
This is the listing for Las Marias #1. There are 2 other houses on Las Marias if that one is booked.
Visiting Arenal? Check out this Arenal Airbnb perfect for families!