Located in the Nicoya Peninsula, Playa Hermosa is one of the many beautiful beaches near the bustling surf town of Santa Teresa. It is also a great surfing beach so you won't have to go far to catch waves and there are a handful of lodging and food options.
Since it's about a 15 minute drive to the town center, Playa Hermosa is the ideal beach to stay for those who are looking for a quieter beach vacation.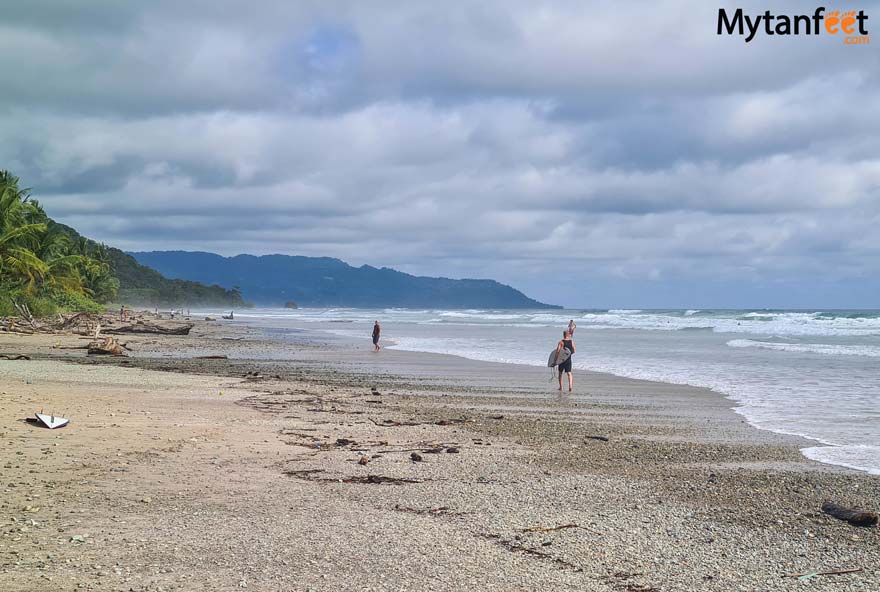 How to Get to Playa Hermosa (Santa Teresa)
There are several ways to get to Playa Hermosa, Santa Teresa.
From San Jose International Airport, you can take the public bus, book a shared or private shuttle, rent a car and drive or take a domestic flight to Tambor and then taxi/drive to Playa Hermosa. A private shuttle from SJO Airport to Playa Hermosa is around $290 USD per way up to 8 passengers.
The most popular way to get to Playa Hermosa, Santa Teresa from San Jose International Airport is by taking the Puntarenas ferry for those who are driving. You'll drive to Puntarenas, take the ferry across the Gulf of Nicoya, get off at Paquera and then drive about 1.5 hours to Playa Hermosa.
The faster way would be to take a domestic flight from SJO Airport to Tambor with Green Airways and then pick up your rental car or grab a taxi.
However, if you are staying in Playa Hermosa, it is highly recommended to rent a car in order to get around. There are taxis in Santa Teresa (no Ubers) but as this area is still more remote, having your own transportation is best. Furthermore, a high car is required (4wd/4×4 or 4×2 SUV) due to the road conditions.
If you fly into Guanacaste (Liberia) International Airport, you can drive or book a shared or private shuttle. A private shuttle from LIR Airport to Playa Hermosa (Santa Teresa) is around $260 USD per way up to 8 passengers. There are no direct public buses from Liberia to Santa Teresa.
If you'd like a private shuttle service, please contact us to help you book the transfer.
What to do in Playa Hermosa
Surf
Besides long beach walks and relaxing at your hotel's pool, the most popular attraction of Playa Hermosa is the surf.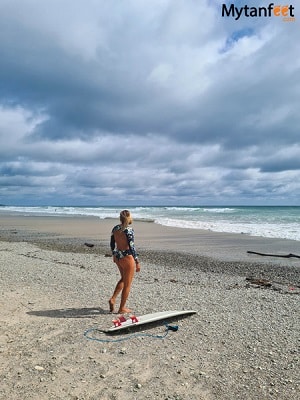 The beach is excellent for lessons and there are surf shops everywhere in Santa Teresa to sign up for one. Many hotels also offer surf lessons and board rentals.
Surf lessons cost around $60 USD per person for a group lesson. Private lessons are also available starting at $80 USD per person.
You can also rent boards starting around $10 USD for half a day. Boogie boards are also available for rent starting at $5 USD.
Beach Hop
Playa Hermosa isn't the only beautiful beach around. You can drive all along the Nicoya Peninsula to see beautiful beaches! Playa Carmen and Playa Santa Teresa are obviously a must but we also love Playa Los Suecos (Playa Cuevas) in Mal Pais and Playa Mar Azul.
ATV Tour
You can book an ATV tour that will go up and around the mountains and viewpoints. Some companies like Savannah ATV Tours also combine it with a ziplining tour or waterfalls.
Watch the Sunset on the Beach
No explanation as to why this is a must do in Santa Teresa. With unobstructed horizon views, watching the sunset on the beach is something you won't want to miss!
Yoga Class
Santa Teresa is a top yogi destination in Costa Rica and you can find yoga classes throughout town. Pranamar Villas offers yoga classes everyday at 10 AM for $15 per person for 1 class.
Visit Montezuma
The cute little town on the other side of the Nicoya Peninsula is a great place for a day trip. Montezuma is about a 45 minute drive away. You can hike to the Montezuma waterfall, bathe in the tidepools, walk along the beaches or have a great local meal with an ocean view at Soda Tipica Las Palmeras.
Where to Stay in Playa Hermosa (Santa Teresa)
There are a handful of hotels and vacation rentals in Playa Hermosa proper. We stayed at Lua Villas, which had very nice fully furnished apartments. It was just a 10 minute walk to the beach with a nice pool.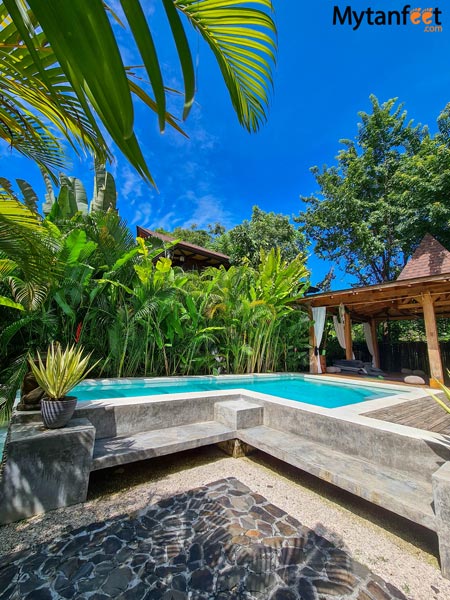 Other recommended places are Zopilote Surf Camp, Rancho Cielo and El Chante Surf House.
You can also check out Airbnb or VRBO for options.
What to Eat in Playa Hermosa Santa Teresa
In Santa Teresa, we really enjoyed Zula for hummus and wraps, Drift for vegan food, The Bakery, Product C for fish tacos/sandwiches, Somos Cafe for breakfast/lunch and Eat Street for a food court style experience.
Staying in Playa Hermosa vs Closer to Santa Teresa Center
I recommend to stay in Playa Hermosa if you want to be away from all the hustle and bustle of Santa Teresa.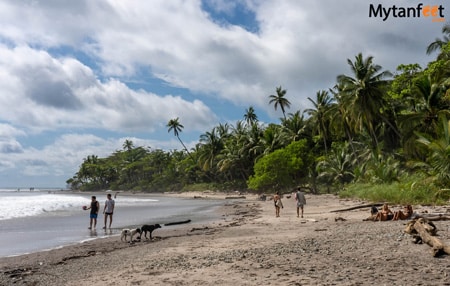 Santa Teresa does become a party town at night and Playa Hermosa is very quiet, further away from the action.
Playa Hermosa is kind of known as the "Beverly Hills" of Santa Teresa so you will see lots of really nice, big ocean view houses and mansions.
For this reason, we do recommend to rent a car if you're staying in Playa Hermosa. That way you can easily get to and from the town and to explore the area.
The road to Playa Hermosa is not in good condition so a car with high clearance will be necessary.
If you would rather not rent a car and want to be walking distance to everything, then you should stay closer to Playa Carmen and in the town center.
We had a car and wanted to be in walking distance to the surf. Staying at Lua Villas in Playa Hermosa was great for us. It was quiet, the apartment was really nice, it was a short walk to surf and the beach was beautiful.
The downside was that we visited in September, during the peak of rainy season. It rained very hard for two nights. We didn't want to drive all the way into town so we ordered food which took 1.5 hours. It was storming so it was worth it and the delivery guy came on his motorcycle.
Other than that, we loved our stay at Playa Hermosa and we will probably go back again.
Another option if you want a similar experience in Santa Teresa is to stay in Mal Pais. You're a bit closer to the town center and the road isn't as bad as Playa Hermosa.