Although Monteverde is a popular touristic destination in Costa Rica, it's still not very developed and maintains a rural mountain feeling. However, the infrastructure has grown enough that there are a good amount of restaurants, souvenir stores and hotels to accommodate all types of travelers.
When it comes to hotels, most of them are lodges, inns and boutique B&B's but if you are the kind of traveler who prefers convenience and all amenities, there is one hotel in particular that has that, Hotel Poco a Poco.
We stayed at this hotel for 3 nights in July and you can read our review below.
Hotel Poco a Poco Monteverde
Location
One of the best things about this hotel is the location. It's a 1 minute drive to downtown Santa Elena or a 10 minute walk.
It's right across the street from the Monteverde shopping plaza that has a large supermarket, a few restaurants, the bus station and clothing stores.
Property
Hotel Poco a Poco's property is not big and they are constantly expanding (hence the name, little by little). The hotel started off with just a few rooms and grew to have 30 different rooms.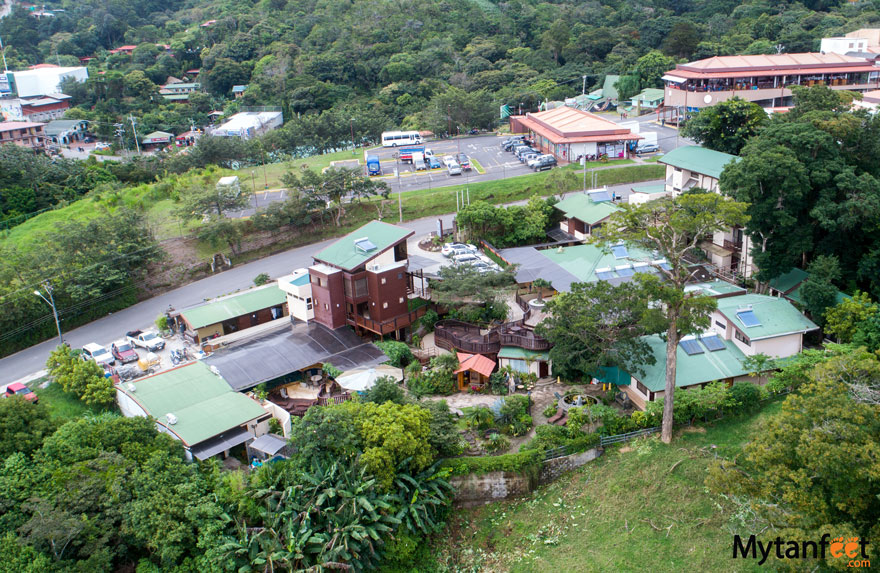 They have an on-site restaurant, heated pool and Jacuzzi and a small garden area. Their property is very handicap friendly with wheelchair ramps and many accessible rooms. Due to their location and the type of amenities, the hotel is built with a city hotel concept in mind.
This means it caters more towards travelers who wish to have all the services and amenities one would find in a city hotel but in a rustic mountain area.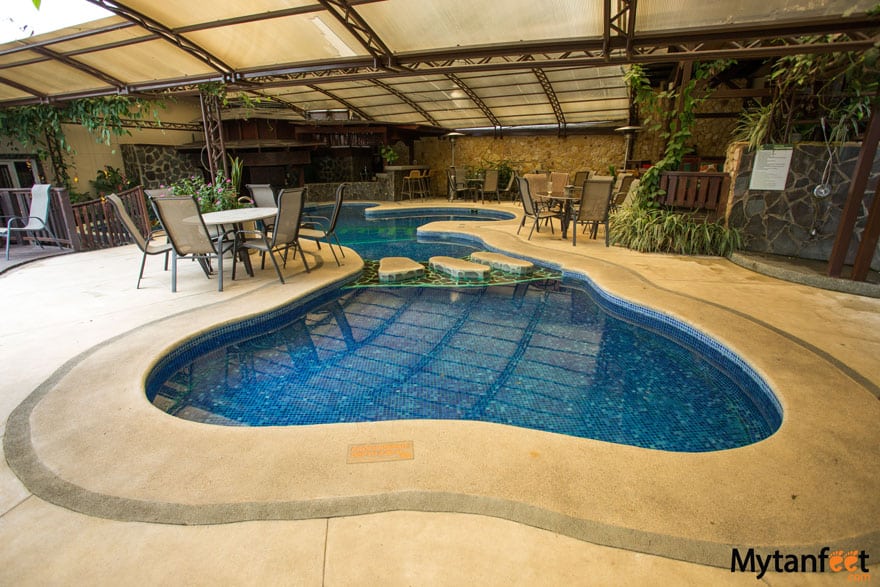 The pool area is actually fairly big and they also have a heated Jaccuzi. Right next to the pool area is a game/chill room with a large TV, sitting area and books.
Another point about the city hotel concept is that the lobby and restaurant has crazy fast Internet. In fact, it has the fastest Internet we have ever encountered in Costa Rica with a solid 30 Mbps up and down. Not all of the rooms get good Internet however, it's mainly in the lobby and restaurant public area but we were amazed by how good their Internet was, especially for an area like Monteverde!
Restaurant
We ate at the hotel once for lunch and the food is delicious. Prices aren't outrageously expensive and the food was fresh and flavorful. I had sea bass with vegetables and wild rice and Yeison had chicken cordon bleu.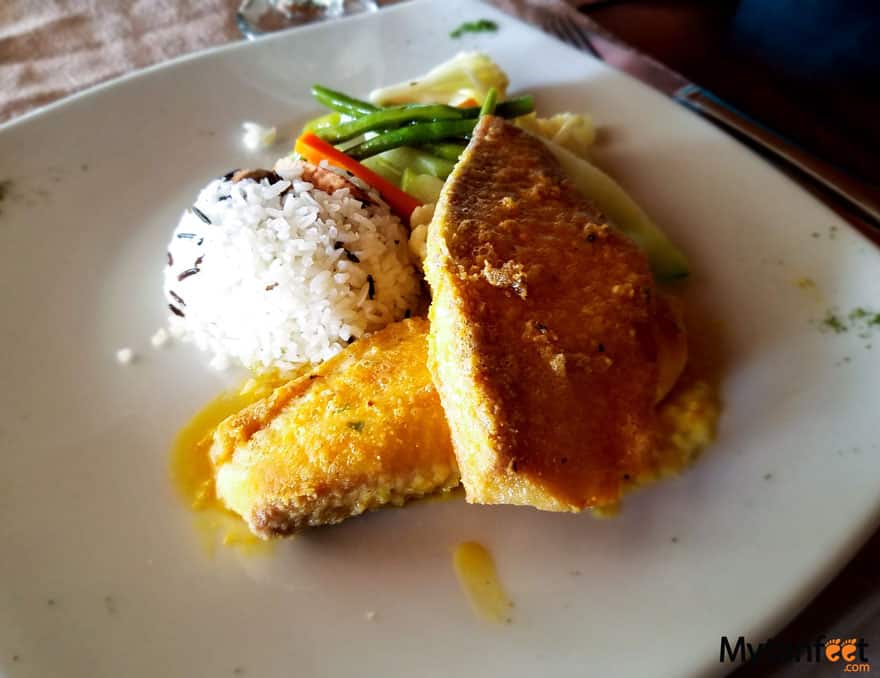 They have a full bar and live music on certain nights at the restaurant.
Rooms
They have a variety of standard rooms from singles to quadruples in different locations on the property. The most basic and cheapest one are the Bromeliads on the ground floor near the restaurant.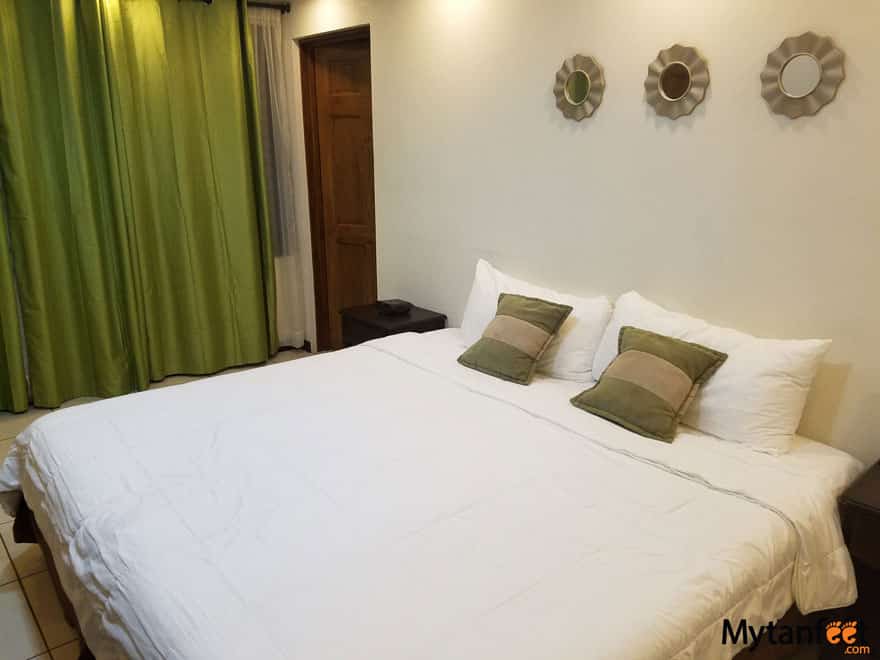 These are the simplest rooms but has everything you need – flat screen TV and nice bathroom.
Then you have superior rooms, the Quetzal, family room and garden superior which have views and in a more private area.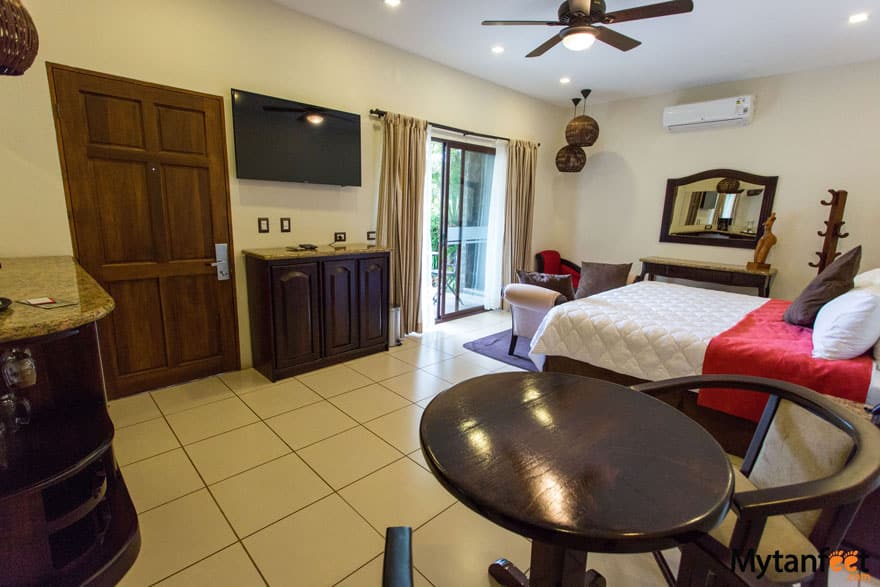 The only room with air conditioning is the garden superior but the hotel is remodeling to add more rooms with air conditioning. It seems unnecessary since Monteverde is so high in elevation but there are some times of the year (dry season months) that it's hot enough and guests do ask for it. This is another point to the city hotel concept – having all of the conveniences which includes air conditioning.
Our Thoughts
We stayed one night in the Bromeliad room and 2 in the garden superior. The bromeliad room is considerably louder and noisier since you're right next to the restaurant and people have to walk past it to reach the upper superior rooms. Internet didn't fully reach to that room either. But the bed was comfortable, it was very clean and the bathroom/shower was really nice.
The garden superior room is definitely for couples who want more privacy since that room also comes with its own private outdoor hot tub and isn't near any of the other rooms at all. It also has a mini-fridge and table so it's a good option for those who want a bit of luxury during their stay in Monteverde.
Hotel Poco a Poco isn't the cheapest option for hotels in Monteverde, but it is an excellent one for those who want convenience and comfort since they have very fast Internet, heated pools, excellent food, options for rooms with AC and a very convenient location. The service is also great, the front desk was very nice and fast!
Something very important to keep in mind is that this hotel is occasionally under construction since they are expanding little at a time.

You can check the Hotel Poco a Poco Monteverde website for more information or to book a room.
We were sponsored by the hotel but all thoughts and opinions are our own.