When it comes to unique experiences and places in Costa Rica, Curubande de Liberia is one of them. This tiny town near the Rincon de la Vieja National Park may not seem like much at first glance, but it offers plenty when it comes to adventure and nature. It's also one of the best places in Costa Rica to experience rural tourism and support local families.
This is due to the spectacular rivers that originate from the Rincon de la Vieja Volcano and run through Curubande and the privately owned farms. These rivers, particularly the Rio Blanco, create the perfect off the beaten path outdoor playground with its waterfalls, river pools and small rapids.
If you're staying on the Guanacaste coast and looking for something different than the beach, Curubande is one of the best places for a day trip from Liberia, Tamarindo, Playas del Coco, Ocotal, Papagayo Peninsula, Flamingo, Conchal, Avellanas and La Cruz.
In this post, we'll help you plan the perfect day trip to Curubande with our personal tips and recommendations.
How to Get to Curubande de Liberia
The best way to get to Curubande is by car because it's a very small community. None of the private adventure parks or Rincon de la Vieja National Park have a direct public bus.
Liberia International Airport to Curubande is only a 40 minute drive (26 kilometers or16 miles). From Liberia downtown, it is about a 20 minute drive. From Liberia, you'll take the Interamericana highway 1 north and then turn right off this highway to Curubande.
Curubande is about a 1 hour and 45 minute drive from Tamarindo and a 1 hour drive from Playas del Coco.
If you are staying at one of the hotels in Curubande, there are private and shared shuttles available.
4×4 required?
It depends on where you are going in Curubande. The road from Liberia to Curubande is completely paved. If you're staying at hotels like Hacienda Guachipelin or Cañon de la Vieja Lodge, you don't need a 4×4 as they're off the main road. You'll see a photo of the main road going through Curubande in the "The Town" section below that it's nicely paved.
However, if you're visiting one of the small private farms, it is required to have a 4wd/4×4, especially in rainy season since those are off the main roads.
Curubande de Liberia Town
Curubande is a tiny town with only about 3000 year round inhabitants. There is a small town center with a couple restaurants, convenience stores and the main park. If you need to get water or snacks, we usually stop at the Mini Super & Licorera Rincon de la Vieja (Supermercado Guevara).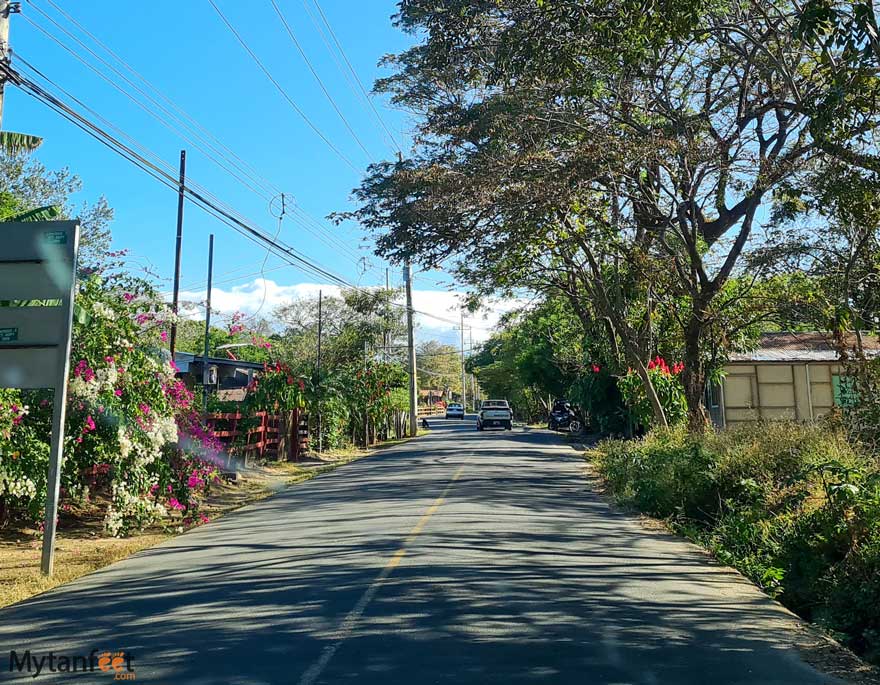 Along the road, you'll see lots of local houses around. It's a great way to see what the small rural farming towns in Guanacaste are like.
Curubande Weather
Being in the Guanacaste province, Curubande is very hot and experiences typical tropical climate with dry and rainy seasons. This area is home to tropical dry forest thanks to the arid climate.
In the dry season months of December – April, temperatures range from 85 to 96 F (29 C to 36 C) during the day with March and April as the hottest months. Rainy season which is May – November has similar temperatures but with more humidity. October is generally the rainiest month.
Things to Do in Curubande de Liberia
Thanks to the Rincon de la Vieja volcano, there are a plethora of fun outdoor activities in Curubande. The most popular things to do in Curubande are hot springs, hiking and waterfalls. Below are our recommendations for best things to do in Curubande.
Rincon de la Vieja National Park
Rincon de la Vieja National Park is one of our favorite national parks in Costa Rica. It has two sections: Las Pailas and Santa Maria sector, both of which offer excellent hiking.
Las Pailas sector: This sector is best for those looking for an easy hike. The 1 kilometer trail goes around the "boiling mud pots" where visitors can see the boiling and bubbling hot mud that comes directly from the volcano! There is also a seasonal waterfall (but January – April it's like a trickle).
Catarata La Cangreja: This is one of our favorite waterfall hikes in Costa Rica. It is about 8 kilometers total (5 miles) through the tropical dry forest, ending at a small but stunning turquoise color waterfall. Also in Las Pailas Sector.
Rad about Las Pailas and Catarata La Cangreja in our Rincon de la Vieja National Park post.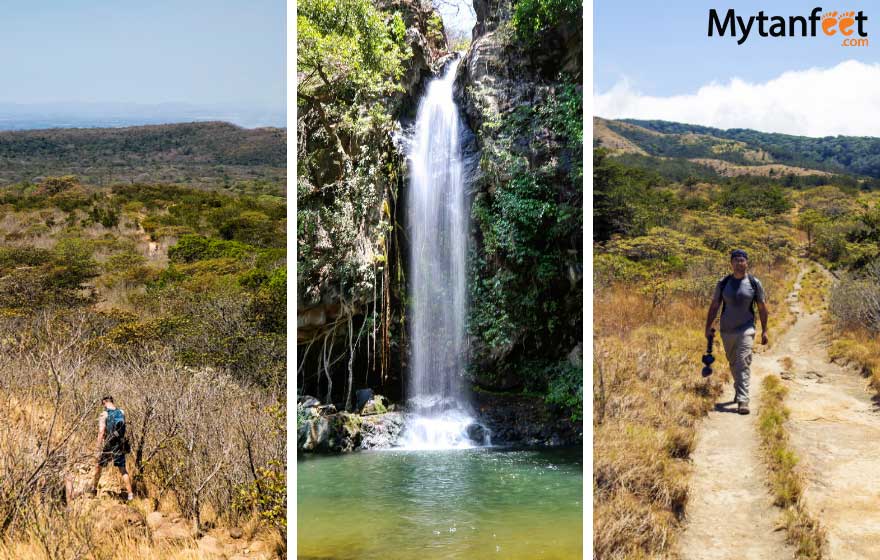 In the Santa Maria sector, there is a really nice hike that goes to some natural pools where you can take a dip.
Catarata La Leona and Rio Blanco
If you're looking for an exciting waterfall hike, then a visit to Catarata La Leona is a MUST. This is definitely an activity for adventurers and those in good shape only as you have to cross rivers, swim and climb through canyons and hike on natural paths and rocks.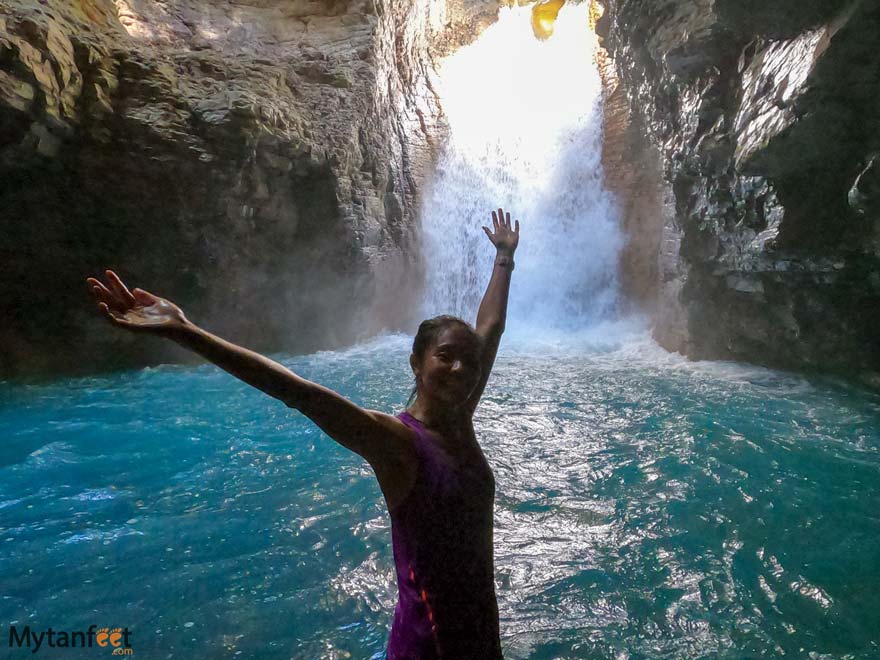 This river has a spectacular blue color due to the sulfur in the water as it originates from the volcano. It is so beautiful!
Catarata La Leona (click the link to read about it and watch our video) is definitely one of the most adventurous and natural hikes we've done in Costa Rica.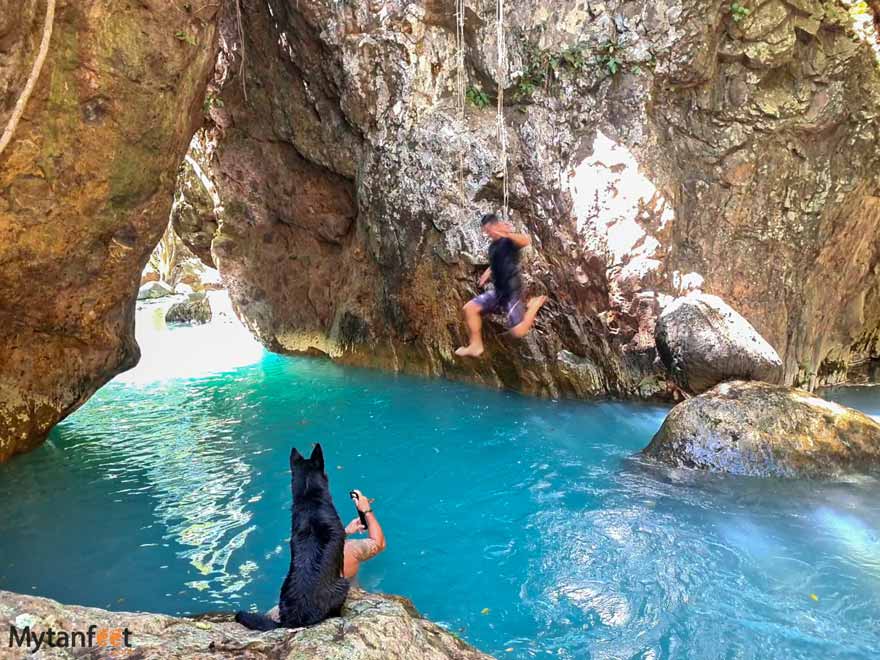 We highly recommend it for anyone looking for a more adventurous outdoor adventure. The blue river is absolutely beautiful to see!
Pozas (Natural River Pools)
Although the two main rivers, the Rio Colorado and Rio Blanco run through the private properties and adventure parks, there are a couple of public pools that anyone can go to. Rio Blanco has a gorgeous blue color as you can see in the photo below.
There are pools like Poza La Pipa, Pozas Los Coyotes and the Finca Don Rafas also has natural pools (for an entrance fee).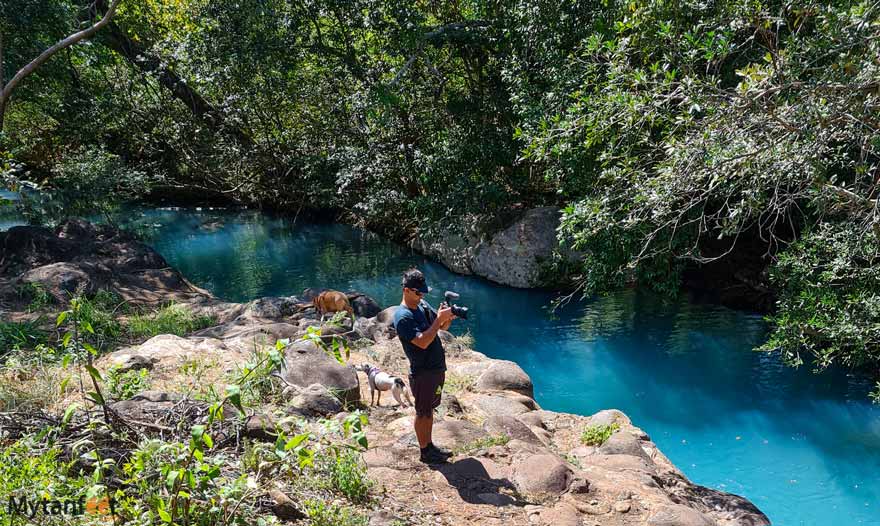 Waterfalls
There are a handful of nice waterfalls you can visit in Curubande. A popular one is the Catarata Oropendola, located in between Hacienda Guachipelin and Rincon de la Vieja National Park. This one is easily accessible and is a 5 minute walk from the parking lot. It's small, but beautiful.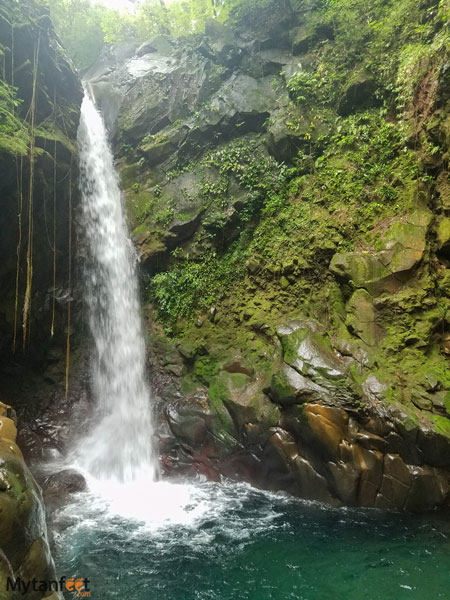 Do be careful if you decide to go in the water because in rainy season, the current can get very strong and there can be flash floods. They don't recommend people to swim in the waterfall for these reasons.
Hacienda Guachipelin also has other waterfalls such as the Los Chorros which have a bright blue color. These ones are smaller and you can jump off of them. They offer those as part of a horseback riding tour or a hike.
Adventure Parks
There are several lodges with their own adventure park on the property. These lodges used to be cow and horse farms back in the day, but when the families discovered they could also make a living from tourism since they had many natural attractions surrounding the river and volcano, they converted their farms into adventure parks and lodges.
Anyone can visit these lodges for a day excursion, you don't have to be a guest at their hotel.
The most popular ones are Buena Vista Lodge and Hacienda Guachipelin. Both offer similar activities such as ziplining, horseback riding, hot springs and mud baths. Buena Vista Lodge also offers a 400 meter waterslide through the forest. Guachipelin has the most activities out of all the lodges with mountain biking trails, a spa, white water tubing, waterfalls and canyoning.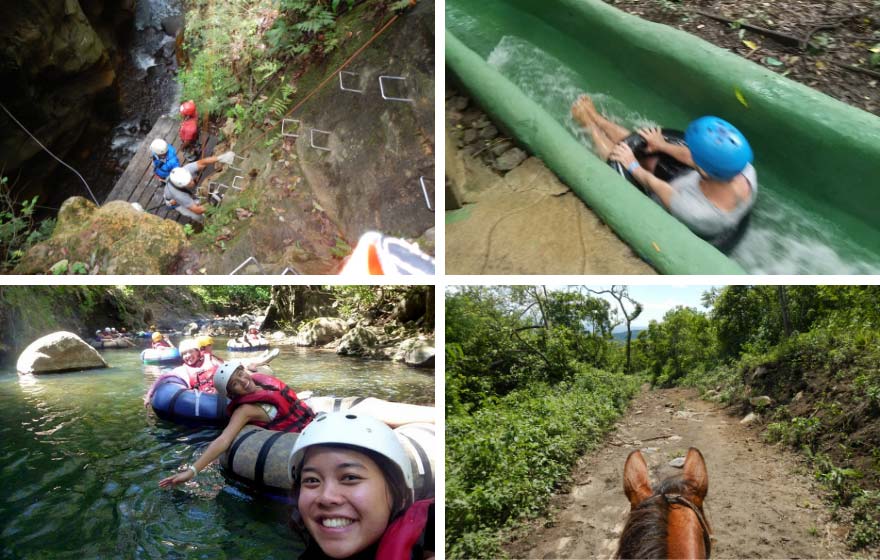 Other adventure parks in Curubande are Cañon de la Vieja Lodge and Vandara. We really liked Vandara with their waterslide and hot springs. Get 10% off your Vandara Passes here!
Mud Baths and Hot Springs
Speaking of the adventure parks, they all also offer mud baths and hot springs on their property. Even though it seems like it'd be way too hot for hot springs, it's actually quite comfortable around dusk.
It's a ton of fun to paint yourself full of volcanic mud, let it dry off and then wash off in the refreshing river water. They say the volcanic mud is very good for your skin and you'll feel all soft and smooth afterwards!
We really like the Guachipelin hot springs since they are right next to the river and feel more natural but they're all great. Guachipelin does have a dedicated spa so if you're looking for a day of relaxation, this is a good one!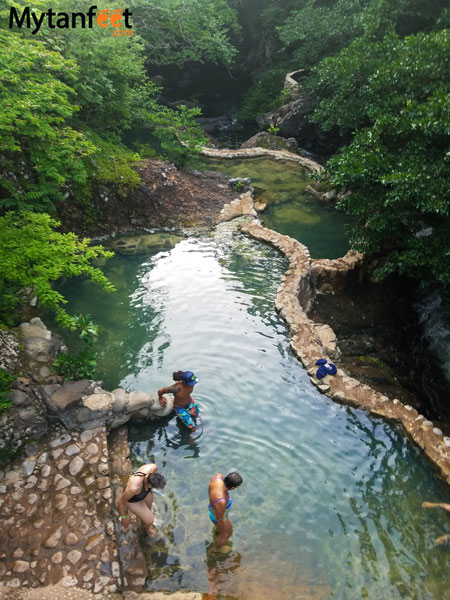 Curubande de Liberia Hotels
If you wish to stay a night or two in Curubande, there are a few nice lodges in the area. These are all modest lodges with similar set ups: Hacienda Guachipelin, Buena Vista Lodge, Cañon de la Vieja.
Curubande Restaurants
There aren't many places to eat in Curubande but there are a couple of local restaurants called sodas. There is Soda Curubande which is the most popular in town and you can get a decent Costa Rican meal and drinks there.
Plan Your Day Trip to Curubande!
For a day trip (adventure): the one day adventure combo tours at the private adventure parks give you the most bang for your buck if you're looking for a fun outdoor activity.
Hacienda Guachipelin's one day adventure combo tour includes ziplining, horseback riding, white water tubing, lunch, mud baths and hot springs. Vandara and Buena Vista include ziplining, horseback riding, waterslide, lunch, hot springs and mud baths.
For hiking: The Catarata La Cangreja hike in the Rincon de la Vieja National Park is our favorite. If you aren't able to walk that long, the Las Pailas is really interesting and a super easy walk.
For hike + adventure + river: Definitely Catarata La Leona!
If you're interested, please feel free to contact us and we can help you book tours!
There are affiliate links in this post.