Planning on visiting Guanacaste and only have a few days? Check out our sample 5 day Guanacaste itinerary! If you're visiting Costa Rica for a quick visit and your goal is to relax, see beautiful beaches and go on an adventure, Guanacaste is a top destination. As Guanacaste is well known for its beautiful beaches and ocean activities, this itinerary is written for those looking for a beach vacation.
Additionally, this Guanacaste itinerary has one home base which is best option in order to maximize the time you have in Costa Rica.
How to get around this Guanacaste itinerary

You don't necessarily need to rent a car for this itinerary if you plan to stay in the main towns of Playas del Coco, Flamingo, Samara or Tamarindo. In that case, booking shuttles and tours is fine. However if you want to explore, then renting a car is a must.
We offer discounts for Mytanfeet readers for car rentals. Click to get your Costa Rica car rental discount.
Where to stay in Guanacaste

As this province is very big, many people have a hard time trying to figure out where to stay in Guanacaste. First, you need to know that Guanacaste is known as a beach destination so most people stay at the coasts. Second, there are 4 main areas that visitors like to go to. The areas are Gulf of Papagayo, Tamarindo, Conchal/Brasilito/Flamingo and Samara/Nosara.
Gulf of Papagayo
I created a map of the Gulf of Papagayo area for tourists. You'll see the different beaches, hotel and restaurant recommendations and activities. You can read more information below.
The Gulf of Papagayo is an excellent option if you don't want to travel far. These are the beaches of Playas del Coco, Playa Hermosa, Playa Panama, Playa Ocotal and Bahia Pez Vela. They are about a 25-35 minute drive from Liberia Airport. You can take a private shuttle, the public bus or rent a car.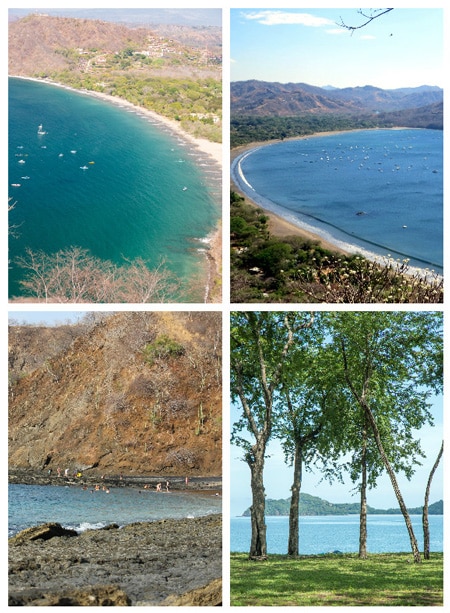 If you want to stay in a town, Playas del Coco is your best option. But if you want to stay in a quieter beach area, any of the other surrounding beaches are great. These are not surfing beaches and are best for those who like to snorkel/scuba dive, fish and relax. If you stay at Hermosa, Ocotal or Panama, we do recommend renting a car since those beaches don't really have a downtown. They only have a few hotels on the beach and small restaurants in walking distance.
You can also stay at the high end hotels and all-inclusive resorts in the Gulf of Papagayo, which is around a 30 minute drive. These are Planet Hollywood, Andaz, Four Seasons, Riu Guanacaste, Occidental Grand Papagayo and Secrets.
Here are some other hotel recommendations.
Tamarindo
Tamarindo is a very lively surfing beach town. It's the biggest in the area with a few condo towers, several hotels and restaurants on the beach and is home to music festivals and big parties during the holidays.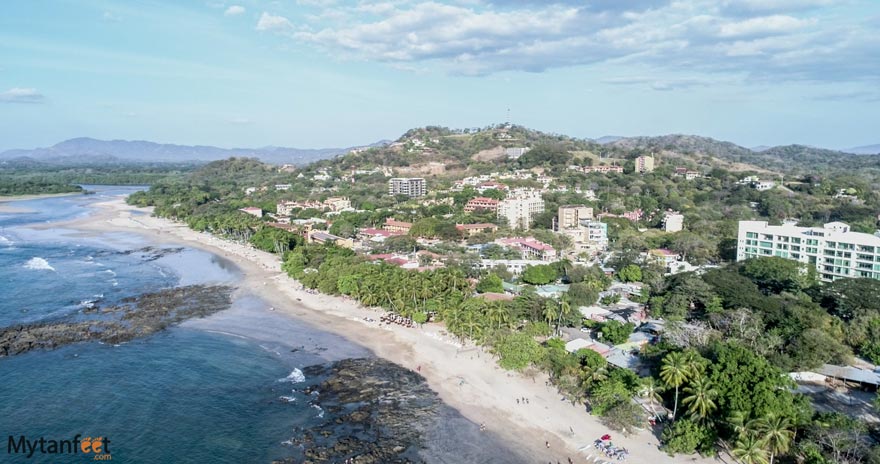 You can find a lot of good shopping, food, happy hour and parties going on in this beach town. It's popular with families who are into surfing and like a lively atmosphere. From the Liberia Airport, you can drive, take a shuttle or fly as Tamarindo has its own local airport. It is a 1 hour drive from Liberia Airport to Tamarindo.
Hotels:
For cheap accommodation, there are quite a few hostels in Tamarindo like Chocolate, Botella de Leche, Selina and Coral Reef.
If you're really into surfing and/or don't want to stay in a busy town, head to Playa Grande or Avellanas instead.
Flamingo and Conchal
Conchal is a gorgeous white sand beach and Flamingo is another white sand beach with luxury hotels and vacation rentals. Potrero and Brasilito are two quieter and cheaper options in between Flamingo and Conchal. Tamarindo is about a 20 minute drive from Conchal/Flamingo. You can drive, take a shuttle or bus to Flamingo and Conchal (shuttle or car is best option).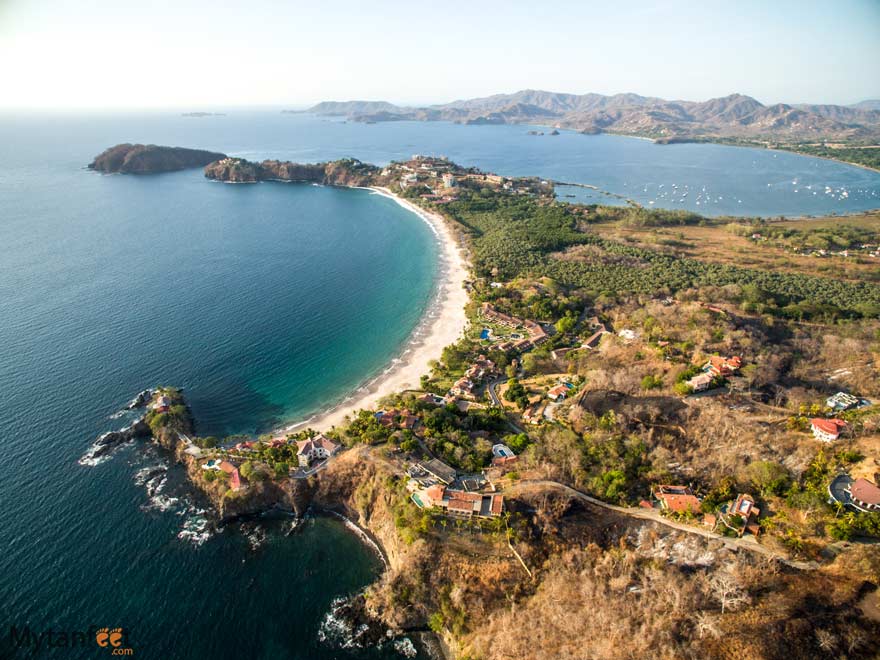 One thing to note is that there are only two hotels on Conchal: W Costa Rica and Westin. Additionally, Reserva Conchal (luxury vacation rentals) is on the same property. There is only one public access to Conchal that requires walking on Brasilito beach if you're not staying at any of those resorts.
Flamingo is known as a luxury community with mansions and high end condos. It is a popular fishing and scuba diving destination and they are currently (December 2019) re-building the marina to turn it into a luxury marina with condos and more amenities.
For those more on a budget but want to stay in this area, Brasilito and Potrero are good, quiet options.
Here are some recommendations for resorts:
Here is our tourist map below for Tamarindo, Conchal and Flamingo.
Samara
For families, Samara is an excellent option. This area is also a bit less touristy than Tamarindo and is great for those who are into yoga, surf and wellness. Samara is 2 hours from Liberia Airport and you can drive, take the bus or a shuttle.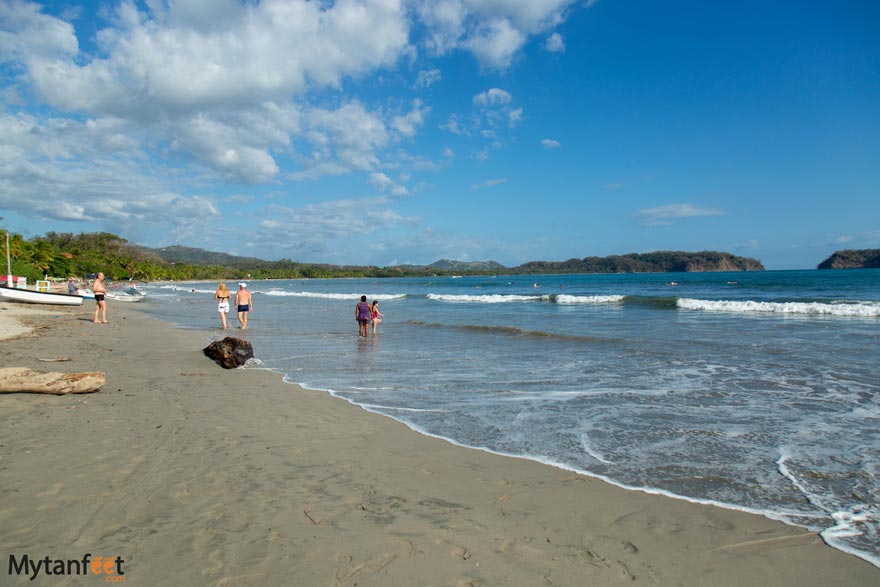 You can also check out Nosara, which is an hour north of Samara. It's a small beach town that's also a great destination for those into surf, yoga and wellness. Nosara is about a 2.5 hour drive from Liberia International Airport.
Samara map
Guanacaste Itinerary Day 1: Land in LIR airport, head to hotel
Day 1 of your 5 day Guanacaste itinerary is for settling in and getting ready for the next 5 days.
Day 2: Boating/snorkeling
On your first day of this Guanacaste itinerary, it's time to hit the beach!
If you're staying in the Gulf of Papagayo, take a private beach hopping/snorkel tour to experience the beautiful hidden beaches. Our friend Marcy runs a boating company that picks up in the Papagayo Gulf beaches and he takes you around to the best beaches and snorkel spots. Read more about his Playas del Coco boat tours here.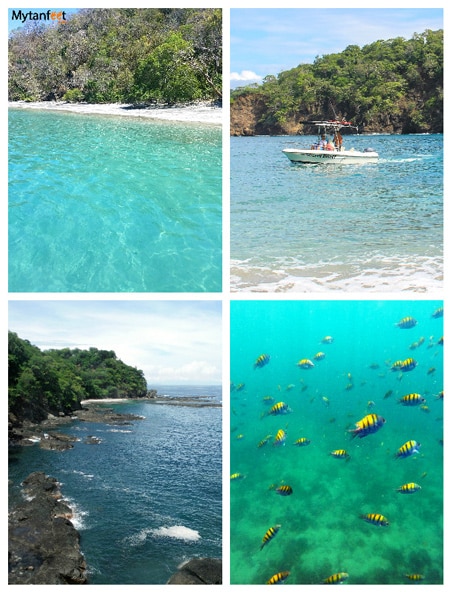 If you're staying down in Tamarindo/Conchal/Flamingo, you can take a snorkel catamaran cruise with Antares or Dream Chaser (Tamarindo), Panache or Lazy Lizard (Potrero) or Serendipity (Flamingo). For the best ocean experience, go on a private snorkeling tour in Flamingo which is a must for families!
If you're in Samara, you can go kayaking and snorkeling to Isla Chorro. Easy 30 minute kayak ride one way and nice snorkeling at the island.
Day 3: Wildlife Tour
I'm sure you want to see some wildlife so Day 3 is dedicated to wildlife watching. There are a couple options to see wildlife.
Take a leisurely boat ride down the Tempisque River to see crocodiles, monkeys, iguanas, lizards and birds. Learn about the importance of the dry tropical forest and the river.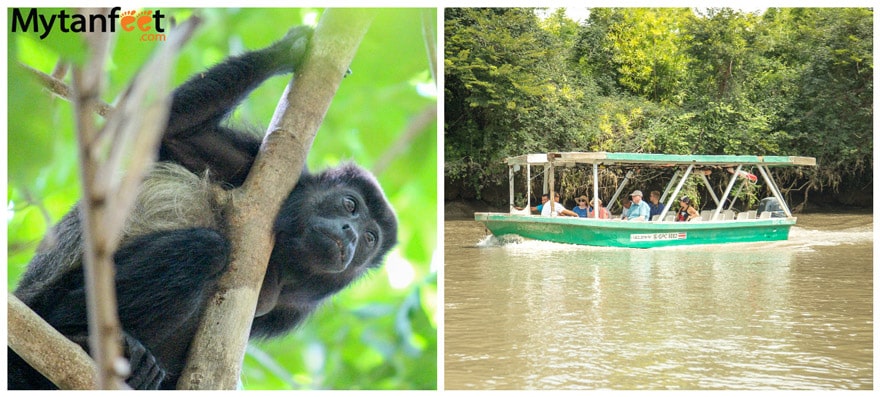 Palo Verde National Park is 1.5 hours from Gulf of Papagayo, 2 hours from Tamarindo and Conchal and 2.5 hours from Samara (driving one way).
Tamarindo estuary ride
The national park next to Tamarindo, Marino Las Baulas has a large estuary. Take a short boat ride through the estuary to see crocodiles, birds and monkeys. This is a 2 hour tour which is very nice to do in the morning.
Ostional
If you are in Costa Rica during rainy season (July – end of November), you can visit Ostional Wildlife Refuge. It's the best place to see nesting Olive Ridley Sea Turtles and baby turtles hatching. Very close to Nosara, 1 hour from Samara, 1.5 hours from Tamarindo and 2 hours from Gulf of Papagayo.
Camaronal Wildlife Refuge
You can take a turtle tour in the season or take a guided hike through the private reserve close to Samara to see wildlife.
Hacienda El Viejo Wetlands
For a full day of adventure, culture and wildlife, head to Hacienda El Viejo Wetlands. This private estate has their own wildlife refuge with Tempisque river wildlife watching boat rides, a cultural tour and rum tour. Fantastic place to experience the best of Guanacaste tradition! (Get 7% off in that link).
It's 1 hour and 45 minutes from Samara, 1 hour 15 minutes from Tamarindo, 50 minutes from Coco and 2.5 hours from Nosara.
Day 4: Relax
Day 4 is for you to relax during your Guanacaste itinerary. If you have a car, you can drive around to the nearby beaches. It's up to you what you want to do! Chill at the pool, go shopping, just be lazy on vacation! Or if you're in Samara/Tamarindo, you can take a surf lesson!
Day 5: Adventure
For your last full day in Costa Rica, get ready for an action packed day at the foot of a volcano.
This combo adventure tour is one of our favorite things to do in Costa Rica! Zipline through the forest, horseback ride and white water tube down the river. Wind down the day with relaxing hot springs and mud baths!
You can read more about the Guachipelin combo adventure tour here.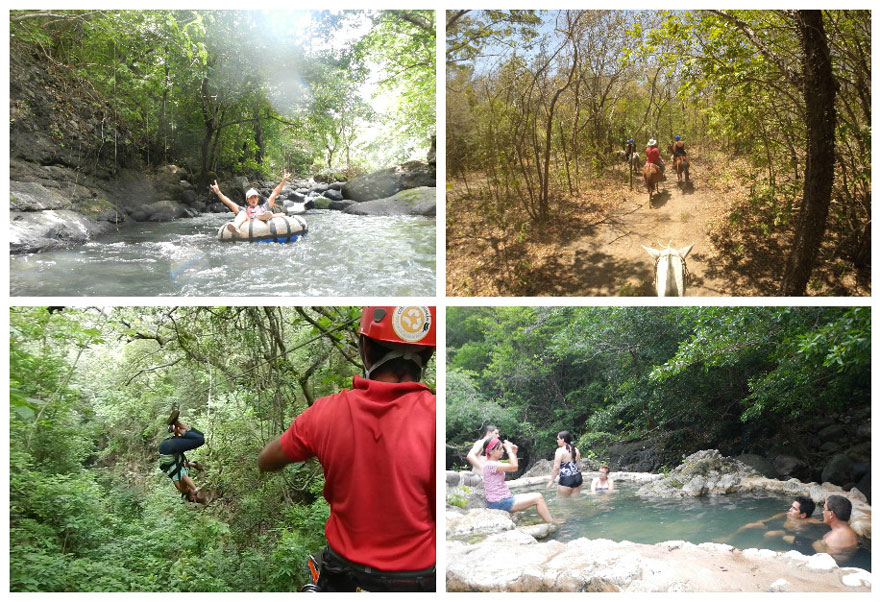 Some other ideas for a full day tour are Arenal one day, Nicaragua one day tour or Monteverde one day.
For more fun and adventure, go to Diamante Adventure Park (get 10% off!) for an adrenaline filled ocean view zipline, animal sanctuary and traditional farm experience. Near Tamarindo, you can visit the Black Stallion. By Samara, you can check out Wing Nuts Zipline.
These are all full day activities so get a good nights rest!
Day 6: Fly out
It's time to go home! Even though your trip was somewhat short, you still had a great time with this itinerary in Guanacaste.
Tips for this Guanacaste itinerary
Check out other sample itineraries!
8 days itinerary: Playas del Coco and La Fortuna. Guanacaste beaches, La Fortuna rainforest and Arenal Volcano. Ideal for those flying in and out of LIberia Airport.
1 week itinerary: Jaco, Manuel Antonio and Uvita (beaches in the Central and South Pacific). Great itinerary if flying in and out of San Jose Airport.
10 day itinerary: San Jose, Manuel Antonio and Puerto Viejo. Goes to the city, rainforest and beach. You will get to experience both Caribbean and Pacific coasts.
2 week itinerary: Arenal, Monteverde and Guanacaste. Goes to volcano, rainforest, cloud forest and beach. Excellent if flying in and out of Liberia.
This post contains affiliate links.