There are so many activities to do in Arenal and La Fortuna that it can be difficult to narrow down which ones are the best to do. If you're only in the area for a couple days, you can maximize your time by doing an Arenal 4 in 1 combination tour which lets you experience the best of the area.
We did the Arenal 4 in 1 combination tour which includes the hanging bridges, La Fortuna waterfall, lunch, Arenal Volcano hike and hot springs. If you want to do this tour, get our discount for it here!
There are Amazon affiliate links in this post.
Arenal 4 in 1 Combination Tour: First Activity
Arenal Hanging Bridges
The first activity we did on the Arenal Volcano Combo Tour was visit the Mistico Hanging Bridges private reserve. The 16 static and hanging bridges sit on 600 acres of private land developed purely for eco-tourism and wildlife viewing.
It is an easy 3.1 km trail that goes all around the the forest so is the perfect length for visitors to see many animals and plants. Additionally, they will learn about the geography and land of Arenal and enjoy the rain forest.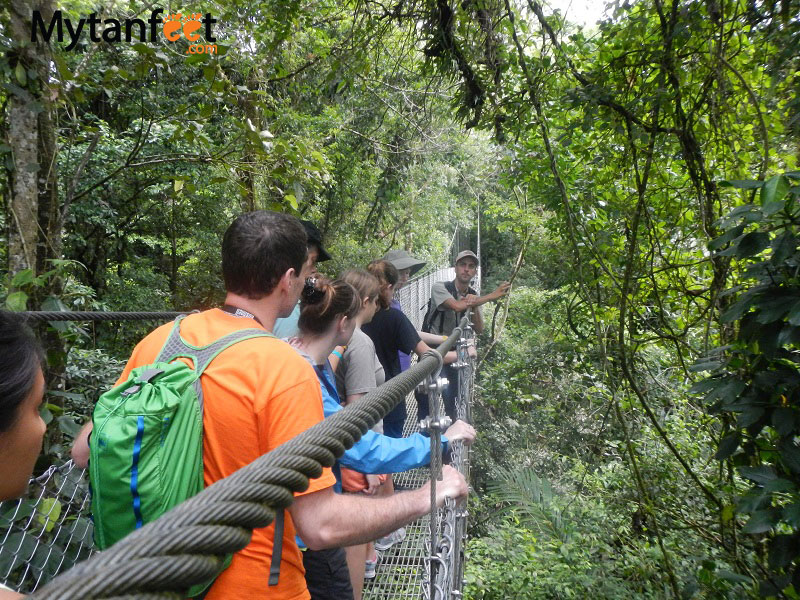 As we started off for the first bridge, one of the guides set up telescope pointed at a frog that was hiding in the leaves. Then another guide pointed out a pair of tent bats sleeping under the banana tree.
Our guide, Jairo has worked as a tour guide for over 15 years and he has seen the transformation of the land, the town and the volcano first hand. He taught us how to listen for certain creatures and notice the intricate structure of the vegetation in the canopy. Without our guide, we would have never known any of this information on our own!
He next spotted this eyelash pit viper hanging out along one of the bridges. It was fascinating to learn about the snakes in Costa Rica and e even took a photo of the snake for me!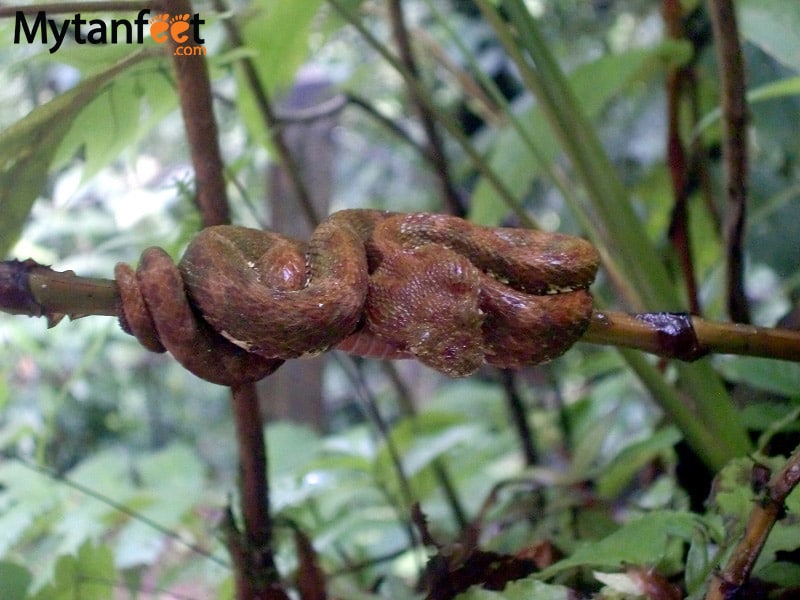 The second to the last hanging bridge is 60 meters above the canopy floor and being that high up gives you sense of really being in the jungle. We got a nice view of the volcano and I saw the biggest and most beautiful butterflies I've ever seen!
La Fortuna waterfall: Second Activity
Next stop on the Arenal 4 in 1 combination tour was the La Fortuna waterfall. This waterfall is one of the treasures of this area and is a must see. Although the path down is pretty steep with 450 steps, it is completely worth it.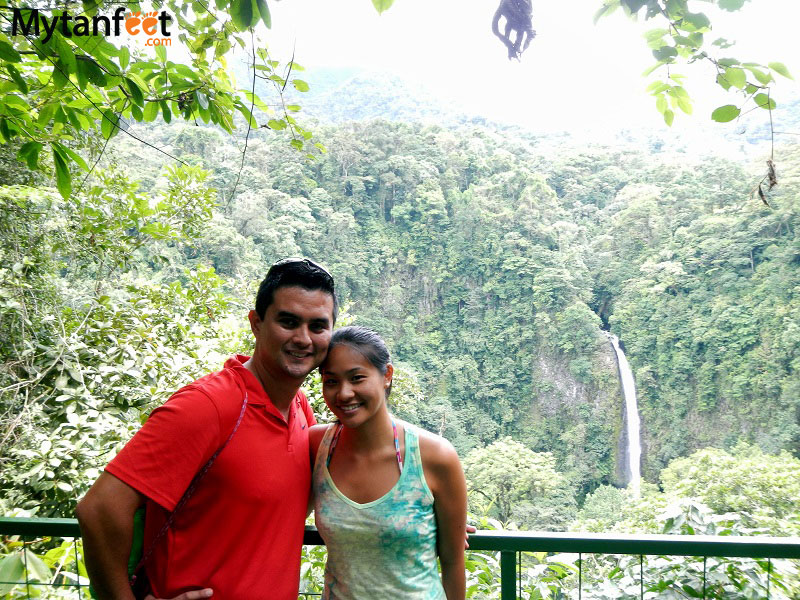 When you get to the bottom of the steps, you'll hear the loud roar of water all around you. La Fortuna waterfall lies at the bottom of the Cerro Chato dormant crater and drops 75 meters into a bright emerald pool.
Downstream, there is a lovely calm pool, perfect for dipping your toes. You can swim in the La Fortuna waterfall but be very careful as the drop can be very strong!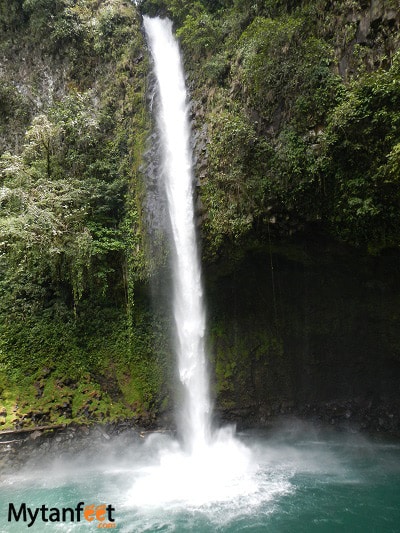 After about an hour or so at the waterfall, we walked back up to the top. Thankfully, they built a very nice platform with benches and rails so you can take it slow. 450 steps is a lot!
Arenal 4 in 1 Combination Tour: Lunch
After the steep walk to the waterfall, we were ready for lunch!
For lunch, they took us to a local finca or farm for a traditional Costa Rican lunch: casado. It had rice, beans, tortilla, meat and salad (vegetarian options available).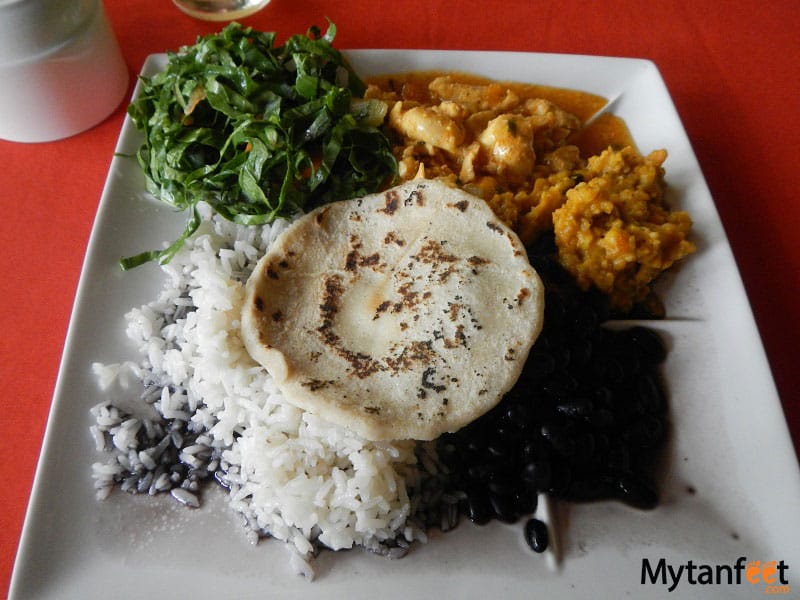 After our lunch, the owner gave us a small presentation of the different crops he grows such as pumpkins, a type of orange and one fruit that is poisonous but good for sinusitis. We pressed a sugar cane using a traditional machine, drank the juice and tried his cacique which is made at a nice ole 70% alcohol!
Arenal 1968 Hike: 3rd Activity
Our next stop was the Arenal Volcano hike. Although it began raining at the start of our hike through Arenal 1968, a private reserve next to the Arenal Volcano National Park, I didn't mind. We went on the Lava Flow 1968 trail which took us through lava fields and up to a beautiful viewpoint of Lake Arenal and Arenal Volcano.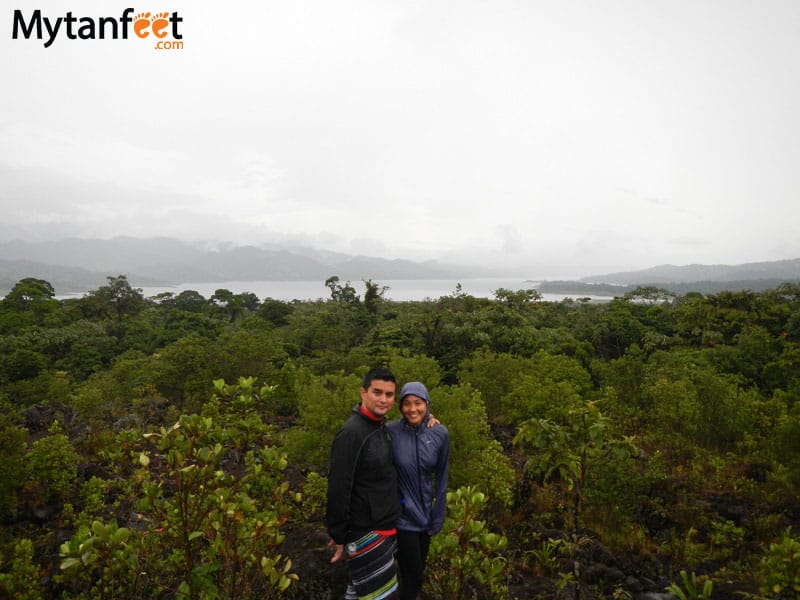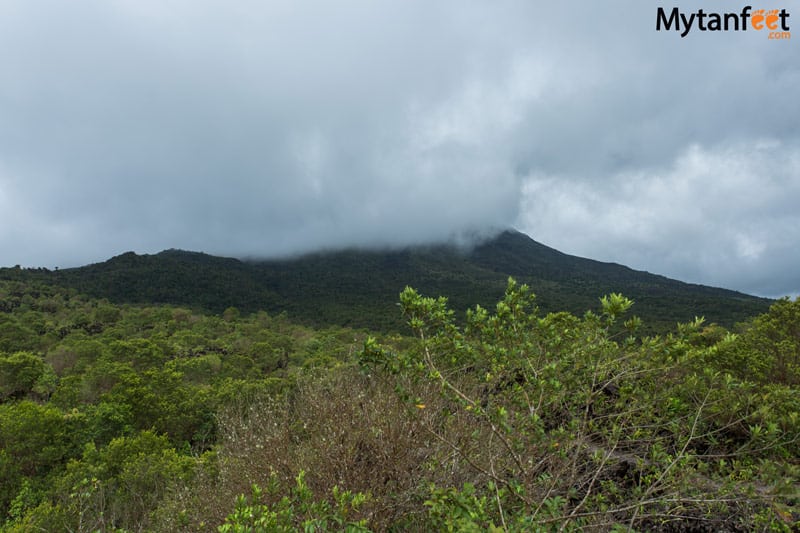 This 3 km hike was also fairly easy. At the viewpoint, we could see both Arenal volcano and Lake Arenal! It was also incredible to walk through the lava fields and see all the rocks that fell during the eruption.
The Baldi Hot Springs: Last Activity of Arenal 4 in 1 Tour
After the hike, we were ready to relax in the hot springs. I was so excited for Baldi!
The temperature dropped as night fell, and all I could think about was how good the hot springs were going to feel. We decided to go to Baldi, the hot spring resort with waterslides, swim up bar and caves.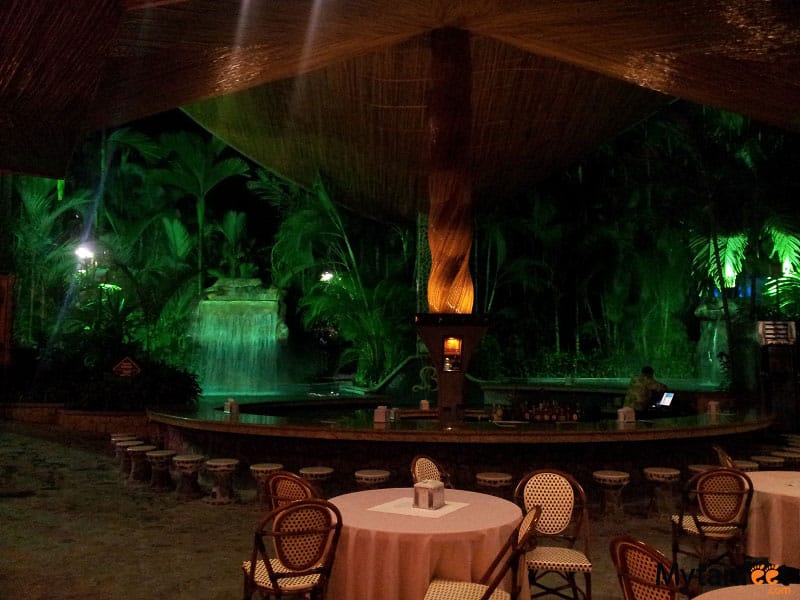 All the pools have something different. One is a giant jaccuzi, one has waterfalls, another has lie down beds. They were all amazing and soaking in the hot springs was the perfect way to wind down a fun day.
After we enjoyed and relaxed in the hot springs, we had dinner (buffet) which was included in the price.
What we thought about the Arenal 4 in 1 Combination Tour
The whole day was amazing and we learned so much from the tour. Having a guide makes you really appreciate everything you see and the places you visit. I highly recommend doing the Arenal Volcano combo tour if you're interested in seeing all the attractions with a guide and you're short on time as you get to visit the highlights of the Arenal area.
It is a bit expensive at around $200 per person (depending on which hot spring you visit) but it includes 5 different activities with food, entrance fees, and transportation. It's perfect if you don't have a ton of time in Arenal.
Get our discount off this Arenal Volcano combo tour! Click here to get the discount (the tour is called Combination Tour).
What to bring and wear
If you want to get pictures of wildlife, a camera with a hefty zoom or bring a good telephoto lens. You will see a ton of wildlife at the hanging bridges so don't miss any photo opportunities!
Wear closed toed hiking sandals or hiking/tennis shoes. The hanging bridges do require a fully covered shoe but if you have hiking sandals, you need to sign a waiver. We love our KEEN hiking sandals.
If you're visiting in rainy season, definitely bring a waterproof rain jacket. We got soaked in July! You can read our rainy season packing list for more tips. If it rains, it is warm rain.
If you're going in dry season, you can wear shorts and a tshirt. This area gets pretty hot! In rainy season, it is still hot but more humid.
Bring a day backpack with water, hat, repellent and other necessities. It is a long day so bring what you need. You will be able to leave things in the van. The tour company provides water.
Video of the Arenal 4 in 1 Combination Tour
You can watch the video of the Arenal Volcano Combo Tour below.
Read about other fun things to do in Costa Rica below.
Selvatura Park: ziplining and hanging bridges in Monteverde
Horseback riding in Arenal: Horseback riding tour through El Silencio Reserve
Diamante Adventure Park: Adventure park in Guanacaste with ziplining, animal sanctuary, ATV and horseback riding
Doka Coffee Tour: Learn about Costa Rican coffee with Doka, one of the biggest and best quality coffee producers in the country
Jaguar Rescue Center: Rescue center in Puerto Viejo
This post has Amazon affiliate links.