Guanacaste is famous for its beaches and is the reason why travelers visit that province. However, what you may not know is that there are tons of other things to do in Guanacaste since it has such a diverse landscape, primarily tropical dry forest. There are also volcanoes, waterfalls and caves.
That's right – caves! There is a national park near the city of Nicoya that was created to protect the very special caves. This is quite a unique activity in Costa Rica so if you are in Southern Guanacaste and want to do something besides beach hopping and ziplining, check out Barra Honda National Park. They offer cave tours where you can explore and go down into the caves.
We did the cave tour in March and here is our guide to visiting the national park and the cave tour.
Click the section to skip to it.
Barra Honda National Park

The main attraction of Barra Honda National Park are the caves but there are also hiking trails and bat tours. You can visit the park by going on a tour to explore a limestone cave or you can visit on your own to hike.
Only 19 of the 42 caves have been explored by humans so many of them are still unknown. This national park protects these caves since they have found human remains and ancient artifacts. Visitors can go on a cave tour which goes to a cave called Terciepelo, a 60 meters down.
To get to the caves, we had to hike over an hour climbing to an altitude of nearly 300 meters. We spent another hour or so in the caves, learning about the history and importance.
Hours and fee
The Barra Honda National Park entrance fee for foreigners is 5000 colones ($10) and the caving tour is around 12,5000 colones ($25) per person.
You must enter the park before 1 PM to join a cave tour and only children over 10 are allowed on the tour. The entire tour takes about 3-4 hours.

Location
Barra Honda National Park is about a 2.5 hour drive from Liberia, near the city of Nicoya. From Liberia, you can drive through Canas on Route 1 and then turn onto Route 18 in Limonal towards Nicoya. Cross the Friendship bridge (la Puente de Amistad) and you will see signs for Barra Honda National Park. Turn right at the Servicentro Quebradas and continue on the road to the park entrance.
There is a parking lot and bathrooms by the national park entrance.
Barra Honda Cave Tour

We started off our day hiking about 1.5 hours into the national park to get to the caves. This was not as easy of a hike as I thought, especially under 90 degree weather! We heard many birds, saw a few animals and even took a water break as the hike was quite long.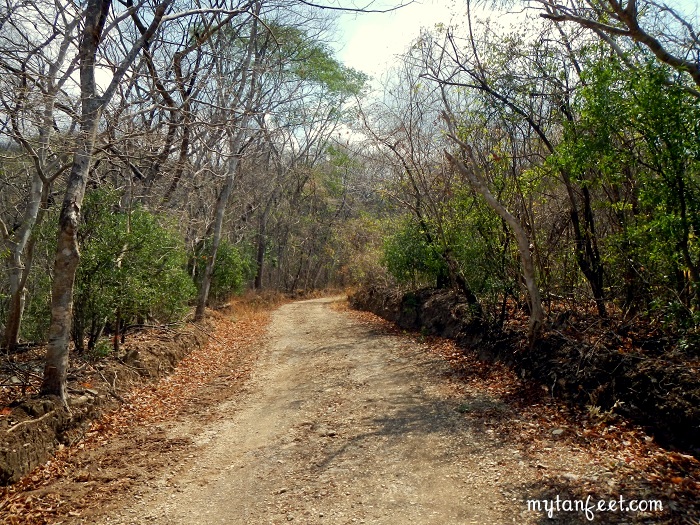 The trail is nicely laid out and although a tough hike due to the uphill climb, it was nice and flat. No rocks, no climbing over branches or trees.
Finally you reach the caves at the end of the trail which is marked by signs. We saw a few huge iguanas around and monkeys! After a short break, we got strapped up and ready to climb down into the first cave by way of a tall ladder.
It was a bit nerve wracking in the beginning, climbing down the ladder but we were safely strapped in twice and there is a person at the bottom holding the rope just in case.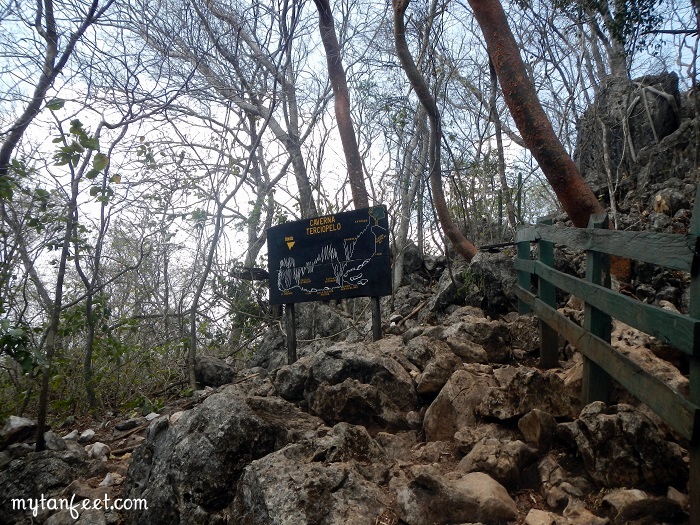 Once you get to the bottom…all I can say is, WOW!! It's seriously a whole new world down there. Above at the top is filled with life – trees, the wind, wildlife, the sun, but once you get down inside… it's like everything stands still.
No animals, no wind, no dirt. All around you are these amazing formations of stalagmites and stalactites. At the bottom of the entrance you are 35 meters down.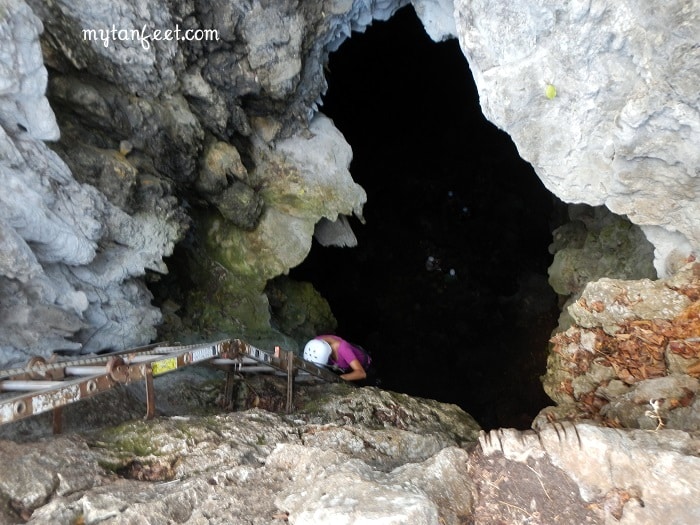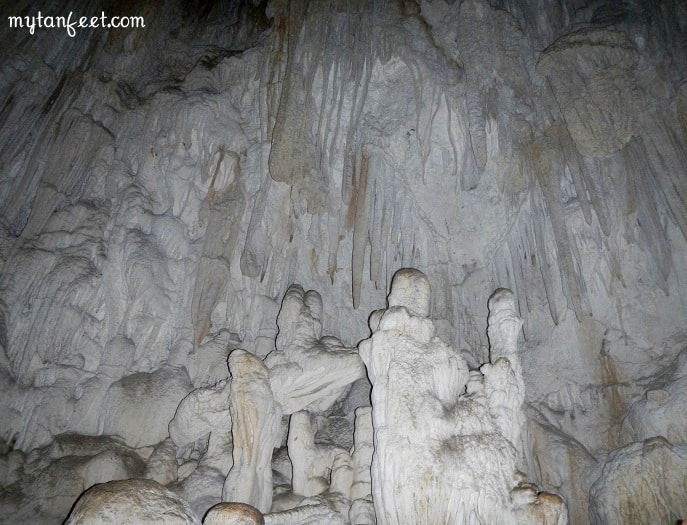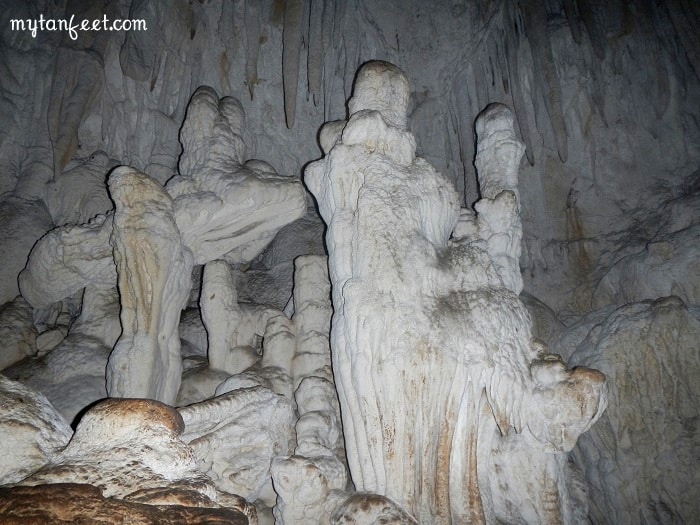 We spent about 30 minutes in this area as our guide explained to us the history of the formations and the caves. Then she pointed to a hole down to the right, signaling it was time for us to move onto the next cave.
Another descent leads us down a very small hole ends at 60 meters. It brings you to the next cavern, appropriately named la sala de huevos fritos (fried eggs cave) because of the shape of the stalagmites. Boy was this one a tight squeeze!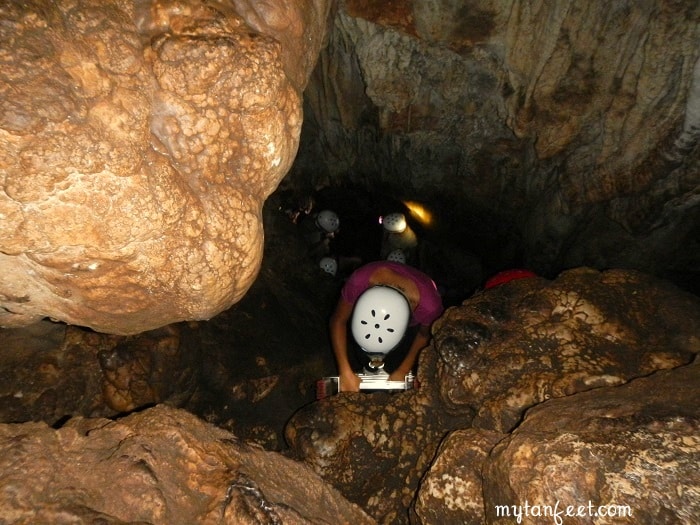 Once there, our guide told us to sit down and turn off our headlights. As soon as the last lamp extinguished, the silence and darkness was incredible.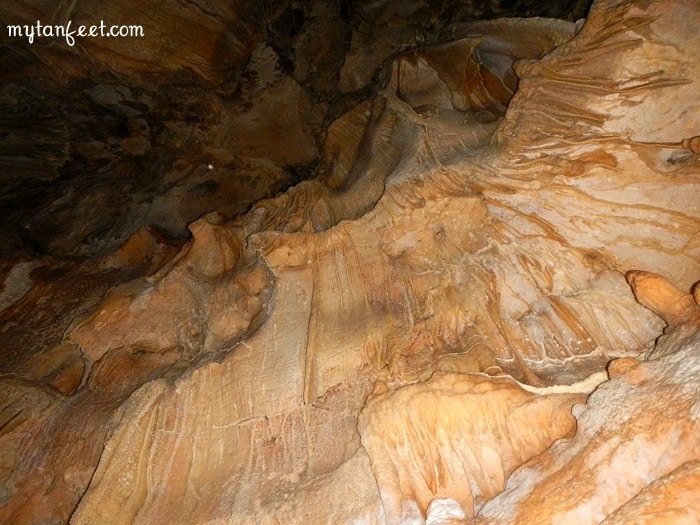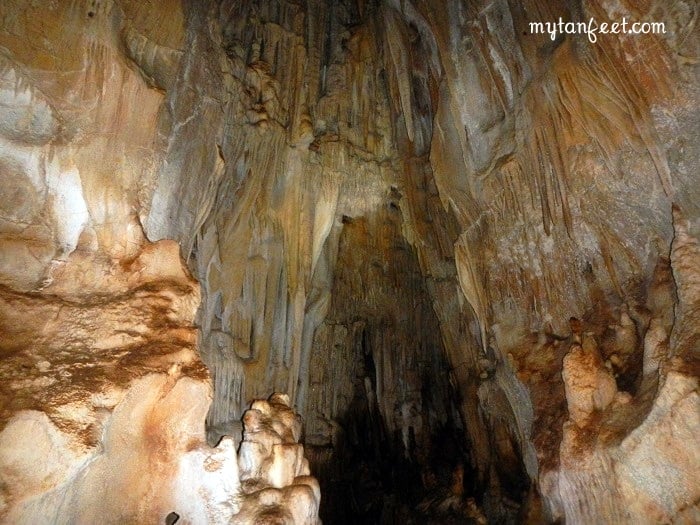 You can see literally nothing. You hear nothing. You feel you are surrounded by… nothing. There is a reason why this is a method of torture. Stick someone in a place with no light, no sounds, no human or animal touch.
They would not know what day, time, or year it is and it's just a ticking time bomb… waiting for that person to go insane from the darkness.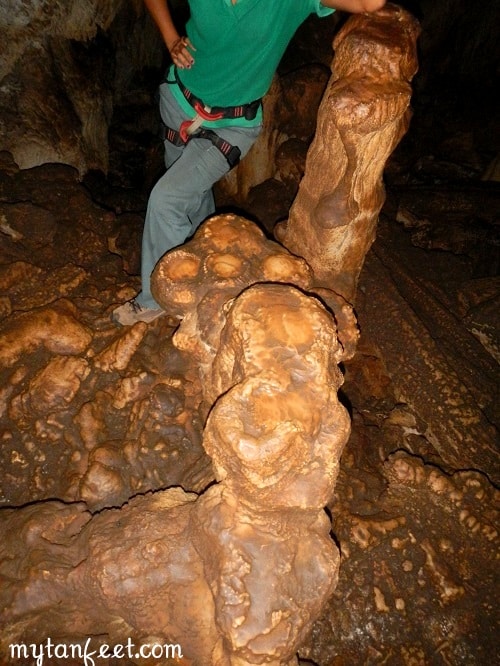 OK so creepy, go mentally insane factor aside, it was fascinating. To realize that these formations have been around for hundreds, thousands of years with no wildlife within the caves.
Water exists in the tips of the columns, which compose of a variety of formations: flowers, grapes, teeth, human faces. It makes you wonder, why? How? When? But it just is and that's what makes it remarkable.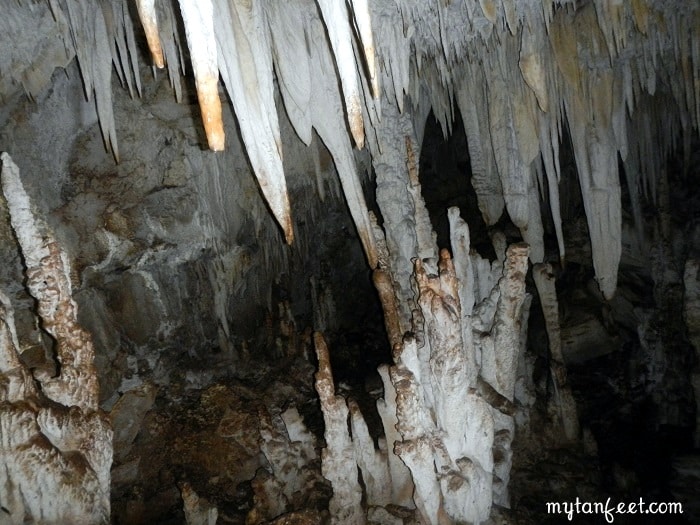 Coming back up to the surface after exploring the cave was a fulfilling feeling. Knowing you overcame a fear, pushed yourself physically, looked at, touched, smelled a special piece of the earth. It's exhilarating to say the least.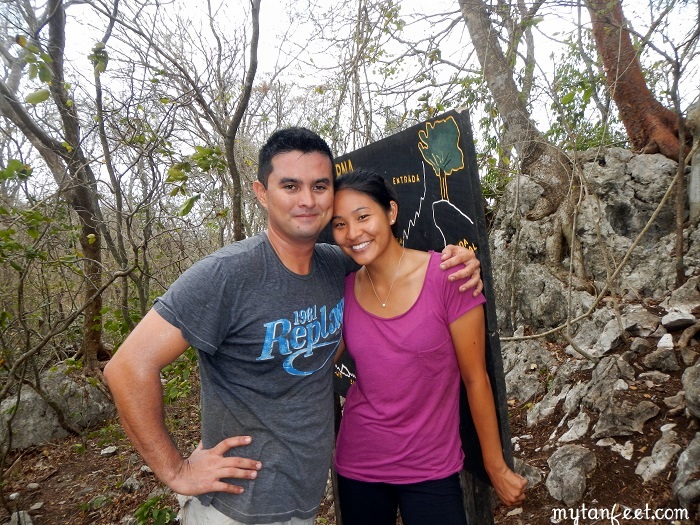 We rested a bit and then started our way back down. Along the way, our guide took us to a viewpoint that overlooked all of Nicoya. Beautiful!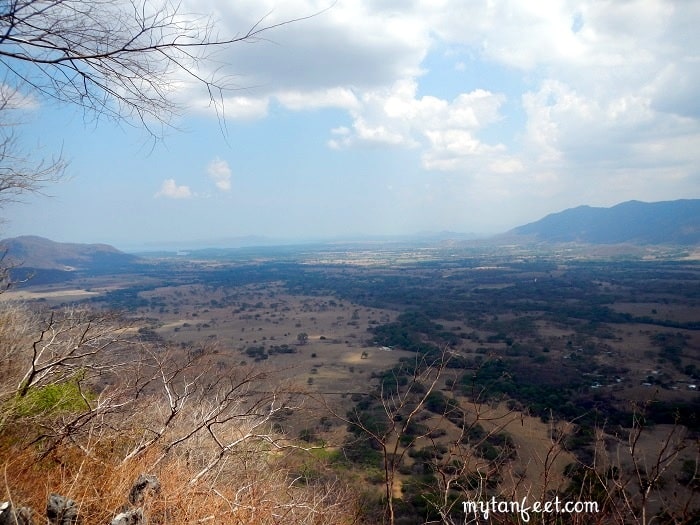 Tips for Visiting Barra Honda National Park
You need to be in moderately good condition to do this tour. The hike is steep and long and you need to climb a tall ladder. Not ideal for those who are claustrophobic.
If you don't have your own transportation, you need to book this tour with a tour company. There are no public buses that go directly to Barra Honda National Park.
Wear closed toed, sturdy shoes and long hiking pants. I wore my KEEN hiking shoes which were great. Normally I suggest hiking sandals in hot weather, but for the cave part, you definitely want closed toed hiking shoes
Bring lots of water and snacks, the hike will get you tired! Sunscreen is a must as well. There isn't a convenience store at the national park so make sure to bring plenty of water.
There are no hotels or lodging in the national park itself. This is best as a day trip. If you're in Tamarindo/Samara, this is a great option (1 hour drive). You can even do this from Playas del Coco/Gulf of Papagayo (~ 2 hour drive).
There are many hiking trails if you're not interested in the caves. There are also bat tours.
You can visit the national park on your own to hike but not visit the caves.
I would say that half the tour was hiking to the caves but it's entirely worth it. For someone who is looking to experience something different than beaches, this is perfect for them.
If you need recommendations for tour companies to do this tour out of Playas del Coco, please leave a comment below.
Read about other national parks in Costa Rica below!