We love Airbnb. Whenever we travel around Costa Rica, we first look for Airbnb's and then hotels because we've had some incredible experiences with Airbnb in Costa Rica!
For our trip to Arenal back in October, we decided to book Airbnb instead of a hotel. There are some beautiful hotels in Arenall but we wanted something local and homey. We wanted to experience where the Fortuenos live and I found a house that looked amazing. Although this particular Airbnb is meant for families and big groups, I couldn't help but splurge a little for the two of us.
So if you're coming with a family or in a large group, this is an awesome Airbnb in Arenal only 5 minutes from La Fortuna town. It feels like you're staying in the deep rainforest though!
We have also written a post about tips for using Airbnb in Costa Rica, make sure to read it so you know what to expect!
Our Airbnb in Arenal
Host
Our hosts were very easy to get in touch and they were Costa Ricans, which is something we prefer as many hosts in Costa Rica on Airbnb are foreigners. Nothing wrong with it, but we use Airbnb to have a more local experience and many of the Ticos who host on Airbnb have either lived there their whole lives or work in tourism so they can give insider tips and advice for things to do/eat, etc.
We communicated with our host to arrange where to pick up the keys beforehand. We met them at their office and followed them in our car to the house and when we got there, they had some fresh starfruit juice ready for us!
The House
I chose this Airbnb in Arenal for a few reasons. It was close to town but in a very quiet area. I read from previous guests that they saw a ton of wildlife on the property and that the hosts were incredibly nice. And those reviews were absolutely correct!
The house is gorgeous. It's right next to a river with the rain forest as the backyard. There is another house for rent on the property as well as the owner's house but they are far enough apart that you don't even feel like you have neighbors.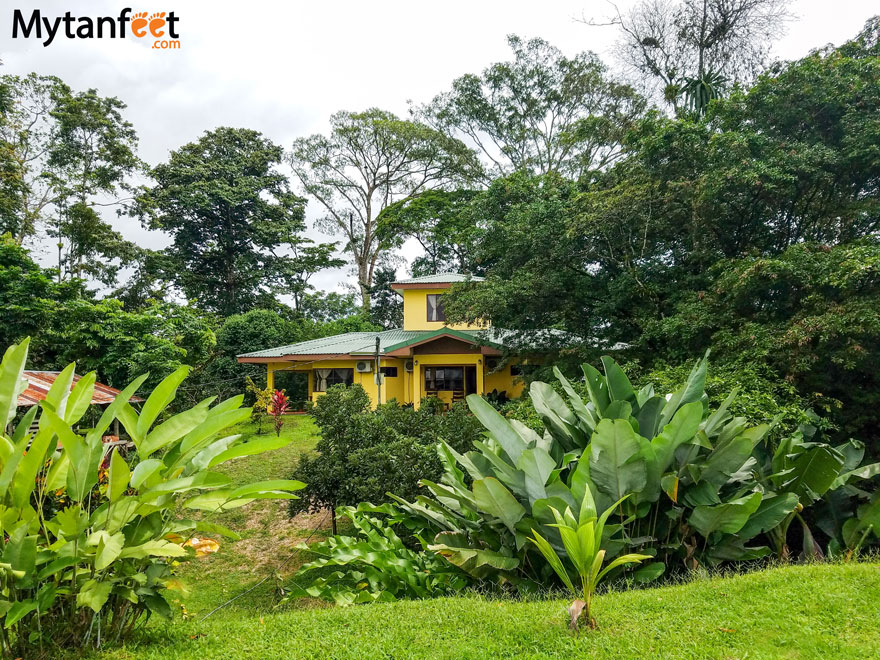 There are 4 bedrooms, 3 bathrooms, a fully equipped kitchen, living room, a laundry room and large parking space. You can perfectly fit up to 12 people in this house.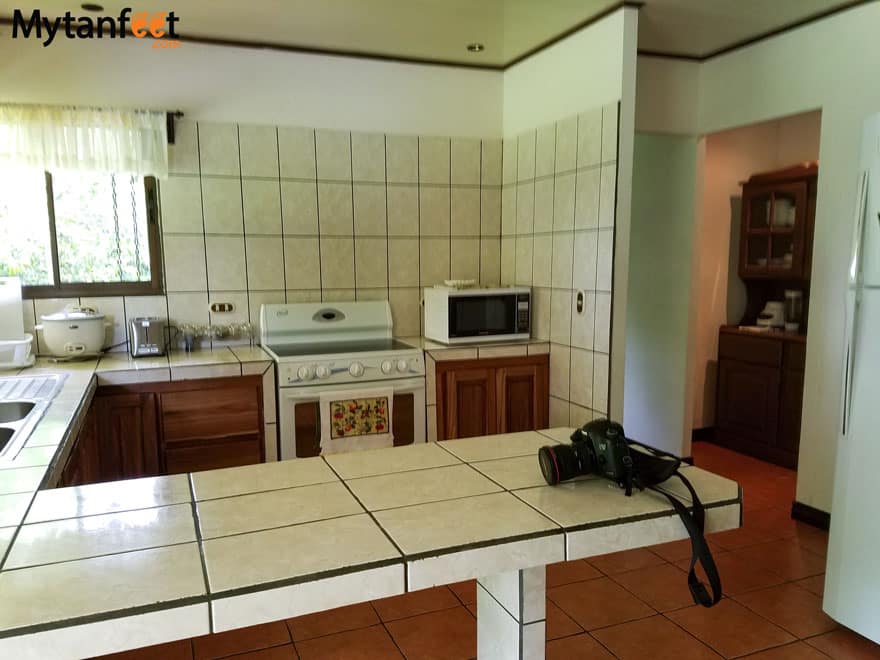 In the backyard, there is a sitting area with a bench, perfect for enjoying a cup of coffee in the rain forest or bird watching early in the morning.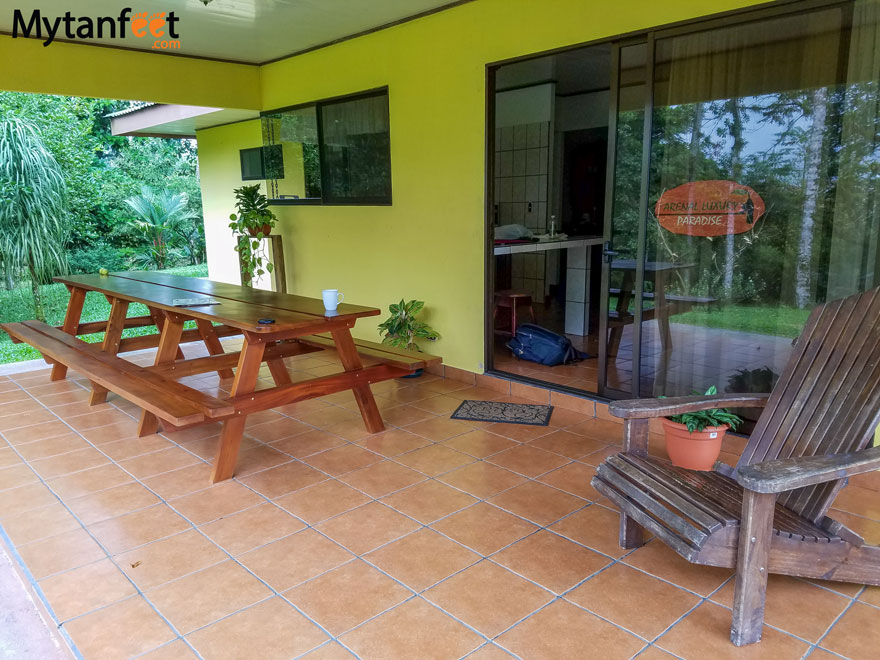 There is a short path that connects to the owner's house so in case you need to get in touch with them, you can knock on their door. It was great having them nearby in case we had questions or needed anything.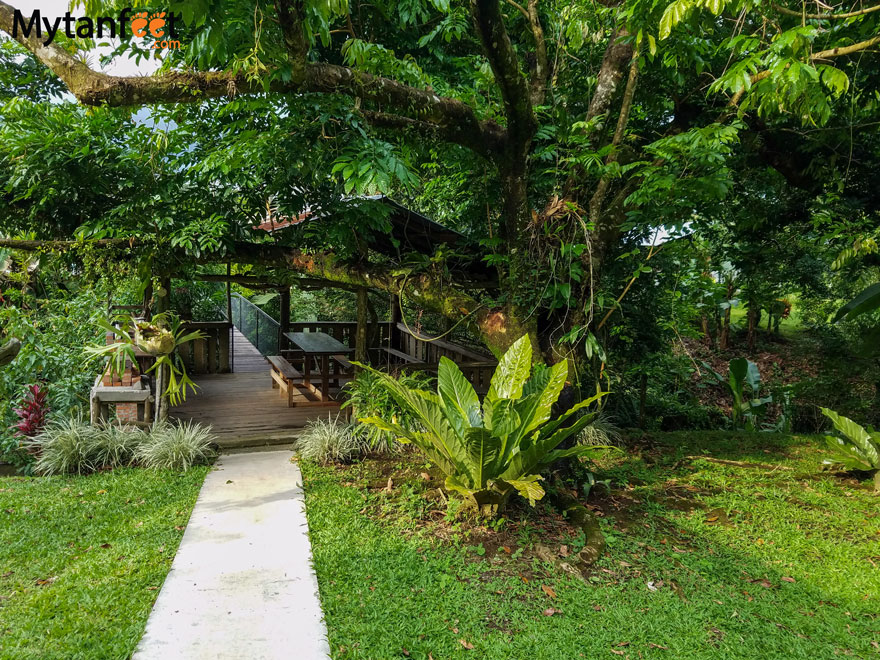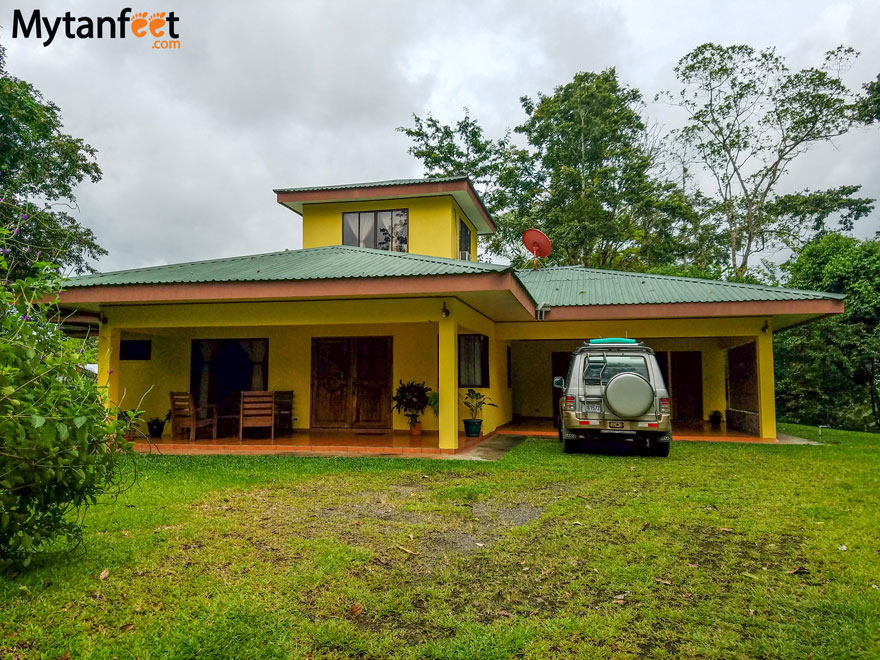 The room on top has a view of Arenal Volcano when it's clear and there is air conditioning. Even though it's the rain forest, it still gets hot during dry season so the AC is nice.
We stayed in the master bedroom with its own bathroom and it was very comfortable.
The Wildlife
One of the reasons why I chose this Arenal Airbnb is for the wildlife. We saw SO much wildlife just from the backyard of this house than we did in any other part of Arenal we've stayed at, including the national park. The Arenal area is home to 3 types of toucans, both sloths, snakes and lots of other animals.
In the backyard, there is a small tree and a bench where the owner puts bananas on every morning so you can see lots of birds and iguanas having breakfast. We saw several tanagers, woodpeckers, toucans and other birds. If you sit out there around 530 AM, you can see so many birds at once!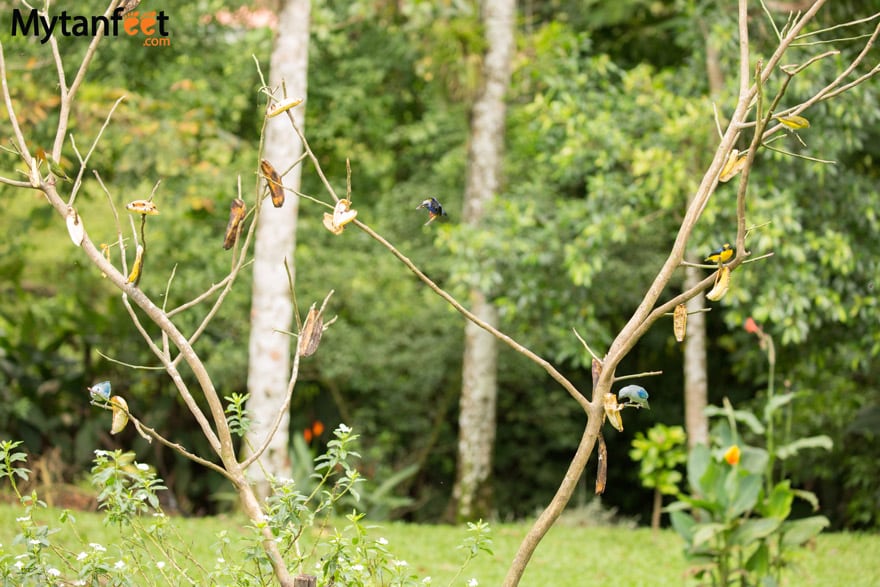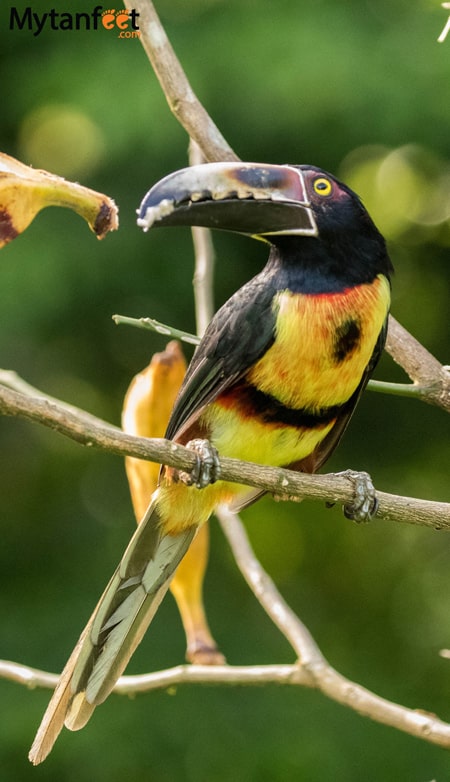 Our hosts knew we were into wildlife watching and called us over one day when he saw a Laughing Falcon close by.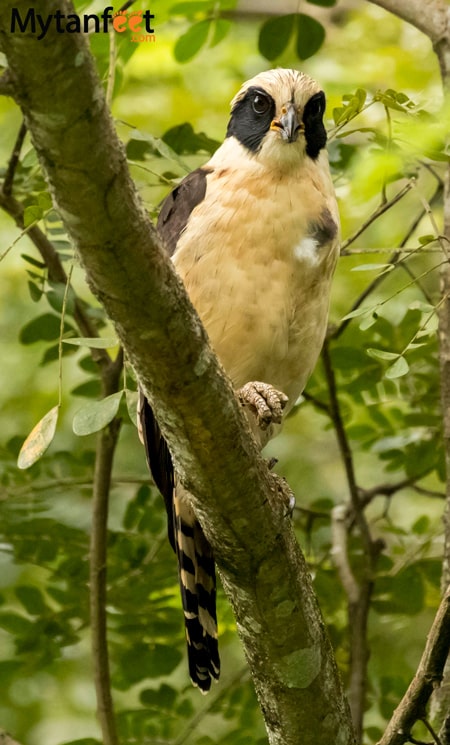 We spent a good chunk of our mornings with our camera ready. We were really hoping to see the Keel Billed Toucan to make an appearance but they stayed further up in the trees. We could hear them, but couldn't see them. We did see the Collared Aracari toucan (pictured above) and the Black Mandible Toucan snack on the bananas.
But the best part of this Airbnb in Arenal was that they had sloths living in the trees around the property. During the day, our host showed us a 3-toed sloth sleeping in a tree near the river!
One night we were watching TV and working when our host knocked on our down, it was around 8 PM. He asked us if we wanted to see a sloth because there was one right outside. And he was right, there was a small female 2-toed sloth taking a walk in the backyard! Very close to the tree with the bananas.
Here is a video of her walking on the ground!

He also pointed out another 2-toed sloth who was making his way across a tree to the ground too.
Without our hosts, we would have never had this awesome experience of seeing the sloths so close!
Thoughts
We loved our Airbnb in Arenal, as you can guess. Our hosts were super nice and welcoming, the house is beautiful and the wildlife was the cherry on top. The house is definitely too big for just 2 people but it's perfect for families. Even two families could comfortably stay at the house!
This is the listing for the Arenal Airbnb but before you book it, click here to get $20 credit when you sign up to Airbnb through that link. Don't forget to read our post about tips for using Airbnb in Costa Rica to make sure you have a stress and worry free experience.
Things to know about this Airbnb in Arenal:
Costs around $165 a night. Awesome price for a house that fits up to 12 people! (That'll be $13.75 per person).
Doesn't come with any bathroom amenities so bring your own shampoo and soap.
Has Wi-Fi and they also leave a local cell phone which is super handy in case you need to call them the hosts.
About a 5 minute drive from La Fortuna town.
There isn't a gate but there aren't many other neighbors nearby. Make sure to lock everything and don't leave valuables in sight.
Need ideas for Arenal? Here are our 10 favorite things to do in Arenal and La Fortuna!
Visiting Monteverde? Read about 2 Monteverde Airbnbs we stayed at, perfect for couples.