Arenal and Monteverde are two of the best destinations in Costa Rica. Although many people assume they are similar, they are very different. For one thing, Arenal is the rain forest and volcano and Monteverde is the cloud forest.
We highly recommend visiting both if you have the time as they both have so much to offer. In this post is a sample 5 day Arenal and Monteverde itinerary to help you plan your trip.
What to Know About This 5 Day Arenal and Monteverde Itinerary
Arenal and La Fortuna, Monteverde and Santa Elena
First of all, Arenal is actually name of the volcano and lake. This area is actually locally known as La Fortuna but many tourists call it Arenal.
Monteverde is the name of canton consisting of the cloud forests, Santa Elena (the tourism hub and town) and the small community of Cerro Plano.
Doesn't matter which one you visit first
Whether you're flying into San Jose Airport or Liberia Airport, driving times are very similar. San Jose and Liberia to La Fortuna is about 3.5 hours and about 4 hours to Monteverde. For the purpose of this itinerary, I'm going to start with La Fortuna since most people visit there first.
Arenal is hot and humid, Monteverde is cooler
The average temperature in the La Fortuna/Arenal area is around high 80s F (~31 C) and is very humid. Monteverde is considerably cooler as it's around 1500 meters (~5000 feet) in elevation. The average temperature is low 80s F (27 C) during the day and gets down to the high 60s F (20 C) at night.
How to get to Arenal and Monteverde
Driving
If you're renting a car in Costa Rica, we do recommend a high car for Monteverde (check Monteverde road conditions here), especially in rainy season. In dry season, you don't necessarily need a 4wd or 4×4, but a car with higher clearance.
All the roads to La Fortuna and in the area are paved.
Renting a car? Check out our Costa Rica car rental discount!
From San Jose: The quickest way to La Fortuna is via San Ramon by way of Route 702. See what the San Jose to Arenal drive is like.
From Liberia: You will have to get onto the Interamericana highway 1 heading south, exit at Canas, continue to Tilaran and go around Lake Arenal to reach La Fortuna on Route 142. See what this drive from Guanacaste to Arenal is like here.
Bus
From San Jose
To Monteverde: 6:30 AM and 2:30 PM. Takes 5 hours. To La Fortuna: 6:15 AM, 8:40 AM and 11:30 PM. Takes 4 hours.
From Liberia
To Monteverde: You need to take a bus from Liberia to Canas, Canas to Tilaran, Tilaran to Monteverde. The bus from Liberia to Canas takes 2 hours and there is one every half an hour from 8:30 – 3 PM. Canas to Tilaran buses are at 6, 730, 815, 9, 1030, 12, 1 PM, 1:50 PM, 2:35 PM, 3:15 PM, 4PM and 6 PM. From Tilaran to Monteverde there are 4 buses: 4 AM, 8:30 AM, 12:30 PM and 5 PM.
To La Fortuna: Take the same buses as above except at Tilaran, take the bus to La Fortuna. There are buses at 7 AM and 12:30 PM.
Shuttle
There are plenty of shared shuttles from both San Jose and Liberia. There is usually one in the morning and one in the afternoon and costs around $59 USD per person. Read more about Costa Rica shuttles here.
You can also book private shuttles which is favorable if you are coming in a large group, have seniors or little kids. Want to book a private shuttle? Contact us for quotes!
Days 1-3: Arenal
For the first day, I recommend arriving at Arenal and La Fortuna as early as possible. That way you can spend the rest of the day exploring La Fortuna town and you can spend two full days doing activities. You can read our La Fortuna guide for more information on the town.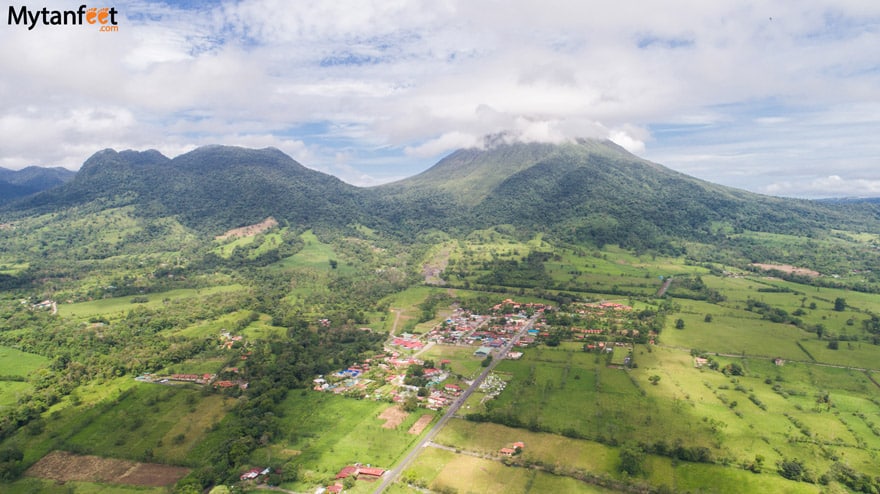 Where to stay in Arenal
There are over 100 hotels and vacation rentals to choose from in the Arenal area so it depends on your budget. There is everything from cheap hostels for $10-15 USD a night to $850 USD a night luxury hotels.
If you're renting a car, you have the freedom to stay anywhere. If you're not, I recommend staying in La Fortuna downtown for convenience. Here are hotels we've stayed at and recommend but there are many more.
Budget: Selina La Fortuna, Hotel Las Colinas
Mid range: Arenal History Inn, Hotel Montana de Fuego, Hotel Magic Mountain, Arenal Springs
High end/luxury: Springs Resort & Spa, Arenal Observatory Lodge, Arenal Kioro, Nayara, Los Lagos. You can find some of the nicest hotels in the Arenal area. Check our list of luxury hotels in Arenal for recommendations.
What to do in Arenal
With 2 full days in Arenal, you can do a lot. Since many of the attractions are closeby, you can do a combo tour to do multiple things in one day. Here are our recommendations.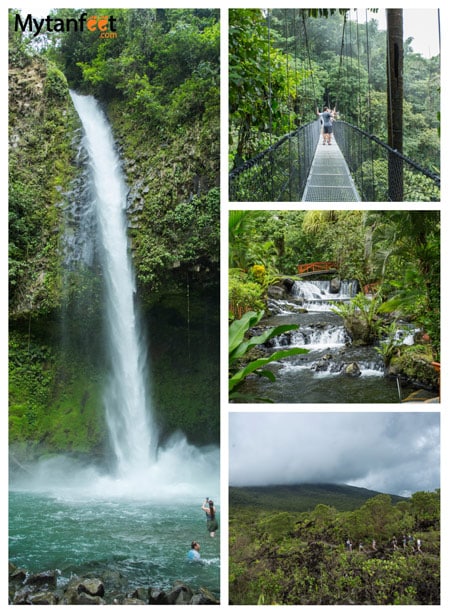 Combo Tour (Hanging bridges, La Fortuna waterfall, Arenal Volcano hike and hot springs)
This is the best way to experience the highlights of Arenal. First is a visit to the Arenal Hanging Bridges, then La Fortuna waterfall, lunch, a hike around Arenal Volcano and you end the day at the hot springs. Best tour to hit all of the main attractions of Arenal!
Read more about the Arenal combo tour.
Hot Springs
Hot springs are a must as this area is famous for them. They are best at night when the temperature is cooler and it's a great way to end a fun day. You can book hot springs as part of a tour like the combo tour above or go on your own. Some popular ones are Tabacon, Paradise, the Springs, Ecotermales, Baldi or Termalitos.
Ziplining
La Fortuna is home to probably a dozen zipline parks, all of varying degrees of difficulties with different views. Sky Trek is the most exhilarating one with higher and longer cables but there are many more family friendly, first time beginner ziplines around.
White Water Rafting
Near La Fortuna/Arenal are a couple of excellent rivers for white water rafting. Some are Balsa Class 2 & 3 (great for families and first time rafters), Sarapiqui (Class 3 and 4 rapids) and Pacuare (Class 3, 4 and 4+ rapids).
Safari Floats
For leisurely wildlife watching, the safari floats are the best. All you have to do is relax and enjoy as you float down a calm river surrounded by a lush rain forest. See monkeys, caimans, iguanas, sloths and other animals. Plus your guide does all the paddling! The most popular river for the safari float is Penas Blancas. We personally love the Rio Frio Pure Nature safari float for a more exclusive experience.
Rio Celeste
The magical sky blue river in Costa Rica is an incredible sight to see and only about a 1.5 hour drive from La Fortuna. Hike through the Tenorio Volcano National Park to see a stunning blue waterfall and learn how Rio Celeste gets its astonishing color.
Canyoning
Jump down 200 foot waterfalls deep in the rainforest on this canyoning tour right outside La Fortuna. Perfect for thrill seekers and families looking for some excitement. Read more about canyoning in Arenal.
Recommendations
To decide what to do, first I advise setting a budget as tours are costly. The all day combination tour is around $180-270 USD per person, Rio Celeste is around $140 USD per person, canyoning is around $100 USD per person and the safari floats are $60-75 USD per person so you will be spending a good chunk if you want to do several tours.
If you have a limited budget, I recommend doing at least one or two activities you really want to do. For cheap activities, you can do a self guided hike at Arenal Volcano National Park ($15 entrance fee), visit one of the cheap hot springs ($25 for Hotel Los Lagos adult day pass) or go to the free swimming holes in La Fortuna.
Interesting booking tours? We have a partnership to give 7% off tours in Arenal. Please check here for more information!
Should I go ziplining in Arenal or Monteverde?
Both Arenal and Monteverde are famous for their ziplines. If you're not sure where to zipline, here are our thoughts.
Go ziplining in Monteverde – If you're looking for an extreme zipline. Even though Monteverde doesn't have as many canopy tours as Arenal, it makes up for it in excitement. You will find the longest ziplines and craziest canopy tours in Monteverde (bungee jumping, tarzan swing).
Go ziplining in Arenal – If you're not looking for an extreme zipline. Arenal has over 10 canopy tours, most of which are perfect for first timers, families with little kids, those scared of heights or not looking for intense ziplines. The most exciting one is Sky Trek in Arenal which has magnificent views of Arenal Volcano and the lake.
Day 4: Travel to Monteverde
Drive or take the taxi-boat-taxi to Monteverde. The taxi boat across Lake Arenal is the most fun way since you get to see the lake and enjoy a nice boat ride instead of sitting on a bus or shuttle for 3 hours. This is for tourists who are not renting a car as the boat ride holds foot passengers only.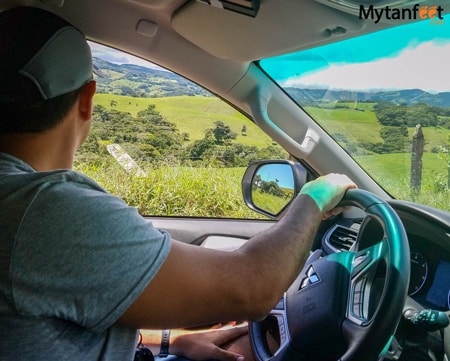 If you drive, the drive is around 3-3.5 hours. There are some fabulous views along the way so take your time and leave during the day to drive in daylight. Remember it gets dark by 6 PM in Costa Rica everyday.
If you get to Monteverde in enough time to watch the sunset, we love the viewpoint in front of the CPI Spanish School. There are some benches along the road where you can sit and enjoy the view. The Mirador El Maike is another really nice one.
Where to stay in Monteverde
Monteverde has more rustic lodges and inns. Our favorite hotels are Hotel El Establo, Monteverde Country Lodge and Hotel Poco a Poco. For more luxury upscale hotels, check out Senda Monteverde and Hotel Belmar.
For budget options, there are plenty of hostels in town such as Pension, Santa Elena Hostel Resort, Selina Monteverde and Hotel Sloth Backpackers.
Day 5: Monteverde
Monteverde is famous for the cloud forests and ziplining and most people only spend 1-2 full days there. Santa Elena is very small and you can easily explore the whole town on day 4 after you arrive. You can read our Monteverde travel guide for more information on the area.
What to do in Monteverde
For 1 full day in Monteverde, we recommend to visit Selvatura Park to get the most out of your money and time. They offer an All Day Pass with ziplining, self guided hanging bridges, a sloth center, lunch and butterfly garden.
However, you can pick and choose what you want to do if you're on a tight budget. Sky Adventures Monteverde also has a great zipline and hanging bridges.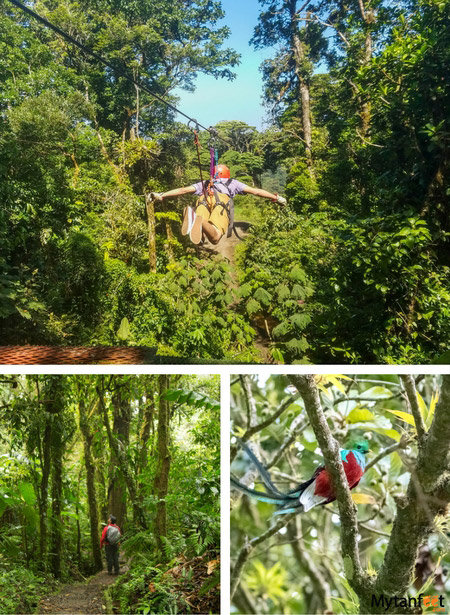 Then if you want to hike or birdwatch, below are our recommendations.
Hiking cloud forest reserves
We personally love the Bosque Nuboso Santa Elena but the Monteverde Cloud Forest Reserve is very nice too. The cloud forests are an extremely vulnerable ecosystem and can only be found in a few places in the world, Costa Rica being one of them. The trails in the cloud forest reserves lead to beautiful view points and you can see hundreds of unique trees and plants.
Bird watching at Curi-Cancha
If you want to see birds like hummingbirds, toucans or Resplendant Quetzals, take an early morning bird watching tour at Curi-Cancha Wildlife Reserve. When we visited in March, we saw 5 Quetzals in a tree! Tours are 2 hours and the walk is very easy so you can even do it the morning you leave Monteverde.
Free Local Spots
There are a lot of great free local spots in Monteverde like the ficus tree root bridge and hollow ficus tree. Definitely worth checking out if you like to explore!
5 Days in Arenal and Monteverde
And there you have it, the perfect 5 day Arenal and Monteverde itinerary. With these suggestions, you'll be able to experience the best of both destinations in Costa Rica. You get some volcano, rain forest and cloud forest and a ton of fun outdoor adventure! On day 6, you can head to the beach, find another rain forest or even volcano!
I have an itinerary that includes Arenal and Monteverde if you want more ideas for places to visit. Read the 2 week Costa Rica itinerary here.
Or you can check out these other itineraries.
1 week: Jaco, Manuel Antonio and Uvita
10 days: Puerto Viejo, San Jose and Manuel Antonio