As one of the most popular destinations in Costa Rica, there are tons of hotels in the Arenal and La Fortuna area. In fact, there are over 100! It's great because that means there is a place for every budget and traveler but at the same time, it can be tiring trying to narrow down the right one for your trip. We know exactly how that feels since we have to scour the Internet for hotels ourselves whenever we visit Arenal.
We recently visited one hotel that we highly enjoyed and for the location, view, rooms and property, it's an excellent value for the price. Here is our review of Hotel Montaña De Fuego Resort & Spa.
Hotel Montaña De Fuego Resort & Spa

Location
The hotel's location is very convenient, only about 10 minutes from La Fortuna and Arenal Volcano National Park.
Right across the street from the hotel is one of the best view points of Arenal Volcano along the main road. Many people stop by there to take pictures when the mountain is out.
Rooms
Hotel Montaña De Fuego's room are like individual bungalows which is really nice. You don't hear neighbors and you feel like you're in your own little cabina. They have several different types of rooms from junior suites, standards and supremes.
We stayed in a junior suite with a view of Arenal Volcano right next to the lobby.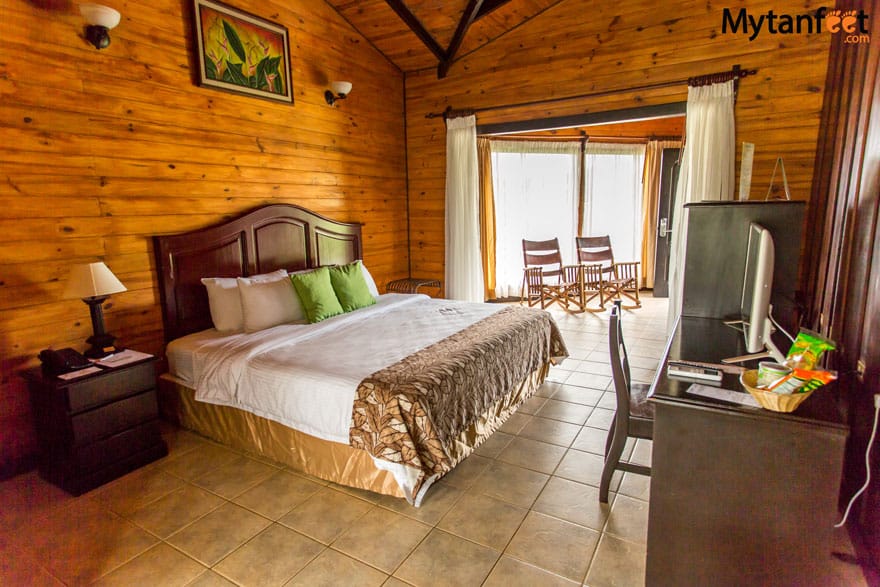 The bungalow was super spacious with a closet, a sitting area and a hot tub with a view.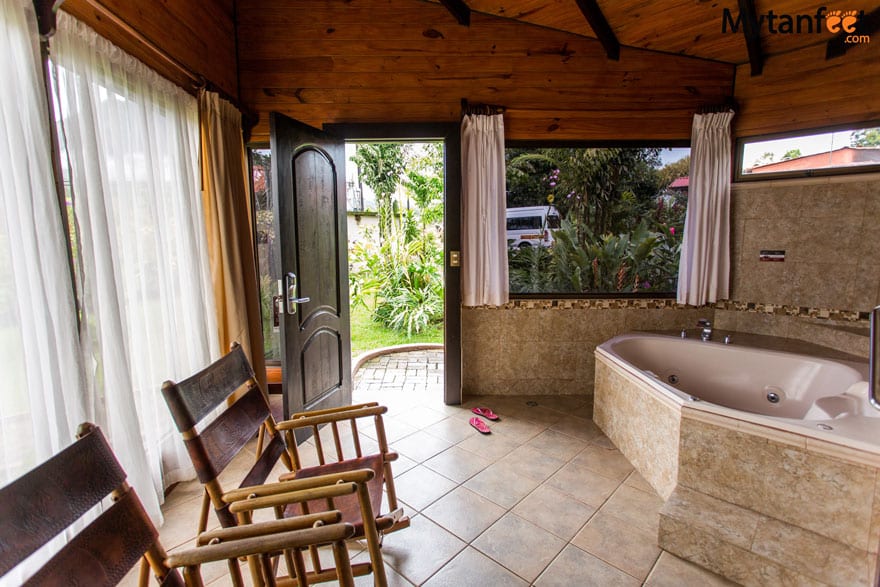 It is an older hotel and it shows in a few places: the doors had some cracks and the lights were a little dim but they are in the middle of remodeling many of their rooms. Our bungalow was very cozy and it was so relaxing to soak in the hot bath at night.
One of the things I thought they should change is the Wi-Fi as they don't have Wi-Fi in the rooms, only in the lobby and the dedicated Wi-Fi zone area. Most hotels in Costa Rica have Wi-Fi in the rooms now so it would be nice to have in a hotel for that price and standard.
Property
The Hotel Montaña De Fuego is like a one stop shop hotel as it's much bigger than it looks from the outside. They have an on-site restaurant, pool, spa, their own hiking trails and a couple small hot springs. They even have their own ziplining, horseback riding, Maleku cultural and tubing tour!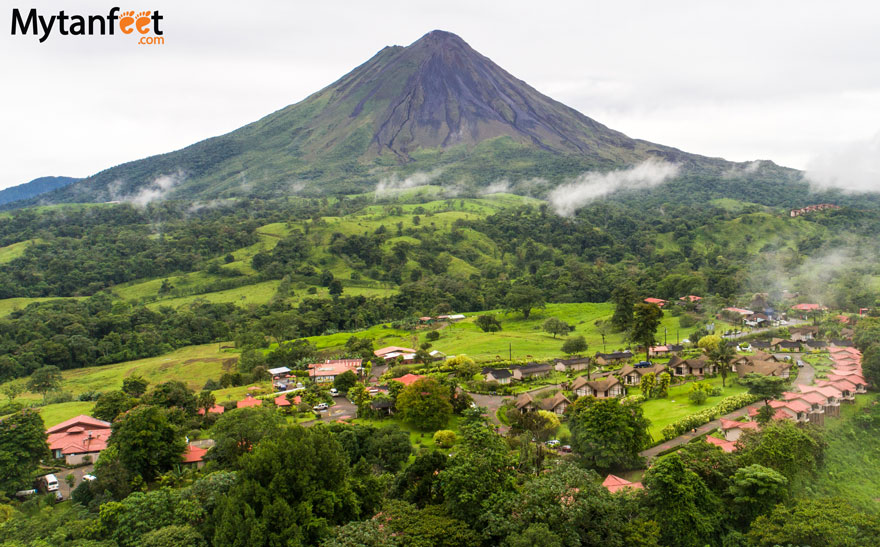 If you're more on a budget, this is a great option because they have so much you can do on their property and tours are very reasonably priced (you won't have to pay separately for tours and transportation with another company). You don't necessarily need to pay for another hot springs either since they have a small one with mud baths.
They also have a 4 km trail and offer free nature walks in the mornings.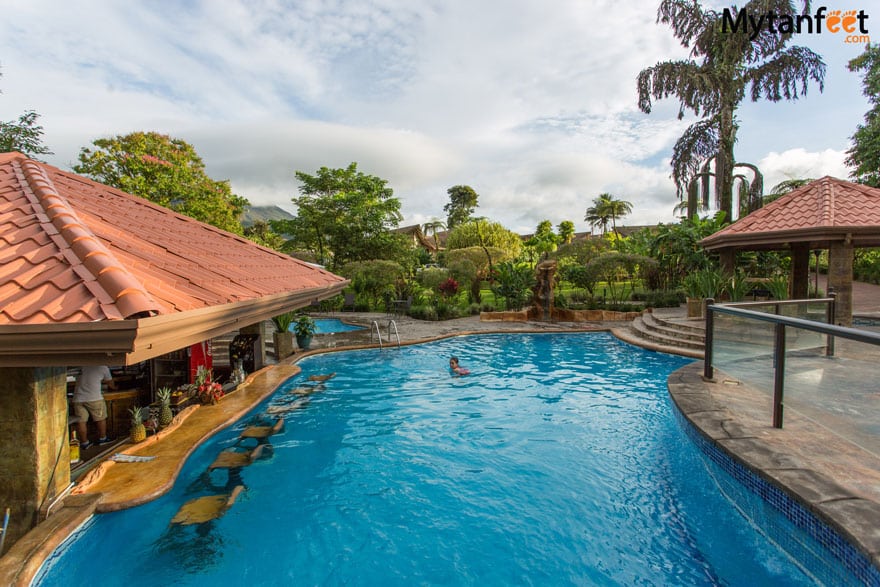 Breakfast is included and they have a nice buffet with mostly traditional Costa Rican food. Their restaurant for us was overpriced for the quality but it has a nice view. They also have room service for an extra $5 delivery fee.
General Thoughts
The location and property were definitely the highlights of the hotel. Not all rooms have a view of Arenal Volcano but you just need to walk a few steps to see one. It is not as expensive as some hotels nearby that also have a view, a spa and their own hot springs so it's a great option if you're not looking to spend $200 or more a night at a hotel with those amenities.
We visited during a very busy time of year, (the first week of July) so the hotel was incredibly busy, mostly full of locals. Service was good despite it being busy.
Also some advice from personal experience: don't go on the hiking trails on your own. We tried to hike them but signage is very bad and we got lost, plus the trail is not well maintained so I highly recommend doing the free morning nature walk or asking them to book the on-site guide to take you.
Check rates for Hotel Montana de Fuego here.
We were sponsored by Hotel Montana de Fuego but all thoughts and opinions are our own.