Not sure what to do in Monteverde? Check out our list of incredible things to do in Monteverde! We've visited multiple times and it's an incredible destination for hiking, birding and adventure.
On a budget? Check out our five FREE things to do in Monteverde post. And if you want to do any of the activities below, please contact us for more information.
Extreme Ziplining
Did you know Monteverde is known as the birth place of the zipline? Now there are a handful of ziplines in Monteverde that will fulfill any extreme adventurer's adrenaline needs!
Not only can you zipline over the cloud forests at Selvatura Park or Sky Adventures Monteverde Park, you can also bungee jump 143 meters into the forest, tarzan swing 45 meters down or superman zipline 2 kilometers. Whichever one you choose, your excitement level will be through the roof!
The superman ziplines at 100% Aventura are hands down the most exciting and fun ziplines we've ever done. They also have a crazy 45 meter tarzan swing which you can see below!
If you love adventure and are looking for an exciting activity, this is definitely one of the best things to do in Monteverde and worth every penny!
See Resplendant Quetzals
National Geographic named Monteverde as the best place in the world to see Resplendant Quetzal, a stunning bird in the trogon family. For many years, the Quetzal's immense beauty with iridescent green feathers and a long slender tail has captured the hearts of many, even becoming the national bird of Guatemala and name of their national currency.
As these birds live in high elevations mostly in cloud forests, Monteverde is one of the best places to see them. During mating season (about February – June ish), it is common to see males dancing and flashing their vibrant colors to impress females.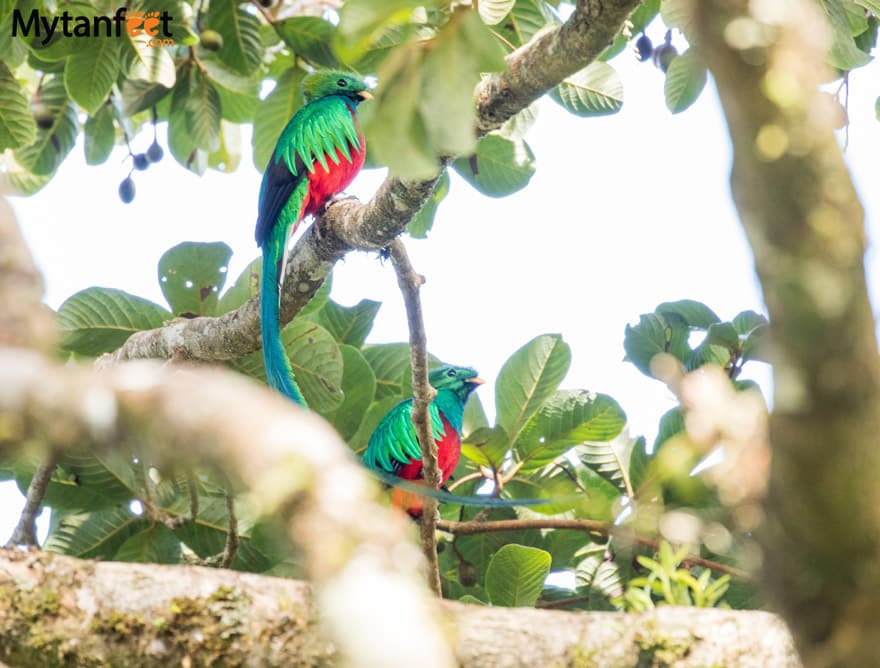 To see the Quetzals, you should go with a guide. Though these birds are colorful, they are small and can be difficult to see in the trees. In our personal experience, the best place to see these birds is in Curi Cancha Reserve. We saw 5 Resplendant Quetzals in one tree in March!
You can also see toucans, hummingbirds and many other birds in the reserve, so we highly recommend going with a guide. Plus they carry telescopes which you can use to take pictures with your cell phone with!
Hike the Cloud Forest
The tropical cloud forests are one of the most amazing places in Costa Rica. Since there are only a few countries where these forests exist, it's also one of the most spectacular places in the world. As these forests sit more than1500 meters (5000 feet) above sea level, the vegetation is completely different. You won't feel like you're in a tropical country at all!
There are 3 cloud forest reserves in Monteverde: Monteverde, Santa Elena and Children's Eternal Rain Forest. The most popular one is Monteverde and though we loved all 3, our favorite is Santa Elena. Less people, higher in elevation, more mossy and cloudy. It truly feels like you're walking through a fairytale!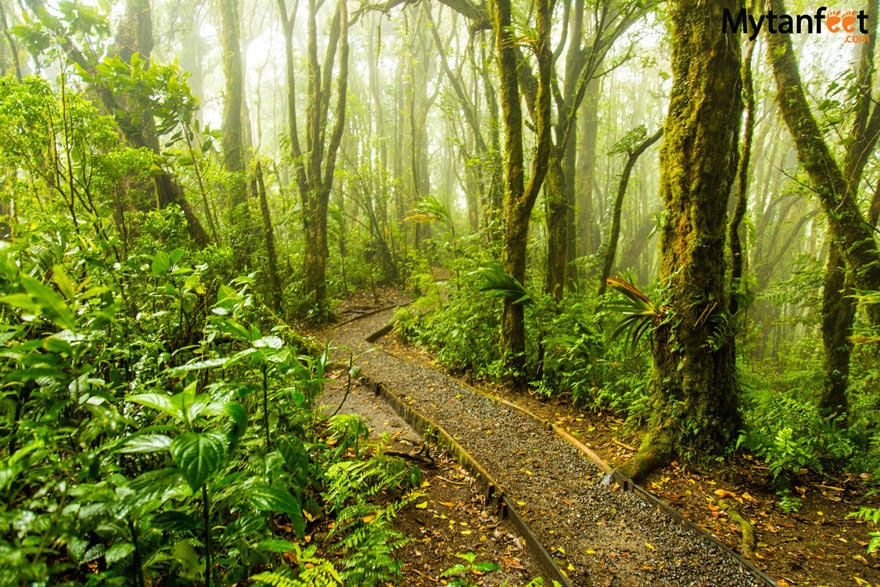 There are trails of varying lengths and beautiful view points in each reserve so no matter which one you go to, it'll be a great experience. You can read our guide to the Monteverde Cloud Forest Reserves to see which one is right for you.
Walk the Hanging Bridges
Monteverde owes a large part of its popularity to the hanging bridges in the cloud forest. Get up high in the forest canopy by way of these bridges which range up to 800 feet long and 2400 feet in altitude (240 meters to 730 meters).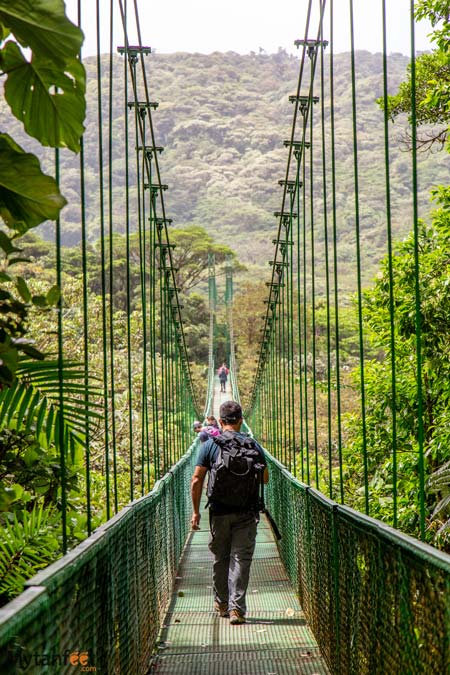 Many of the adventure parks have their own hanging bridges and the Monteverde Cloud Forest Biological Reserve has one long one. This is one of the best things to do with kids in Monteverde since the hanging bridges aren't long, the infrastructure is excellent and they can see the forest from a different perspective.
Personally, we love the hanging bridges at Selvatura Park. They have 8 bridges ranging from 170 to 560 feet offering absolutely incredible views of the cloud forest because that park is very high in elevation (higher than all other parks).
Go on a Coffee Tour
Thanks to the altitude and climate, Monteverde produces excellent high quality coffee. In fact, it's one of my favorite coffees in Costa Rica! There are several coffee tours you can do in the area, the most popular one being Don Juan but we personally love the Cafe San Luis coffee tour in the small town of San Luis.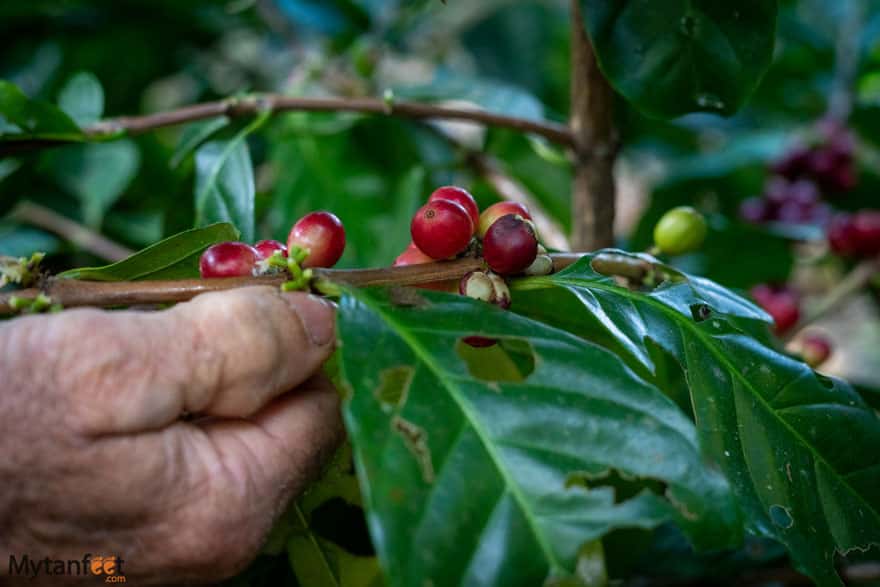 The owner is a local who has his own small coffee plantation and he specializes in small groups, perfect for private or exclusive tours. Visitors get to see and experience a traditional house and the old school way of processing coffee. His farm also has other trees and fruits such as cacao, oranges, limes and more. And of course, the best part is you get to sample and buy his coffee which is delicious! We highly recommend the honey.
Monteverde Night Walk
Experience the cloud forest when the sun goes down on a guided night walk in Monteverde. It's a must for nature and animal lovers as you'll get to learn about the forest life after dark and see the many creatures of the night such as insects, snakes, frogs and more!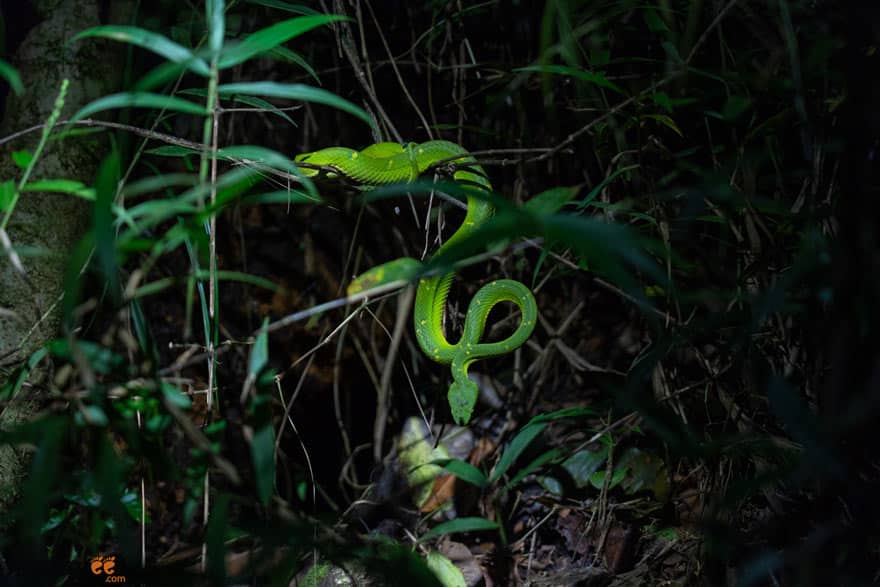 It's a fun and educational experience and you get another perspective of the jungle which not many people get. And if you want to see a sloth, this is the best opportunity as 2 fingered sloths are largely nocturnal.
More Fun Things to Do in Monteverde
These are our favorite things to do in Monteverde but you can also go horseback riding, visit San Luis waterfall, go canyoning at Finca Modelo or hike to the El Tigre waterfalls.
What to Do If You Have Only 1 or 2 Full Days in Monteverde
Here are some ideas for Monteverde itineraries.
1 Full Day in Monteverde
We recommend to visit one of the nature parks because you can experience the best of Monteverde all in one day: ziplining, hanging bridges and cloud forest. We personally recommend Selvatura Park for those who want to experience the most because they have ziplining, hanging bridges, a butterfly and hummingbird garden, a sloth center, a reptile and amphibian exhibit and a restaurant. Get the most bang for your buck at Selvatura Park!
For those who want more extreme adventure, Xtremo and 100% Aventura are great choices because they have bungee jumping, an extreme tarzan swing and superman cables. Definitely more for adrenaline junkies!
2 Full Days in Monteverde
On day 2, we recommend to do a cloud forest hike or a birding tour, or both! We did Curi Cancha Reserve in the morning for a birding tour and then hiked Bosque Nuboso Santa Elena by ourselves in the afternoon. You can also go to Monteverde Cloud Forest Reserve.
Another idea is to do a guided walk of the cloud forest in the morning, coffee tour in the afternoon and then night walk.
Read about other things to do in Costa Rica below!
Things to do in Dominical & Uvita
Things to do in La Fortuna/Arenal