Are you visiting Costa Rica for a return trip and need ideas for where to go? This is a great 14 days in Costa Rica itinerary, going to Avellanas/Tamarindo, Monteverde, Bijagua and Rincon de la Vieja, created specifically for repeat travelers to Costa Rica.
If that sounds like something you want to do for your 2nd (or 3rd) trip to Costa Rica, check out the 14 day Costa Rica itinerary below!
14 Days in Costa Rica Itinerary
Best Time of the Year for this Itinerary
For weather
My parents visited in the beginning of September, during the heart of rainy season. Although Bijagua and Monteverde are high elevation areas that tend to rain more (read more about Costa Rica weather here), we wanted them to experience the tropical cloud forest and climate. Plus, being from Washington state, they didn't mind rain or cold.
You may want to do this itinerary in dry season if you're absolutely against rain or cold. This also gives you better chances of seeing Rio Celeste super blue.
Pro tip: Make sure you bring long pants, socks, closed toed shoes, a jacket and rain jacket (any time of the year).Read our packing list for more information.
For wildlife
If you visit in March or April, you have good chances to see the Resplendant Quetzals in Monteverde. But you won't really be able to see marine wildlife in the Gulf of Papagayo unless you visit in July – end of November.
In September, we saw turtles, dolphins, monkeys, sloths, tons of toucans and birds.
For budget/crowds
If you're on a budget and don't want to be around tons of people, avoid the high season months December – April and July. Shoulder season months (May, June, November) or rainy season (August, September and October) are the best. There were many people at the the destinations we visited.
Read our guide to visiting Costa Rica during the rainy season here.
Getting around this 14 days in Costa Rica itinerary
Here is our interactive map of the 14 days in Costa Rica sample itinerary. You can use the sidebar to sort through the filters.
We have a car and for this itinerary, it was the best way to get around to maximize your time. These destinations are a bit hard to get by bus and we like to be on our own schedule. Plus a car is way more comfortable for my parents who are in their early 60's.
Since the average driving times between the destinations is around 3 hours one way, a car is the best way to be flexible, enjoy the views and get around in a timely matter. We took our Mitsubishi Montero Sport (7 pax, 4×4) but you can rent a mid-size SUV for 4 people plus luggage. A 4×4/4wd car is recommended for Monteverde.
Take advantage of our Costa Rica car rental discount here!
International Airport to fly into
Liberia International Airport (LIR airport code) in Guanacaste is the airport to fly into. It's a 1 hour drive from Liberia Airport Airport to both Rincon de la Vieja and Tamarindo. The drive from the airport to Tamarindo is on a well paved road with plenty of signage.
Day 1 – 3: Tamarindo
Tamarindo is a great starting point for this 14 days in Costa Rica itinerary since it's a popular beach town with lots of hotels, restaurants and all the services and amenities.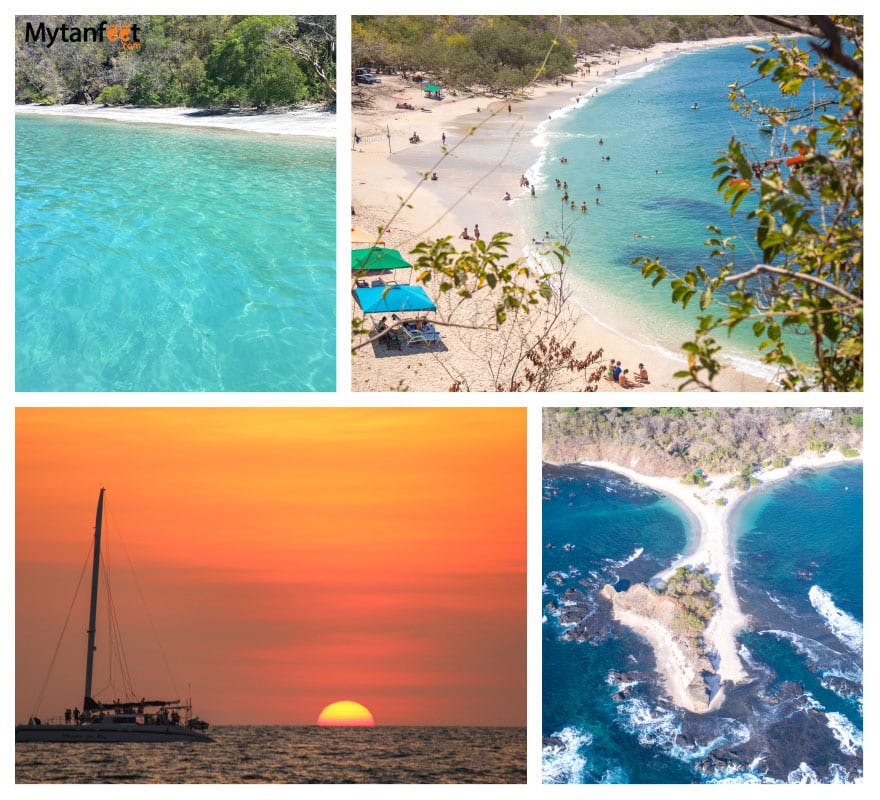 It's in an excellent location to enjoy the Guanacaste golden coast with plenty of stunning beaches for beach hopping, snorkeling and other activities.
For those looking for a less touristy destination, head to Playa Avellanas. This is one of our favorite beaches in Costa Rica and it's way more chill than Tamarindo. It's not as developed but it's only a 30 minute drive to Tamarindo and Avellanas has a few hotels and many vacation rentals. For luxury travelers, you can stay at JW Marriott Guanacaste or rent one of the fancy houses in Hacienda Pinilla.
Where to stay in Tamarindo
Budget: Cabinas Marielos, Oveja Negra or Coral Reef Hostel. Mid range to high range: Hotel Mar Rey, Luna Llena, Ramona Charming Hotel, Sirena Serena, Tamarindo Bay Boutique Hotel, Esplendor or Jardin del Eden.
You can also find vacation rentals, VRBOs and Airbnbs in Tamarindo. If you rent a car, you can check out Villarreal for rentals in a local town.
What to do
Beach hopping: Drive to the many beautiful beaches nearby such as Playa Conchal and Playa Flamingo. Or if you prefer to explore and visit hidden beaches, check out Playa San Juanillo, Playa Real or Playa Mina.

If you're visiting during the season (July – November), you can also stop by Ostional Wildlife Refuge to see Olive Ridley sea turtles (1.5 hour drive from Tamarindo).

Snorkeling or sunset catamaran: You can take a snorkeling trip or sunset catamaran sailing trip. Snorkeling isn't possible right off shore on Tamarindo beach however, so you will need to book a snorkeling tour.
Surfing: Tamarindo is famous for surfing due to its long breaks and constant waves. Take a surf lesson (~$50 USD for 2 hours) to learn how to ride the waves.
Our recommendations is a private boating trip in Playas del Coco where you can also visit hidden, boat access only beaches (1 hour drive one way).
For a closer location, you can take a private boating trip from Flamingo.
For something right in Tamarindo, there are several catamaran and sailing tours like Marlin del Rey, Antares, Dream Chaser and Blue Dolphin. These are open sailing tours and the sunset tour is the most popular.
You can read about more things to do in Tamarindo here.
Sample Tamarindo Itineraries
Here is an idea of what to do during your 2 full days in Tamarindo.
Day 1
This is the day you land so relax, settle in, walk around town, watch the sunset on the beach.
Day 2
On your first full day, you don't need to wake up super early. Around mid morning, take a boat tour through the estuary in Tamarindo. It's about 2 hours on a boat and around $30 USD per person.
To book the tour, from Witch's Rock on Tamarindo beach, walk to the right until you see a lot of locals with boats. Talk to them to book the tour.
Have lunch after the tour at Eat at Joe's/Witch's Rock for typical American bar food or Soda Buffet El Estero for local food.
After lunch, lay by the beach, swim, tan, have a cold coconut and relax. You can also take a surf lesson (around 2 hours, $50 USD per person for a group lesson). Then watch the sunset on the beach and relax.
For dinner, head to Mercadito open food court for a laid back dinner. For something a bit nicer/fancier, Pangas, Dragonfly or Agua Salada are excellent options.
Day 3
Go on the snorkeling/sailing/boating trip.
If you do the open sailing tours from Tamarindo, sunset is the most popular.
If you book a private tour, morning is best for snorkeling. Full days are also an option if you want to have the ultimate boating and snorkeling day!
Day 4 – 7: Monteverde
On days 4-7 in this 14 days in Costa Rica itinerary, you'll head to Monteverde.
Monteverde is a rural farming area up in the Tilaran mountain range, famous for its cloud forest and birding. There are 3 cloud forest reserves perfect for hiking and nature.
It's also a popular spot for adventure canopy tours where you can tarzan swing, bungee jump and zipline over the cloud forest!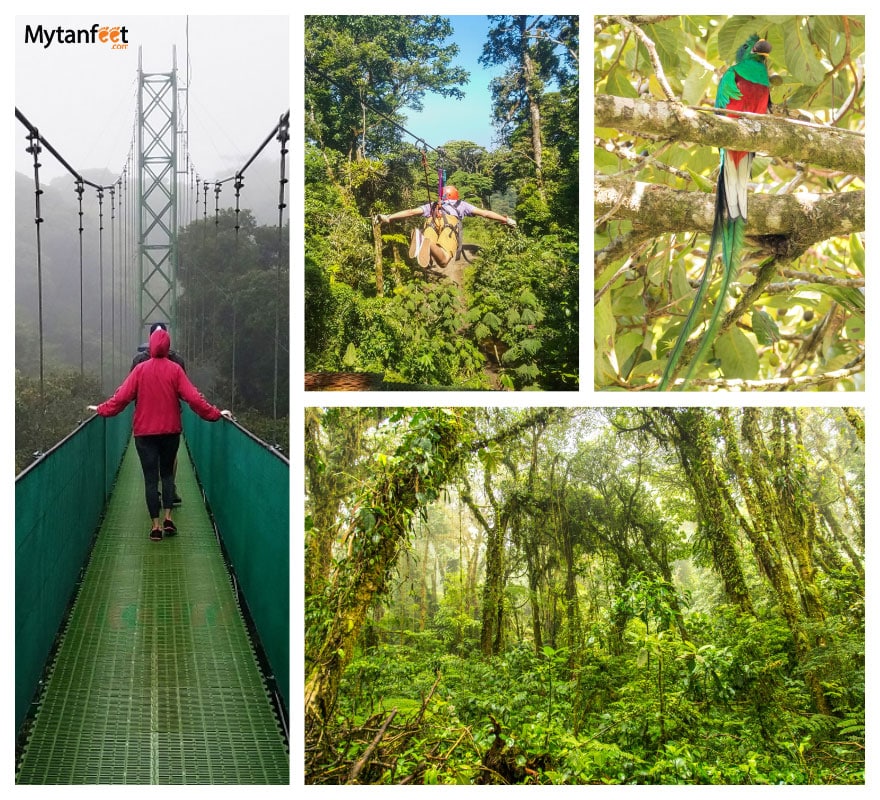 The drive from Tamarindo to Monteverde is about 3.5 hours total. We recommend to leave by noon so you can get to Monteverde in the light.
You do not want to drive this route at night. You can read more about Monteverde road conditions here.
Where to stay
Budget: Claro de Luna, Sleepers Sleep or Cabinas Vista Al Golfo. Mid range: Hotel Fonda Vela, Los Piños Lodge, Monteverde Country Lodge. High range: Hotel Poco a Poco, Hotel Belmar, Senda Monteverde, El Establo Hotel.
What to do
Hike the cloud forest: This is a must! The cloud forests are extremely vulnerable and rare in the world, housing hundreds of flora and fauna that don't live outside these conditions. Monteverde and Santa Elena are the two most popular cloud forest reserves. Read our guide to the Monteverde cloud forest reserves here.
Bird watching: Monteverde is an excellent place to see birds, particularly the Resplendant Quetzal. During the months of January – July, you can see these brilliant birds. Take a guided birding walk Curi Cancha Reserve for the best Quetzal opportunities.
Coffee tour: Monteverde's climate and fertile soil makes it an ideal location for coffee. Visit the El Trapiche or San Luis coffee plantation to learn all about the process of growing, harvesting and processing coffee. And sample and buy delicious coffee!
Ziplining: To add some adventure to the trip, go on an extreme canopy tour like 100% Aventura where they also have a 45 meter tarzan swing. Or head to Selvatura Park or Sky Adventures with breathtaking views of the cloud forest.
Hanging bridges walk: Go on a self guided walk through the hanging bridges so you can get high up in the cloud forest. Many adventure parks have their own, such as Selvatura, Sky and 100% Aventura so you can do multiple activities in one day.
Free spots: Discover some cool local spots without spending any money. Read more: five free things to do in Monteverde
Sample Monteverde Itineraries
Here are ideas on how to spend your time in Monteverde.
Day 4: You will be arriving in Monteverde after driving from Tamarindo. After checking into your hotel, relax and check out Santa Elena town. Have dinner at Restaurante Sabor Tico for delicious local food (try their beef stew).
Day 5: Spend a full day at one of the adventure parks for a fun day of ziplining, hiking and nature! You'll zip through the cloud forest, walk the hanging bridges and get up close with the cloud forest. We highly recommend Selvatura Park for the ultimate 1 day experience.
After your day at Selvatura Park, have dinner at your hotel or grab some yummy tacos at Taco Taco.
Day 6: Take a coffee tour in the morning at San Luis. For lunch, head to Orchid Cafe. Afterwards, climb the hollow ficus tree or the ficus tree bridge after lunch.
Then relax in the afternoon and watch the sunset at the Mirador Valle Escondido Preserve right in town. For dinner, head to Tramonti for delicious pizza and pasta.
Day 7: Go for an early morning birding tour at Curi Cancha Reserve and relax the rest of the day. Have lunch at Choco Cafe and dinner at Toro Tinto for a nice steak dinner.
Day 8 – 11: Bijagua
Bijagua is a tiny rural town up in the northern highlands, right at the border of Guanacaste and Alajuela. The drive from Monteverde to Bijagua via the Interamericana highway is about 2 hours.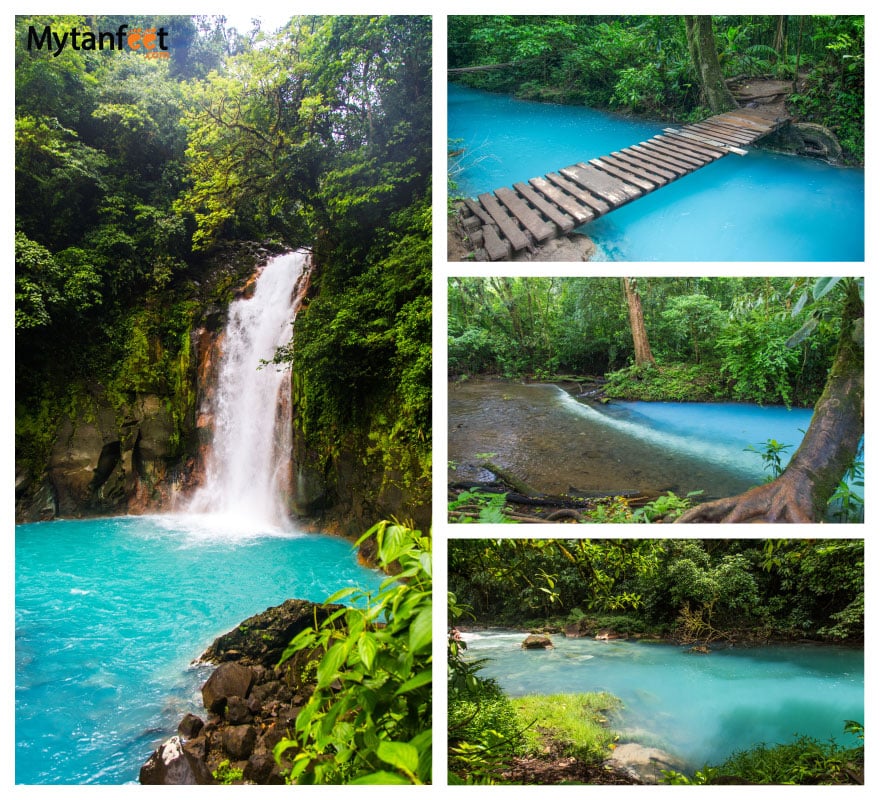 This area is famous for the Tenorio Volcano National Park where the incredible Rio Celeste (sky blue river) is.
Where to stay
Casitas Tenorio B&B, a super cute B&B with rooms and villas. Get 10% off your booking here! You can also check Rio Celeste Hideaway for upscale rooms right by the park. Celeste Mountain Lodge is another very nice option.
What to do
Hike Rio Celeste. You can do a self guided hike to the river as the trail is well laid out and easy to follow. It's a 25 minute drive from Bijagua to the national park entrance. Important thing to note: if you're visiting in the very rainy months of September – January, sometimes the park closes due to intense rain and floods or the water isn't as blue. This is why we stayed for 3 full days so we could see how the weather was in the morning. If you visit during that time of year, be flexible!
Bird watching: Bijagua has a great number of unique birds due to the type of forest around and you can see hummingbirds, 3 species of toucans, all sorts of tanagers and other birds.
Swim in the river: You can't swim in Rio Celeste in the national park but there are spots outside the park that are open to the public by the bridge. We spent a day swimming in the river at the free Rio Celeste swimming hole.
There are also night tours at a frog farm, horseback riding tours, a hike to Bijagua waterfall and the Heliconias hanging bridges.
For these days, we hiked Rio Celeste one day and then the next day, we drove around Bijagua, swam in the public section of the river and relaxed at our hotel.
Sample Bijagua Itineries
Day 8: You'll arrive in Bijagua, check into your hotel and relax. Take a night walk at the frog farm to see frogs, reptiles, insects and other night critters.
Day 9, 10 and 11: Check how the weather is to visit Rio Celeste in Tenorio Volcano National Park, especially if you're visiting during rainy season.
Day 12 and 13: Rincon de la Vieja
The last two days are i Rincon de la Vieja. This area is by the national park and the best place to explore the dry tropical forest and the Rincon volcano.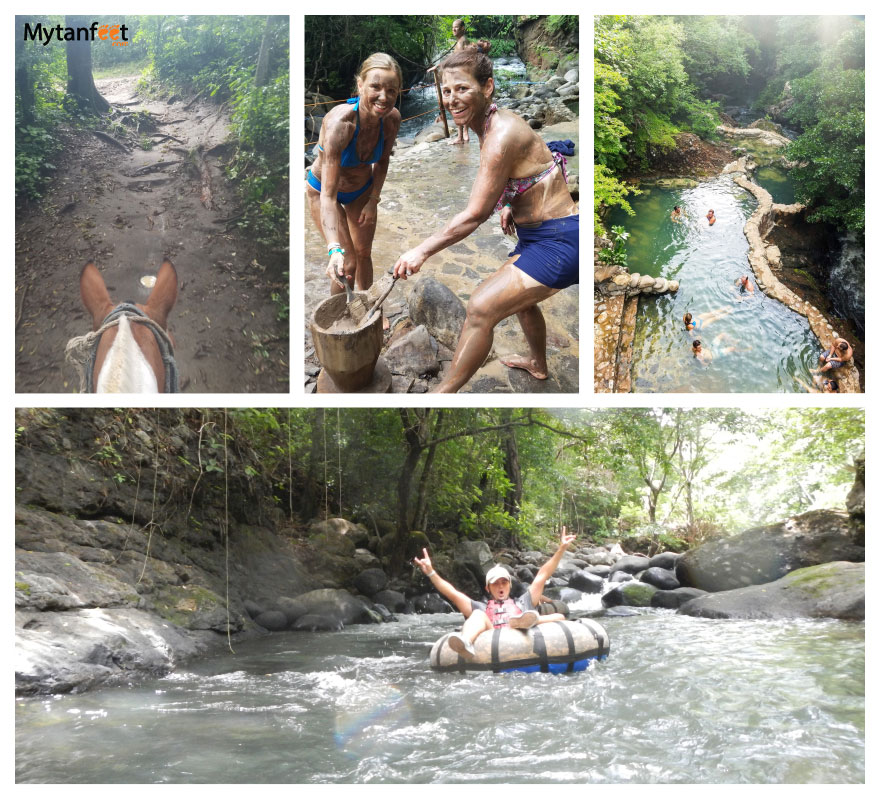 Bijagua to Rincon is about a 1.5 hour drive via Interamericana highway 1 and Liberia.
What to do
Adventure combo tour: All the hotels in the Rincon de la Vieja area have their own adventure park with activities like ziplining, waterfalls, horseback riding and hot springs with mud baths.
Hike the national park: You can also spend the 1 full day hiking the national park. There are some charming waterfalls you can hike to or do the short trail around the boiling mud pots. Read about the hiking trails in Rincon de la Vieja National Park here.
Relax. A couple of the hotels have spas. Spend your day in spa bliss before heading home.
Where to stay
Hacienda Guachipelin: This hacienda has our favorite adventure combo tour with white water tubing. Rooms are nothing spectacular but the activities and property are really nice.
Borinquen Mountain Resort & Spa: This hotel is out in the mountains of Rincon de la Vieja in a very peaceful and tranquil area. There's nothing around except trees and they have their own hot springs, ziplining and horseback riding trails on the property. Rooms are a lot nicer with a modern rustic touch. Recommended for couples.
Buena Vista: Buena Vista has another fun adventure combo tour with a waterslide. Rooms are nothing special either, but they also have a coffee farm, cultural activities, hot springs, trails, waterfalls and horseback riding.
Rio Perdido: It's not as close to Rincon de la Vieja as the other properties but this resort is very nice for hot springs and adventure. Great for families.
Day 14: Fly out
And on day 14, you fly out of Liberia after a fun 2 weeks! Rincon de la Vieja to Liberia Airport is about 30 minutes. Remember to get there 2 hours before your flight.
We hope this itinerary was helpful for your trip planning!
Check out other Costa Rica itineraries below!
10 day Costa Rica itinerary: San Jose, Puerto Viejo and Manuel Antonio
13 days in Costa Rica: San Jose, Puerto Viejo, La Fortuna and Monteverde
1 week itinerary: Jaco, Manuel Antonio and Uvita
There are affiliate links in this post.