As one of two certified sustainable destinations in Latin America, Sarapiqui is an excellent destination in Costa Rica for the eco-conscious, nature loving traveler. In Sarapiqui, tourists can discover and explore many lesser known natural gems in a rural rainforest and farming community. If you plan to visit Sarapiqui, here is our guide to help you plan your visit.
How to Get to Sarapiqui
Bus
The main bus station is in Puerto Viejo de Sarapiqui and there is a bus from San Jose to Puerto Viejo de Sarapiqui everyday. Terminal del Caribe (Calle Central, Ave 15) has a bus at 630, 730, 10, 1130, 130 PM, 230 PM, 330 PM, 430 PM and 6 PM that takes 2 hours.
There is another bus from San Jose via the Vara Blanca Terminal del Caribe at 630, 1 PM and 5 PM that takes 3.5 hours.
There is a bus from Guapiles with Transportes Guapileños everyday at 5, 8, 9, 1030, 12 PM, 230 PM, 4 PM, 5 PM and 630 PM that takes 2 hours.
Driving
The main road to and around Sarapiqui is a main highway and is well paved with good signage. From San Jose Airport, take Route 125 north, turn onto Route 126 and continue north. You'll drive through San Miguel, La Virgen and then reach Puerto Viejo de Sarapiqui. You can use Google Maps or Waze (Waze recommended to help you navigate San Jose).
From La Fortuna, you'll head west on Route 142 and then turn onto Route 4 all the way to Sarapiqui.
Shuttle
Interbus has shared shuttles to Sarapiqui from La Fortuna, Guapiles and Puerto Viejo. A private shuttle costs around $165 USD for 1-4 people from La Fortuna.
Map
Map of Sarapiqui, Costa Rica
Sarapiqui is the largest canton in Heredia, making up 85% of the province. It has 5 districts and the main ones for tourists are Puerto Viejo, Horquetas and La Virgen. Puerto Viejo is the capital city of the Sarapiqui canton.
How to Get Around Sarapiqui
It is best to have a car if you plan to stay for a few nights and want to explore because Sarapiqui is such a big area. The cities are quite spread out (5-30 kilometers) so it will be much easier with a car. If you're only staying a couple nights and at a hotel that has on-site activities and a restaurant, you can get around without a car.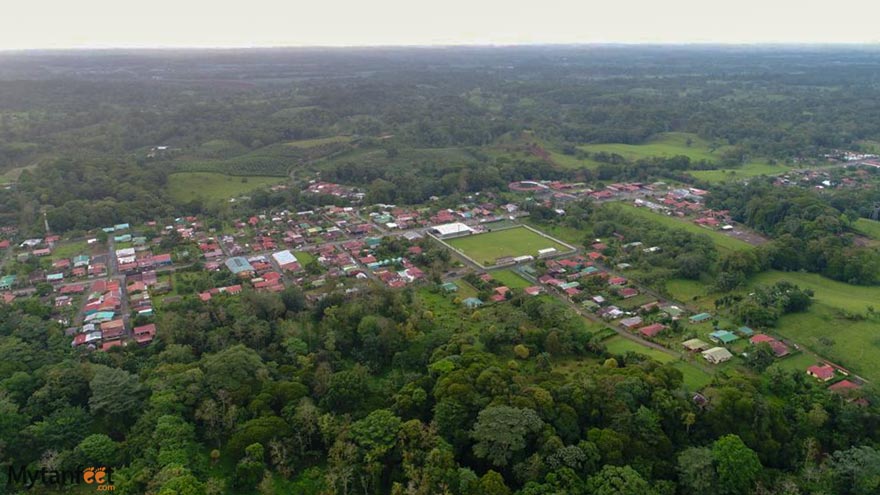 You don't necessarily need a 4×4 or 4wd for Sarapiqui as the main road through Sarapiqui is paved. There are many any hotels and attractions that are off the paved main road though, so make sure to check with your hotel if you need a 4wd.
Sarapiqui Weather
The weather in Sarapiqui is hot and humid. It experiences the tropical seasons of dry and rainy but this area is extremely humid as it is more on the Caribbean side. The only other place more humid I've been to in Costa Rica is Osa Peninsula! Make sure to bring fast drying clothes, lots of mosquito repellent and a rainjacket and a waterproof backpack in rainy season.
Average temperatures are around 85 F (29 C) during the day and 75 F at night (23 C). In rainy season, prepare for very strong rains, especially during September – November as those are the rainiest months. There may sometimes be small tropical storms in this area and it can rain all day during that time.
Where to Stay in Sarapiqui / Sarapiqui Hotels
One thing to note is that you will not find luxury hotels here. Sarapiqui is an area known for sustainability and nature so they have built their hotels to keep in line with that concept with many using solar panels, fans and their own treatment plant.
Another thing to know is during the North American summer months of May – August, these lodges are usually very busy with student groups. We visited in June and both hotels we stayed at were full with students, summer camps and study abroad programs.
Hacienda Poza Azul
Hacienda Poza Azul is a family run hotel with a tent camp and on-site activities. They offer white water rafting, canyoning, ziplining and many more activities so it's an excellent option for those without a car. Stay in their tents for a fun and more rustic experience. Good for adults and student groups. It is recommended to have a high car to go to their tent camp as it is on a very bumpy and pot holey-road.
Selva Verde Lodge
Very nice lodge on a huge property with their own private reserve, trails and pool. Great for birding and guided nature walks. They have a bird feeding station at breakfast and beautiful gardens. Food is excellent, rooms are comfortable and they have bigger bungalows in a separate area across the street from the main part of the lodge. Their bungalows, pioneer rooms and certain rooms have air conditioning. A guided walk through their reserve is a must! Check our Selva Verde Lodge review here.
La Quinta
One of the nicer hotels in Sarapiqui with air conditioning near Chilamate. They have a nice quiet property with a pond, restaurant, cooking classes, butterfly garden and clean and comfortable rooms.
Sarapiqui Rainforest Lodge
Large Rainforest lodge with Hispanic Colonial design and decor. Rooms mimic Indigenous houses as spacious round huts with thatched roofs. They also have an archeological park and museum with ruins of an ancient civilization. Some rooms have air conditioning.
Hotel El Bambu
Located right in the heart of Puerto Viejo, this hotel is ideal for visitors without a car and want to be central. It's more of a "city hotel" and they have a restaurant, air conditioning and all the city amenities at your doorstep. If you have a car, I would personally stay at a lodge that's more in the rainforest but for those who want to be in the town, this is the best option.
La Selva Biological Station
Established in 1968, this biological station hosts researchers and scientists from all over the world and visitors can stay overnight at the station to experience what it's like first hand. They offer basic cabins for visitors and keep in mind it's a research station, not a hotel. Most people stay 1 or 2 nights to learn more about nature and conservation. You can also book guided walks and birding tours at the station. Book your room here.
Tirimbina Lodge and Rainforest Center
Near La Virgen, Tirimbina lodge offers dorms, private and simple rooms for visitors. They have 9 kilometers of trails with hanging bridges, great for birding and wildlife watching. They also offer a chocolate tour. Check rates here.
Chilamate Rainforest Eco Retreat
Really nice rainforest lodge in Chilamate by the Sarapiqui river. The property is 55 acres with spacious private rooms, family suite, top of the floor jungle house and dorms. They have their own private trails for guided walks. Far from the main road, very quiet and surrounded by forest. You will need to book on their website.
Where to Eat
Soda Kora: A good local restaurant in La Virgen
Casona Tica Linda: It's also a hotel but their restaurant is nice with a family atmosphere. Great ceviche.
Soda Marielos: A local outdoor restaurant that uses the old school Costa Rican wood stove. Came here for lunch and it is also a nice local experience.
Restaurante Ranchero has seafood, international and is a nice place for dinner.
Things to do in Sarapiqui
Although Sarapiqui is most famous for their white water rafting, there are a handful of other activities to do. This area is particularly popular with birders, nature lovers and student groups to experience the local culture and farm life.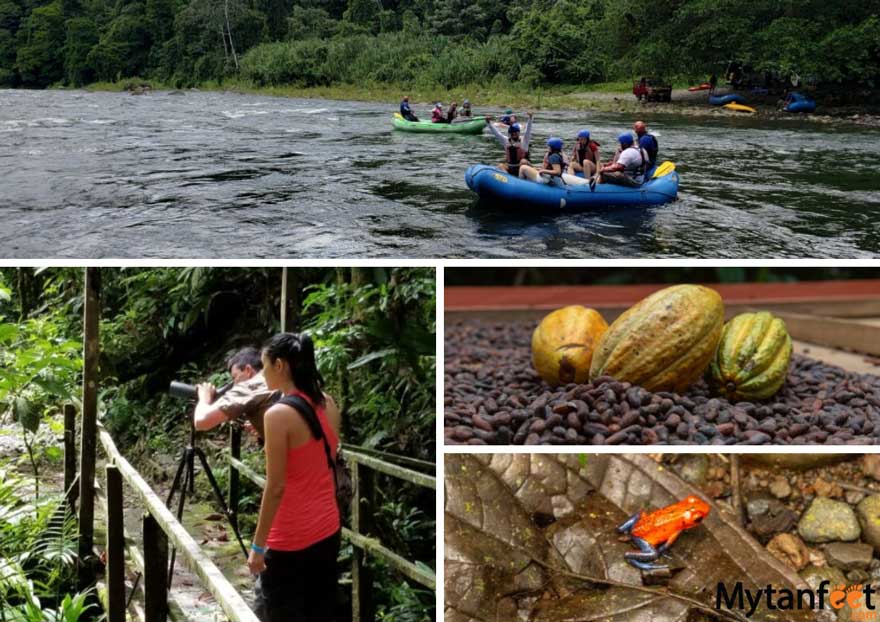 Popular things to do in Sarapiqui are white water rafting, guided nature walks (we highly recommend at the Selva Verde Lodge's private reserve), chocolate tour, horseback riding, organic pineapple tour and cooking classes. You can read more ideas for Sarapiqui activities here.
What to do in Sarapiqui for 1 day
Adventure: Rafting in the morning, horseback riding/canopy/ziplining in the afternoon
Adventure + Nature: Guided nature walk or birdwatching tour in the morning, rafting/horseback riding in the afternoon, night walk
Nature: Birdwatching or guided nature walk in the morning, river safari float in afternoon, guided night walk
Culture + Adventure + Nature: Organic farm and cooking class in morning/organic pineapple tour, rafting in afternoon, guided night walk
2 days
Poza Azul waterfall morning, chocolate tour/organic pineapple tour afternoon
Hang out at local swimming holes in Sarapiqui river (one by the entrance of Chilamate Eco Rainforest Resort)
Souvenir shopping in Puerto Viejo downtown
Sample Sarapiqui Itineraries
Most people stay 1-3 nights in Sarapiqui. For those looking to do just rafting, you can visit as a day trip from San Jose or stopover on your drive from San Jose. Sarapiqui is conveniently located around halfway of the route from the Caribbean to the Northern lowlands.
Tortuguero – Sarapiqui – La Fortuna
From the La Pavona dock (where you take the boat to Tortuguero), it is a 2 hour drive to Sarapiqui and a great stop on your way to La Fortuna.
Puerto Viejo – Sarapiqui – La Fortuna
Puerto Viejo de Talamanca in Limon is a 3.5 hour drive to Sarapiqui and is also an excellent place to break up the drive to La Fortuna. The whole drive from Puerto Viejo to La Fortuna takes around 5-6 hours.
San Jose – Sarapiqui – La Fortuna
San Jose to Sarapiqui is 2 hours and Sarapiqui to La Fortuna is 2 hours. It's a nice addition to an itinerary to see another part of the country. Although Sarapiqui and La Fortuna do offer similar activities, they are very different. Sarapiqui is still rural, not developed and has way less tourists whereas La Fortuna is more developed, is busier and is more commercial. Good way to experience two different rainforest areas in Costa Rica.
Our personal recommendation: if you want to do more intense ziplining or waterfall rappelling, I recommend to do it in La Fortuna rather than Sarapiqui. Sarapiqui is fine for beginners, La Fortuna has way more options for intermediate and faster ziplines and the views in La Fortuna are nicer.
Sarapiqui – Bajos del Toro
For the more adventurous travelers who are renting a car, we highly recommend visiting Bajos del Toro after Sarapiqui as they're very close. This tiny rural town has a plethora of waterfall hikes like Blue Falls, Catarata Rio Agrio, Tesoro Escondido and Del Toro. If it's in your budget, we highly recommend staying at El Silencio Lodge. Well worth the money and excellent for honeymooners or couples!
This post has affiliate links.