For the tourists looking to explore a beautiful, low key part of the Guanacaste province, check out the small town of La Cruz.
Although La Cruz (translated to the cross in English) is known for being the closest town to the Costa Rica – Nicaragua border station of Peñas Blancas, this area has many undiscovered gems for locals and tourists to enjoy.
La Cruz has several beautiful beaches, a kite boarding school, a luxury all-inclusive resort and is close to a couple wildlife refuges and national parks.
Location
La Cruz is in the Guanacaste province, 70 kilometers (44 miles) from Liberia International Airport (1 hour and 5 minute drive).
How to Get to La Cruz, Costa Rica
La Cruz is a 1 hour drive from Liberia International Airport (70 kilometers or 43.5 miles). This route is on a main highway (Interamericana highway 1), a well paved road.
A 4wd/4×4 is not necessary to visit La Cruz.
How to Plan Your Visit to La Cruz, Costa Rica
You can visit as a day trip from Tamarindo, Liberia, Papagayo Peninsula or the Guanacaste mountain areas. La Cruz is about a 50 minute drive on the Interamericana highway 1 from Liberia and is very easy to get to. If you visit on a day trip, we recommend to visit a couple beaches and view points. Below I'll have our exact itinerary for what we did as a day trip visiting from Tamarindo.
For this, you do need to rent a car (get our car rental discount here) and you don't necessarily need a 4×4 or 4wd. To get to La Cruz, you will drive on the Interamericana highway 1.
You can stay in La Cruz for a couple nights but we do not highly recommend to stay there as a home base for your entire time in Costa Rica. However, there is one very nice all-inclusive resort by La Cruz and many tourists will stay there for their entire vacation. Likewise, if you plan to join the kite boarding school, they have overnight camps. You will need to fly into Liberia International Airport.
The town does have all the basic services such as convenience stores, gas stations, pharmacies and restaurants.
What to Do in La Cruz, Costa Rica
Visit Beaches
This is the best thing to do in La Cruz for a day. The beaches in the La Cruz area are relatively undiscovered and are perfect for those who enjoy exploring on their own. Here are our recommendations.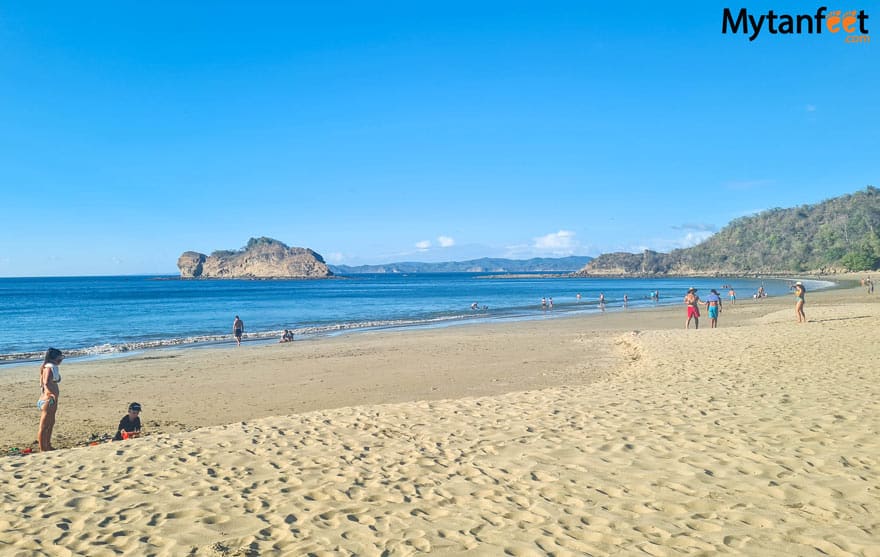 Rajada beach: a beautiful beach with calm waves.
Playa Rajadita: the small beach next to Rajada
Copal Beach: Watch the windsurfers
Playa Junquillal: Inside the Junquillal Wildife Refuge, a bit south of La Cruz
Kite Surfing
Copal beachis the premiere destination in Costa Rica for kite surfing with excellent year round conditions. Take a lesson or stay for a camp to learn how to enjoy this rapidly growing sport.
Policia de Frontera de Conventillos (border between Costa Rica and Nicaragua)
This is the most northern point of the Costa Rican Pacific coast before Nicaragua. This border point is not used for daily transit or tourists though.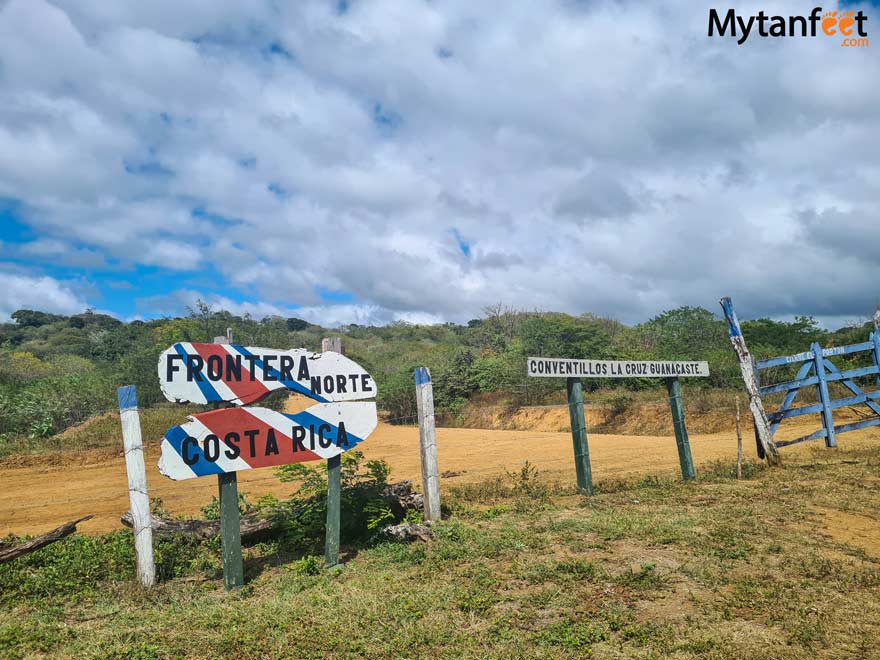 You can drive all the way to the gate and take some photos of the border. It's kind of interesting to see this border point because it's literally a wooden fence and that's it.
Mirador de Playa Bassey a Isla Juanilla e Isla Dispensa
A nice viewpoint off the side of the road on the road coming north to the Junquillal Wildlife Refuge.
Mirador de Bahia Salinas
This is a really nice view point from La Cruz down to Salinas Bay. The parking lot is very spacious and there are some benches. You get a beautiful view of the bay.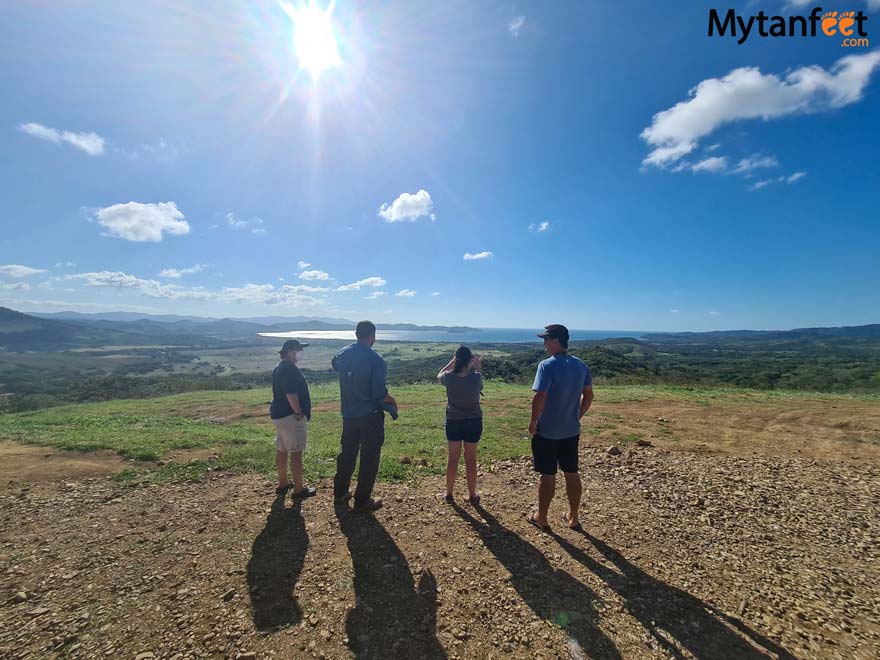 Mirador La Cruz
A very nice area to see the view of the bay right in town. Even has a picnic table.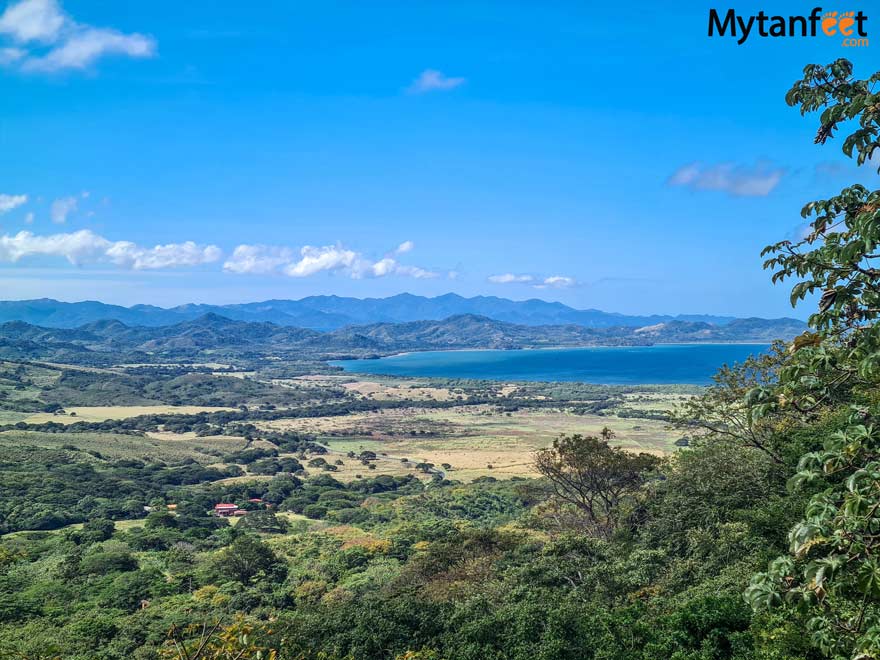 La Cruz Beaches (Salinas Bay)
Junquillal Wildlife Refuge (Playa Junquillal)
Playa Rajada and Playa Rajadita
Playa Papaturro
Copal beach
Day Trip Itinerary
If you don't plan to stay overnight in La Cruz, feel free to use our day trip itinerary to La Cruz below. This is exactly what we did as a 1 day trip from Tamarindo (2 hour drive one way). We did some sightseeing and spent the day at the beach. Please click here to go to the interactive map.
Left at 8 AM from Tamarindo. Brought swimsuit, change of clothes, towels, cooler with cold drinks, lots of snacks and fresh water to rinse off with. There are no showers or changing rooms at any of the beaches.
Took the route that passed by Junquillal Wildlife Refuge, stopped by the Mirador de Playa Bassey and checked out Playa Junquillal along the way. Walked on Junquillal beach a bit.
Headed up to La Cruz town to check out the park and viewpoints. Then started driving down to Playa Rajada beach, stopping at the Bahia Salinas viewpoint along the way and the border.
Next lunch time since it's about 12, 1230 PM now. We had lunch at Soda Taytay but you can get pizza at the Blue Dreams restaurant.
After lunch, spent the rest of the afternoon at Rajada beach. Walked up the little trail to the viewpoint and to visit Rajadita Beach. Stopped by Playa Copal on the way to see if anyone was windsurfing.
Watched sunset at Rajada beach, then drove back to Tamarindo going back to La Cruz and then on the Interamericana highway 1 to Liberia. Stopped in Liberia to get some food (they have all sorts of fast food and supermarkets). Got home around 9 PM.
Type of Car to Rent
You don't necessarily need a 4×4 or a 4wd to visit La Cruz. However, if you plan to explore more of the beaches and you're visiting in rainy season months, a car with high clearance will be more comfortable and secure since some roads to the beaches are not paved.
Day Trips and Excursions
If you do decide to stay in Dreams Las Mareas or in La Cruz for your trip, you can do many day trips in Guanacaste from there. You can visit the rainforest, go white water rafting, ATV, city tour, etc. Click here to get our Guanacaste day tours discount!
La Cruz, Costa Rica Hotels
Dreams Las Mareas All Inclusive Resort: This all inclusive resort is on Jobo Beach of the Salinas Bay and it's one of the nicest resorts in Costa Rica. They have pools, multiple restaurants, a tour desk and beautiful rooms.
Hotel Amalias Inn: Cute little hotel in downtown La Cruz with a nice view, small pool and patio.
Blue Dream Kite Boarding Resort: The premiere place for kite boarding in Costa Rica. They have a kiteboarding school and daily lessons and are located right on Playa Copal.
Where to Eat
There aren't a ton of food options in this area, most of them are local restaurants. Tatay Cafe Restaurante and Seafood in El Jobo and Thelma are two decent places for local food. Tatay had good seafood. Naked Indian is one of the best restaurants in this area.
A couple other local restaurants to check out are Restaurant La Copaleña, Sea SIde Grill, El Fogon de Juana and the Blue Dream hotel restaurant.
Read About Other Places in Costa Rica
Cahuita: Small town north of Puerto Viejo that is home to Cahuita National Park
Turrialba: Local farming town in the Cartago province, known for the Turrialba volcano and farming
San Vito: Small local town near the Panamanian border known for adventure, nature and birding