As someone who travels frequently to and from Costa Rica, I'm always looking for flights and trying to find the best price. I'm no expert or analyst on airline ticket pricing but I have quite a bit of experience and knowledge, particularly when it comes to finding flights to Costa Rica for the past 10 years.
So if you're on the hunt for your plane ticket, read about my experiences and tips. Also make sure to check our Costa Rica trip planning timeline for more advice on booking your vacation.
First things first, let's talk about useful search engines that we personally use to help you find cheap flights to Costa Rica.
Our Favorite Travel Search Engines
If you want to find the best flight to Costa Rica, there are many websites out there to help you do that. Google Flights is an excellent one and is my go to since they have flight tracking. They'll send you alerts for when the flight you want increases or decreases in prices which is very helpful.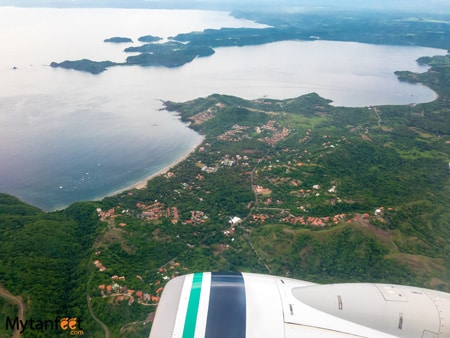 To find the cheapest flights to Costa Rica, my recommendation is to use Google Flights and put on alerts. Other good travel search engines that look for cheap flights are Skyscanner and Momondo.
These search engines scour the web for the best cheapest tickets and are particularly good if you are looking for a stopover (a long layover that allows you enough time to sightsee the destination) on an international flight.
Keep in mind that some airlines, like Southwest for example, does not show up on search engines so you will have to go to their site directly to check prices.
Our Experience With Skyscanner
We used Skyscanner for tickets from Costa Rica – Seattle – Taipei – Seattle – Costa Rica. We stayed in Seattle for 2 weeks and had a 15 hour stopover in China before landing in Taipei. That whole itinerary was $900 USD per person. We purposefully wanted a long layover in China and Skyscanner made it easy to find one.
Does it matter when you search for tickets?
In my personal experience, I think so. I always set up a bunch of alerts on Google Flights and I do notice prices dropping on Tuesday nights and going up on the weekends. I've never purchased tickets on a weekend and I usually purchase them as soon as I see a great price. For alerts and fare forecasts, Airfarewatchdog is another excellent one.
Travel Hacking
What is flight hacking? you may ask. It's basically collecting points and miles from programs to use for travel. Many credit cards have options to get a certain number of miles per dollar or hotel points which is awesome. I've used miles for hotels and I know people who had enough to pay next to nothing for flights using only their points!
The first step is to sign up for travel credit cards. One of the best ones for starters is Chase Sapphire. They give you 60,000 miles after spending 4,000 in purchases the first 4 months (equal to $750 USD in travel) and offer 2x points on travel and dining and also offer perks like car rental insurance and trip delay insurance.
Second, sign up to be a member of the airline you're planning on flying so you can earn miles to use in the future and get member perks. I used to fly United a lot as they had the best itineraries and cheapest flights to Costa Rica from Seattle so I racked up a ton of United miles. I've switched to Alaska a couple years ago when they opened up more routes to Costa Rica however. So now I fly with Alaska Airlines all the time and have their credit card so I earn a ton of miles on there!
Third, read sites that talk about travel hacking like The Points Guy. You'll get a lot of tips on how to maximize your points and find out which credit card is best for you.
Cheap Flight Subscriptions
Next, we recommend signing up to a flight subscription service to find the cheapest flights to Costa Rica. These are sites like Scott's Cheap Flights or Dollar Flight Club. What they do is they look for last minute deals, error fares and low fares and send you emails about them. These fares usually last for 1-3 days and may be basic economy or require a long layover.
I personally use both right now. I've used Scott's Cheap Flights for Iceland but they have a ton for Costa Rica, especially for flying in and out of San Jose. Dollar Flight Club doesn't have as many to Costa Rica but they have a good selection for other international trips. They also offer giveaways on their Facebook page.
Both offer free and premium plans with premium members getting perks like deals before anyone else, getting 100% of all the deals they find, being able to select your departure airports and text alerts and being ad free. Prices are very similar, Dollar Flight Club is $40 USD a year, Scott's is $49 USD a year. Between the two, I have seen more slightly a bit more cheap flights to Costa Rica from Scott's but I receive a cheap fare alert every 1-2 days from both of them.
For example, I have seen roundtrip fares from Atlanta to San Jose, Costa Rica for $350 USD roundtrip when it's normally at least around $600-700 USD! I've also seen cheap flights from Toronto to Costa Rica for around $250 CAD (flash fares).
Honestly, after signing up to their subscription plans, there is no looking back. We've saved a ton of money using their services and booked trips to Ireland, Madrid and Portugal when we got their cheap fare alert. So if you travel internationally, they are absolutely worth the money!
Consider Departing From Another Airport
Make sure to check all of your surrounding international airports since one may have cheaper fares than the other. Once I found flights to Costa Rica from Portland $150 USD cheaper than Seattle! The Portland Airport is 2 hours from my parents house so driving 45 minutes more would have saved me $150 USD.
General Tips for Cheap Flights to Costa Rica
Be Flexible
The best tip I can give you for finding cheap flights to Costa Rica is to travel in the off season. If you are flexible on time and really on a budget, then you should visit Costa Rica during our low season (May, June, September and October). Right after US Thanksgiving and before mid-December and the first couple weeks in January after the New Year usually has cheap fares too.
For example, I have bought flights to Costa Rica from Seattle for $500 USD roundtrip in beginning of May. In July, it was $750 USD.
If you have to travel during Christmas, New Years, February – April or July and August, be prepared to pay more. Christmas can easily be around $1000 USD from Seattle! But if you're flexible, the beginning of December can be almost half as much. I have purchased roundtrip flights from Seattle to Costa Rica for $450 USD roundtrip beginning of December.
Additionally, if you sign up to Dollar Flight Club or Scott's Cheap Flights, you can grab those mistake or last minute low fares and save a ton of money that way.
Book a Flight with a Layover
Non stop flights cost way more so book a flight with a layover. From Madrid, we found tickets for $600 USD each with a 5 hour layover in Miami. Nonstop flights from Madrid to San Jose, Costa Rica were around $900 USD each so we saved a good chunk for getting a flight with a layover.
If you can, you can also book stopovers as those are cheaper and you'll get to visit another destination on your way to Costa Rica. For example, our flight from Portugal to Costa Rica had a 15 hour layover in Miami so we got to explore Miami a little bit!
Basic Economy
US airlines like America, Alaska and Delta have introduced basic economy which is the lowest price for flights. The conditions for this fare is there is no seat selection and you have to board last. Additionally, some fares may not allow you to bring two carry ons. I've have found them to be about on average $40-60 cheaper per person so if you are on a really tight budget, don't care about your seat and plan to travel with only a carry on, this is a good option to save some money.
We have flown on basic economy on American and Alaska into Costa Rica. boarded last and didn't get to choose our seats so Yeison and I sat on opposite sides of the plane. It was fine for Alaska but on American, the overheard compartments were all full by the time we boarded (we were like Group 9, I think that's the last one they have) so they made Yeison check in his carry on and charged him for it. We ended up paying $25 USD anyways to check in his luggage.
Since you can't choose seats, we got our seat assignment at the gate as they assigned us whatever was left over.
Check Both Airports
Last tip is to check both international airports. Liberia International Airport is smaller than San Jose International Airport with less routes. Because of this, flying in and out of Liberia is generally around $100-200 USD more expensive. However, since more routes and airlines are flying into Liberia, prices have become more competitive. Always make sure to check both airports.
Read about which Costa Rica international airport is best for you to fly into.
Read more Costa Rica travel tips below!
Travel insurance: Find out why we recommend to get travel insurance for your trip to Costa Rica
Best time to visit Costa Rica: Not sure when to visit Costa Rica? Find out in this post
Best places in Costa Rica: Don't know where to go? Read this post to help you decide
Costa Rica survival guide: The do's and dont's of traveling in Costa Rica
Costa Rica maps: The best maps for Costa Rica plus where to get free local maps
This post has affiliate links.