If you've never visited Costa Rica before, this post will tell you exactly what to expect when going through customs and immigration in San Jose Airport and Liberia International Airport.
*This post is updated to reflect the Costa Rica COVID entry requirements.*
What to Know About Going Through Customs and Immigration in San Jose Airport and Liberia International Airport
Costa Rica has 2 international airports: San Jose International Airport in Alajuela (near San Jose) and Liberia International Airport in Liberia, Guanacaste. It doesn't matter which one you're flying into, the process is exactly the same.
Also remember that immigration is for people, customs is for luggage.
Costa Rica COVID-19 Entry Requirements
First, the entry requirements which is important for times of COVID-19.
As of August 1, 2021, every unvaccinated tourist must purchase a travel insurance that covers a minimum of $50,000 USD for COVID-19 medical expenses and a minimum of $2,000 USD for extended lodging expenses due to the pandemic. This applies to tourists via air and land. Fully COVID-19 vaccinated adults over the age of 18 and minors under the age of 18 do NOT need to purchase this insurance. Every tourist must fill out the online health pass 72 hours before their flight.
Please read our Costa Rica COVID-19 travel post with more detailed information regarding Costa Rica COVID entry requirements and more.
Below is what it's like to go through customs and immigration at San Jose International Airport and Liberia International Airport in Costa Rica. It may be a bit different for you depending on which airline you fly with but this is basically how it goes.
Flying Into Costa Rica: On the Plan
*On my last Alaksa Airlines flight in June 2021, this custom form was not handed out. So depending on your airline, they may give you one, they may not.*
If you are given a custom form during your flight to Costa Rica, here is how to fill it out. For the custom form, you only need one form per family with the same last name living in the same house hold.
Forms are in both Spanish and English. This is what they look like: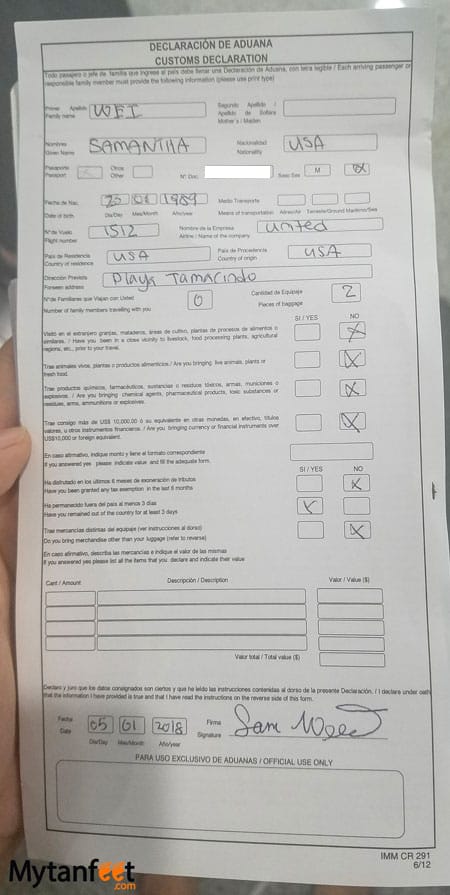 It is very simple to fill out and self explanatory. I will go through everything they ask you below.
Costa Rica Customs Form
This is the type of personal information you need to fill out
Family name (your last name)
Given name (your first name)
Mother's Maiden name (Costa Rica uses both mother and father's last names but this is not necessary if you don't.)
Nationality
Sex
Birthday
Country of residence
Country of origin
This is the flight and passenger information
Passport (check passport unless you're flying on something else than an ordinary passport)
Passport number
Flight number
Airline
Then it will ask you for your foreseen address. Write down the name of the first hotel and the name of the beach or town you are going to. You can see in the form I wrote "Playa Tamarindo" but it will be better to have the name of your hotel. If you're staying in an Airbnb, write the address or name of your Airbnb.
Family Members/Luggage/Etc.
Next, they will ask how many family members are traveling with you, that one is easy to answer. Then it will ask how many pieces of luggage you have. This is how many pieces of check in luggage you have.
Then, they will ask questions such as if you've been around livestock/food process plants or agricultural regions. Second if you are bringing lives animals. Third, if you're bringing any chemical agents. Fourth, if you're bringing more than $10,000 USD (you need to declare this if you are).
The last section asks if you have had tax exemption the past 6 months and if you're bringing merchandise other than your luggage (merchandise to sell).
Have you been out of the country for at least 3 days?
Lastly, this is the question that many people were confused about. Mark YES if you have been out of Costa Rica for at least 3 days. Mark NO if you have not been out of Costa Rica for at least 3 days (for example, you flew out of Costa Rica on January 1st and are flying back January 3rd).
Remember, this is the customs form for Costa Rica, not for the country you just flew out of. People kept getting very confused so remember, they are asking if you have been out of Costa Rica for at least 3 days.
If this is your first time to Costa Rica, you need to mark YES. Since you have never been to Costa Rica before, you obviously have been out of the country for at least 3 days. If you visited 1 year ago, you need to mark yes too since it's been more than 3 days since you've been in Costa Rica.
Then just date and sign and that's it!
Immigration Form
The immigration form also asks the same passenger information: full name, passport number, destination, birthday, occupation, sex, residing country and flight number.
***Costa Rica has stopped asking for this form on most flights so you may not get one to fill out. But if you do, then here are the details for it.***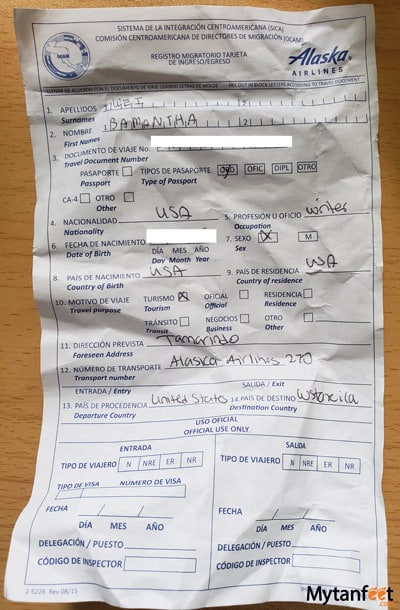 Going Through Immigration in San Jose Airport and Liberia Airport in Costa Rica
Once you get off the plane, follow the markers to immigration which you will go through first. Both airports have social distancing markers and remember that face masks are required for everyone (children under 2 are exempt).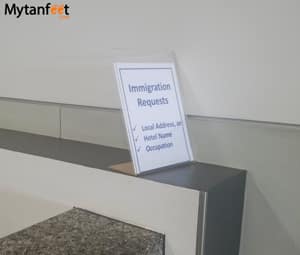 When your turn is called, go up to the desk and the officer will have you scan your QR code.
Scan your QR code, hand your passport to the officer and answer the officers questions.
Families go through immigration together. Spouses go together and if you're traveling with friends, normally they will ask each adult to go separately.
Just a side note, there is a bathroom in the immigration area. I like to use that one since there tends to be less people.
What the Officer Will Ask You
The officer will take your passport, scan it and look at your picture. You will need to lower your mask for a second to show your face.
Then they will ask you these questions:
Your local address: Town and hotel name
Your occupation
How many days you are staying in Costa Rica
You can answer in English, they all speak basic English and are obviously used to tourists. The immigration officer will also ask to see your flight out of Costa Rica. I showed him my flight itinerary on my phone since I didn't print it out.
Tourist Visas
Because of COVID, immigration is now giving out tourist visas for the exact number of days you bought insurance for.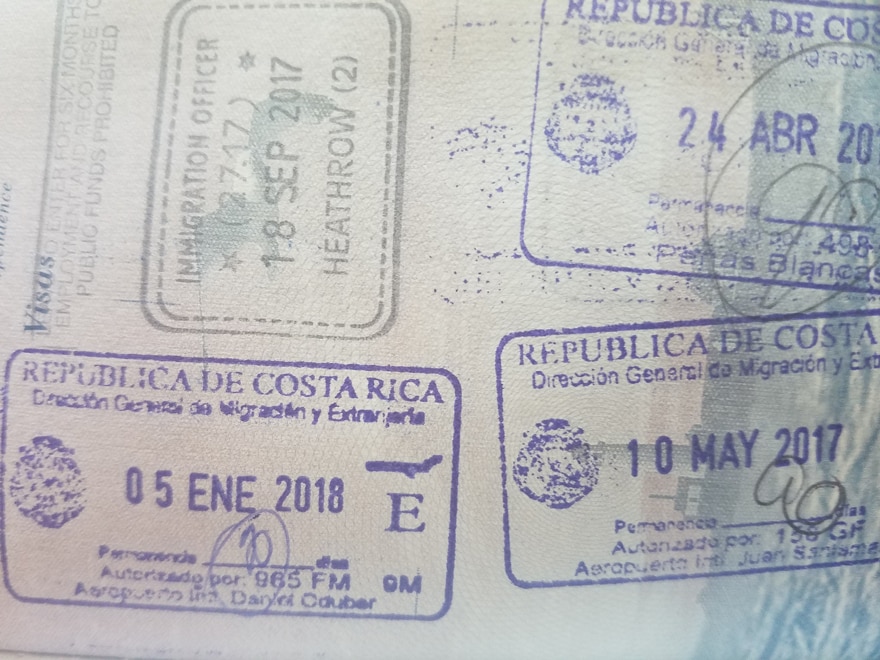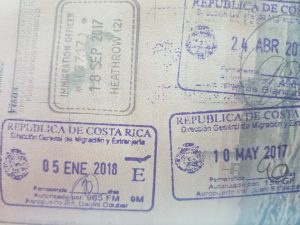 So for example, I bought 66 days of insurance and they gave me 66 days on my tourist visa. Tourist visas are technically valid for 90 days (for Group 1 countries) so you can still stay up to 90 days, but you will need to purchase insurance for 90 days.
Please check all Costa Rica entry requirements before you fly. It is the traveler's responsibility to check the requirements to enter Costa Rica.
If you don't fill out the health pass or purchase insurance, the agents can help you when you arrive but we recommend to do ALL of that before your flight.
Baggage Claim and Customs
After you finish immigration, you will go to baggage claim which are through the double doors. There aren't that many carousels so you'll easily be able to find yours. Pick up all your luggage (they have free carts if you need them) and take them to customs.
Now you will go through customs. Go to any line and put ALL your luggage, backpacks, bags, purses and carry ons to be scanned.
Go around the other side and hand the officer your customs form (if you have one), pick up your luggage and then you're free! If you happen to get stopped by the custom officer, pick up your luggage and bring it over to the side where they can examine it.
Exit
You'll exit through a pair of swinging doors (the ones that say, no going back beyond this point) and be out in the airport. At San Jose Airport, you will exit to the outside where you will see all of the taxis and shuttle people. At Liberia Airport, you will exit into the actual airport and everyone is waiting outside straight ahead.
How Long Does it Take to Go Through Customs and Immigration in San Jose Airport and Liberia Airport?
How long it takes for you to go through customs and immigration in San Jose Airport and Liberia Airport depends on when you land.
San Jose Airport takes much longer than Liberia, especially if you are landing during the day on Friday-Monday. Pack your patience because it may take 1-2 hours to get through the lines if you are landing on the weekend in the months of December through April, June and July as those are our high season and peak travel times. Several flights land at the same time so there are hundreds of people who have to go through immigration at the same time.
For Liberia Airport, it's always been fast because there aren't as many flights. Last time in July 2021, it took me about 30 minutes to get through immigration and customs at Liberia Airport.
Remember to have your QR code ready, your flight out of Costa Rica handy and your insurance purchased to prevent any delays.
To see what it's like to go through customs and immigration in San Jose and Liberia Airport, you can watch the following Youtube videos. These were all made pre-COVID so you won't see face masks or social distancing markers but everything else is the same. These videos are for our Costa Rica car rental discount so you'll see where to meet the Adobe Car rental agent.
San Jose International Airport
Money Exchange, Duty Free, Car Rentals, Etc.
You can find money exchanges and duty free at both airports after immigration. Below is the money exchange and duty free at Liberia International Airport. Still open at 730 PM.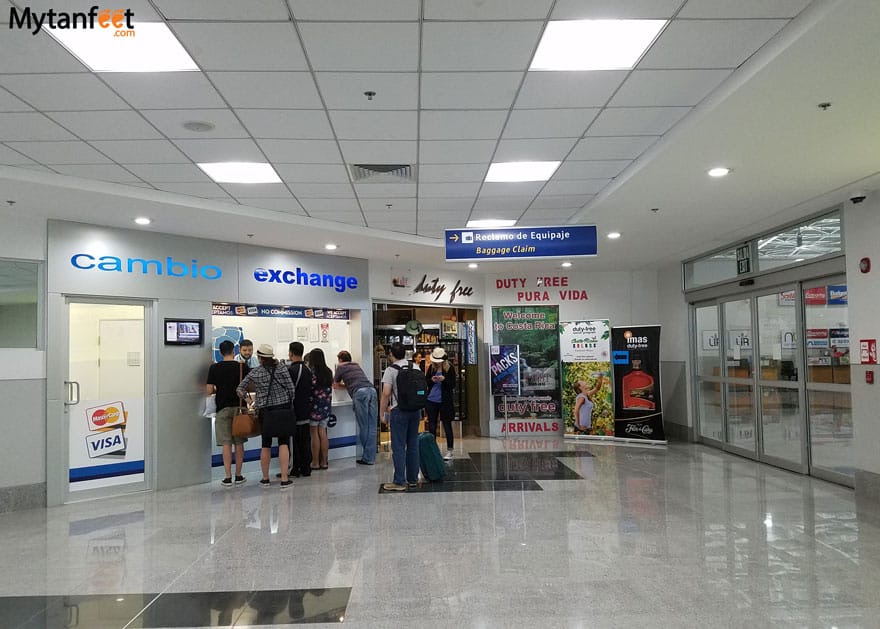 The money exchange, SIM card stand and duty free are in baggage claim at San Jose International Airport.
You will also see car rental companies at baggage claim at both airports. Learn about car rentals at Liberia Airport.
And that's it! See, isn't that easy? Nothing to worry about! That is all you need to know about going through customs and immigration in San Jose Airport and Liberia Airport for a stress free arrival.
Read more Costa Rica travel tips below!
What to know about grocery shopping in Costa Rica
15 things to know about Costa Rica before you visit
10 mistakes to avoid in Costa Rica
Common scams and how to avoid them in Costa Rica