If you're looking to rent a car at Liberia Airport, Costa Rica, then this guide will tell you everything you need to know. Also make sure to read our "renting a car in Costa Rica" post for more detailed information and get our Costa Rica car rental discount!
Car Rental Liberia Airport
There are many car rentals in Liberia Airport, international and local.
You will see car rental counters inside the airport and those companies have stationed agents for tourists who want to rent a car upon arrival. Most companies that have an airport counter are the international ones like Budget, Enterprise and Alamo. If that is you, find the company you're interested in and you can talk to their agent to check availability and prices.
If you decide to book the car, they'll tell you where to meet the agent to take you to their airport office location to collect your car.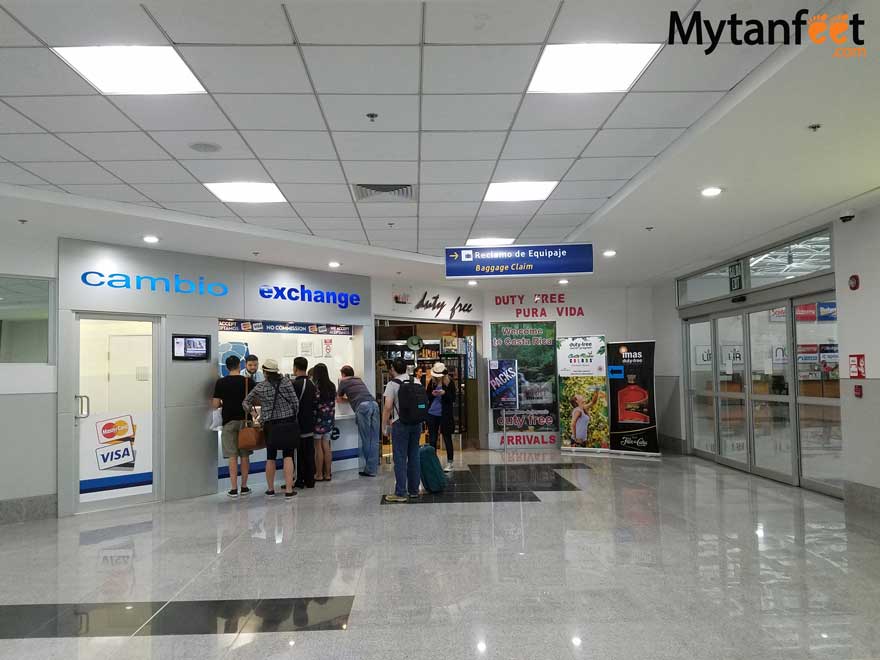 However, not all Liberia Airport car rentals have a counter. So if you booked a car beforehand, you will need to find your car rental agent after customs and immigration. The agent will then take you to their shuttle to bring you to their airport office to collect your car. This is what the process is like if you rent with our partner Adobe Rent a Car.
Car Rental Liberia Airport Costa Rica Pick Up
In Costa Rica, car rental companies offer a meet and greet and have an airport office for clients to collect their car as the international airports are too small and there isn't a dedicated parking garage just for car rentals.
Once you exit customs (through the double doors where you cannot go back), you will be inside the airport check in area. Right through the glass doors straight ahead, you will see a group of people holding up signs. Go through the glass doors and look for the sign of the car rental company you booked with.
The car rental company will then shuttle you to their airport office to pick up the car and complete paperwork. Some companies charge for this shuttle, some offer is complimentary. With our partnership with Adobe, this meet and greet is complimentary.
Car Rental Liberia Airport Costa Rica Pick Up Video
To help you feel more comfortable and secure about this process, here is a video we made of this pick up process with Adobe Rent a Car. It will be the same for other companies as well.
Don't forget to get our Costa Rica car rental discount and extra freebies!
What to Know About This Pick Up Process
You will get a lot of people coming up to you asking if you want a taxi or car rental
Make sure you tell them no if you already booked a car beforehand. Some people may try to offer you a cheaper car if you tell them you already reserved a car. Some taxi drivers may tell you that you're being ripped off and it's cheaper to take taxis your whole trip. Or even offer to book it for you because they can get a cheaper price (You can read about other scams in Costa Rica to stay safe).
Ignore them and look for the agent wearing the company shirt and holding a sign with the company logo and your name on it.
If you booked a car at the baggage claim counters, then look for the car rental agent to get to the shuttle.
What happens if you don't see your car rental agent
1. Find the airport help desk: If you checked out the whole group of people waiting outside and don't see your company, go inside the airport and find the help desk. It's near the arrivals area where the Kolbi and travel agency stands are. Ask the agent there (they all speak English) if they can help you find them or get their phone number.
2. Call them: If you already have the phone number, you can ask the help desk if they can call the agency for you or to borrow their phone if you don't have a working phone.
Car rental companies usually have just 1 agent working so they may have slipped out to use the bathroom or are with other clients taking them to the shuttle. Make sure to go outside and look around the crowd.
Don't ask the other car rental agents as they may try to mislead you. Some agents have been known to steal clients even if they already made a reservation.
Return
For returning a rental car at Liberia Airport, it is the same process as pick up. You'll drive to the office, drop off the car and the company will shuttle you to the airport.
If you have an early morning flight, Adobe Rent a Car and most car rental companies start receiving cars around 5 AM. You can watch a video and get more information on this early morning return at Liberia Airport here.
Renting a Car at Liberia Airport Upon Arrival
First, we do not recommend renting a car at Liberia Airport upon arrival during high season (December – end of April). This is because there is no guarantee you can get a car and rates are generally more expensive. You need to make a reservation beforehand to secure a car.
This is especially true during our peak busiest times which are Christmas and New Years, Easter week (Semana Santa), July and August. Even people who try to book a car 2 weeks before these periods of time have a very difficult time finding one as cars go so fast!
If you are visiting in low tourism months such as May, September or October, you can rent upon arrival if you want to play it by ear. We still don't recommend to do so because then you can't comparison shop, read about car rental insurances and check rates but it is not as risky as high season when it comes to availability.
Adobe Rent a Car
With our partner Adobe Rent a Car, you can still get the Mytanfeet discount if you rent the day of. However, you must call them (18558611250 toll free or local at 506 2542-4800) and ask for the Mytanfeet rate when you are speaking with their agent.
You can also find the agent at the airport to go to their airport office. Again, make sure to ask them for the Mytanfeet discounted rate and extra benefits when you arrive at the office.
Save On Your Car Rental!
If you're renting a car at Liberia Airport, make sure to get our Costa Rican car rental discount with Adobe Rent a Car. Mytanfeet readers get a car rental discount and extra benefits like 2 free drivers, free baby/booster seats, free SIM card, free cooler and much more.