Although Playa Langosta is only 2 kilometers (1.2 miles) south of Tamarindo, this pristine tan sand beach has a completely different vibe. While Tamarindo is known for a rowdy nightlife, a crowded surf and more conveniences, Langosta has just a handful of hotels, rentals and businesses lining the shore.
Because of this, Langosta is an excellent beach for those looking for a more laid back and quieter atmosphere. Enjoy long uninterrupted walks on the beach during sunset, check out the many tide pools and rocks for ocean critters or simply lay down a towel and soak in the sun.
How to get to Langosta
The closest airport to Langosta is the Tamarindo local airport, only 3 kilometers (1.86 miles) away. Liberia International Airport is the closest international airport and is about an hour and half drive to Langosta on well paved roads.
You can walk to Langosta from Tamarindo through the back roads as the two beaches are not connected. Driving is 5 minutes, walking takes around 30 minutes.
Parking
There isn't really a main public entrance to Langosta, but you can park on the road by the Occidental resort and walk through a small section of the forest to the beach. You don't need a 4×4 to get to Langosta.
Location
Playa Langosta is 70 kilometers (44 miles) from Liberia International Airport and 250 kilometers (155 miles) from San Jose International Airport. Marino Las Baulas National Park lies to the south of Langosta Beach and Tamarindo is to the north.
Langosta beach is in the Guanacaste province.
Playa Langosta Map
Shared Shuttle
You can also take a shared shuttle to a hotel in Langosta, or private shuttle if you're staying at a vacation rental with a big group. Check with Interbus for shared shuttles.
Langosta Beach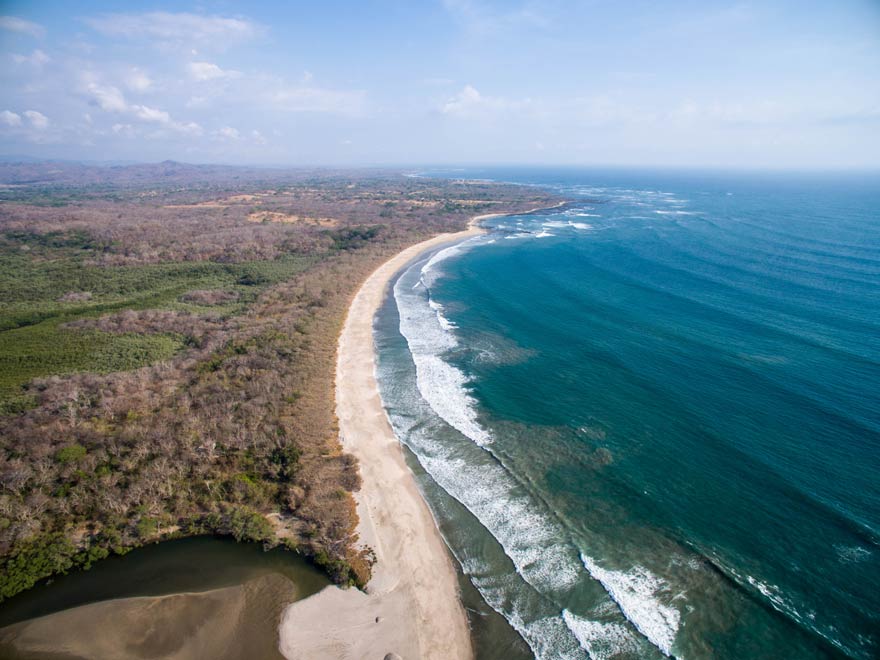 Playa Langosta is a long beach with a crescent shape and soft tan sand. You can find great surfing waves at the mouth of the estuary. However, due to the many rocks and strong currents, it is not the best for relaxed swimming.
Langosta Weather
With sunny days, hot weather and clear skies for most of the year, Langosta obviously has excellent weather. It experiences typical dry and rainy tropical seasons with dry season being from beginning of December to end of April and rainy season from beginning of May to end of November.
Average temperatures in dry season are mid 90s and high 80s – low 90s (low to mid 30s Celsius) in rainy season. The hottest months are March and April and the rainiest months are September and October.
Playa Langosta Hotels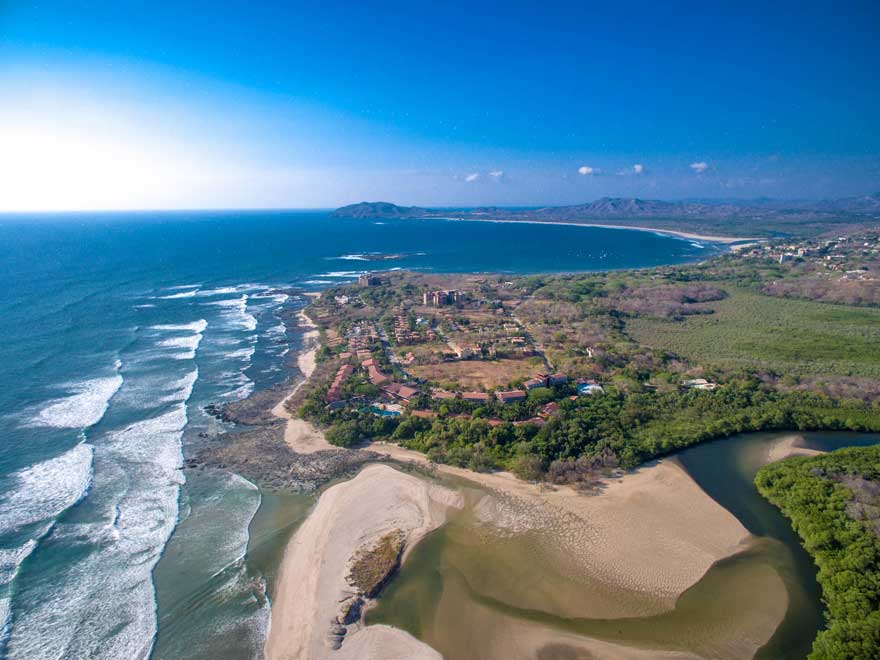 Langosta doesn't have a ton of accommodation options but what it lacks in quantity, it makes up for in quality. As this area is a luxury, high end community, you will find high end hotels, resorts and vacation rentals with million dollar ocean views.
Occidental Langosta (Tamarindo):This is an all-inclusive resort that has several restaurants including buffets, a children's area, spa and pool. It is beachfront so you are only steps away from the sand and can watch the sunset going down from the property.
Cala Luna: This is one of the nicest boutique hotels you'll find in the area. Beachfront, has a spa, luxury hotel rooms, restaurant. Perfect for those looking for a quieter place to stay with a condo feel.
Tamarindo Sunshine: 6 apartments and guest houses. Nice, quiet and homey place to stay.
For more options, make sure to check Airbnb or VRBO for vacation home rentals like Sueno de Mar and Casa Sueca.
Things to Do in Langosta
Langosta is a great place to stay as a homebase in Guanacaste. It's close to some of the best beaches in Guanacaste, national parks, wildlife refuges and other natural attractions. Since it's so close to Tamarindo, you can enjoy a fun night out in town and come back to your quiet luxury hotel room.
Some of the best things to do in Langosta is surfing, relaxing at the beach, estuary boat/kayak ride and watching the sunset. Great day trips from Langosta are Rincon de la Vieja National Park, Rio Celeste, Guachipelin one day adventure tour, Playas del Coco boat tour, Conchal beach, Ostional Wildlife Refuge, Nosara and Diamante Adventure Park.
You can also get a day pass at Langosta Beach Club (reservations required) to relax at their spa, bar, restaurant and private cabanas.
You can read more things to do in our post "things to do in Tamarindo".
Should You Stay at Tamarindo or Langosta?
If you're choosing between Tamarindo or Langosta for your vacation, here are some things that will help make your decision.
If you're looking for a party or are a family who wants to be near everything, then Tamarindo is the better choice. There are only a few restaurants and one small market in Langosta and everything is on the "high end" (which equals more expensive). Tamarindo has way more options for food, groceries, nightlife, surf shops, etc.
Langosta is much more serene and peaceful which makes it a popular place for honeymooners looking for the absolute privacy and intimacy or seniors who want quiet and don't want to be around kids or young adults.
You can also try to get the best of both worlds by staying at a hotel like Capitan Suizo that's near the south end of Tamarindo, closer to Langosta.
You're on a budget
If you are on a budget, stay in Tamarindo. Langosta is known as the "luxury" community in the area and all you really will find are million dollar mansions, high end hotels and fine dining options.
Since Tamarindo is a proper town, you will find more options for cheap lodging and food.
It is recommended to rent a car in Langosta, not necessary for Tamarindo
Since Langosta doesn't have much, we recommend to rent a car so you can easily go back and forth between Tamarindo. Otherwise, it's a hot and dusty walk (around 30 minutes). If you go out at night, you should take a taxi or drive for safety, don't walk. You can also rent a golf cart.
If you stay in Tamarindo, you don't have to have a car. Thankfully, you can find some very nice upscale and quiet hotels in the back of Tamarindo town so you don't have to be in the middle of the hustle and bustle.
Langosta has the only all-inclusive resort between the two
There aren't any all-inclusive resorts in Tamarindo, the Occidental Langosta is the only one in the area.
Basically, it depends on what you're looking for. You should stay in Tamarindo if you want to be closer to restaurants, shops and more nightlife. It is a lot more fun to stay in Tamarindo since there are more people.
You should stay in Langosta if you prefer quiet, less people and are renting a car. Great for big groups and families who want an all inclusive or want to rent a luxury house (aka mansion).
Read about other beaches in Guanacaste below!
Avellanas: Very nice surfing beach with long breaks. About 25 minutes from Langosta
Flamingo: White sand beach with a luxury community, marina, excellent fishing and scuba diving. About 20 minutes from Langosta.
Playa Pelada: Beautiful white sand beach in Nosara, about 2 hours south of Langosta
Negra: Nice laid back surfing beach about 35 minutes from Langosta
Samara: Great family friendly beach town about 1.5 hours south of Langosta
Sugar Beach: Secluded beach near Las Catalinas
There are affiliate links in this post.