If you're trying to figure out how much you'll spend for your one week Costa Rica vacation, this post will help. I will outline how much my 1 week Costa Rica budget was for a trip I took with two friends. We visited Jaco and Playas del Coco, rented a car, stayed in mid-range and budget hotels and did a few tours.
If your itinerary sounds a bit like ours or are simply wondering the travel expenses for one week in Costa Rica, you'll get a great idea from this post. Costa Rica is known for being an expensive country to travel so this will help greatly for getting a travel budget estimate.
All of these prices are in USD. Many things in Costa Rica are quoted in USD (hotels, tours, food) even though the currency is colones. Currently, the exchange rate is 1 USD to 570 colones but we recommend bringing dollars or using your credit card.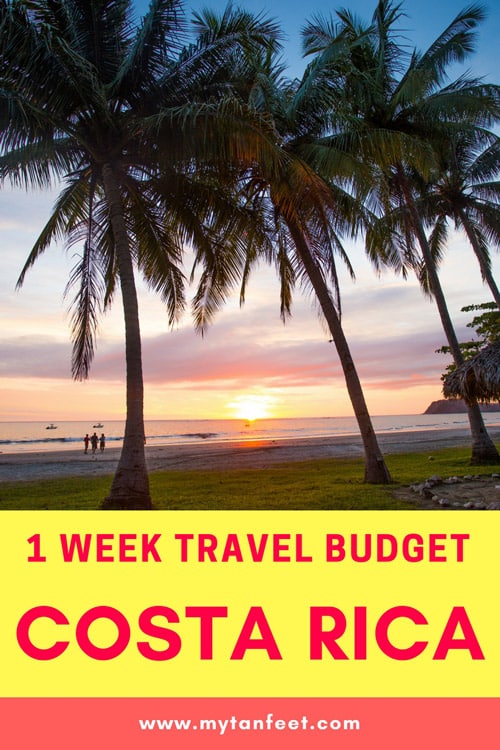 Our 1 Week Itinerary
They were visiting for one week so we spent the first 3 days in Playa Jaco, Playas del Coco for 3 days and the 7th day they flew out of San Jose. We chose these destinations as they are places I'm very familiar with and it was their first time so I could easily take them around.
Even though it's about  a 4 hour drive from Jaco to Coco, I wanted to show them two different coastal areas of Costa Rica since they wanted a beach vacation. Jaco has a great mix of rain forest and beach whereas Coco has more of the pretty beaches so they were able to experience wildlife, rain forest and beach.
Airfare from Seattle to SJO Airport
My friends flew from Seattle to San Jose (SJO Airport) for around $500 per person round trip with Delta. They visited in September which is low tourism season and cheaper than in the summer. If you go in July/August, it's around $700 round trip.
Costa Rica Car Rental Cost

We decided to rent a car for our trip. Since we were going to Jaco and Coco, we rented an automatic sedan (Hyundai Accent), we didn't need a 4×4. It cost us $350 total ($116 per person) with full insurance. We rented with Adobe Rent a Car who we now have a partnership with to give our readers up to 20% discount and lots of extra freebies.
I highly recommend renting a car for this itinerary so you will have more freedom and flexibility, especially since for a one week trip as you don't have a ton of time.
Click here to get your Costa Rica car rental discount
Jaco
Hotel Cost in Jaco
We rented an apartment in a condo complex called Costa Linda for about $100 a night on Airbnb (get $40 credit here). It was a 2 bedroom, 2 bathroom condo with security, a pool, washer/dryer in the apartment and walking distance to town. We stayed for 3 nights and the total with taxes came out to be $336 for 3 people.
We also booked this place the night before my friends flew out so that was an extra $112 so the grand total came out to be $448 ($149 per person).
Cost of Tours in Jaco

We did 2 tours in Jaco – the Ocean Ranch Park combo adventure tour and the Rio Tarcoles boat ride. The Ocean Ranch Park Pase Especial tour was $120 per person but they had a promo going on so it was $100 per person. This tour was a full day of ziplining, horseback riding and canyoning.
The river boat tour was $35 per person without transportation ($55 per person with transportation) and this is a 2 hour boat ride down Rio Tarcoles to see the crocodiles and other birds.
We also spent one day at Manuel Antonio National Park. It's an hour drive from Jaco and a $16 entrance fee. We spent all day at the park, ate lunch at a restaurant outside the national park for about $12 a plate and went back to Jaco for dinner.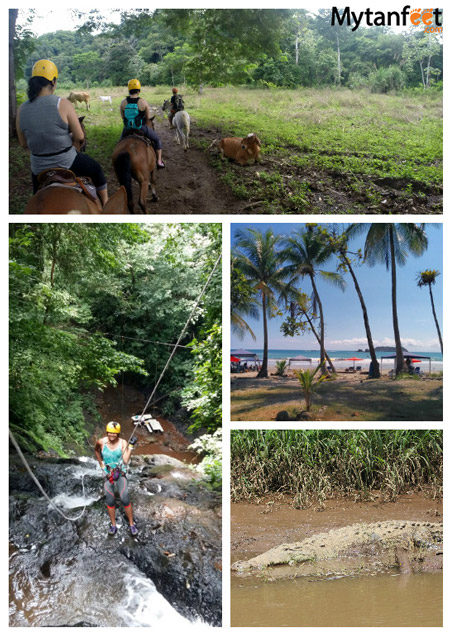 A good thing about visiting Costa Rica in low season is that many tour companies have promos going on. Ocean Ranch Park throws a lot of promotions so you can find 2×1, get 1, get the 2nd half off and other offers, especially for big groups.
Cost of Food in Jaco

We ate mostly local in Jaco and since we had a kitchen in the apartment, we cooked a couple times. You can find cheap local places in Jaco ($6 a lunch with drink) or more expensive places ($20 and up) so there is a good variety. I took my friends out to the local restaurants since that is what they wanted to experience and meals were no more than $10 each. We also went to the supermarket to buy food to cook.
You can find good drink specials in Jaco since it's more of a party town. You can get happy hour beer for $2, cocktails for $4 and cheap shots.
Playas del Coco
Hotel Cost in Coco
We stayed 3 nights in Toro Blanco, a mid range hotel near the beach in Playas del Coco. A room for 3 people cost $90 a night without breakfast, the total was $270 ($90 per person). This hotel has a nice pool but unfortunately they don't include breakfast which is actually fairly standard for most hotels in Costa Rica.
Cost of Activities in Playas del Coco
Since we only had 1 full day in Coco, we decided to take a private boat ride around the Gulf of Papagayo with my friend Marcy who owns a boating company. For 3 people, it was $60 per person for a half day tour. He took us all around the Gulf, we snorkeled and visited different beaches.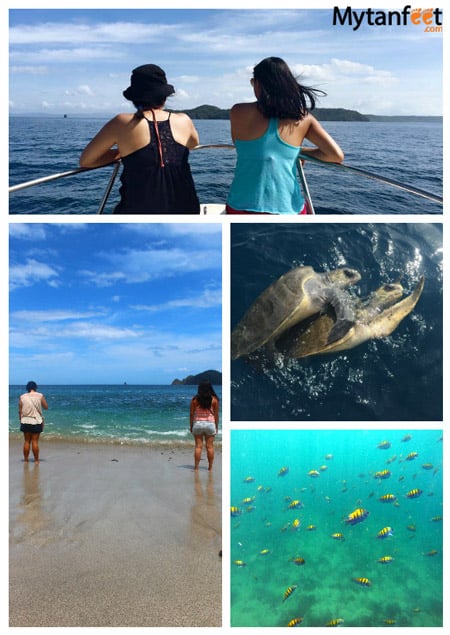 This is the best way to experience the Gulf of Papagayo since on a private boat tour, you get to go to a lot of different beaches and snorkel spots versus an open catamaran sailing tour. It's also cheaper and because we boated out further in the Gulf, we also saw dolphins and turtles!
The day we drove back to Jaco from Coco, we decided to visit some of my favorite unknown beaches which are all free.
Cost of Food in Coco
We splurged a little bit with food in Coco, mostly because we were so tired from boating we didn't feel like looking up places to eat so we went to the Hard Rock Cafe. Burgers are around $16 which is not too bad, but definitely more expensive than going to a local restaurant. Unfortunately Coco doesn't have that many local restaurants or super cheap places to eat.
We went to Soda Los Pelones a couple times and it is $7-8 for lunch, $8-9 for dinner.
Total 1 Week Costa Rica Budget
Per person, the total cost of this 1 week Costa Rica trip came out to be around $750 including food, gas and souvenirs and this is without airfare. The car rental and tours took up a good chunk of the budget but we did relatively well with our budget. We didn't stay at any super high end luxury hotels so we didn't spend more than $40 a person a night for lodging and they were all very comfortable and clean places.
The car rental was great for my friends since we also stopped to check out different beaches and beach towns up in the Gulf of Papagayo and different viewpoints from Jaco to Manuel Antonio. It was definitely worth the extra money!
As you can see, our 1 week Costa Rica budget was not too bad and you could cut it down by not renting a car or choosing a cheaper tour instead of the combo tour we did.
Want to read more Costa Rica travel tips? Check out these posts!
Money saving tips: Tips for saving money traveling in Costa Rica
10 mistakes to avoid traveling in Costa Rica
There are affiliate links in this post