One of the most important things to pack for your trip to Costa Rica is sunscreen. Costa Rica is a tropical country just 8 to 12 degrees north of the equator so the sun is very strong.
Like what we've done with testing out the best mosquito repellent for Costa Rica, here are our recommended sunscreen in Costa Rica. There are Amazon affiliate links in this post.
Don't forget to read about Costa Rica weather so you know what to expect.
Best Sunscreen in Costa Rica
First and foremast, if you can, pack your sunscreen.
Why do I suggest packing sunscreen? Well first, sunscreen in Costa Rica is one of the more expensive items so if you can, bring it. For example, the Sun Bum SPF 50 lotion in Costa Rica is around $21 USD and on Amazon, it is $12.79 USD.
Second, I prefer natural or organic reef safe sunscreen to help protect Costa Rica's waters since we surf almost daily. Many commercial sunscreens use Oxybenone, which is not only harmful to coral reefs but to humans as well. And these types of sunscreens are also more expensive and not as common in Costa Rica.
Below are our recommendations.
Raw Elements
This sunscreen uses 23% Zinc coverage, making it extremely safe to use. It feels a little greasy when you first put it on but rub it in well and you don't feel anything.
Raw Elements is non-nano, organic and non GMO so if you're concerned about using harmful products or chemicals, this is the best. It's been rated the #1 sunscreen by the EWG and I wish I discovered it earlier!
They also have tinted sunscreen sticks and and a facial moisturizer.
Sun Bum
We love Sun Bum and even though you can now find it in Costa Rica, we stock up whenever we are in the US because it's expensive in Costa Rica.
We personally use the Sun Bum SPF 70 lotion, Mineral sunscreen SPF 50 and SPF 50 sunscreen face lotion.
Supergoop!
I use Supergoop! exclusively for my face. It's light, doesn't smell and is reef friendly. I use it as a daily sunscreen.
Why Use Coral Safe Sunscreen in Costa Rica?
If you plan to go in the ocean, PLEASE use coral safe sunscreen (mineral based). Many sunscreen ingredients such as Oxybenzone actually bleach and damage coral reefs.
Cylcopentasiloxane/Cyclomethicone are 2 other ingredients in beauty products that has been proven to be toxic to the ocean organisms. In fact, there are some places in the world like Hawaii that bans the sale of sunscreen with oxybenzone, octinoxate, avobenzone and octocrylene. (I wish Costa Rica would too, hopefully one day).
The mineral sunscreens we like that are reef safe are Raw Elements, Stream2Sea and Sunology. None of them uses Oxybenzone.
You won't be able to find these kinds of sunscreens in every supermarket and if so, it'll be a bit more expensive. So like we mentioned earlier, bring your sunscreen!
Other Sun Protection Methods
Besides lotions, we also have a couple other items to help protect us from the sun.
Rash Guard
I love rash guards and they're great for more than just surfing. We wear ours when we're snorkeling (to protect from the annoying stinging jellyfish), swimming, fishing or boating.
This is definitely necessary if you book a fishing charter, surf trip or all day boat trip.
Chapstick with SPF
I bought two SPF chapsticks last time I was in the US and they have helped prevent any dryness or burn on my lips. You can find SPF chap stick at the pharmacies, not the supermarket. They sell a Banana Boat and Hawaiian Tropic SPF 15 one.
SPF Clothing
If you burn easily, then I highly recommend to bring sun protection clothing. Rash guards, SPF shirts, hats with UPF, etc. Seriously, the sun is strong here! And even if you grew up in Florida or California or if it is cloudy, cover up and use sunscreen.
As for clothing, Yeison has this exact SPF shirt which he bought on Amazon and he loves it. It's light, comfortable and a pretty good price for Columbia.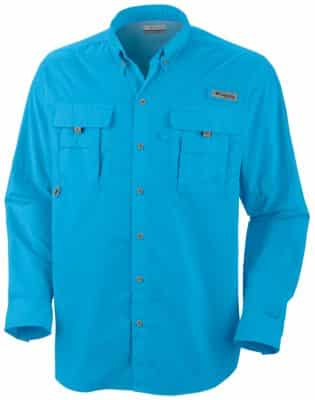 This particular shirt has the Columbia Omni-Shade UV protection and protects against both UVA and UVB. He ended up buying 5 more of these exact shirts in different colors! Perfect for hikes in the jungles of Costa Rica.
I have a visor with SPF 30 which gives extra protection to my face. Mine is Marmot which I absolutely love but many of the outdoor brands have one.
After Sun Soothing Gel
Oh no! You got burned! If you didn't bring anything for burns, you can find some after sun gels at the supermarket. There is a Costa Rican brand called Bioland that has after sun gel which works really well.
Buying Sunscreen in Costa Rica
If you need to buy sunscreen in Costa Rica and want to get a natural reef safe one, you can go to the macrobiotica stores. Some of them sell artisan natural organic sunscreens made by locals and they're usually reef safe. We used to use one called Sombra which cost around $15 USD a tin.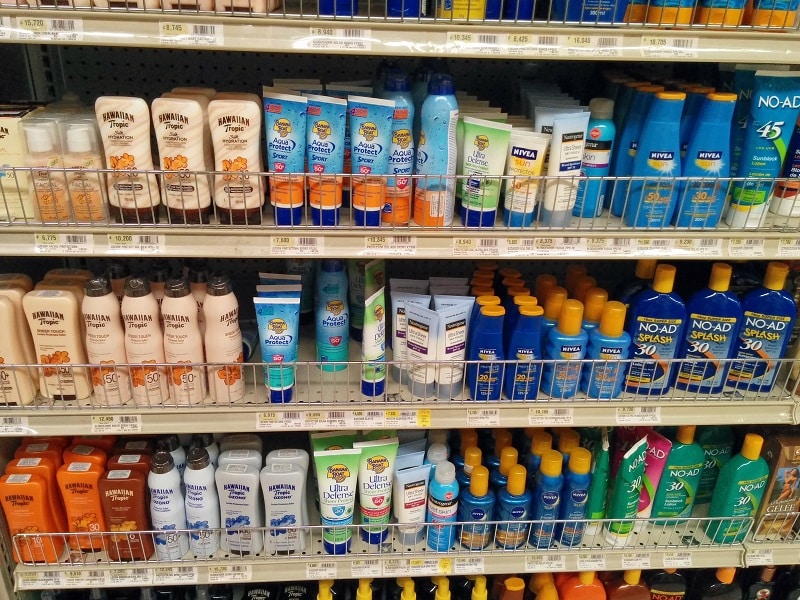 You can purchase sunscreen at any supermarket, pharmacy and grocery store in Costa Rica. Many surf shops will have sunscreen too.
Want more posts about traveling in Costa Rica? Here you go!
The ultimate packing list for Costa Rica
Guide to finding accommodation in Costa Rica