Renting a car in Costa Rica is one of the best ways to explore the country since you will be able to visit many places where the buses don't go. You'll also save money compared to hiring private shuttles everywhere. Having a car makes traveling around the country much more convenient!
Before you rent a car, it is very important to do the proper research to make sure it goes without a hitch. It's easy to rent a car in Costa Rica but there are some things foreigners need to know before they do and one of those things is insurance.
Important facts about Costa Rica car rental insurance
Costa Rica car rental insurance is one of the most common questions and complaints we get from visitors since the process is different than the US and Canada. The majority of the complaints we hear about are the hidden fees so in this article, I'm going to simplify the information about Costa Rica car rental insurance and how it works.
First here are a few important facts about car rental insurance.
Before 2010, one company called INS had a monopoly over the insurance and were the only company allowed. After 2010, Costa Rica opened their doors allowing local and international companies to enter the market to increase competition.
The only mandatory insurance by law in Costa Rica is the one rent a car companies pay every year called "Marchamo." It is the equivalent to personal property tax and it covers a very small part to third parties.
This mandatory insurance is the one most people ask about as many credit card companies offer auto insurance. However, this doesn't usually apply to car rental insurance in Costa Rica.
Mandatory Costa Rica car rental insurance
When any rental car company tells you that there is a mandatory insurance, they are not lying but it's not exactly specific.
As I mentioned earlier, the only mandatory insurance is the one all car owners have to pay, the yearly property tax or "Marchamo." This insurance is called "Responsabilidad Civil" and it only covers third party damages up to 20,000,000 Costa Rican Colones (around $37,000 USD).
Mandatory Insurance That Almost Every Car Rental Company Asks You to Buy
When the car rental company tells you that you have to purchase "mandatory insurance," it's because most of the car rental companies have their own policies. This is not the mandatory insurance by Costa Rican law.
This insurance is the one that covers the damages of the car you rent and third party damages. The truth is that car rental companies can't rely on the Marchamo insurance due to slow processes and bureaucracy in Costa Rica for legal processes. That would take months if not years to clear up.
Every single company has their own policies and coverage for insurance and this is how the car rental companies make most of their money, by selling insurances and extras.
Now let's start by taking a look of some of the most popular car rental companies in Costa Rica and what their polices are. I made my research over the past couple months and this is the information their representatives told me.
Economy rent a car insurance policies
First I went to their online system to make a reservation for a compact car from May 1 – 10.
Their system gave me a rate of $26.55 USD weekly for a total of $71.99 USD for a Hyundai i10 automatic.

I didn't see any information about insurance so I went onto the next page.
In the next step I saw the Waivers and Options. I read all the information on the website but I decided to call them and ask a representative to make sure they had the same information.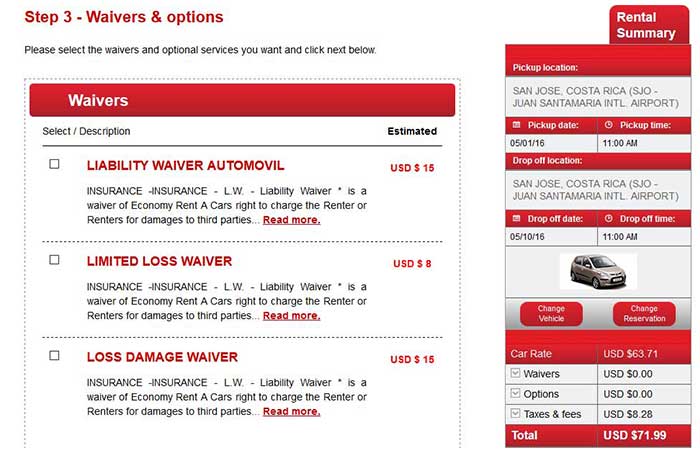 This is what I found:
Liability Waiver: This insurance costs $15 USD a day for a sedan/compact and $20 USD for a SUV. It covers only 80% of third party damages. In case of accidents you will have to cover 100% of your car and 20% of the third party damages.
Limited Loss Waiver: For an extra $8 USD a day you will be covered for 100% of third parties damages but you still have 0% coverage on the car you rented.
Loss Damage Waiver: It costs $15 USD a day and this insurance will cover the damages of the car you rented, but there is a deductible of $950 USD. If you have an accident and the cost of fixing your car is $1500, you will have to pay $950 and the insurance will cover the rest.
Secret option: This option is not listed on the website but is offered when Economy delivers the car to you. For an extra $10 a day, this insurance will cover the $950 USD deductible so if you purchase this option and the Loss Damage Waiver together, you will have 0 deductible.
Security Deposit and Credit Card Insurances for Economy rent a car
I asked the Economy representative about credit card insurances because I know many credit cards offer car rental insurance but it isn't accepted in Costa Rica.
This is the explanation given to me.
Most of the credit card insurances do not cover third party damages. If your credit card does offer third party damage protection in Costa Rica, the client needs to present a letter stating that the card will cover the rented car's damages and the third party damages.
According to the representative, 99% of the time, the client doesn't have that third party damages protection. If the client does bring the correct letter, Economy takes $5000 USD for the security deposit which is frozen for your entire car rental period. In case of accidents, Economy will charge everything to the client's credit card and the client will have to do all the paper work with their bank.
If you don't purchase the Liability waiver because you have the letter from your bank, you will still have to purchase the Limited loss waiver and leave a $5000 USD security deposit. If you purchase the L.W + L.LW + LDW, the deposit will be $950 USD and if you purchase the secret option in addition, they keep $500 USD.
Readers' Main Complaint About Economy rent a car
When I was making the reservation online, my final total came out to be $71.99 USD without purchasing the insurance so now I understand their catch and why people get angry with Economy.
This is how it typically works with Economy: The client makes the reservation online and they think, "Oh my car rental for one week is only $72 USD, it's so cheap" because they think they don't have to purchase insurance. However, once the client shows up at the airport, the Economy representative will tell them yes, their reservation is $71.99 USD but there are additional insurances they must purchase even though it didn't seem like that online.
If the client refuses to buy an insurance because of their credit card coverage, Economy will ask for the letter and pretty much nobody does that as most people don't have a way to call when they have already left their home country and it would take time away from their vacation.
If you do have the letter, you will stay have to pay insurance and lay down a $5000 USD security deposit.
So I checked online all the options (without the $10 USD a day secret option) and my new total jump from $145.25 USD to $458.45 USD.
Then if the client wants to be 100% covered with 0 deductible with the extra $10 USD at the airport, the final total will be $548.45 USD. What a huge difference from $71.99 USD right?
Thoughts About Economy rent a car
I can see why visitors complain about hidden fees since it seems like on the online reservation system you don't have to purchase insurance. So if you want to use Economy, the best way to not get any surprises is by selecting all the insurances they have and making sure you have enough on your credit card to leave a $950 USD security deposit.
I also feel that all the extras are a bit expensive. An additional driver is $10 USD a day and GPS is $15 USD a day.
Adobe rent a car Insurance Policies
As many of you know, Adobe is the company that we recommend but I analyzed and scrutinized them with the same rigor. Actually I did perhaps a little bit harder because I want our readers to get the best.
I went to their online reservations website using the widget on our discount page and I selected the same car for the same period of time. Then I called their call center to talk to a representative to re-confirm the following:

Adobe has easy to understand insurances
Liability Protection: This is their mandatory insurance and it costs $13-25 USD a day depending on the car. With this insurance you will have coverage up to $20,000 USD in 3rd party damages with a 20% deductible as well as coverage of 3rd parties not in the car up to $100,000 USD with 0 deductible.
Car Protection: This insurance covers damages of the rented car in an accident, collision or roll over. In case of total or partial theft of the rented car, the Car Protection also covers any financial losses due to the theft. You can decline this insurance with your credit card insurance. To decline, you must present a letter from your credit card company stating they will cover the damages. You have to check your credit card's coverage however, to make sure they will cover your rental, number of passengers, type of car and car rental period. My Chase Sapphire credit card covers this insurance so I can use it to save some money but at the same time, I understand what I will be responsible for in case of an incident.
Extended Protection: The cost of this insurance is around $17-25 USD a day and it goes on top of the Liability Protection. This one is completely optional. With this insurance, it will cover the 20% deductible of the Liability Protection so you will have a 0 deductible. It also covers windows, vandalism, road assistance 24/7, tow truck and damaged tires (FLAT TIRES NOT INCLUDED). It also covers 100% of damages including 3rd party up to $4 million USD.
TPW: The cost of this insurance is $9.99 USD a day and it is offered ONLY in person by the Adobe agent when the client collects the car. This is for clients who decline Car Protection insurance and purchase only Liability. The TPW insurance is 100% optional. It increases your third party (Liability) coverage to $4 million USD from $20,000 USD. The Liability deductible goes down to $0 USD from 20%.
Security Deposit
For most of their cars they require a security deposit of $1000 USD. Mytanfeet readers get a $750 USD deposit by default and $500 USD if all 3 insurances are purchase (one of our perks).
Adobe vs Economy
After checking the cost of the same car for the same time period with FULL coverage (0 deductible), the price with Economy was $548.45 USD and with Adobe $438 USD (- $110.45 with Adobe).
On top of that, with Adobe all Mytanfeet readers get two free second drivers, free booster/baby seats, a free SIM card, GPS with more than half off ($15 USD vs $6 USD) and most importantly, there are no hidden fees or "secret options."
So if you try to make a reservation online with Economy, it will look very cheap like in our example it seemed like my reservation was only $71.99 USD. However, at the end the final rate with full coverage was $548.45 USD. With Adobe it is what it is you see online and that's it.
My Thoughts About Adobe rent a car Insurance
I like that their insurances were well laid out and easy to understand. To read further about their insurance, check this post detailing each Adobe Rent a Car insurance here.
Alamo rent a car Insurance Policies
Another well-known company is Alamo rent a car. I went to their online reservation system and looked for the same car for the same dates.
They didn't have a Hyundai i10 in their fleet so I chose a Toyota Yaris hatchback which is similar to the one I used for Economy and Adobe.
Again, I called Alamo and went over all the different insurance options their online system offered me with their representative.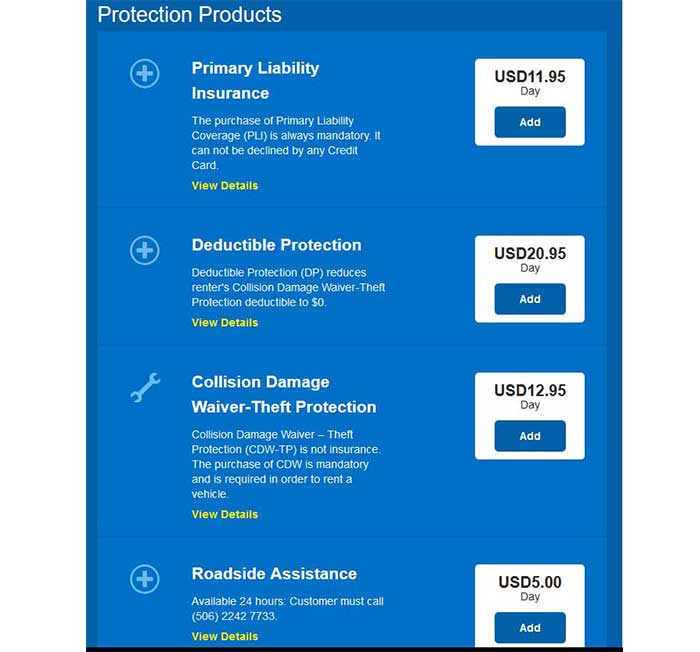 This is how Alamo's insurance works:
Primary Liability Insurance: This costs $11.95 USD a day and it is mandatory. It covers 80% of total damages to third party's property (you pay 20%).
Collision Damage Waiver – Theft Protection: This costs $12.95 USD and it covers the rental car damage. This insurance along with the Primary Liability Insurance are mandatory and it has a $2000 USD deductible. So in case of an accident, you will have to pay the first $2000 USD for the rental car and insurance will take care of the rest.
Deductible Protection: For an extra $20.95 USD per day, you get 0 deductible in case of any accident. If you get this insurance, you will not pay the 20% for third parties damages and the $2000 USD deductible for the rental car.
On top on that, even if you have all the 3 insurances above they will charge $5 USD a day for road assistance and $5.95 for tire and windshield protection.
Avis rent a car Insurance policies
I tried to get in contact with one of their agents but I couldn't. I called 3 times in order to get someone to talk to about insurance! When I finally got a representative, their answer was "You can read online everything about insurances." Then they hung up.
This is the worst service I received so far from all the companies I called. I am not saying the whole company is like this but they lost me as a client. I unfortunately was not able to get their insurance information.
Conclusion and recommendations
I will be keeping adding more companies to this post as I continue my research but by now, you should now have a good idea of how Costa Rica car rental insurance works. If you're renting a car, you know what to look for when it comes to extra fees and insurance.
We hope this post helped clarify questions you had about renting a car in Costa Rica. And don't forget to take advantage of our discount! Get our car rental discount and extra benefits. Click here to get your Costa Rica car rental discount.
For more tips on driving and renting a car in Costa Rica, check out these posts.
Includes information about who can rent a car, advice on what kind of car you need for particular routes, what to look out for in rental car companies and how to stay safe.
Information about road signs, road conditions in both city and rural areas, how Ticos drive, what to do in case of emergency and tips for staying safe on the road
What to know about getting gas in Costa Rica: prices, payment, etc.