If you're traveling on a budget and plan to visit La Fortuna, then you must visit the two free spots in La Fortuna: The free hot spring river and swimming hole. In this post you'll find out how to get to the two La Fortuna free swimming holes: El Choyin (free hot spring) and El Salto (down river of La Fortuna waterfall).
Disclaimer: Neither of these spots are supervised or part of any hotel or resort. They are the local spots so if you visit, please be careful as you are visiting at your own discretion. There are no lifeguards on duty, security guards or personnel.
How to Get to the La Fortuna Free Hot Spring (El Choyin)
For the first of the La Fortuna free swimming holes is El Choyin, the local name of the river spot. You can find the free hot spring in La Fortuna on Google Maps. It is called "Free Natural Hot Springs River" and it is right across the street from the Tabacon Resort.
This river is the same river that supplies the Tabacon hot springs and is hot/warm.
Parking
There is no designated parking lot, only street parking for El Choyn. You will see some locals in an orange vest with a whistle trying to tell you where to park on the street. If you can find a spot, that is the only parking near the free natural hot springs in La Fortuna. It's actually right in front of the Tabacon hot spring resort.
Just make sure to note that this is not a secure parking lot at all so don't leave ANYTHING in your car, roll up your windows and lock your doors. The "parking guards" aren't official so don't leave anything in your car if you visit. This is where we parked.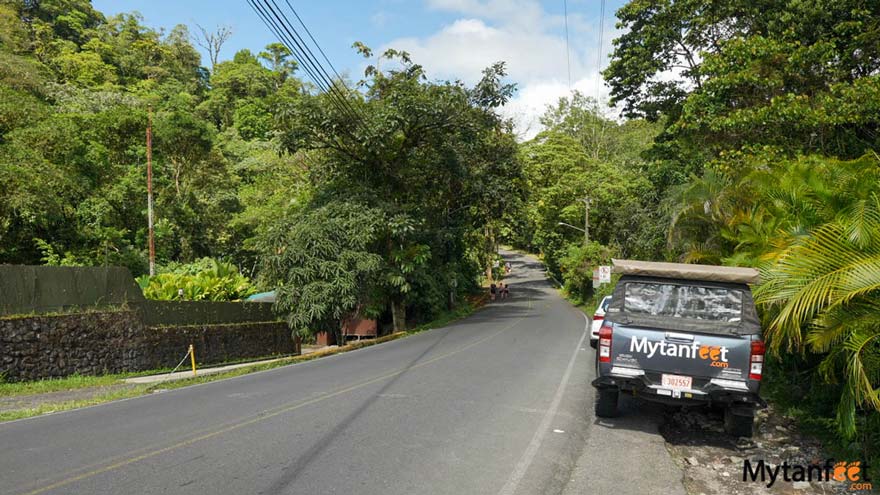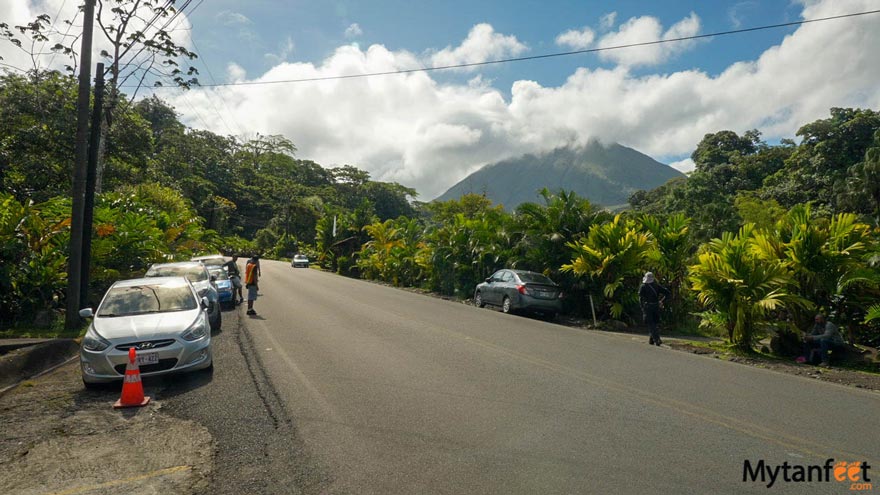 You cannot park on the bridge. This spot gets very busy on the weekends so there may not be parking or it may be very tight.
Entrance to the Free Hot Spring River
If you are coming from the Tabacon hot spring resort side, you need to walk across the bridge about 100 feet to the entrance of the free hot spring river. You'll need to walk on the left side of the road as that is where the entrance is and you'll see this large sign below.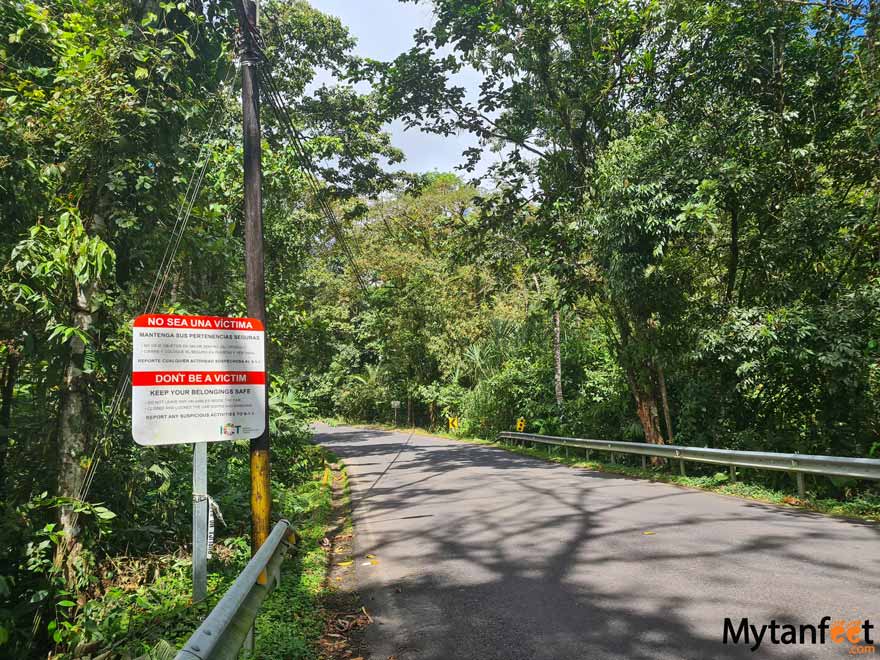 And then right past it, you will see a small trail on your left. Where Yeison is in the picture below is where the trail is on your left.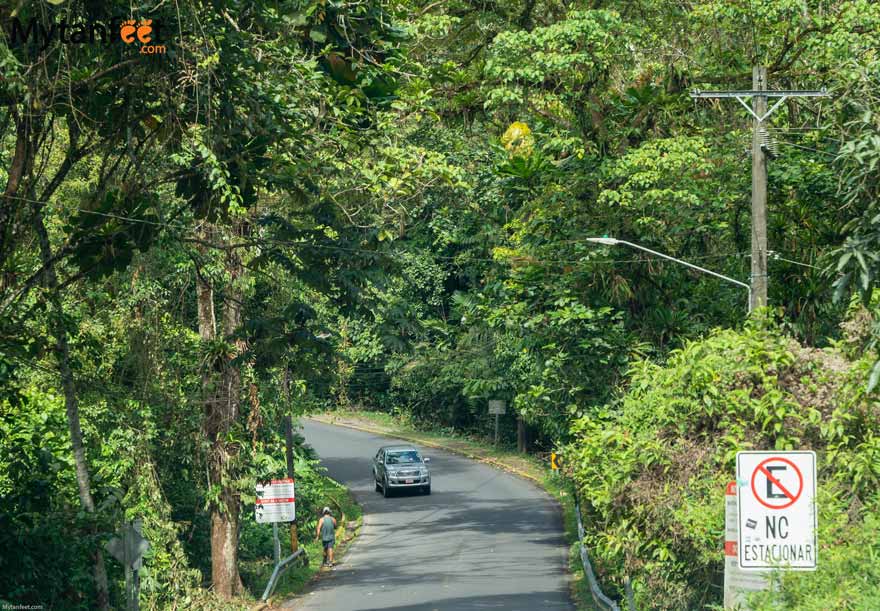 Follow this trail, walk through the broken fence and you will be at the river.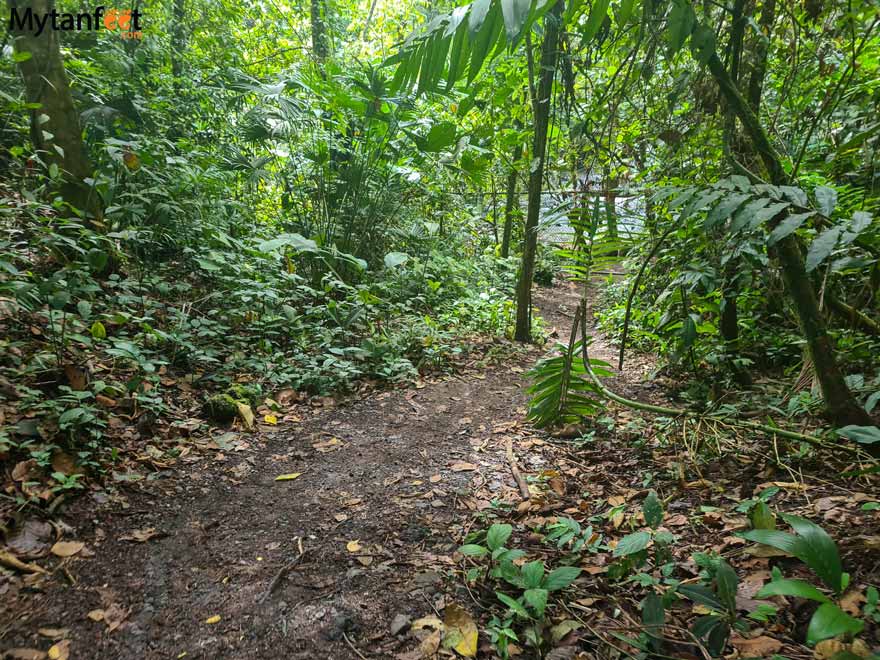 There are a few trails that go to different parts of the river but for the "hot spring" part of the river, you have to stay at the main one.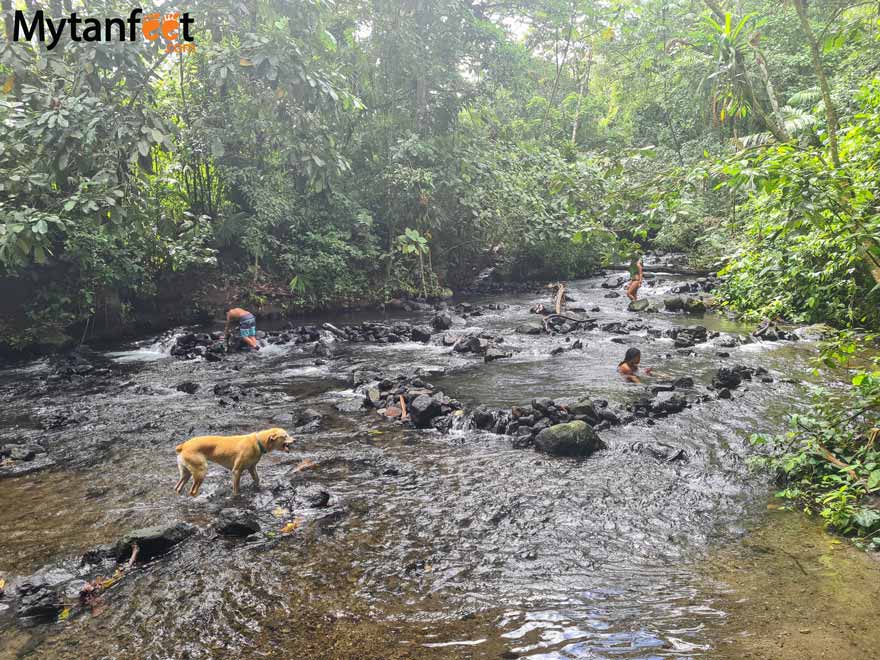 We visited on a Wednesday morning and there were only a few local kids there with their dog. Saw only one tourist. On the weekends, this spot gets super busy, especially in the evening.
SAFETY TIP: When at the hot spring river, do NOT leave any of your valuables unattended. Unfortunately this area is not uncommon to theft as lots of tourists will just leave their stuff on the rocks and it's super easy for thieves to snatch their stuff in two seconds. If you bring your cell phone, we recommend to bring a waterproof pouch so that you can have it with you in the river. Or bring a small dry bag so you can also put your hotel and car keys and wallet in the pouch.
How to Get to the Free La Fortuna Swimming Hole (El Salto Swimming Hole)
Now for the free swimming hole in La Fortuna, this one is also easy to get to. On Google Maps it is called "El Salto (Rope Swing)." El Salto is downriver from the La Fortuna waterfall, part of the same Fortuna River.
El Salto, La Fortuna Parking
Similar to the free hot spring in La Fortuna, El Salto doesn't have a designated parking lot, just street parking before the bridge. Below is what you need to look for. If you cross the bridge, there isn't really any parking on the other side. This is coming from La Fortuna downtown.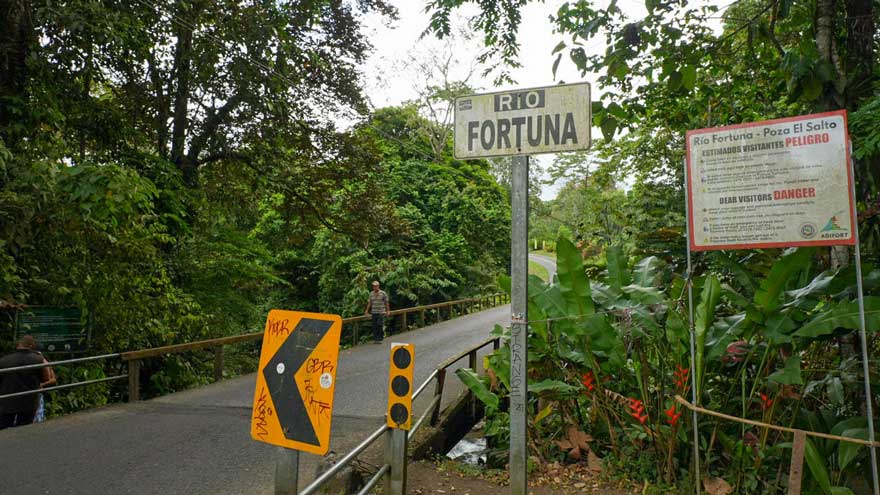 From the parking, you'll have to walk to the left hand side of the bridge and you'll see a trail going down.
In the picture above, you see a green sign and a couple guys on the left side, you need to walk down there to get to the swimming hole.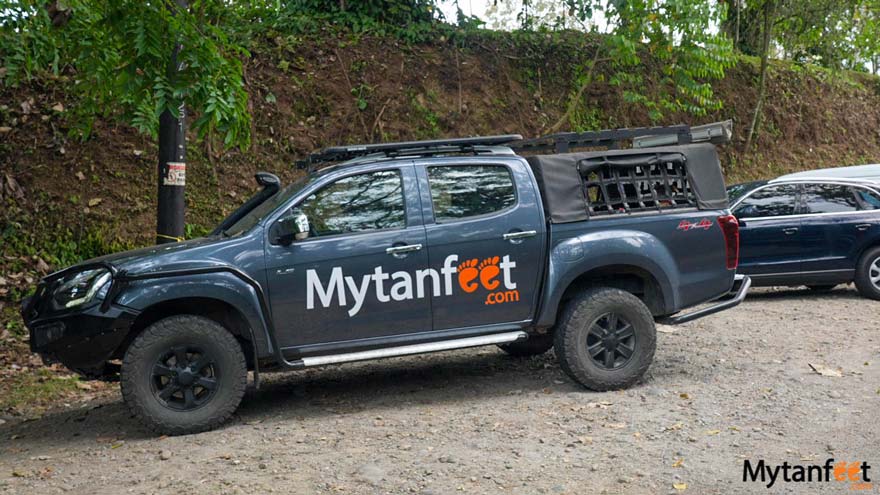 Safety Tip: Again, never leave anything in your car, roll up windows and lock your doors.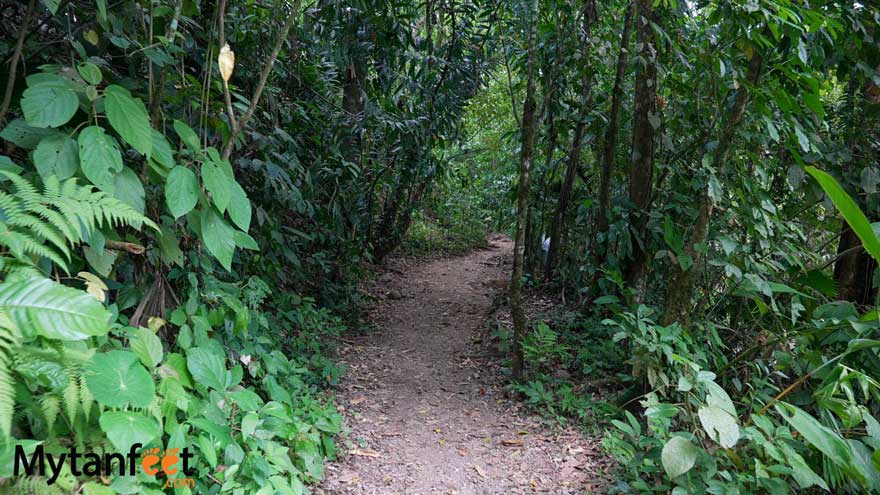 The picture above is the short trail going down to El Salto from the road. You'll see an opening in the trees to the right before a trash can where you can walk down to the river.
El Salto Rope Swing Swimming Hole
This swimming hole is super popular with local kids because of the swing. There are lots of places to sit in and around the river. It's kind of crazy you can see the bridge right above and all the cars passing by.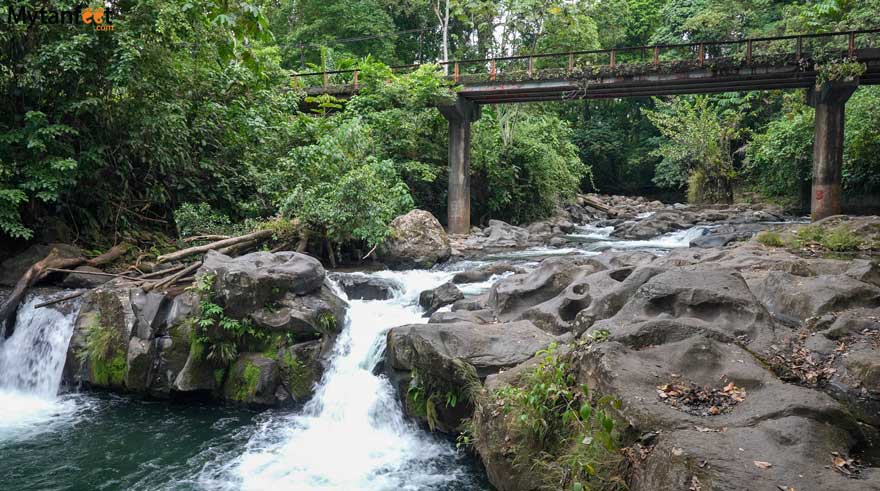 The water isn't warm but is very refreshing, which is super nice because La Fortuna is humid and hot! El Salto is an excellent spot to go during the day to cool off.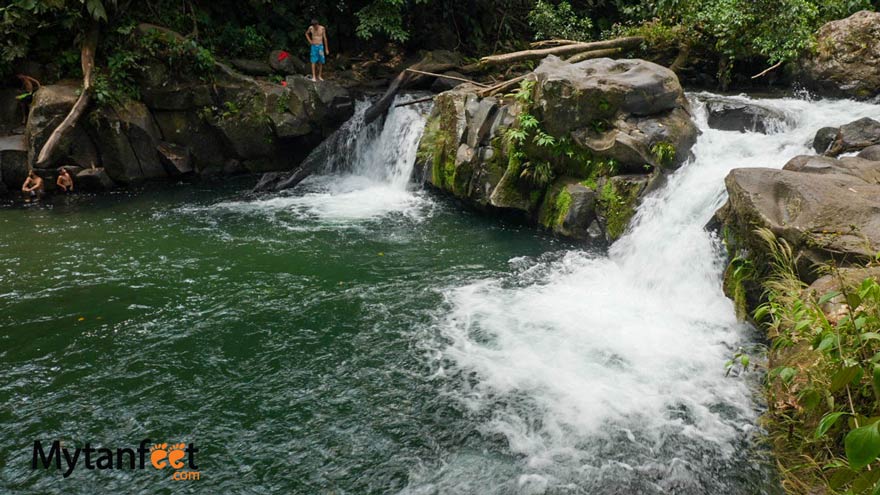 There are two little waterfalls and we saw some local kids jumping off the rocks here!
Then there is the famous tarzan rope swing that locals love. Just be careful since rocks can be slippery.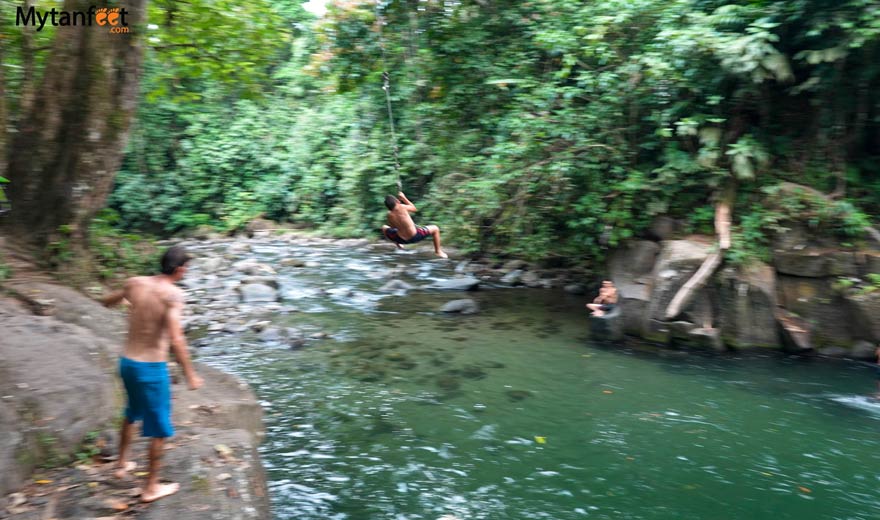 You can also go a little bit more down the river to reach another pool.
Safety tip: This photo was taken in March so the river was very shallow and the kids didn't swing into the river. Also, be aware of flash floods if you are visiting in the rainy season (May – December). If you see the water turn brown, get out ASAP. There could be a flash flood coming. And again, make sure not to leave ANY belongings unattended.
We hope you get to visit these La Fortuna free swimming holes El Choyin and El Salto!
Looking for other things to do in La Fortuna? Click the link to check our post!
Looking for other free things to do in Costa Rica? Click that link to find out our recommendations!
There are affiliate links in this post.