With bright blue waters, beautiful coastal views and a very local atmosphere, Puerto Viejo is a must for anyone looking to get away from the crowds of Conchal beach. It may not have the white shells in the sand, but it's a beautiful beach nonetheless. Puerto Viejo is definitely one of those under the radar, local only beaches!
Here is our guide to Puerto Viejo, Guanacaste.
Map
Puerto Viejo, Guanacaste map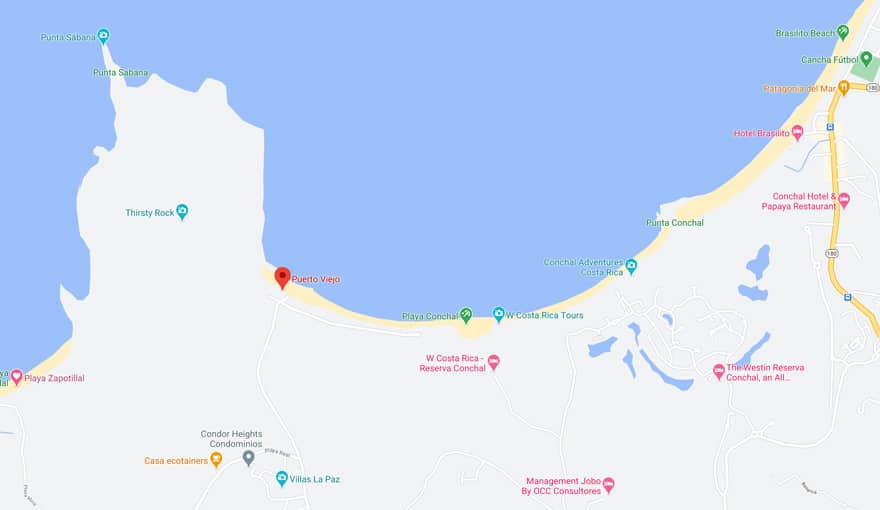 Puerto Viejo is in the Guanacaste province, 74 kilometers (46 miles) from Liberia.
How to Get There
Puerto Viejo is actually the most southernpoint of Conchal beach. You can get there via Playa Conchal by walking all the way past the estuary or by driving there directly through Matapalo.
From the main Huacas intersection, you will need to continue on the main road until you reach Matapalo. Turn right in Matapalo past the soccer field and then turn left. From this point, the road turns into a dusty, dirt road.
You can use Google Maps or Waze and look for Puerto Viejo Guanacaste to set as your destination. When you reach the beach, you can park under the trees.
Parking
There is a large parking area right at the beach. I saw a sign saying that parking was 2000 CRC per car but nobody charged us when we visited in April 2021.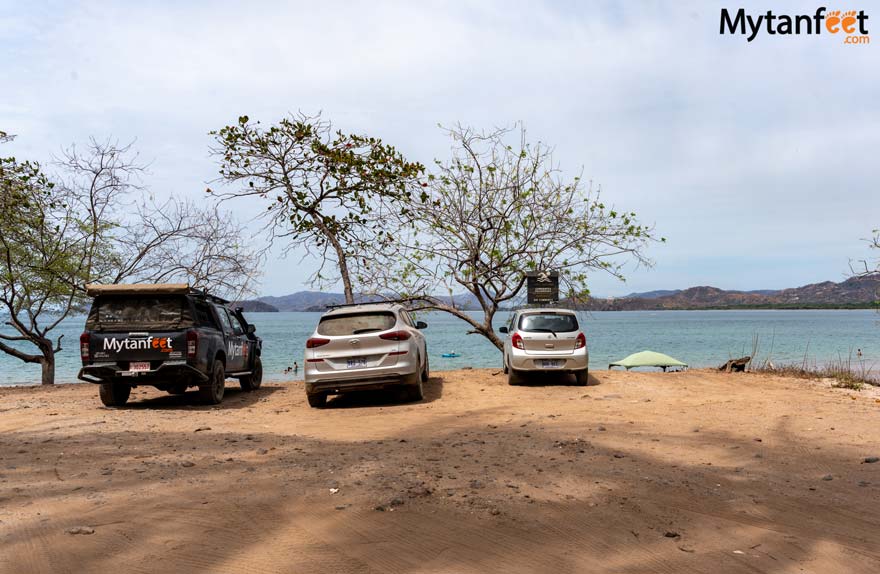 4×4 required?
In dry season, it is accessible by any car but in peak rainy season (October/November), it is recommended to have car with high clearance. It gets super muddy on that road and there are a lot of potholes. When we visited mid October, we had to rescue a sedan that got stuck in the mud!
The Beach
Puerto Viejo beach is just lovely. It has soft sand and swimmable waves.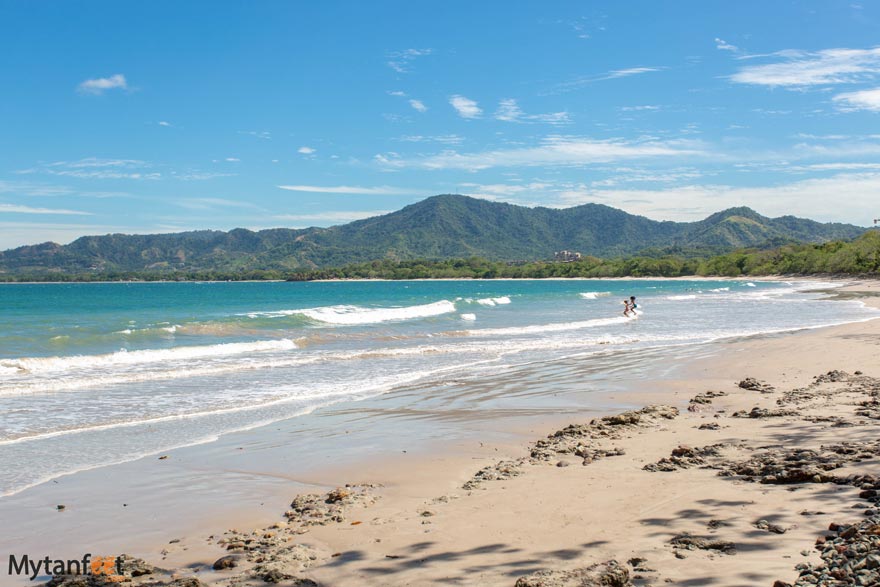 We visited the beginning of December so everything was lush and green. Also, it was not crowded at all! We saw only two other local families there.
This is one of the best things about Puerto Viejo. It's connected to Conchal but so much quieter and less crowded since all the tourists stay by the northern part where all the shells area.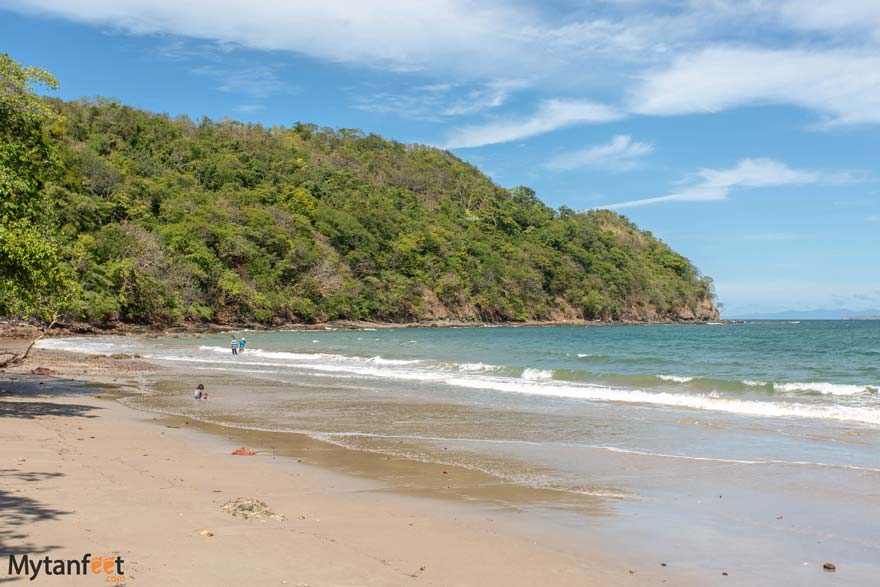 We have also visited in April, the peak of dry season. Still very pretty although the mountains were bare and yellow.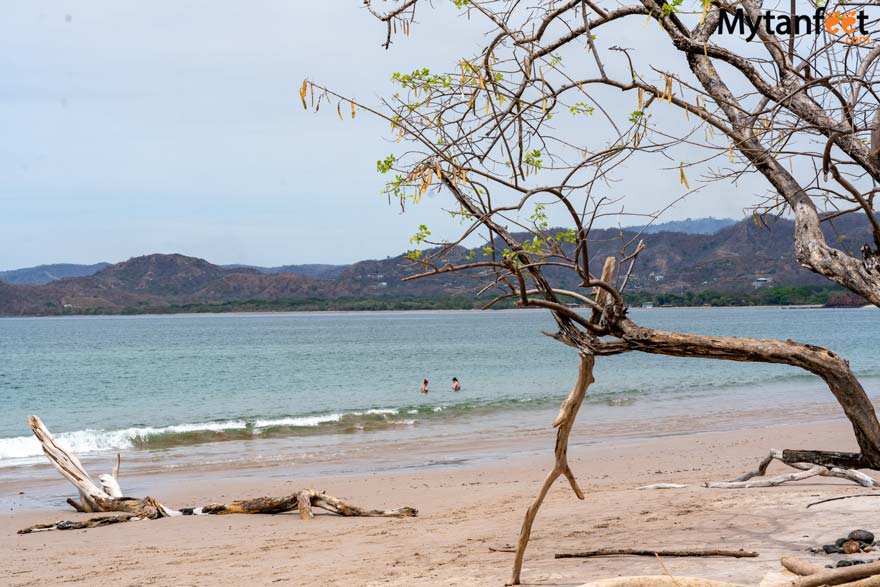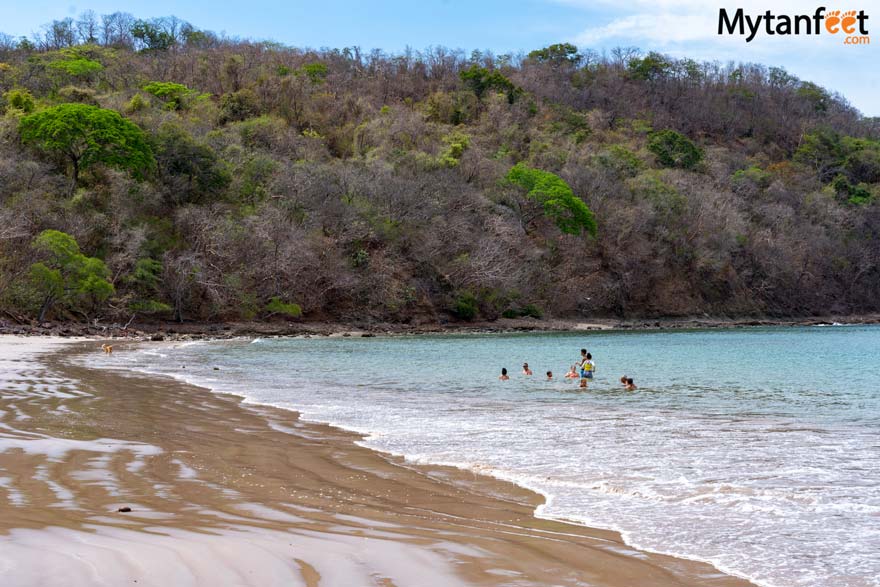 When we visited in April, we saw a couple local families and a couple tourists.
Swimmable
During high tide, it comes up pretty high so best time to visit would be low to mid tide. This beach is very nice for swimming.
Services
There was a local restaurant/bar on the beach. I didn't see anyone eating there but there was a bartender and they had signs for mojitos, and seafood.
No public bathrooms, showers, changing rooms, etc.
We also saw a local renting out kayaks, stand up paddle boards and snorkel gear. He is everyday except Tuesday. This beach would be a great one for stand up paddle board.
Watch our video about Puerto Viejo Guanacaste and other beaches in the area
We made a video about beaches to visit from Tamarindo including Puerto Viejo and other similar beaches such as Playa Real, Playa Ventanas and Playa Mina.
Read about other beaches like Puerto Viejo in the posts below!
Playa San Juanillo: Gorgeous white sand beach an hour south of Tamarindo
Playa Punta de Pelencho: Small natural beach in between Flamingo and Brasilito
Junquillal: Beautiful beach by the small local town of Junquillal, about 30 minutes south of Tamarindo
Playa Marbella: Empty surfing beach, about one hour south of Conchal
Playa Pelada: Nice white sand beach in Nosara
Sugar Beach: Secluded beach by Las Catalinas
Lagartillo: Beautiful, small beach by Avellanas. Very empty!
Prieta: Nice local beach near Las Catalinas
Rajada: Beautiful white sand beach up in the La Cruz/Salinas Bay in the Guanacaste province. Not touristy, calm swimming waves.