When it comes to black sand beaches in Costa Rica, Playa Negra by Puerto Viejo de Talamanca, is a favorite.
In this guide, we'll help you plan your visit.
Playa Negra, Puerto Viejo, Costa Rica Beach
The beach sits right in between Puerto Viejo town and Cahuita, stretching a bit more than 10 kilometers. Since this beach is considered "not as pretty" as the others, such as the white sand beaches of Cocles, Chiquita and Punta Uva, there aren't as many people at Negra.
In turn, this actually makes this beach even more special. Since it's so long and there aren't many visitors, you can walk for kilometers on Negra without seeing another person!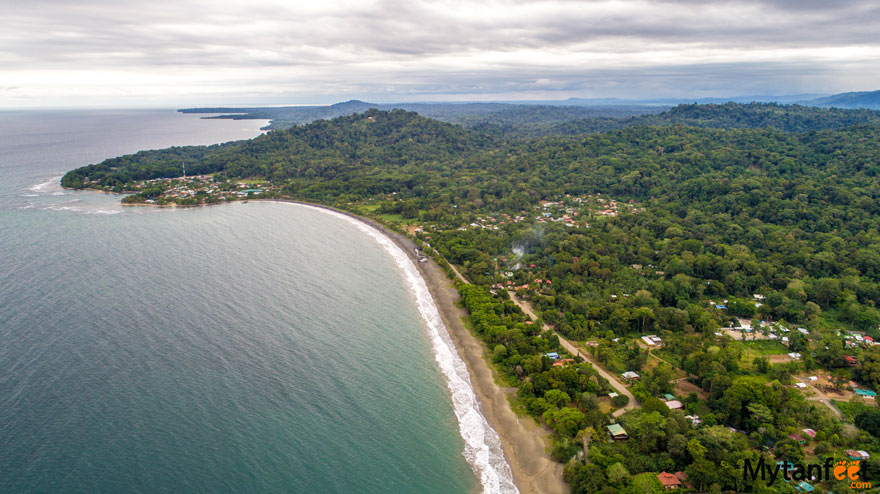 From the most southern end of Playa Negra, it is about a 1.5 kilometer walk on the beach to Puerto Viejo town so it's not an ideal location for those who want to be close to town without a car.
Since it is not recommended to walk on the beach at night or to walk alone, you will need to taxi back and forth which can add up. There isn't really a town at Playa Negra so there aren't many restaurants or supermarkets close by so it's a bit inconvenient.
Playa Negra Map
Playa Negra is 257 kilometers (160 miles) from San Jose, about a 4.5 hour drive.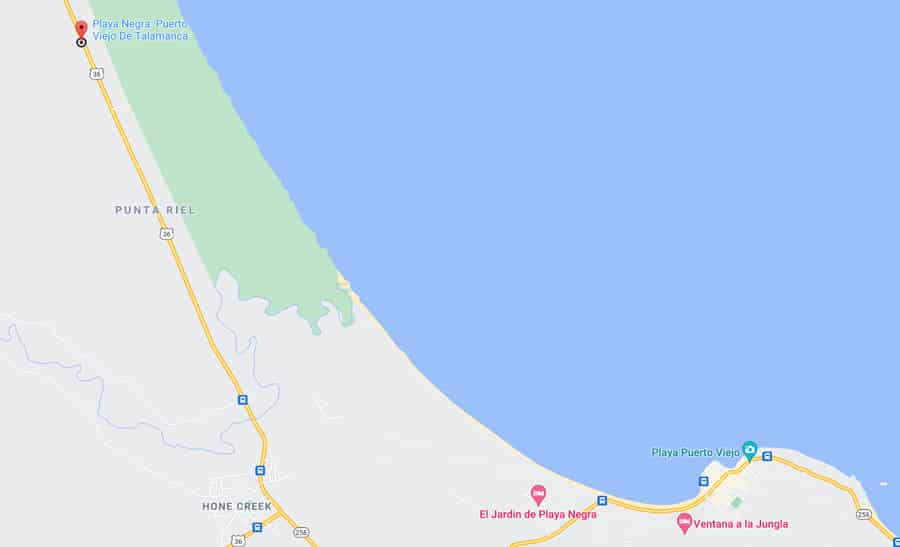 How to get to Playa Negra
There are buses that run on the main road from Cahuita to Puerto Viejo every day and you can get off after Hone Creek towards Puerto Viejo. The bus however does not go into the small roads of Playa Negra so you will need to walk from the main road to your hotel or try to find a taxi.
4×4 required?
No.
Parking
You can park anywhere on the road that runs parallel to the beach. There is no security parking lot so make sure to lock your car and don't leave valuables inside.
Playa Negra Puerto Viejo Hotels
You can find a small handful of hotels, lodges and casitas at Playa Negra. There are also many vacation rentals.
This is the most popular hotel at Playa Negra. It's beach front, has a beach club, on-site restaurant and a nice garden area. It's an adult only resort with a range of accommodation options from standard rooms to suites. This is a more upscale resort. Rooms start around $80 a night and suites are around $150 and up.
This is a new guesthouse that has several types of rooms with flats (apartment) and single and double rooms. They're right across from Negra beach and they have a nice pool with a deck. The owner lives on the property which is very nice. Rooms start at $50 and flats start at $100 a night.
This hotel has ocean view rooms, standard rooms and two beach houses with a kitchen. They're beach front, they have a pool and on-site restaurant and an entertainment area with darts and a pool table. Rooms start around $90.
This is a 26 room lodge that's designed with an Afro-Caribbean style. They have rooms with shared bathrooms to cabins and suites so it's a good choice for all budgets. The Bri Bri Microbrewery is on their property. Single rooms start at $19, suites start at $45 a night. They also have 2 cabins which are good for large groups (they are basically like a house) which start at $85 a night.
Things to do at Playa Negra
Playa Negra has suitable waves for beginner surfers but most people like to swim, relax and walk on the shores of the beach. For other activities outside of Negra, everything is close by and with a car, you can easily visit several different attractions.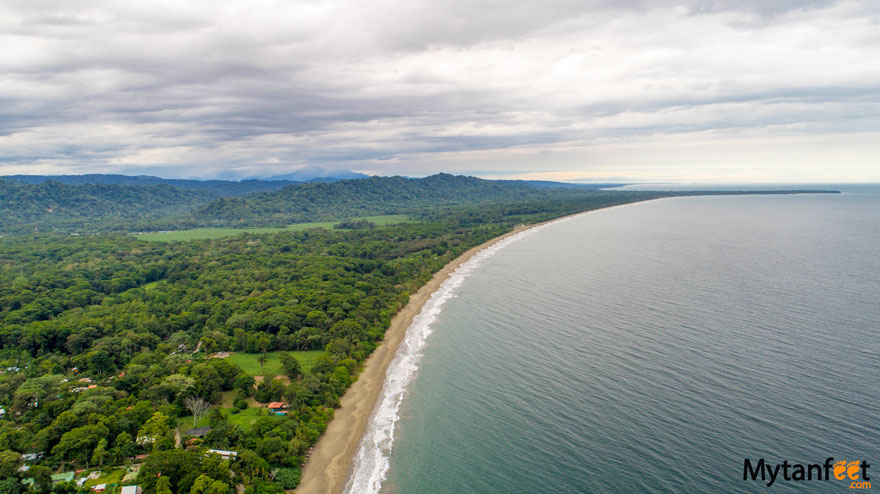 We highly recommend if you have a car to visit other beaches and the town and hike Cahuita National Park. You can also do day tours like the chocolate tour and visit the Ara project or Jaguar Rescue Center.
If you don't have a car, the Caribe Fun Tours tour desk is inside the Hotel Banana Azul and even if you're not staying at the hotel, you can go and book tours with them. They do tours like Cahuita National Park + Waterfall, Punta Uva + Jaguar Rescue Center and many others.
Video
You can see Playa Negra Puerto Viejo looks like from the air in this short clip.
This post has affiliate links.