When it comes to all-inclusive resorts, they are truly the best for the ultimate relaxing vacation. The beauty of all-inclusive resorts is that hotel provides pretty much everything for you – making your stay hassle and stress free.
All-inclusives are a honeymooners or a long time married couple's easy answer to a romantic getaway but it's not just for them. Families, couples and friends can also enjoy everything the resorts have to offer.
If you're looking for one of the best all-inclusives in Costa Rica, read on. Yeison and I had a chance to stay at the Westin Golf Resort & Spa in Playa Conchal and let's just say we came back oh so relaxed.
Check out our review of the Westin below or watch our video to see what the resort is like!
The Westin Golf Resort and Spa in Playa Conchal
The Property
The Westin sits right behind Playa Conchal, one of the most popular and beautiful beaches in Costa Rica. We had visited Playa Conchal several times before so I knew about the Westin, but I never realized how big the property is. Tucked in between the pristine forests of Guanacaste and the Pacific Ocean lays 2,400 acres of the Westin resort.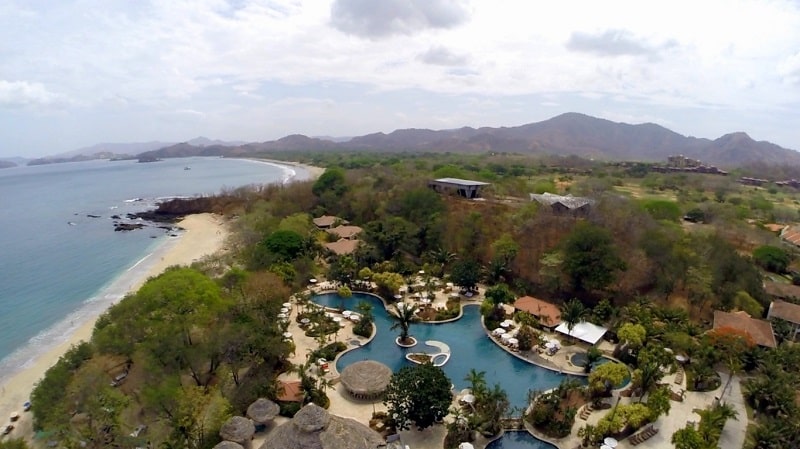 This resort has all the services and amenities you need for a stress free vacation including a large pool, various international restaurants, recreational areas, a fitness center, a spa, a shopping area and a kid's club.
While the Westin is an all-inclusive, you still feel like you're experiencing the best of Costa Rica with trees and colorful flowers everywhere and iguanas, storks and coatis roaming the property.
The Rooms
We stayed in the Royal Beach Club Room but there are various types of guest rooms at the Westin that can comfortably fit all group sizes. Royal Beach Club is the separate, adult only exclusive area of the Westin that costs more than the normal rooms, but it comes with a ton of extra perks like the room.
Perfect for a romantic escape!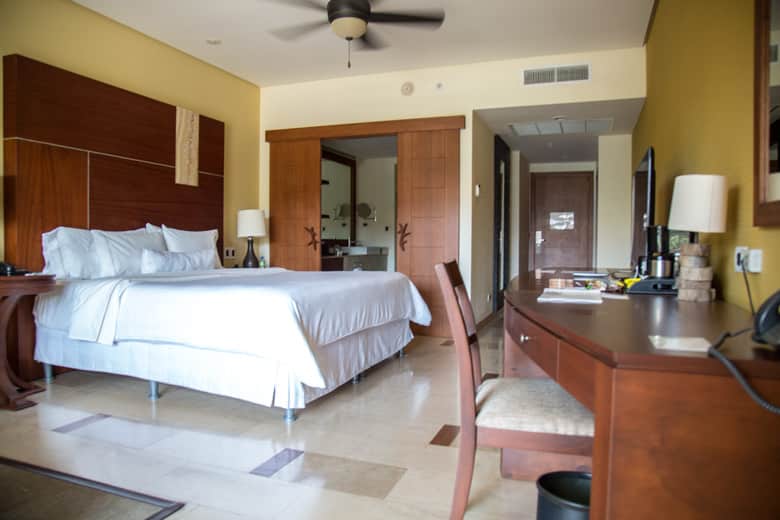 This guest room is designed more for couples with a patio, one king size bed, a flat screen TV, a fully stocked minibar, a coffee maker, a safe, a couch and coffee table complete with snacks and Costa Rica guide books to browse through. Plenty of space for our things and places to sit for two people.
Though I loved our beautifully furnished room, I fell in love with the bathroom a little bit more. Since bathtubs aren't very common in Costa Rica, I was delighted to find a deep bathtub in our bathroom along with a separate toilet and rainfall head shower stocked with white tea aloe amenities.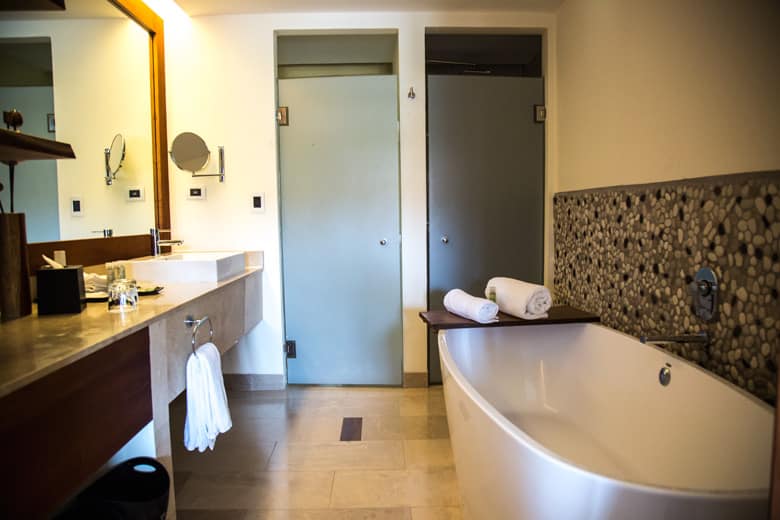 There are two towers at the Royal Beach Club. Ask for a one with a pool view, you can see the sky change colors during sunset!
Activities
When it comes to activities, the pool is one of the best as they are simply gorgeous and very relaxing. At the Royal Beach Club pool, it is very tranquil with a swim up bar, lounge chairs and private cabins.
I loved how they landscaped the pool areas with trees and flowers everywhere so it doesn't feel artificial as other resort pools. It stays true to the tropical paradise spirit, not to mention the pool looks simply beautiful with pink flowers, big palms and plants around it.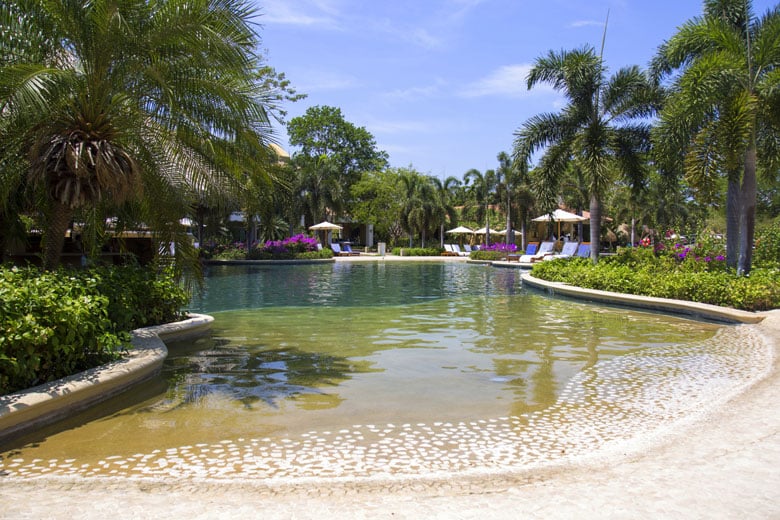 You can also join the daily activities the Westin offers like ping pong tournaments, aqua-fit and dance lessons. The schedule changes every day so you won't be bored.
If you're looking for adventure, book a tour at one of the tour desks at the entrance to the beach. Go ATV'ing, explore one of the nearby national parks, go on a combo adventure tour, jet ski, kayak, snorkel, sail, explore Playa Brasilito next door, watch the nightly entertainment show, tee off at their famous golf course or enjoy the stunning Conchal beach right outside. There are so many things to do at Playa Conchal!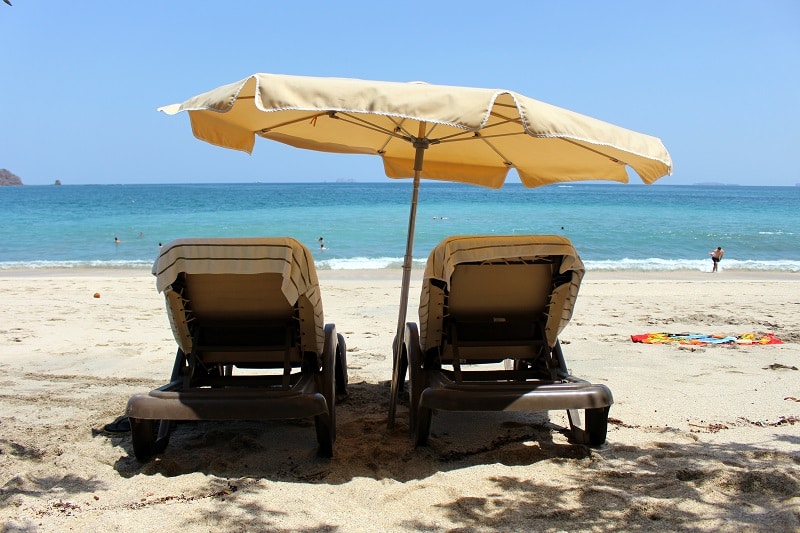 Eating at the Westin
Yeison and I love to eat and the food was one of the things we were looking forward to the most at the Westin. With 7 different international restaurants and a buffet for breakfast, lunch and dinner, we knew we were going to eat well.
We ate at Faisanella (Italian) and Bamboo (Asian fusion) for our dinners and Faisanella was one of the best restaurants we've been to. We both ordered pasta and the tiramisui was heavenly.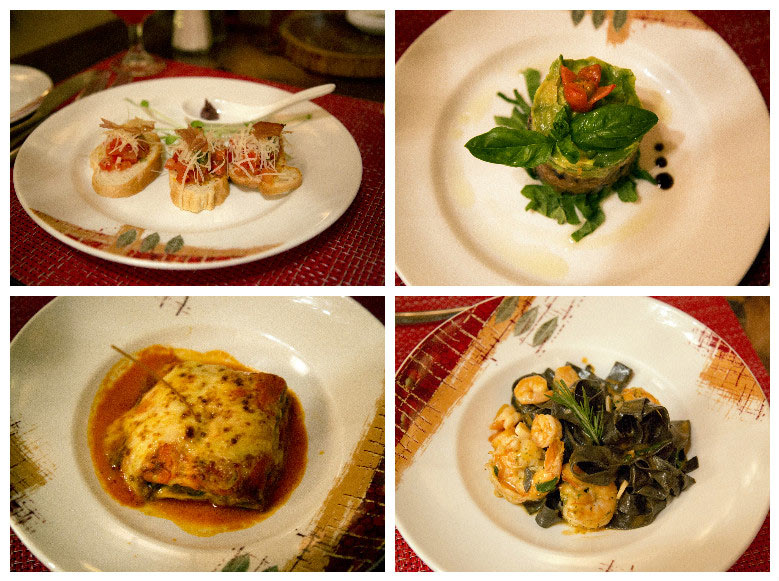 If you don't eat at one of the a la carte restaurants, there is always the buffet. The Mitra Restaurant buffet is the main one for all guests and the Royal Beach Club has its own buffet for exclusive guests.
Both of them have much food! With plenty of options, even the vegetarians, vegans, gluten-free and picky eaters will find something they like here. Having the private dining hall for Royal Beach Club members is one of the perks and it's extremely nice if you don't want to be around kids. It's very peaceful and you can sit outside for a nice pool view.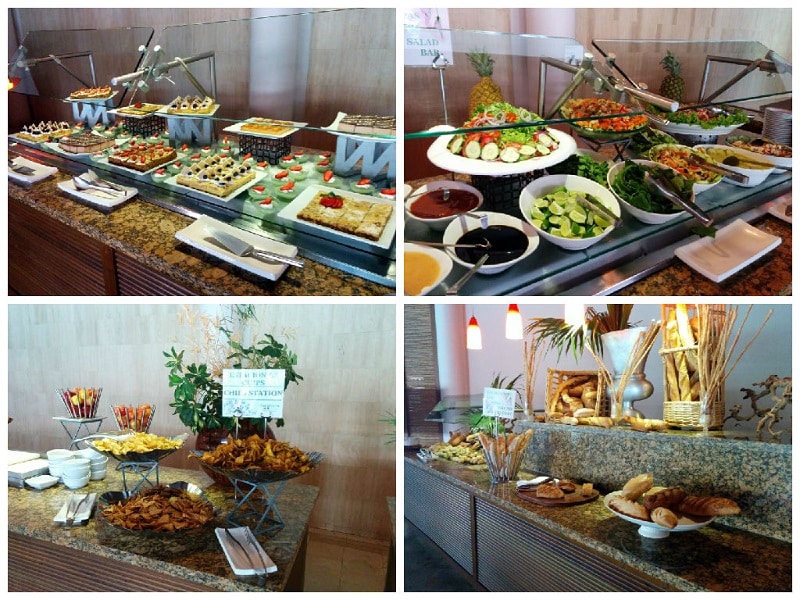 Did I mention that room service is included? I ordered room service for the first time in my life and got this awesome spread. They have different menus for each meal and it's 24 hours!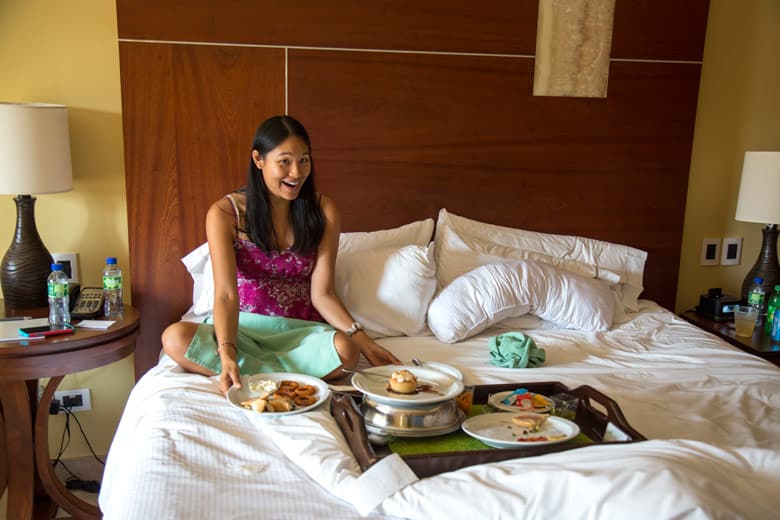 So what did we think about the Westin Playa Conchal?
I can finally see what all the fuss is about when people talk about the Westin. With their incredibly comfortable and spacious rooms, huge property, friendly and attentive staff, tasty food and fabulous pools, the Westin is worth the hype. We enjoyed our entire time there hanging by the pool, testing out all their yummy drinks, walking around the property and having a fun time.
We loved that their focus is on having a healthy vacation. They don't have a casino and their food is fresh with plenty of healthy options including superfood choices. Their tranquil environment is perfect for romantic getaways including weddings and families.
Improvements?
The main improvement in my opinion is the Bamboo restaurant which wasn't as good as I hoped. Asian food is not common in Costa Rica but I think they could focus more on making fresh fusion dishes instead of pre-made.
Other than that, everything else at the Westin was amazing. You still get a taste of the "pura vida" lifestyle Costa Rica is known for and if you're looking for more culture and local life, a local town called Brasilito is right next door. You don't have to go far at all to have both luxury and authentic travel experiences at the Westin.
They also hold weddings in case you're thinking about a destination wedding!
You can read our reviews on the other hotels we've visited in Costa Rica here.
Huge thanks to the Westin for hosting us. As always, all thoughts and opinions are our own.