If you are looking for an 8 days Costa Rica itinerary, here is a fantastic one that goes to La Fortuna for rainforest and volcano and Playas del Coco for beach.
Playas del Coco and La Fortuna are two very tourist friendly destinations with plenty of things to do, hotels and restaurants. This itinerary works for all travelers, particularly families. It's not too crazy, with plenty of downtime but still lots of great activities.
There are affiliate links in this post.
8 Days Costa Rica Itinerary Details
You will fly in and out of Guanacaste Airport (LIR airport code). This international airport is 3 hours from La Fortuna and 25 minutes from Playas del Coco.
This itinerary includes your flying in and out days and travel days.
How to Get Around
You can rent a car, take the bus or book private/shared shuttles for this itinerary. However, renting a car is the best option for the most flexibility and is the best way to maximize your time in Costa Rica. You do not need a 4wd for this itinerary, a sedan is fine for 1-4 people (2+ people with light luggage).
If you do not want to drive, we recommend to book private shuttles. Then you can book tours that include transportation in La Fortuna and Playas del Coco. We offer discounts for La Fortuna tours and Guanacaste tours – check them out in the links!
Want to book private shuttles? Contact us for a quote!
Good for all travelers, especially families
This one week Costa Rica itinerary is excellent for every traveler: solo, couples, honeymooners, backpackers, families, multi general families, young families and seniors. Both destinations are easy to get to, have good infrastructure and all the services for tourists.
This is a particularly good itinerary for families of all ages as Fortuna and Coco are extremely family friendly destinations in Costa Rica.
You can choose to stay at a different beach or at a resort
You don't exactly have to stay in Playas del Coco though it is the most convenient for those without a car as it is the main town in the area. Other beaches to stay at are Ocotal, Hermosa and Panama.
There are also many luxury resorts in the Gulf of Papagayo area (close to Coco, like 15 minute drive away) such as Riu Palace, Occidental Papagayo, Secrets Papagayo, Riu Guanacaste. Planet Hollywood, Four Seasons and Andaz Papagayo. Some of those are all inclusive resorts.
You can switch to have 3 full days at the rainforest and 2 days at the beach instead
If you're not big beach people, you can switch the days to stay 4 nights in La Fortuna and 3 nights in Playas del Coco instead.
Map
Click here to go to our map of this 8 days Costa Rica itinerary with driving routes, destinations, hotel and restaurant recommendations and activities.
Day 1: Land in Liberia, Travel to La Fortuna (~3 Hour Drive)
Once you clear customs and immigration at Guanacaste Airport (airport code LIR), you will collect your rental car and drive to La Fortuna. La Fortuna is the main tourism hub near Arenal Volcano in the Northern Lowlands rainforests.
If you book a private shuttle, the cost is approximately $220 USD one way for 1-8 people.
Driving Route
The drive is around 3.5 hours and it is a beautiful drive as it goes around Lake Arenal. You can watch a video and read more about driving to Arenal from Guanacaste here.
Hotels
There are a ton of hotels in La Fortuna so there is one for every budget and travel style. A few cheap hotels in town are Hotel Las Colinas, El Secreto and Arenal Xilapolo.
One of our favorite hotels in Costa Rica is the Arenal Observatory Lodge, the only hotel in the Arenal Volcano National Park. Another is Lost Iguana.
For luxury, you can read our list of luxury hotels in La Fortuna here.
Day 2 and 3: La Fortuna
You have two full days to explore La Fortuna! Here are some of our recommendations on how to spend your days.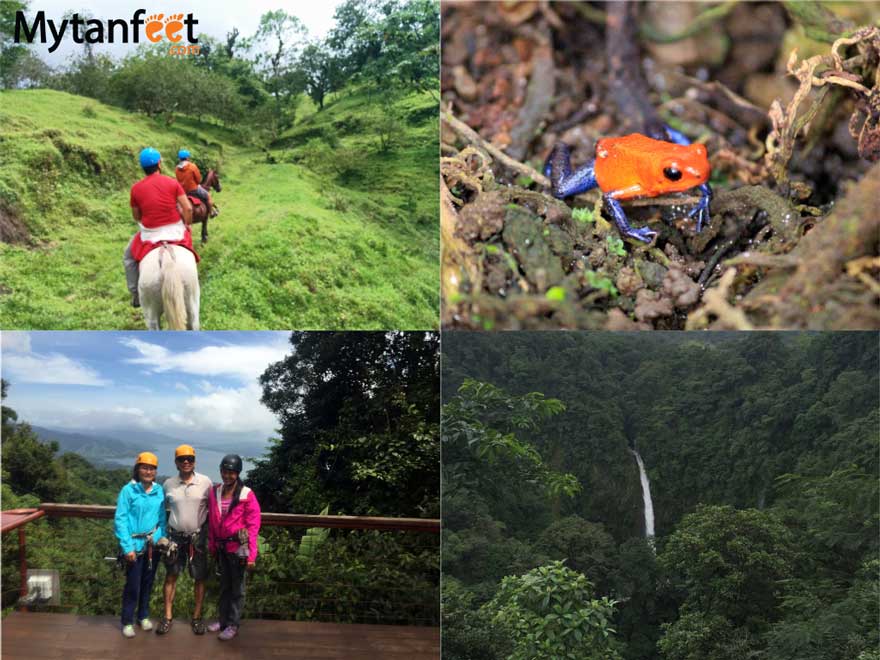 Don't forget we have a discount on tours in La Fortuna! You can also read about other things to do in La Fortuna and Arenal in the link.
Day 2: Adventure!
For a full day of outdoor adventure, go ziplining in the morning and white water rafting Class 2 and 3 in the afternoon.
For a combination of nature and adventure, we love a specific tour that goes horseback riding around Arenal Volcano and then visits the La Fortuna waterfall.
You'll end the day by visiting one of the hot spring resorts like Tabacon, Baldi, Paradise or Ecotermales if your hotel doesn't have their own hot springs. Read more about other Arenal hot spring resorts.
Day 3: Wildlife and Nature
Today is an easy wildlife watching day.
In the morning, you'll visit the Arenal Hanging Bridges for spectacular rainforest and volcano views. On the 3 kilometer trail that goes through several bridges, your guide will point out various flora and fauna.
Then in the afternoon, you'll do a river safari float for a quiet, easy and peaceful wildlife watching tour to see animals like sloths, monkeys and iguanas.
In the evening, you can go back to the hot springs or sit in the local park to people watch and have an ice cream or shaved ice.
Other Ideas
1 full day at Club Rio to enjoy The Springs Resort's hot springs, lunch by the river and two activities (tubing/animal sanctuary guided walk/kayak/horseback riding). Get $10 USD off the Club Rio multi adventure package here! The best part of this package is you get a 2 day hot spring pass so you can visit hot springs on both days in La Fortuna. The Springs resort has some of the most amazing pools and hot springs in Costa Rica!
2nd day: ziplining, canyoning or hiking at the national park in the morning. Then nap, relax, lay by the pool or go souvenir shopping in the afternoon. If you are a coffee drinker, we highly recommend a coffee tour in La Fortuna. If you are a foodie, then a La Fortuna farm tour and cooking class has to be on your list!
Day 4: Drive to Playas del Coco (~4 Hours)
On day 4 of this 8 days Costa Rica itinerary, you'll drive to Playas del Coco, the main beach town in the Gulf of Papagayo. It's a small fishing village that has grown to become a very popular North American retiree destination. For ocean activities and beach, this is an excellent place for first timers (or even second timers) in Costa Rica.
Stop at Rio Celeste: If you are up for a hike, you can stop by Rio Celeste, the sky blue river in the rainforest on the way. Leave La Fortuna early in the morning at 8 AM, drive to Rio Celeste (around 1.5 hours), hike the park (around 3 hours), have lunch in Bijagua and drive to Coco (around 2.5 hours). It's doable and you will get to see one of the most beautiful places in Costa Rica!
Hotels
Hotels in town and near the beach are Laura's House B&B, Hotel Colono, Toro Blanco, Cafe la Playa Suites (beach front) and La Puerta del Sol.
There are also many vacation rentals in Coco which you can find on Airbnb or VRBO which I recommend over a hotel since you get a furnished kitchen, secure parking, laundry and pool (for most of them). Popular neighborhoods are Las Palmas and Breeze Residences in Pacifico and Los Tucanes.
Day 5, 6 and 7: Playas del Coco
You have 3 full days to soak up the sun, check out town and enjoy the beach. Here are ideas of what to do for your two days.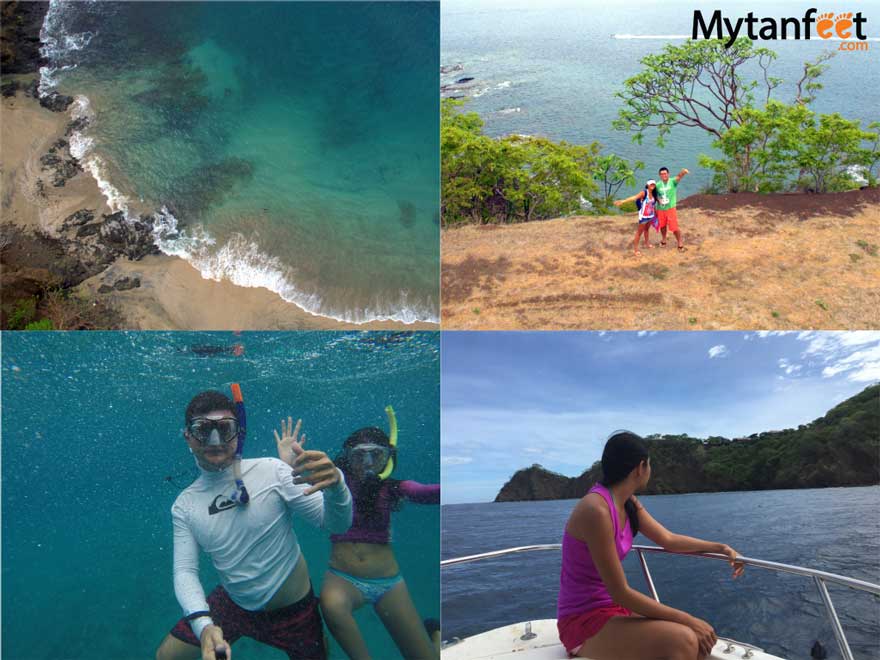 Beach hopping and snorkeling
This is a must do in this area! The Gulf of Papagayo has many little bays that are home to beautiful white sand beaches, crystal clear turquoise waters and snorkeling spots.
A private boating tour in Playas del Coco is the best way to experience the Gulf of Papagayo as you can visit as many beaches and snorkel spots as you want, everything is on your schedule. You can do a half or full day trip.
Fishing
Fishing in Costa Rica is excellent and Playas del Coco is one of the top places for it. Many locals live off of fishing and it's a great area to do in shore and off shore fishing. You can catch snapper, tuna, mahi mahi on in shore trips and off shore, you can go for the bigger fish like marlin and rooster.
Happy Hour and Relax
In Playas del Coco, many of the bars have happy hour from 11 AM to 7 PM, so it's more like happy day! Have a drink, people watch, check out the town, go souvenir shopping, take it easy.
Itinerary Ideas
First day: Just relax, sleep in, walk on the beach, lay by the pool, walk around town, watch the sunset on the beach
Second day: Full day private beach hopping and snorkeling tour in the Gulf of Papagayo. Add fishing if you like to fish. This is the best way to experience all the beautiful bays, beaches and clear water in the gulf!
Third day: Drive to Playa Ocotal in the morning (10 minutes) to check out that beach. Have lunch at Father Rooster and then head back to your hotel/rental in Coco to relax, pack and enjoy your last night in Costa Rica.
Day 8: Fly Out
And your vacation has come to a close on your last day of this 8 days Costa Rica itinerary. You'll drive to Liberia Airport to fly home. Remember to arrive at the airport at least 2.5 hours before your flight.
Read more Costa Rica itineraries below!
2 week Costa Rica itinerary: Rainforest, cloud forest, volcano and beach
1 month Costa Rica road trip: Visiting both coasts driving throughout the country
5 days Arenal and Monteverde: Ideas for La Fortuna and Monteverde cloud forest
10 day waterfall itinerary: Chasing some of the best waterfalls in Costa Rica
Costa Rica 13 days itinerary: Specifically for those not renting a car
*There are affiliate links in this post*.