If you are looking for an 8 days Costa Rica itinerary, here is an easy sample itinerary that goes to beach, rainforest and volcano.
The places in this itinerary, Playas del Coco and La Fortuna are two very tourist friendly destinations with plenty of things to do, hotels and restaurants. This itinerary works for all travelers, particularly families.
So without further ado, here is our 8 days Costa Rica itinerary!
What to Know About This 8 Days Costa Rica Itinerary
Transportation
You can rent a car, take the bus or book private/shared shuttles for this itinerary. If you don't want to drive, then you can book shared shuttles which is convenient and not as expensive as private. For those on a tight budget, you can take the bus.
If you don't rent a car, you can book tours that include transportation. Get our Guanacaste day tours discount here!
For our trip with my parents, we drove so that we could be on our schedule and have more flexibility.
Good for all travelers
This one week Costa Rica itinerary is excellent for every traveler: solo, couples, honeymooners, backpackers, families, multi general families, young families and seniors. Both destinations are easy to get to, have good infrastructure and all the services for tourists.
You can choose to stay at a different beach
You don't exactly have to stay in Playas del Coco though it is the most convenient for those without a car as it is the main town in the area. Other beaches to stay at are Ocotal, Hermosa and Panama.
There are also a couple of resorts in the area such as Occidental Papagayo and Riu Guanacaste. You can also check out the Papagayo resorts like Planet Hollywood, Four Seasons or Andaz Papagayo for high end luxury.
You can switch to have 3 full days at the beach and 2 days at in the rainforest instead
My parents are not big beach people which is why we did 2 full days at the beach and 3 full days at the rainforest. But you can perfectly switch it and stay 3 days at the beach and 2 in La Fortuna.
Map
Here is a map of this 8 days Costa Rica itinerary with driving routes, destinations, hotel and restaurant recommendations and activities.
Day 1: Land in Liberia, go to Playas del Coco
Playas del Coco is the main beach town in the Gulf of Papagayo. It's a small fishing village that has grown to become a very popular North American retiree destination. For ocean activities and beach, this is an excellent place for first timers (or even second timers) in Costa Rica.
It is only a 25 minute drive from Liberia International Airport, so it is a convenient first stop. If you don't rent a car, you can book a private shuttle (~$55 USD for 1-4 people), take a taxi or grab the bus (no direct bus from airport to Coco. Must walk onto main road, 20 minutes from the airport to flag down the bus). You can read more about how to get to Playas del Coco from Liberia Airport in this post.
Hotels
Hotels in town and near the beach are Laura's House B&B, Hotel Coco Palms, Hotel Colono, Toro Blanco, Cafe la Playa Suites (beach front), La Puerta del Sol. Villa Buena Onda (adults only, all inclusive ocean view boutique hotel with 8 rooms) and Hotel Chantel vacation rental are further from town up in the hills outside Coco.
There are also many vacation rentals in Coco which you can find on Airbnb or VRBO. Popular neighborhoods are Las Palmas and Breeze (Pacifico). We stayed at a condo (Los Tucanes).
Day 2 & 3: Playas del Coco
You have 2 full days to soak up the sun, check out town and enjoy the beach. Here are ideas of what to do for your two days.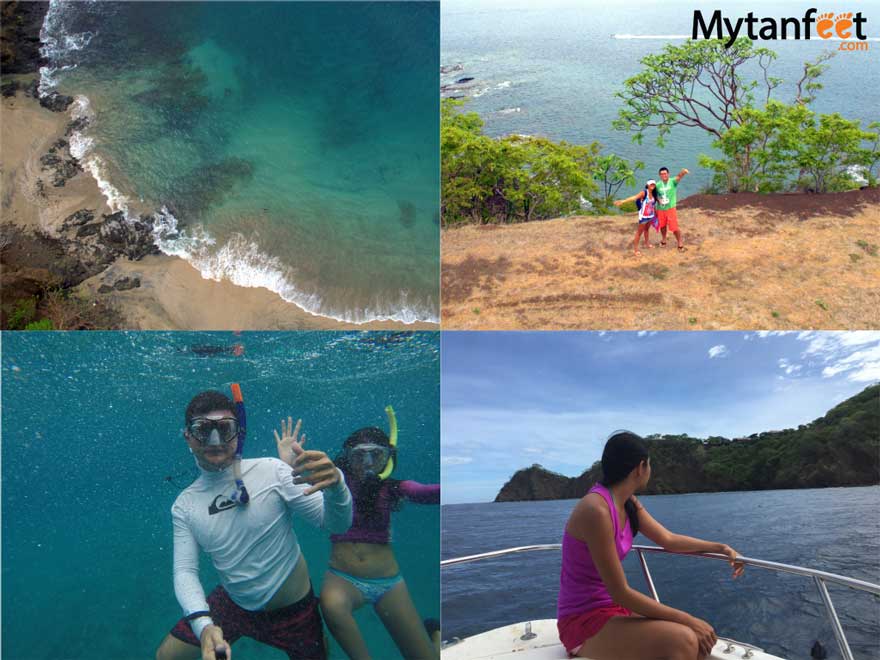 Beach hopping and snorkeling
This is a must do in this area! The Gulf of Papagayo has many little bays that are home to beautiful white sand beaches, crystal clear turquoise waters and snorkeling spots.
A private boating tour in Playas del Coco is the best way to experience the Gulf of Papagayo as you can visit as many beaches and snorkel spots as you want, everything is on your schedule. You can do a half or full day trip.
Fishing
Fishing in Costa Rica is excellent and Playas del Coco is one of the top places for it. Many locals live off of fishing and it's a great area to do in shore and off shore fishing. You can catch snapper, tuna, mahi mahi on in shore trips and off shore, you can go for the bigger fish like marlin and rooster.
Happy Hour and Relax
In Playas del Coco, many of the bars have happy hour from 11 AM to 7 PM, so it's more like happy day! Have a drink, people watch, check out the town, go souvenir shopping, take it easy.
Other ideas: Some other things to do are ziplining at Diamante Eco Adventure Park, driving to Tamarindo and taking surf lessons, happy hour at Coconutz or Zi Lounge, scuba diving and watching the sunset.
With my parents: We went on the private boating tour (beach hop, snorkel and fish half day in the morning) with my parents one day and visited Playa Penca the other day.
Day 4: Drive to La Fortuna
On day 4 of your 8 days Costa Rica itinerary, you will travel to La Fortuna. La Fortuna is a small town near Arenal Volcano in the Northern Lowlands. It's a popular tourist town surrounded by rainforest.
If you are taking a shuttle, check Interbus or Easy Ride CR for shared shuttles (~$59 USD per person). For private, it is around $220 one way for 1-4 people.
For the bus, you must first take the bus from Playas del Coco to Liberia, Liberia to Canas, Canas to Tilaran, then Tilaran to La Fortuna.
Driving Route
The drive is around 3.5 hours and it is a beautiful drive. You can watch a video and read more about driving to Arenal from Guanacaste here.
Stop at Rio Celeste: If you are up for a hike, you can stop by Rio Celeste, the sky blue river in the rainforest on the way. Leave early in the morning, drive to Rio Celeste (around 1.5 hours from Coco), hike the park (around 3-4 hours), have lunch in Bijagua and drive to La Fortuna (around 1.5-2 hours). It's doable and you will get to see one of the most beautiful places in Costa Rica!
Hotels
There are over 100 hotels in La Fortuna so there is one for every budget and travel style. For cheap hotels in town for those on a budget, check out Arenal Container Hostel, Hotel Las Colinas, El Secreto and Selina La Fortuna.
One of our favorite hotels in Costa Rica is the Arenal Observatory Lodge, the only hotel in the Arenal Volcano National Park. Another is Lost Iguana.
For luxury, you can read our list of luxury hotels in La Fortuna here.
Day 5,6 7: La Fortuna
You have three full days to explore La Fortuna. It's known as the adventure capital of Costa Rica so get ready for exciting outdoor adventure! Fortuna is also an excellent place to see wildlife. Additionally, many of the activities are very close to each other so you can do multiple activities in one day.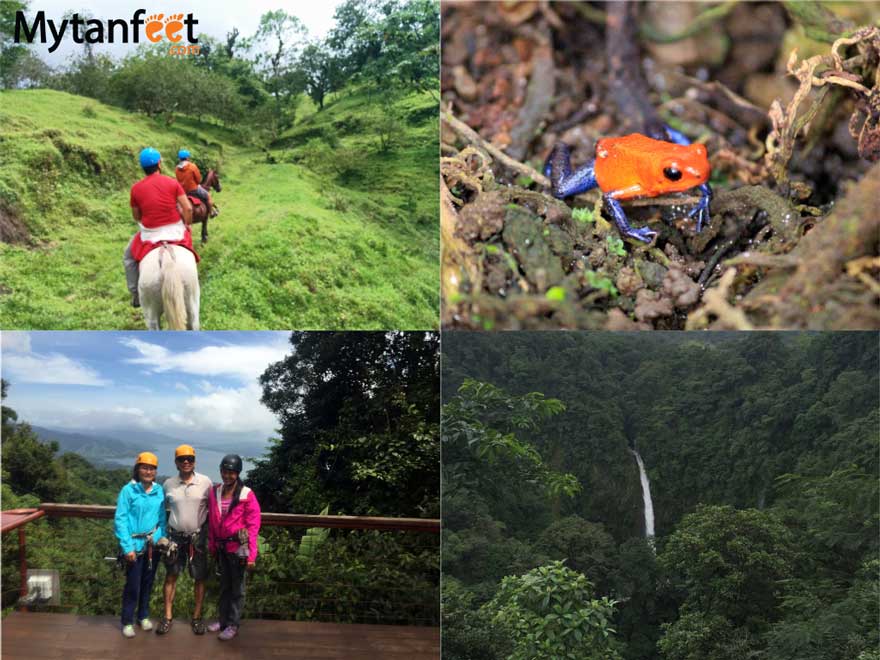 Here are some ideas for things to do and we have a discount on tours in La Fortuna you can read more in the link. We have discounts for all the tours below.
Day 5
For a full day of outdoor adventure, go canyoning (waterfall rappeling) in the morning and white water rafting Class 2 and 3 in the afternoon.
You can also go ziplining and horseback riding, ziplining and canyoning, stand up paddle boarding or kayaking in Lake Arenal and ziplining.
End the day by visiting one of the hot spring resorts like Tabacon or Ecotermales. If your hotel doesn't have their own hot springs, you can visit one of the Arenal hot spring resorts (read more about them in the link).
Day 6
Today is an easy wildlife watching day!
Go for a river safari float in the morning to see animals like sloths, monkeys and iguanas. In the afternoon, go for a hike around Arenal Volcano for beautiful views of the volcano, rainforest and Lake Arenal. These two activities are excellent for families and for all ages. And if you like, go back to the hot springs!
However, if you want to see more animals, you can do a walk through the Bogarin Trail instead of the volcano. The Bogarin Trail is an easy 1 km (less than 1 mile) walk through a forest that has many sloths.
Day 7
Other ideas for activities: For families, we also recommend the Rainforest Chocolate Tour, Arenal Vida Campesina (chocolate/coffee/sugar cane/traditional farm), La Fortuna waterfall, sunset cruise on Lake Arenal or the Butterfly and Fauna Garden at Danaus Eco-Center. For a full day of fun and relaxation, another great one day tour is the Club Rio multi adventure package (get $10 off here!)
For those looking for more adventure/nature, you can do an ATV tour, Children's Eternal Rainforest Hike or mountain biking around Lake Arenal.
With my parents: We did horseback riding and La Fortuna and hot springs at night our first day, the second day we went ziplining at Sky Adventures and hot springs and the third day we walked around La Fortuna town, bought some souvenirs and drove back to Guanacaste that night since they had a super early flight the next day.
You can read more about our favorite things to do in La Fortuna here!
Day 8: Fly Out
And your vacation has come to a close on your last day of this 8 days Costa Rica itinerary. You'll drive to Liberia Airport to fly home. Remember this is about a 3.5 hour drive so make sure to plan accordingly to get to the airport around 1.5 -2 hours early. If your flight is early in the morning, it is recommended to drive to Liberia the night before and stay at a hotel close to Liberia airport.
Read more Costa Rica itineraries below!
2 week Costa Rica itinerary: Rainforest, cloud forest, volcano and beach
1 month Costa Rica road trip: Visiting both coasts driving throughout the country
5 days Arenal and Monteverde: Ideas for La Fortuna and Monteverde cloud forest
10 day waterfall itinerary: Chasing some of the best waterfalls in Costa Rica
*There are affiliate links in this post*.