One of the best things about Costa Rica is that there is something for everyone and every wallet. Whether you're a backpacker on a shoestring budget or a luxury traveler, Costa Rica's got it all. And when it comes to luxury hotels in Costa Rica, there is no shortage of them especially in the beautiful Guanacaste province, home to some of the most beautiful beaches in the country.
We had the opportunity to visit one of these luxury resorts in Costa Rica, the JW Marriott Guanacaste Resort & Spa. This was our first time at a JW Marriott and from the moment we checked in, we could see why the Marriott brand has such a loyal following.
If you're looking for a luxury vacation in Costa Rica, read our review below to see what we thought about the JW Marriott Guanacaste Resort & Spa.
From the entrance of the hacienda, it is about a 10 minute drive to the hotel, making you feel like you're going to your slice of paradise in Costa Rica. Keeping up with JW Marriott standards, they chose a very exclusive and high end area in the country, fitting for their luxury brand.
Playa Mansita Beach
The JW Marriott Guanacaste is right on Playa Mansita, a beautiful beach that can't be accessed any other way except boat, making it "semi-private" (all beaches in Costa Rica are public). But since the only other access is through boat, hardly any outside guests go to that beach.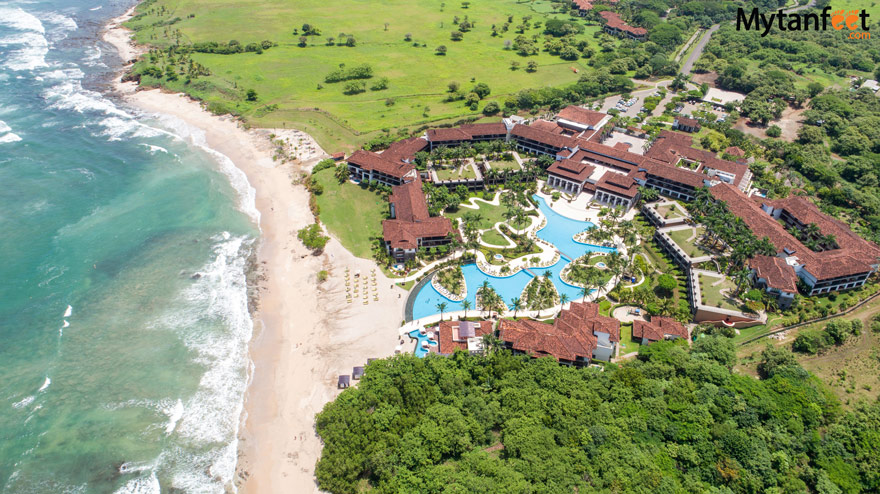 Though the waves aren't the nicest for swimming, the beach is incredibly clean and pristine. There are lounge chairs, massage tables and you can request a romantic dinner on the beach. Nearly everywhere you go on the JW Marriott Guanacaste property has a view of the beach!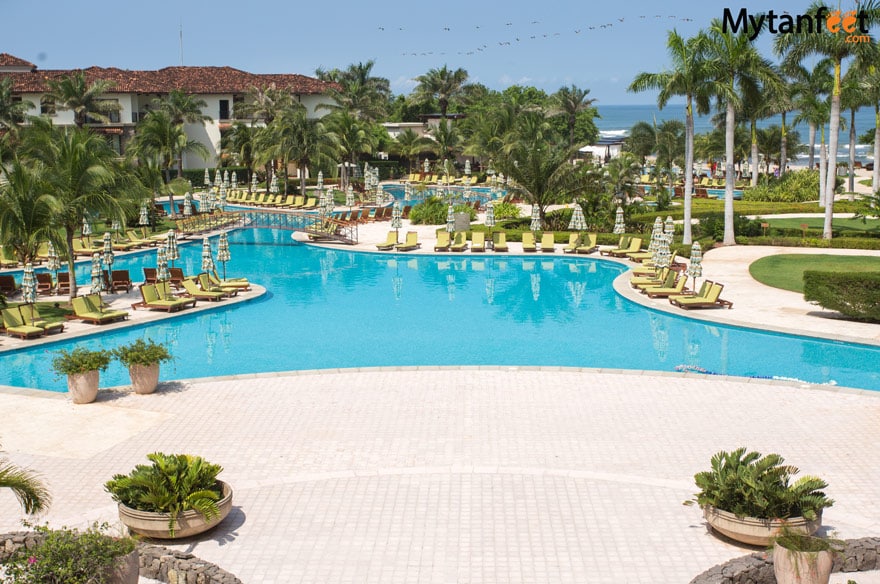 Because of the location of the hotel, you really feel like the beach is private. I woke up early one morning and took a short stroll on the beach all by myself.
Pool
The JW Marriott Guanacaste's pool is one of the biggest pools we've ever seen. It's an infinity pool but since it's on the beach you don't really get the infinity feeling. There are plenty of pool chairs and sitting areas around the pool and there are also two Jacuzzi's.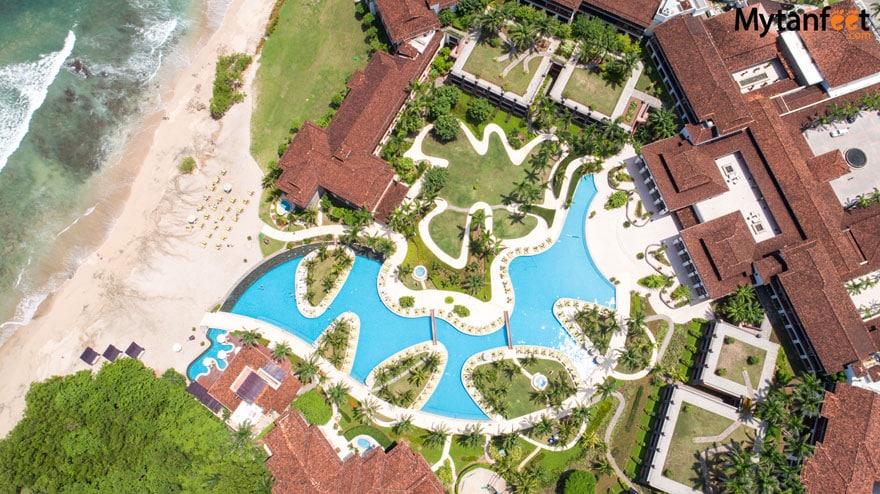 You can definitely spend a whole day relaxing by the pool and I loved that they weren't playing super loud reggaeton music! It's so much more peaceful without annoying party music going on, especially since this is also a family resort.
Rooms
All the rooms have a balcony with an ocean, garden and pool view and they're all decorated and designed with the same hacienda style.
The room we stayed in was a lovely ocean front room with a balcony and lounge chairs. In the morning we threw open the curtains, pulled open the doors and stepped outside to breathe the fresh ocean air.
We had a king size bed, large desk, lounge chair and minibar. But my favorite part of the room was the bathroom because we got a big beautiful tub with a sliding window so you can look out into the ocean while relaxing in the comforts of your room.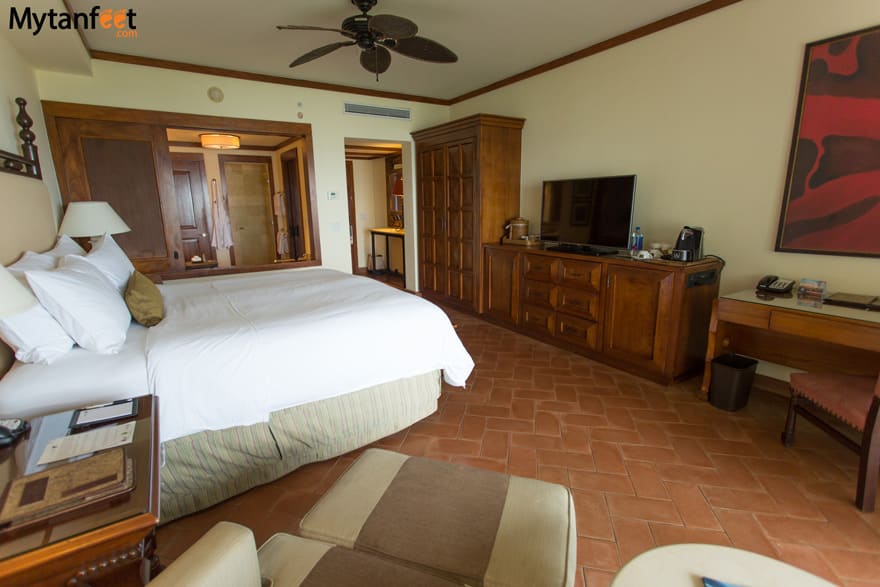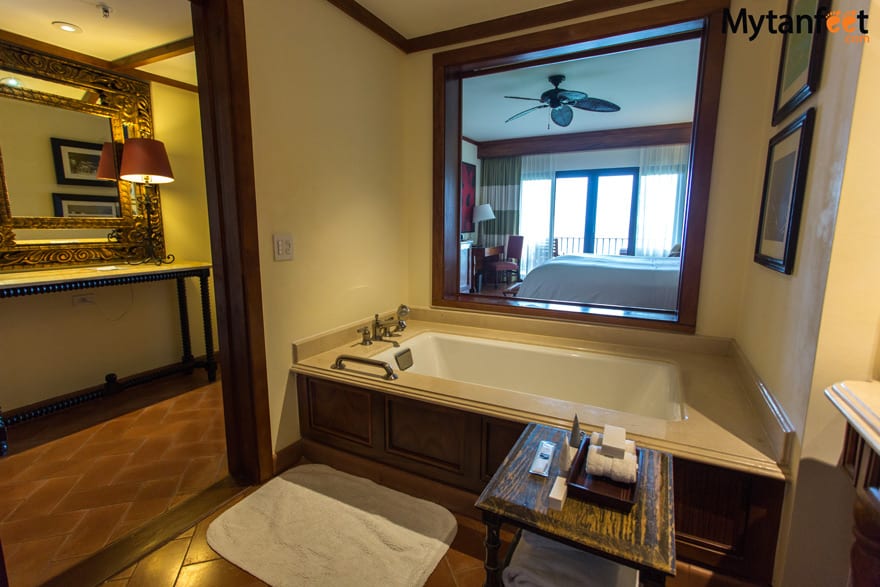 The hotel also has some suites that are bigger with their own pool. Otherwise all the rooms have the same style and the difference is the view.
Spa
Ohhhh the spa. I was really looking forward to experiencing the spa at JW Marriott Guanacaste since it has been named one of the top five spas in Latin America and they truly lived up to that ranking! Yeison and I enjoyed a 1 hour couple Swedish massage and it was absolutely lovely.
From the exceptional service, high end amenities to the excellent masseuses, the spa experience was one of a kind. We left feeling extremely relaxed and pampered!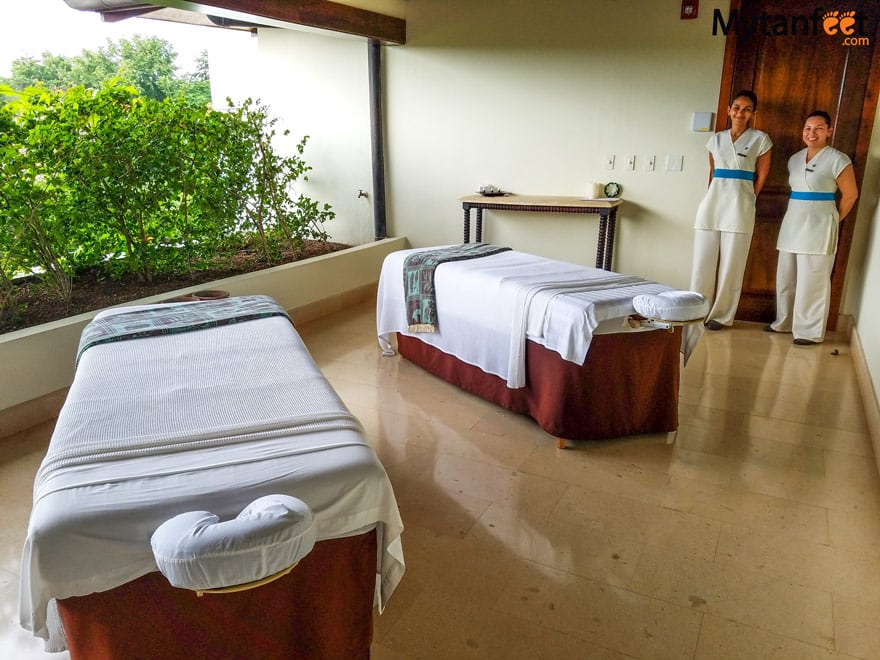 If the weather is nice, you can also have your massage on the beach in the cabanas. Though that would have been even more relaxing, I'm glad the staff recommended doing the massages in the room because it started pouring rain that afternoon.
Restaurants
There are 4 restaurants, a pool bar and a pub and when it comes to fine dining at the JW Marriott, it was not a disappointment. We ate at the Sabanero steakhouse and the Tamarine restaurant and even though they were both excellent, the Tamarine restaurant was hands down, one of the best places we've ever eaten.
The chef is from the Philippines, has worked in many Four Seasons all over the world and he knows how to cook. Instead of ordering from the menu, he asked us what we liked to eat and brought us 3 dishes based on that! And oh my goodness – I could have eaten it for breakfast, lunch and dinner!
He brought us a Japanese noodle dish, Szechuan Beef and Nasi Goreng (Indonesia/Malaysia fried rice). We could tell how passionate he is about his food because he was talking to us about flavors, textures and things we had no idea about as we happily gobbled down his delicious food. We're still raving about how good it was!
The other restaurant, Mansita, is open for breakfast, lunch and dinner with the option of a buffet. I highly recommend paying for the buffet breakfast, they have so many options! Waffles, pancakes, typical Costa Rican, tons of pastries, a gluten free section, omelette station and a cold cut meat and cheese area. It's $30 but definitely worth getting at least once during your stay.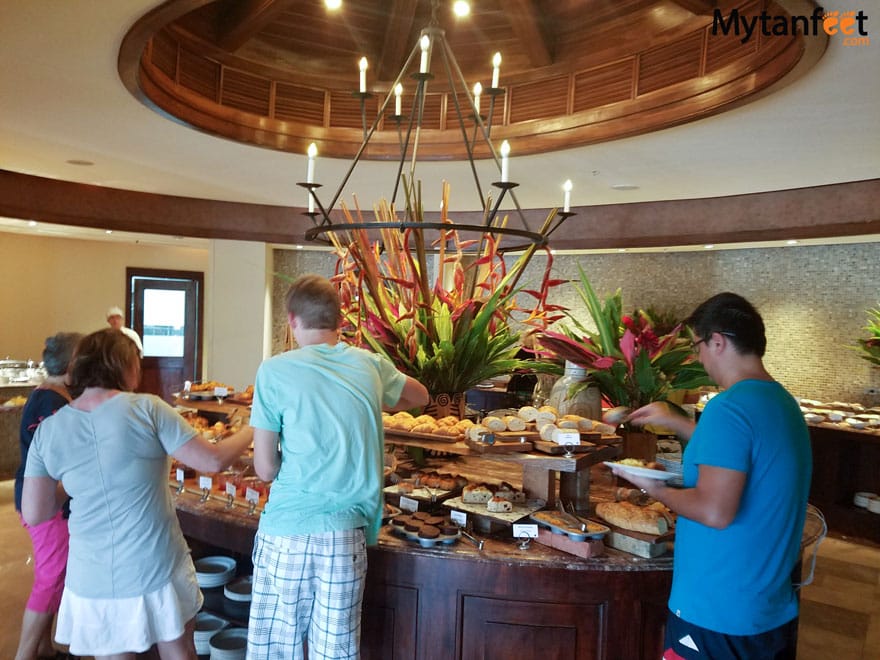 As for the Azul Pool Bar, we were honestly not too impressed. They served typical things like burgers, sandwiches and wraps and it was a little expensive for the quality.
Activities and Things to do at the JW Marriott Guanacaste
Though it is tempting to lounge by the pool every day, it is worth getting out of the resort to explore and go on some adventures (you can read our post things to do in Guanacaste for ideas). There is a Swiss Travel tour desk in the hotel that can book tours such as ziplining, sunset sailing and horseback riding for you or you can rent a car and drive around to the other beaches like Tamarindo, Conchal and Flamingo.
For families with little ones, there is a kids club with lots of games and scheduled activities at the resort such as ping pong, beach walks, cooking and Spanish classes and more.
Why You Should Choose the JW Marriott Guanacaste Resort & Spa for Your Luxury Vacation
It's very family friendly with the big pool, kid's club and scheduled activities. I'd say most of the visitors we saw were families with kids of all ages. The JW Marriott Guanacaste doesn't have an adult only section like other hotels.
It's high end. For those without a budget, this is a top choice. Everything about the property is up scale and top of the line.
You're Marriott rewards members.
The exclusive location.
This is also a great place for a wedding. The whole time we were touring the property, I kept thinking to myself that this would be an amazing hotel for a wedding. They have the fully equipped spa, plenty of rooms, several different locations to hold an ocean view wedding, the "semi-private" very clean beach and even a chapel. Other hotel properties in Costa Rica that hold weddings may have the facilities but they don't have the same level of beach privacy and exclusivity.
All in all, we had a great time at the JW Marriott Guanacaste Resort & Spa. I can see why Marriott reward members only stay at Marriott properties: the service was A+, rooms were beautiful and the entire property was well maintained and very clean. The only thing I would say is that it's quite expensive (and it's not all-inclusive). Rooms go for a minimum of $300 a night in low season and food wasn't cheap.
Our stay was sponsored by the JW Marriott Guanacaste Resort & Spa and all thoughts and opinions are our own.