Flamingo Beach is well known for excellent fishing, beautiful beaches and clear waters, making it an incredible destination for ocean activities. However, if you want to get the most out of your beach vacation, then you have to go on a private boating tour for the best snorkeling in Playa Flamingo because the snorkeling is not good off the shore.
We did a private snorkeling tour in Playa Flamingo and enjoyed an wonderful day seeing remote beaches, snorkeling in crystal clear waters and taking in all the stunning coastal views. This is definitely a must do for active families, couples or friends who want to have the best day out in the beautiful Costa Rican ocean!
Want to book this tour? Scroll down to the bottom of the post to fill out your request!
Private Playa Flamingo Snorkeling Tour
Driving from Tamarindo, we went on a morning half day boating tour in Playa Flamingo which took us to several beautiful beaches and a couple of snorkeling spots. Our first stop was Playa Amor to take some photos. Although we were the only ones there, this beach does get more busy with other snorkeling charters and sailing tours so we moved on to another beach a bit further away.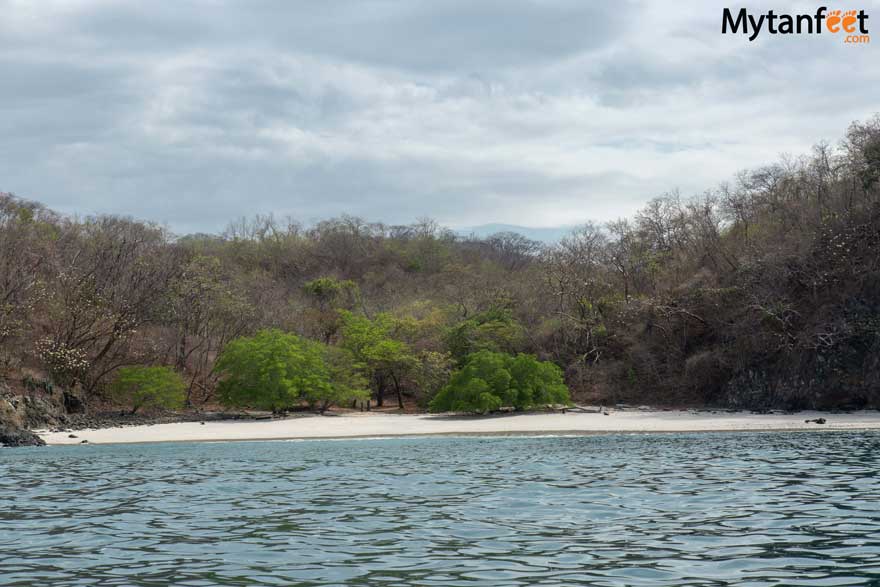 It was a bit cloudy when we left but it didn't take long for the clouds to clear up. As we boated past many islands, we saw a turtle swimming by and the sun came out shining!
We soon arrived at our next beach, Playa Zapotal, a dark sand beach. Jaume, the boat captain and owner, said that snorkeling was better at another beach a little further away so I snapped a few photos and off we went.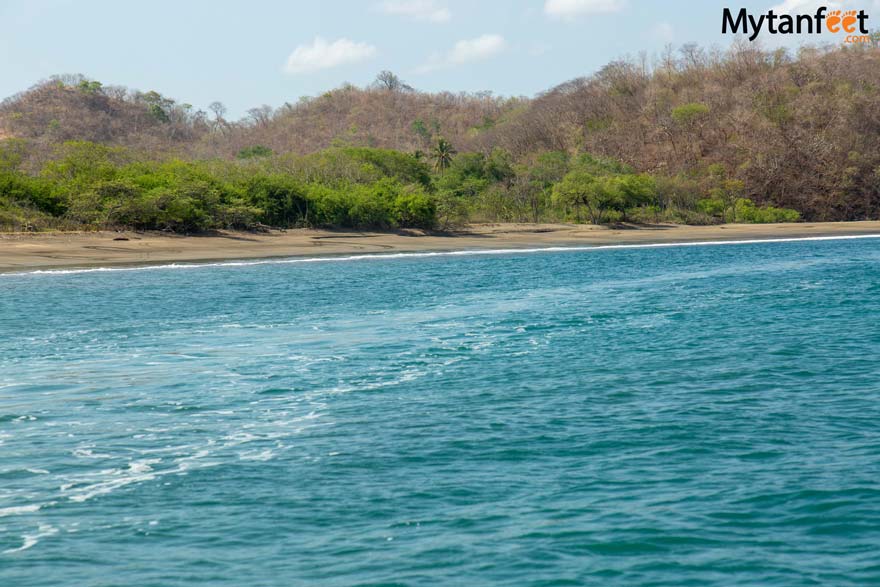 The best part about booking a private snorkeling excursion in Flamingo was that we went at our own pace. We were on nobody else's time or schedule! It was also great to have an experienced captain who knew where the best snorkeling spots were for the day since that was our main goal: to go snorkeling. For anyone who wants a more personalized, intimate and flexible experience, private is the way to go.
The Snorkeling
We finally arrived at Playa Guacamaya and Guacamayita beach to go snorkeling and zip around on the tube. The crystal clear water looked so inviting as it glimmered brilliantly in the sun and we could see the fish swimming around us. We jumped in right away to cool off from the dry heat.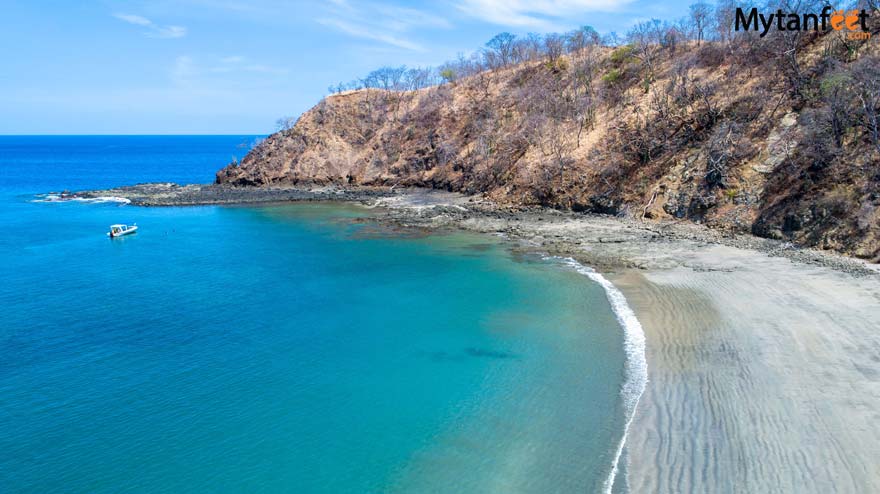 As it was beginning of May, the landscapes were still dry since it hadn't started raining yet but the best part was that the beach was completely empty. It was all for us.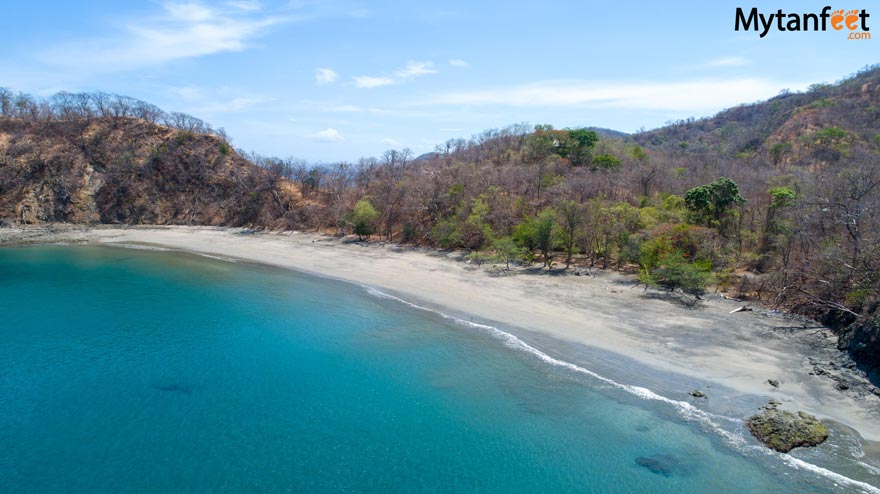 Snorkeling
Then Jaume took us snorkeling out by the rocks. The water was insanely clear and we saw many tropical fish and jellyfish (harmless). Jaume stayed with us the whole time we were snorkeling so we felt safe as he navigated us through the warm waters.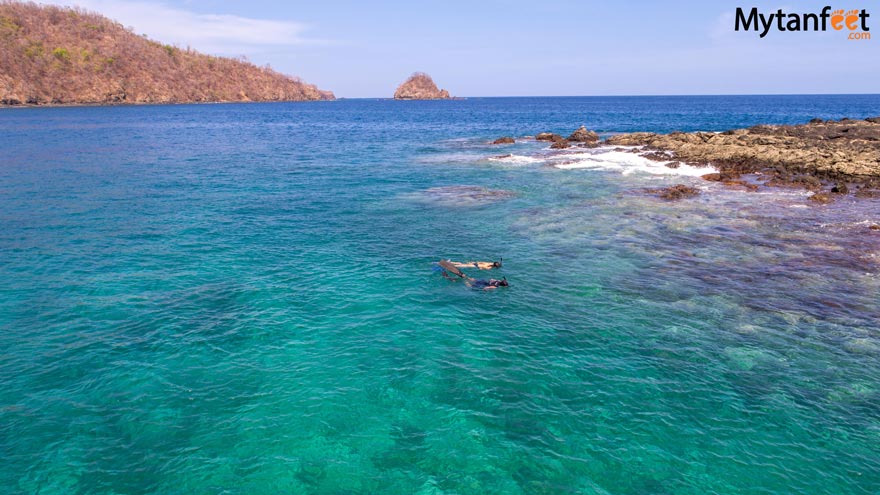 All in all, at this beach, Guacayamita, we spent a couple of hours on the donut, snorkeling, swimming, relaxing and walking on shore. And we seriously had the entire beach to ourselves the whole time!
Although two fishing rods are included in the half day snorkel combo tour, we didn't have a chance to use them since we were so enthusiastic about snorkeling and the beaches. It was so beautiful and exactly what we wanted for our day exploring the Flamingo coast.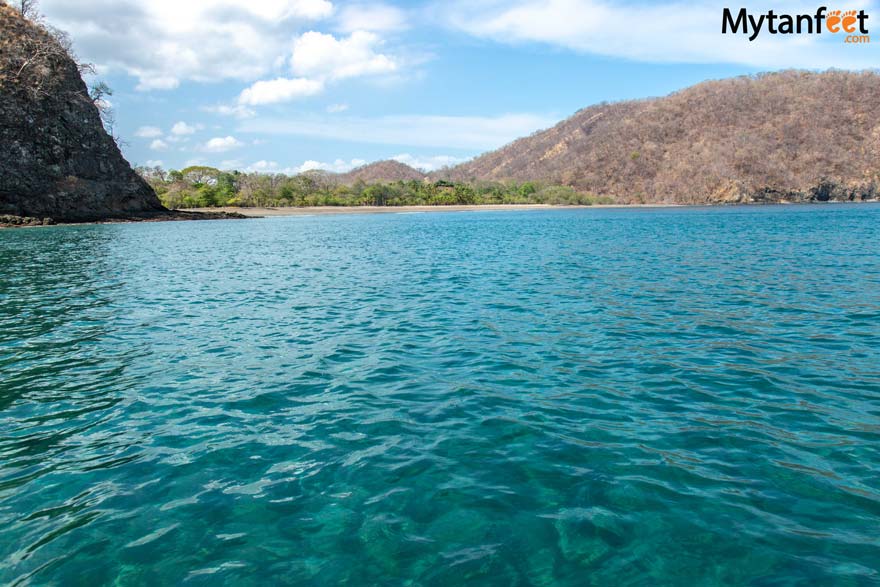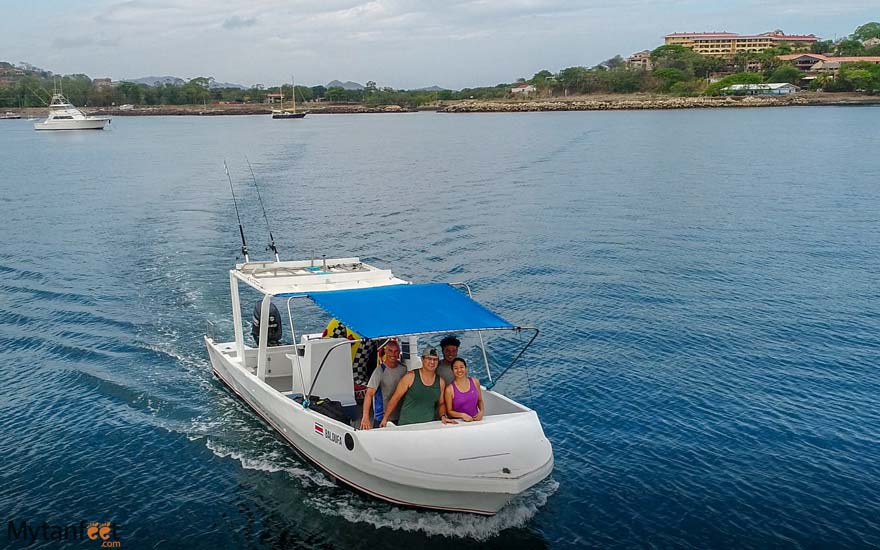 Snacks
After we were all sunned out and ready to start heading back, Jaume and Stephen put out the delicious picnic spread. If you book a full day, they'll have more food like burritos.