Rincon de la Vieja National Park, home to the active Rincon de la Vieja volcano has several hiking trails leading to beautiful viewpoints, breathtaking waterfalls and other natural attractions in the dry tropical forest. There is no doubt that this park offers some of the best hiking in Costa Rica!
If you're planning on visiting, here are our tips to help you plan your visit. In case you'd like to book a tour with transportation to this national park, we have a small discount for Guanacaste day tours with our partner!
There are Amazon affiliate links in this post.
Entrance Fee and Hours
The park which is located in the Guanacaste province is divided into 2 sectors: Santa Maria and Pailas. Las Pailas is the more popular sector.
Rincon de la Vieja National Park hours are 8 AM to 330 PM for the Las Pailas sector everyday. If you plan to do the waterfall hike in the Las Pailas sector, you must enter before 12 PM. No entry after 12 PM for the waterfalls, only the boiling mud pots trail.
The Santa Maria sector is now open as of October 2022, available for 1 day visits. The camping section is not open yet. Visitors must pre-purchase tickets on reservaciones.acguanacaste.ac.cr. The Santa Maria sector has hiking trails, a small waterfall, a traditional house and hot springs.
The Rincon de la Vieja National Park entrance fee is $16.95 USD for adult foreigners and $5.65 USD for children ages 2-12. Credit card only – no cash.
Most tourists visit the Las Pailas sector of Rincon de la Vieja National Park as it is the easiest to access with more facilities.
Location and Directions
Rincon de la Vieja National Park map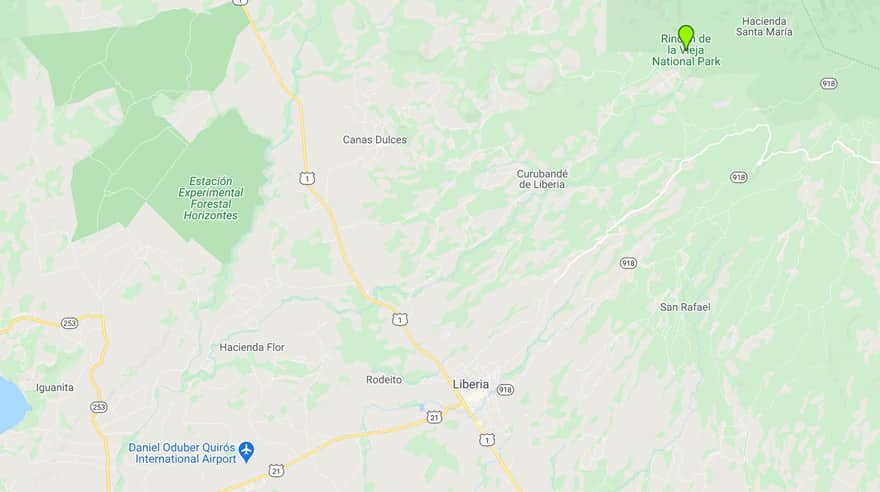 Rincon de la Vieja National Park is 230 kilometers from San Jose (143 miles) and 24 kilometers (15 miles) from Liberia.
How to get to Rincon de la Vieja National Park
To Las Pailas sector: At the main intersection into Liberia (Santa Rosa plaza on your right, Burger King on your left, McDonalds in front of you), turn left. Drive about 3.5 kilometers (2.2 miles) and turn right when you see the signs for Las Pailas Rincon de la Vieja National Park. Continue on this road for about 20 kilometers.
Important thing to know: To get to the Las Pailas park entrance, you have to pass through the Hacienda Guachipelin property. You will come upon a security station with a gate. To pass, you have to pay a small fee of 800 CRC per person.
You can find Rincon de la Vieja on Google Maps and Waze as "Parque Nacional Rincon de la Vieja" and make sure to select the La Pailas sector.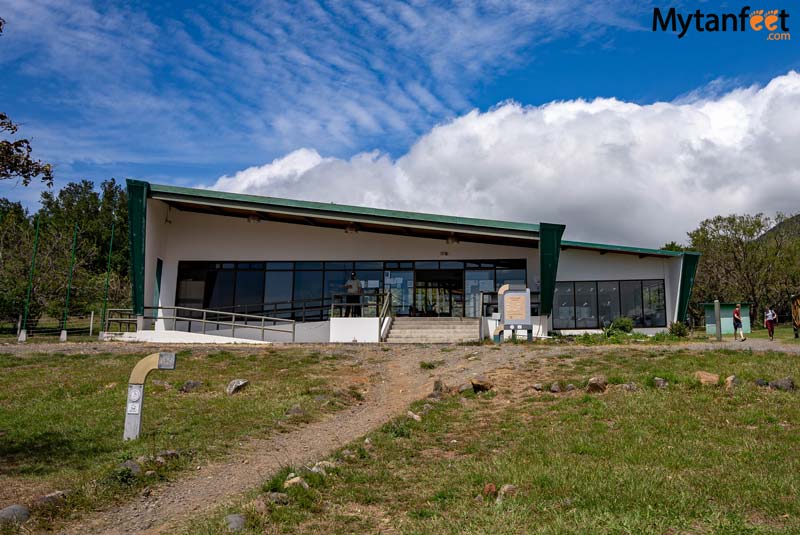 To Santa Maria sector: You will need to look for the Santa Maria Ranger Station on Google Maps and Waze.
Parking and 4×4 Required?
A 4×4 is not necessary to reach Rincon de la Vieja National Park for the Las Pailas sector. The road there is not 100% paved, there is a section when you turn off of the Interamericana highway 1 that goes from gravel to paved roads with pot holes but it is flat. Drive slowly and carefully if you in a 2wd like a sedan.
There is a large parking lot in front of the Las Pailas national park office (free).
For the Santa Maria Sector, it is recommended to have a high clearance car due to the last few kilometers of the road in poor condition.
Services
The Las Pailas park office has bathrooms. There is a small convenience store with bathrooms right below the park office that sells snacks, bottled water and drinks. However, there aren't any restaurants or full size markets at the park.
Las Pailas Hiking Trails
The Las Pailas sector has several hiking trails.
You can do an easy 3.5 kilometer (2.2 miles) loop around the boiling mud pots or walk 10.2 kilometers (6.2 miles) roundtrip to Catarata Escondida/La Cangreja. If you do the waterfall trail, you must enter the park before 12 PM.
*The trail to the crater summit is currently closed due to volcanic activity.*
Sendero Las Pailas (Boiling mud pots trail) – 3.5 kilometers loop
For our first trip, we did the easy 3 kilometers loop to the Rincon de la Vieja boiling mud pots. This trail leads to several different interesting things to see: volcancito (little volcano), a seasonal waterfall and the mud pots.
This trail is very easy. There are no switchbacks or steep climbs so it's an excellent option for an easy hike. It won't take more than an hour to walk the whole loop, even with stopping here and there.
We did this hike on a hot February day and even though it's only 3 kilometers, it felt like longer because of the heat. Luckily, we weren't walking under the hot sun all day.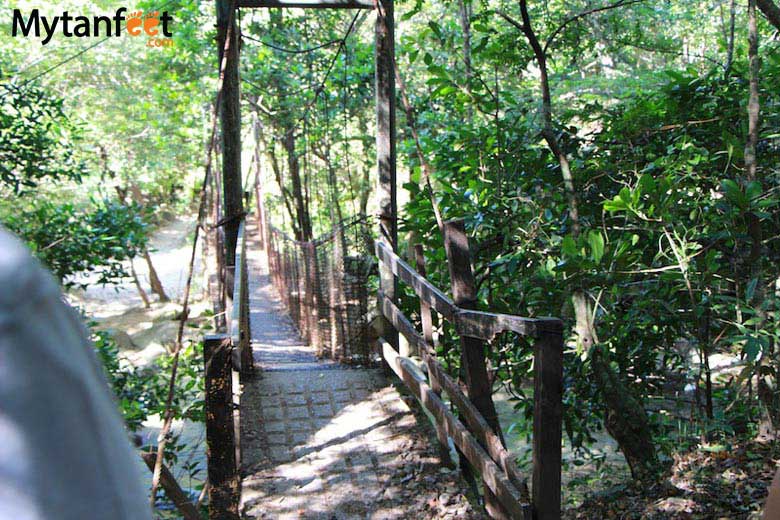 The first half of the trail was under the cool forest canopy with a nice breeze and fresh air.
Once you walk out of the forest, you encounter this everlasting landscape. All you see is the the mountain range, forest and clear skies ahead of you. It's amazing how polar opposite the landscape is like in dry season since most of it is so yellow!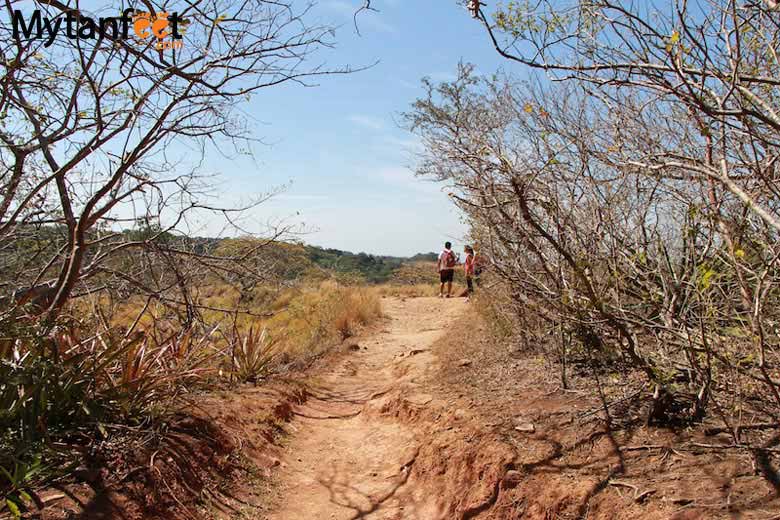 Seasonal Waterfall
About halfway through the loop is the seasonal waterfall. They aren't joking when they named this waterfall, as you can see it's barely a trickle! This was taken in February but during rainy season this waterfall is completely flowing.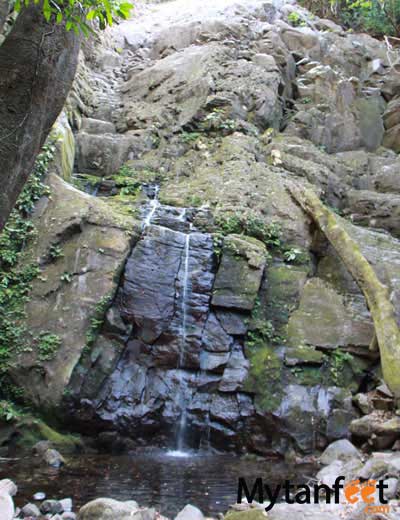 In the peak rainy season months like September, October and November, this waterfall has a lot more water.
Mud Pots
There are two areas where you could observe the mud pots on the trail. One of them looked like a little lake (laguna fumarolica) that bubbled every few seconds or so.
Further down the trail, is Volcanito (little volcano). This part of the mud pots is really active and it's constantly bubbling which is cool to see.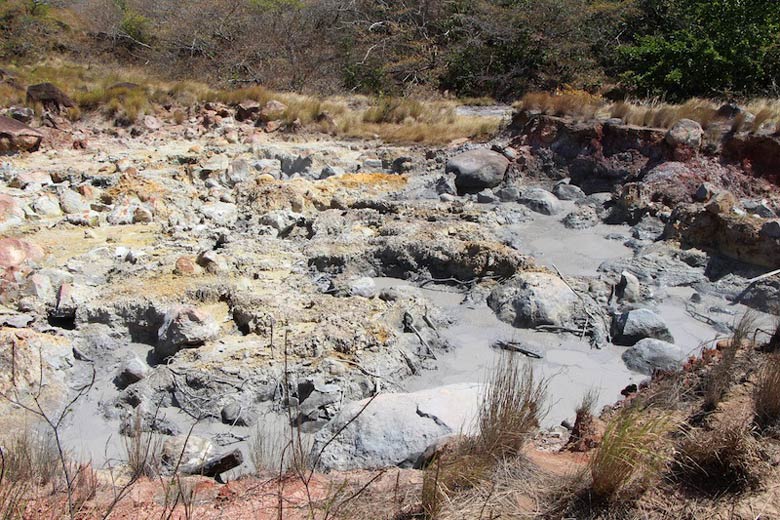 It's boiling so much that they reach up to at least a foot and you can hear the splattering of mud meters away when the sulfuric smell slowly penetrates your senses.
It was pretty neat to see the boiling mud pots, especially knowing that the country uses this geothermal energy as power. You're very close to the end of the loop at this part of the hike.
Sendero Catarata La Cangreja (La Cangreja waterfall 5.2 kilometers)
If you want to see the waterfall, head to Sendero Cataratas. This trail starts off as one trail and branches off to two different waterfalls.
I recommend to do one or the other unless you are a very avid fast hiker in great shape and you enter the park right when it opens. Make sure to bring plenty of water and food/snacks if you plan to do both. To visit both waterfalls, you will have to walk a total of about 13 kilometers (8 miles).
We chose to hike the La Cangreja waterfall because it has a beautiful blue color. Catarata Escondida is smaller and isn't quite as "sparkly."
We set off towards the east (walk up to the left from the entrance office, past a gate) and headed into the forest. For the first half of this trail, you're under the forest canopy so it was nice and shady.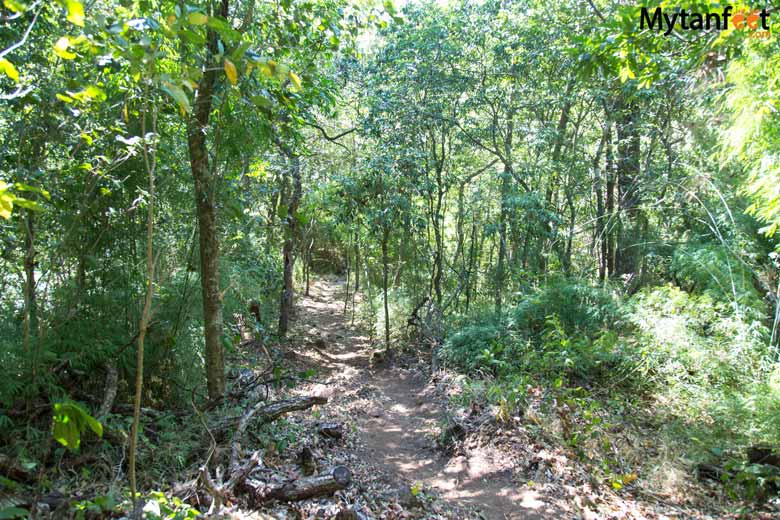 You have to cross a few small rivers and some parts of the trail under the forest is a bit hilly. Be prepared for when you go back, the last few hundred meters of this trail is very steep!
Change of Landscape
Soon you'll notice less and less trees until you get to a clearing. This part, besides the waterfall is the most spectacular part of the hike. You're surrounded by rolling hills and various layers of yellow grass and green forests around you. It took my breath away!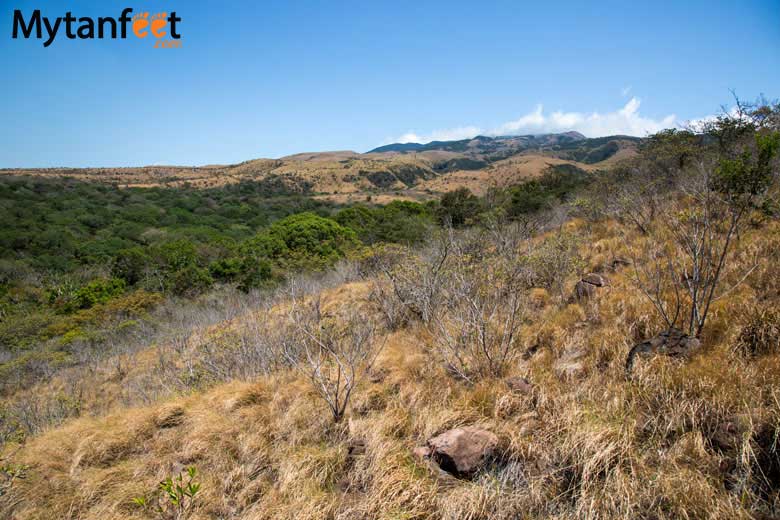 As you look around you, it's hard to imagine that there is a waterfall in there somewhere!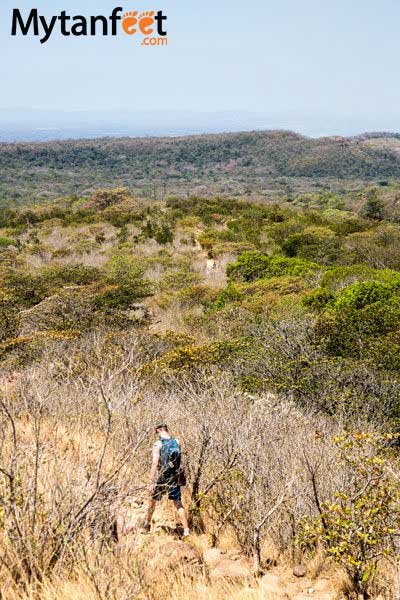 The last part of the trail past the sign gets quite steep and I had to get down on my hands and knees to balance myself. As soon as that part is over, you reach your reward. A tall, sparkling waterfall crashing down into a bright blue pool. We wasted no time jumping into the water, It was a very hot and sweaty 2 hour hike!
Cangreja Waterfall
This waterfall is one of our favorites in Costa Rica. You can see why in the photo!
***There is now a sign that says that swimming is not allowed. However, you may still see tourists swimming in the pool. You're technically not allowed due to safety reasons so keep that in mind.***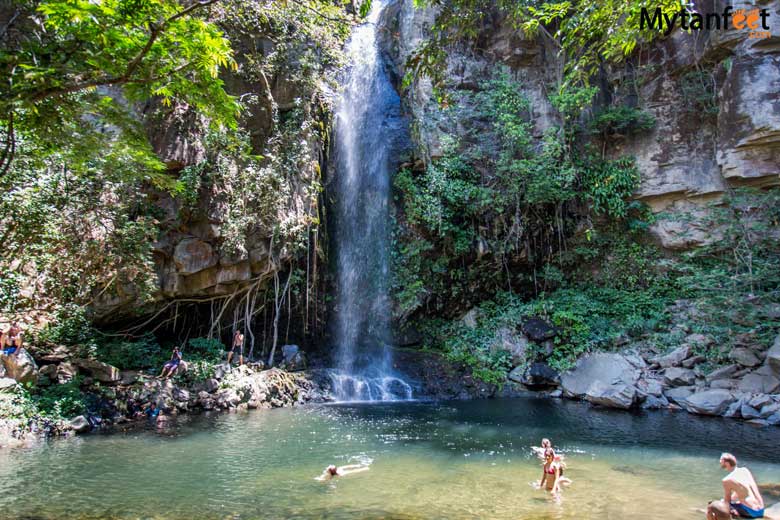 We spent an hour or so at the waterfall, cooling ourselves off and re-energizing for the walk back.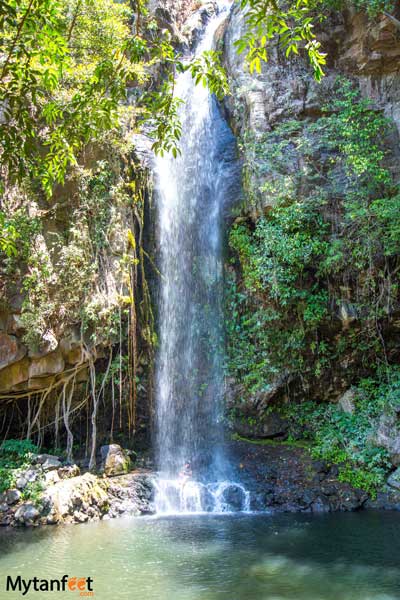 If you can only hike to one waterfall, I recommend the La Cangreja one over the Escondida. It took us about 3 hours hiking total and the trail is a total of 10.2 kilometers, 6.33 miles.
Rincon de la Vieja Hotels
There are several lodges and haciendas in the Rincon de la Vieja area for those who want to stay close to the national park.
The closest one is Hacienda Guachipelin and Canyon de la Vieja (Las Pailas sector). Buena Vista Lodge and Hotel Borinquen are further away by the Santa Maria sector. Hotel Borinquen is the nicest out of all of them, situated deep into the forest on a huge property with very elegant rustic cabinas. The other hotels have more ranch style, simple rooms.
Rincon de la Vieja National Park Tours
Many of the lodges offer adventure tours such as Buena Vista, Guachipelin, Borinquen and Canyon de la Vieja.
Most of them include a canopy tour, horseback riding, hot springs and a mud bath. Guachipelin has a 5 km (2.2 mile) white water tubing and Buena Vista has a waterslide. All of them are super fun!.
If you need recommendations for a tour to Rincon de la Vieja National Park or any of the adventure parks, we have a partnership with a tour company that runs hiking tours to the park. We also offer small discounts for the Guanacaste day tours.
Rincon de la Vieja Hot Springs
Due to the high volcanic activity and plethora of rivers in the park, hot springs are very popular. Each park (ones mentioned above) has their own hot springs and you can pay for a day pass to any of them.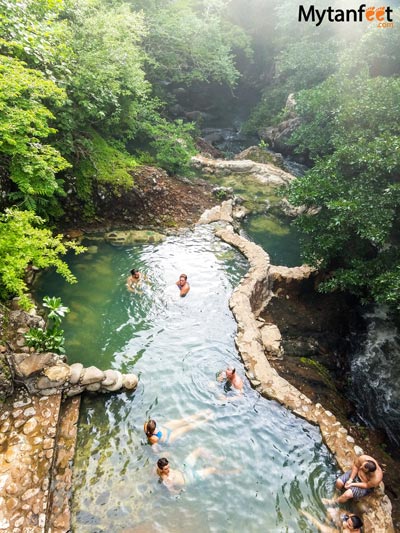 Another popular thing to do with hot springs is the mud baths. You smear volcanic mud all over your face and body and then wash it off in the river! It feels so good and is very relaxing.
Important Things to Know
Wear shorts and a tank top for the hike. Put on mosquito repellent and bring sunglasses, sunscreen and a hat.
Bring plenty of water and snacks.I highly suggest bringing an insulated water bottle to keep your water nice and cold. It gets very hot so water in a plastic bottle will get boiling hot!
As for shoes, hiking sandals will be fine. I wore closed toed hiking shoes.
There is a small cafeteria right below the national park parking lot that has bathrooms and sells water, soda, chips, cookies and snacks. No other food.
The park office has bathrooms.
If you want the waterfall to yourself, go as soon as the park opens. It gets busy around noon.
If you're staying at one of the hotels near the park, I highly recommend renting a car in Costa Rica. You need to go to Liberia for supplies and a taxi will cost around $25-35 USD one way depending on your location and there isn't really anything in that area.
Read about other national parks in Costa Rica!
Barra Honda National Park: National park in Nicoya with hiking trails, dry tropical forest and caves. Can go hiking or do a caving tour. Great national park from Tamarindo.
Palo Verde National Park: National park with the Tempisque River and Valley. Can take a guided boat tour down the river to see wildlife. Excellent place in Guanacaste to see wildlife.
Irazu Volcano National Park: Highest volcano in Costa Rica. Can walk to see the crater lake in the national park. About a 1.5-2 hour drive from San Jose.
Manuel Antonio National Park: National Park in the Central pacific with white sand beaches, hiking trails and lots of wildlife. About 3 hour drive from San Jose.
There are affiliate links in this post.