If you've ever researched about the beaches in Guanacaste, I'm sure you have heard of Playa Conchal, Playa Potrero, or Playa Flamingo when it comes to the most beautiful ones in this area. All these beaches are incredibly beautiful and are popular for a good reason: white sand, turquoise waters, stunning sunset views, tranquil atmosphere.
However, what's special about Guanacaste is that there are so many beaches that you can discover a hidden beauty that barely anyone has ever heard of. You can take your car and explore for a day, stumbling upon places that are so off the map that not even the locals know the name of the place!
Playa Mina
We randomly found Playa Mina one day as we were exploring Bahia de los Piratas. Bahia was beautiful but we were in the mood to keep exploring so we looked for another beach that a local had mentioned to us. He didn't know the name and all he could tell us was to "go down the small path to the left."
As we drove back, Yeison and I noticed an opening in the middle of the forest and guessed the entrance was here. We nearly went back because this road was so terrible that we actually got stuck on a rock and had to push the car off! Thank God it wasn't raining that day or we would have been stranded for sure! Luckily we made it down and we weren't disappointed, Playa Mina was breathtaking.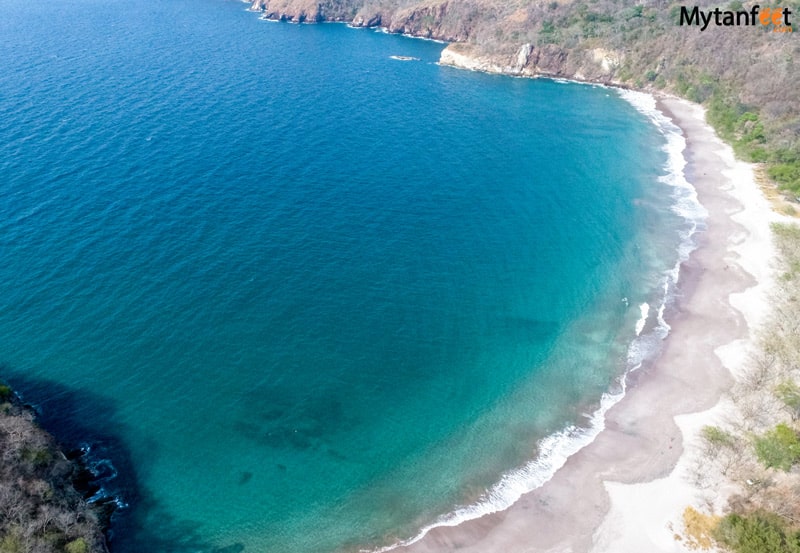 There's nothing at Playa Mina, no facilities, no boats, not even a parking lot. This was truly a hidden beach in the jungle. Gorgeous bright blue water, soft sand and stunning scenery. The waves were a tad rougher but still swimmable. Playa Mina is an incredible secluded beach where you can relax in total peace.
*Update 2017: Playa Mina is a lot more busy now that it's more known but still a very beautiful, quiet beach that if you go early on a weekday, you can still have all to yourself.* Here is our guide to visiting Playa Mina.
Playa Penca
This isn't the Playa Penca near Playa Flamingo. This beach is actually pretty close to Playas del Coco, just around the corner to the right. You can get here by kayaking, boating or you can drive to the entrance near the Cacique neighborhood and walk down.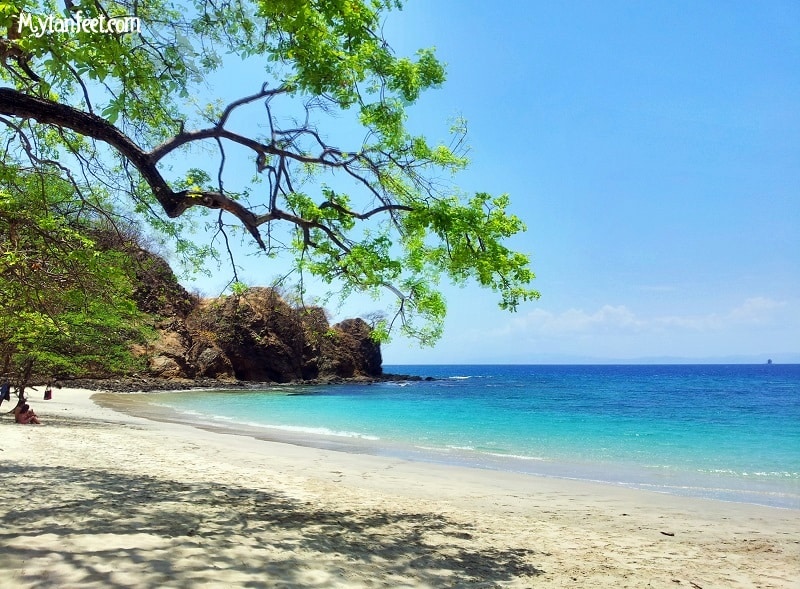 I went to this beach for the first time a few weeks ago by walking (we normally kayak here) and absolutely fell in love all over again. The water is a brilliant blue with pillowy white sand, very Caribbean like.
Not all the beaches in Costa Rica are like this, it's actually quite common to see dark or black sand with grey water but Penca was like a dream beach. Great snorkeling, soft waves and the water was so clear you can see your feet like you were looking through glass.
This is one of our favorite white sand beaches in Costa Rica.
You can also visit Playa Calzon de Pobre which is right next to Penca.
Playa Junquillal
You can only reach Playa Junquillal by boat, there is no driving entrance or foot path and it's located within the Gulf of Papagayo, about a 20 minute ride from Playas del Coco. We go to this beach whenever we go out boating in the Gulf of Papagayo and it is one beach that we have never seen anyone else there before.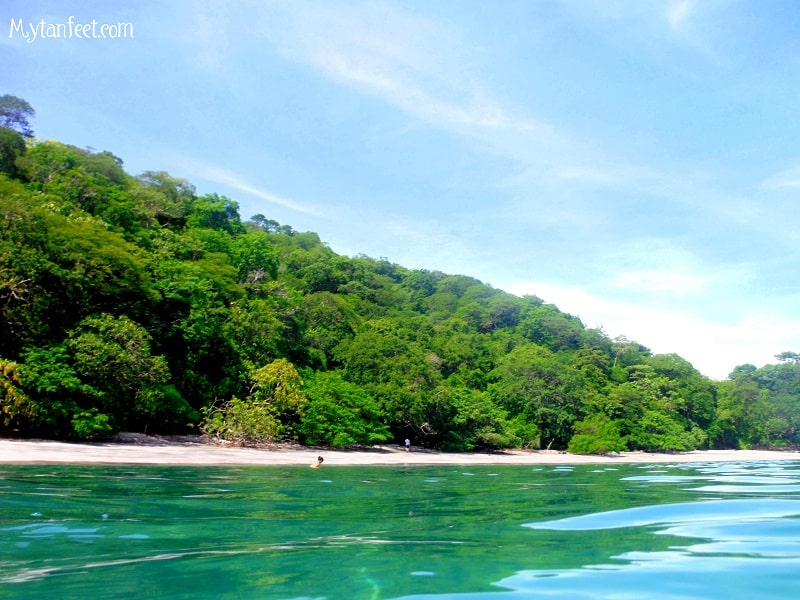 What I love about Playa Junquilal is the color of the water, it's so green! Beach characteristics change so much in Costa Rica, even if there are two just a few hundred meters from each other they can be completely opposite. It's fascinating to see the differences! This beach has white sand and green water, still clear and great for snorkeling.
Playa Palmares

Playa Palmares is a stunning beach that has a nice spot for snorkeling.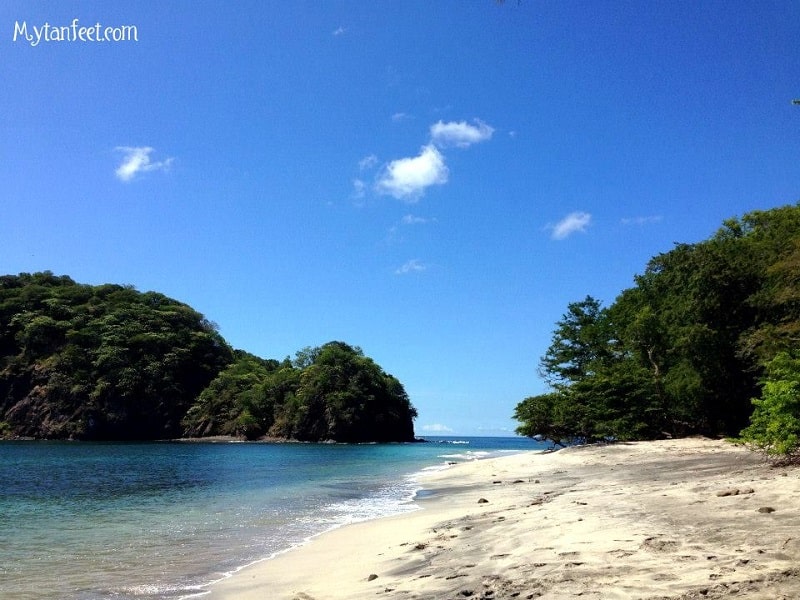 It's located within the Papagayo peninsula and is also only reachable by boat. I love the view of this beach, when you're looking out at the water you see the Gulf of Papagayo all around you including the different beaches, rock formations and dazzling green scenery. In the past when we've boated here, we've seen manta rays jumping, dolphins, turtles and even whales once!
The waters are fairly calm and very clear so it's fabulous for snorkeling, especially on the right hand side where there are lots of rocks. You can walk on these rocks when the tide is low to see little tide pools and the funny looking blue crabs scuttling around.
Playa Huevo
This beach you might have heard of. Playa Huevo is only reachable by boat and it is one of the most visited beaches if you hire someone to take you around the Gulf of Papagayo. Some of the locals know this beach and we've seen tourists stop at Playa Huevo during their boat tour but never more than 5 or 6 people at a time.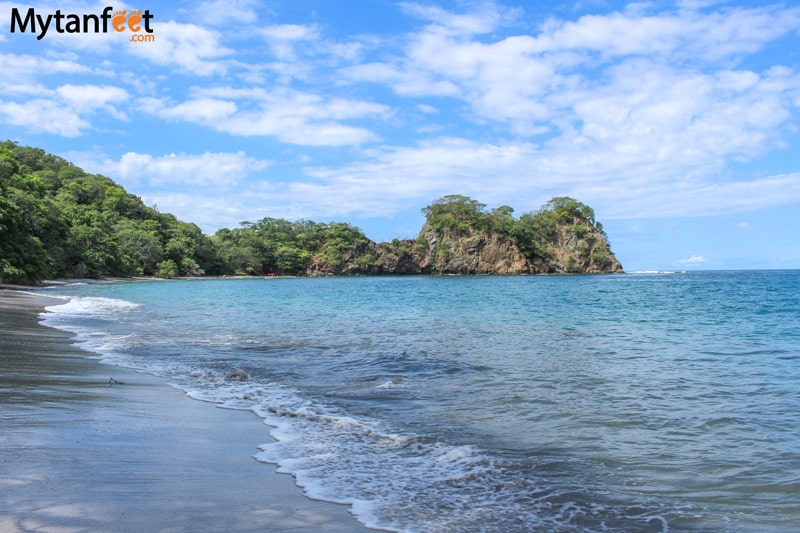 You can snorkel here but my favorite things about the beach are the cliff views and the caves. There's a short path over near the caves where you can walk up the hill and come to an amazing cliff view. Be careful you don't run up too fast or you might run right off!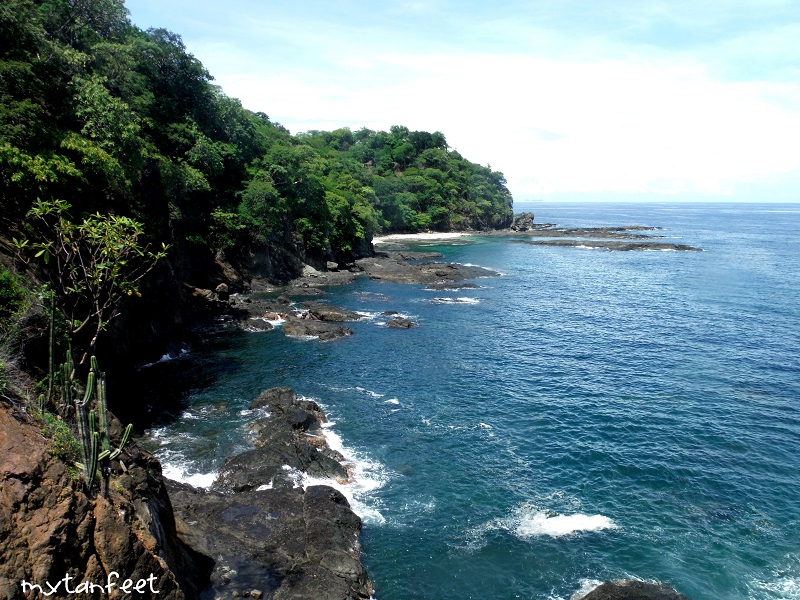 The caves are another fascinating part of the beach. During low tide, you can walk all the way through the cave and climb on the rocks! They have been there for thousands of years and it's a ton of fun to explore.
So there you have it, 5 fabulous beaches in Guanacaste that you can now add to your list of places to visit. All of these beaches are worth a visit if you want to experience a secluded beach all to yourself, away from everything and everyone.
Who doesn't love having a beach all to themselves?
If you want to see some of these hidden beaches in Guanacaste, the best way is to go boating as some of them are reachable only by boat. Our friend Marcy has a boating company and can take you to all these spots and go snorkeling! Read more about the company and our experience going boating with him here.
Read about other beaches in Costa Rica here!