Home to around 4% of the world's biodiversity, it's no wonder that Costa Rica is a top destination for animal lovers. If you want to see Costa Rica wildlife, we'll tell you where and when to see wildlife such as monkeys, toucans, sloths and more in this post.
The best places to see wildlife in Costa Rica are Osa Peninsula, Tortuguero, Manuel Antonio, Uvita, Puerto Viejo, Cahuita, Gandoca Manzanillo, Palo Verde National Park, Sarapiqui, Monteverde, Caño Negro Wildlife Refuge, Corcovado National Park and La Fortuna.
Humpback Whales in Costa Rica
Humpback whales are the most common whales in Costa Rica because both the Antarctica and Alaska humpback whales overlap for a period of time during their migration. This means Costa Rica has one of the longest humpback whale seasons in the world!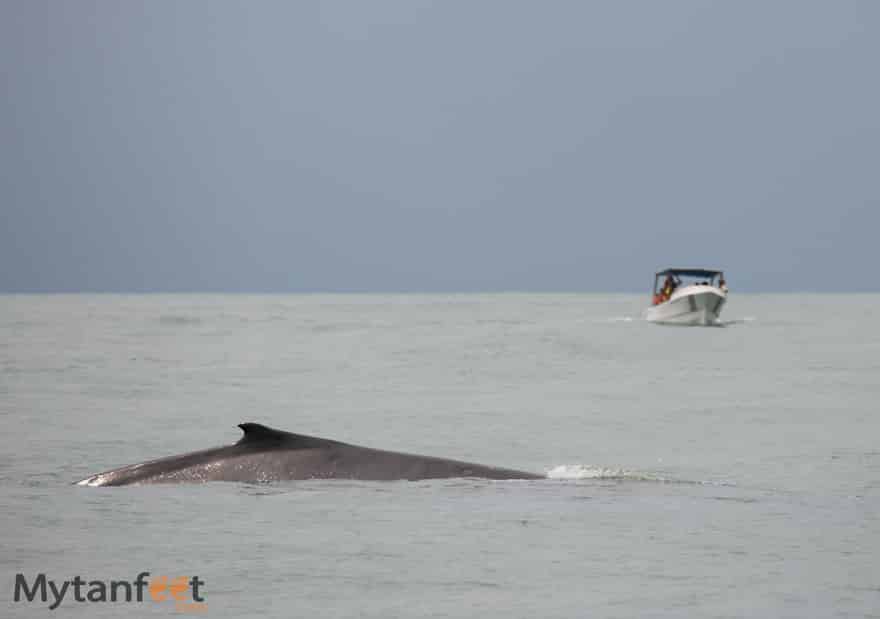 Best time to see whales in Costa Rica
Antarctica humpback whales – July to November
California humpback whales – December to April
North Atlantic humpback whales – December to March
August and September are the best months to see humpback whales in Costa Rica.
Best places to see whales in Costa Rica
Drake Bay: South Puntarenas, northern region of the Osa Peninsula. Drake Bay has excellent whale watching opportunities.
Marino Ballena National Park: In Uvita. There's a reason why this is called the Whale National Park, this is the best place to see humpback whales!
Gulf of Papagayo: This area is best to see the Antarctica humpback whales in July – September. February is also a good month.
You can also go whale watching at Manuel Antonio, Gulf of Nicoya and Golfo Dolce.
Costa Rica Dolphins
In Costa Rica, you can see spotted and bottlenose dolphins. They love to play in the waves of the boat so it is very possible to see them on catamaran or sailing cruises.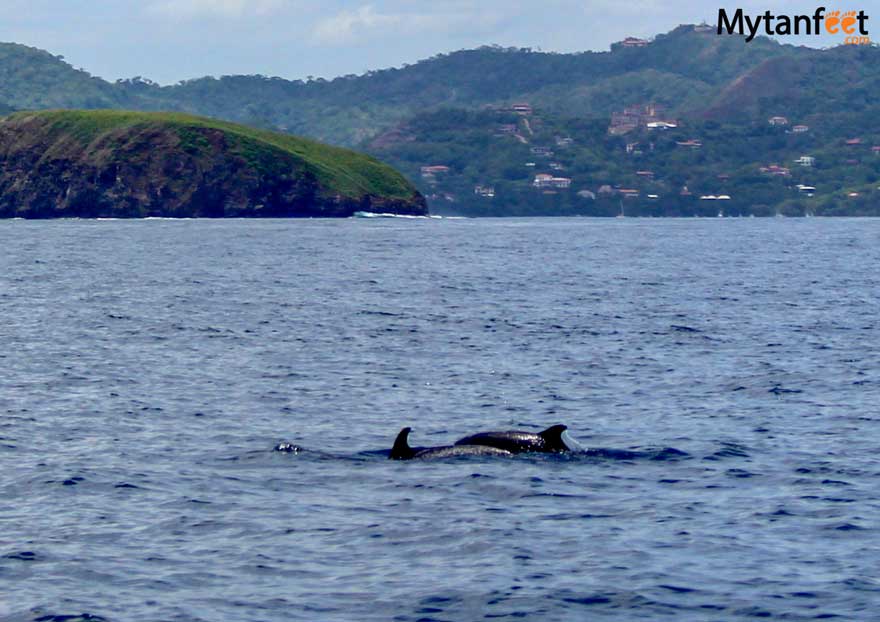 Costa Rica does not allow swimming with dolphins or taking photos like they do in Mexico or Bahamas.
Best time for dolphins in Costa Rica
Year round for bottlenose and spotted.
Best place to see dolphins in Costa Rica
Dolphins can be seen throughout the whole Pacific coast. They are especially common to see in the Golfo Dolce. On the Caribbean side, you have a chance to see bottlenose dolphins near Limon.
Many tours combine whale and dolphin watching since the two are commonly seen in the same waters. Some places are Osa Peninsula, Drake Bay, Flamingo, Manuel Antonio and Puerto Viejo. We have seen several times groups of bottlenose dolphins in the Gulf of Papagayo.
Costa Rica Turtles
Costa Rica is an extremely important place for sea turtles as several turtle species nest on the beaches of both coasts. There are several different species of turtles in Costa Rica, such as the leatherback, Olive Ridley and Atlantic Ridley sea turtle. Many of them are critically endangered.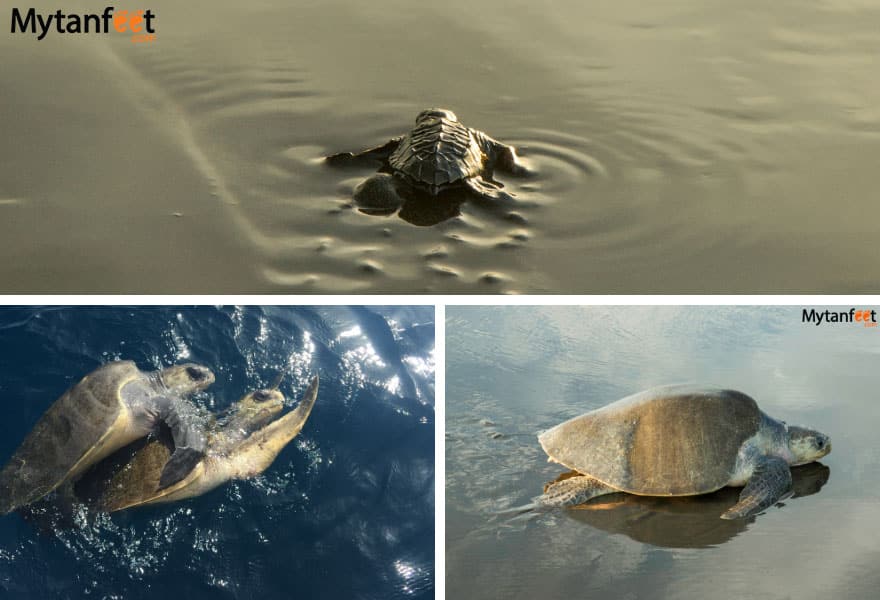 Best time to see sea turtles in Costa Rica
You can see sea turtles on both the Caribbean and Pacific.
Olive Ridley, Hawksbill, Leatherback sea turtle and Pacific Green sea turtle – all year long
Leatherback sea turtles – Feb to July
Atlantic green sea turtles – June to Nov
The best time of year to see turtles in Costa Rica is the rainy season or July – December. This is when the mass gatherings are the most intense.
Best places to see sea turtles in Costa Rica
Las Baulas National Park: This national park was established in 1990 to protect leatherback turtles from poachers. You can see nesting turtles on Playa Grande in Oct – May. Unfortunately the number of nesting leatherback turtles decrease greatly each year but it's still an important turtle nesting site.
Tortuguero: This national park in the Northern Caribbean is one of the best places to see turtles in Costa Rica. Additionally, it is one of the most important endangered green turtle nesting sites in the Western Hemisphere. Turtles come here from the months of July to October to lay their eggs. Best month is September.
Santa Rosa National Park: Two beaches in Santa Rosa National Park, Naranjo and Nancite, are one of the few places in the world to experience "arribadas" or the mass nesting of turtles. However, being a national park with strict land access, these beaches are mostly visited by researchers and biologists, not tourists.
Ostional Wildlife Refuge: Ostional is the best place to see turtles in Costa Rica because of the many mass arribadas and easy accessibility. This is the best place to see the arribada in Costa Rica as it is easily accessible for tourists. The local town has their own guide association to take people into the refuge.
Gulf of Papagayo: It is common during July – September to see turtles mating in the water in the Gulf of Papagayo.
Caño Island: During most of the year, it is common to see turtles, particularly juveniles at Caño Island.
Other refuges and places
Osa Peninsula and Corcovado: Many of the beaches are nesting sites for 3 species of turtles.
Montezuma: The Atlantic Riley turtle lays their eggs on this beach. The local community does baby sea turtle releases in February.
Gandoca Manzanillo Wildlife Refuge: Located on the south Caribbean coast. Leatherback turtles nest here from March – May.
Tambor Bay: Playa Tambor is home to OLive Ridley Sea turtles that lay between 80 to 120 eggs each time.
Playa Hermosa Wildlife Refuge: Although this is a popular surfing beach, it's also part of the Playa Hermosa Wildlife Refuge. During rainy season, up to 40 turtles nest per night.
Arribadas
The best time to see nesting turtles is during arribadas (synchronized mass gathering of turtles). It is appropriately named because during this period of time (usually the last quarter moon in rainy season) sees up to tens of thousands of turtles coming to the beach to nest at once. They come 24/7, even during the day!
Most importantly, this happens in only a handful of places in the world, with 2 of them in Costa Rica: Ostional and Playa Naranjo for the Olive Ridley Sea Turtles. Arribadas occur during Costa Rica's rainy season, June – December. The best months are September, October and November.
Costa Rica Sloths
Sloths are the most popular animal in Costa Rica. Everyone wants to see a sloth when they visit Costa Rica! However, they are hard to see because they camouflage extremely well and are not found in all parts of the country.
There are two species of sloths in Costa Rica: the two and three fingered sloth.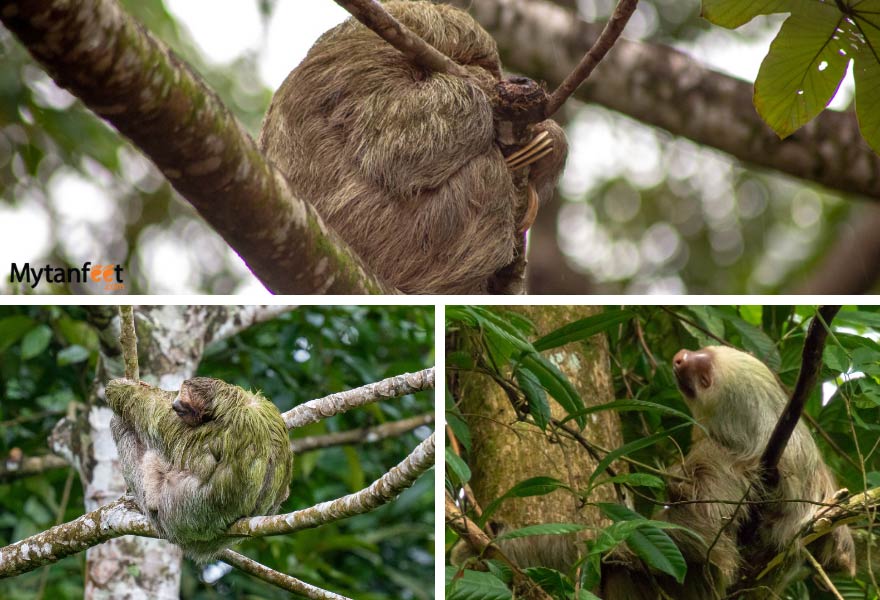 Best time to see sloths in Costa Rica
All year long.
Best places to see sloths in Costa Rica
The best places in Costa Rica to see sloths are Manuel Antonio, Puerto Viejo, Tortuguero, Dominical, Uvita, La Fortuna, Bijagua and the Osa Peninsula. They are quite abundant in the humid rainforest areas since they always have food.
Because of this, they are not common in Guanacaste as that has dry tropical forest. If you are in Guanacaste/Puntarenas/Nicoya Peninsula (Tamarindo/Coco/Samara/Montezuma/Santa Teresa) and want to see a sloth, you will need to travel to the rainforest like Bijagua or La Fortuna or visit an animal sanctuary.
Good animal rescue centers or sanctuaries where you can see sloths are Jaguar Rescue Center, Toucan Rescue Ranch, Selvatura Park, Springs Resort, La Paz Waterfall Gardens and Diamante Eco Adventure Park. These centers rehabilitate and rescue various Costa Rica wildlife like birds, iguanas and mammals. Many sloths become permanent residents due to disabilities or have been kept in captivity too long/all their life.
Remember, no reputable animal rescue center will allow visitors to touch or hold sloths.
Read more in-depth information about sloths in Costa Rica.
Costa Rica Monkeys
Four different species of monkeys are in Costa Rica: White-face Capuchin monkeys, Howler monkeys, Squirrel monkeys and Spider monkeys. All monkeys except the white face are endangered or threatened in Costa Rica.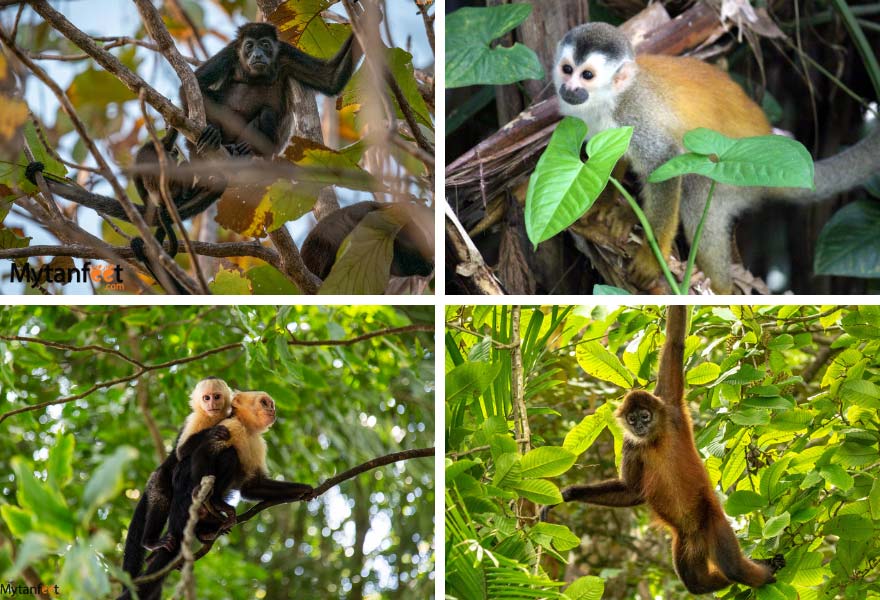 Best time to see monkeys in Costa Rica
All year round.
Best places to see monkeys in Costa Rica
The Osa Peninsula is the only place where you can find all four species of monkeys.
Squirrel monkeys are only found in the Southern Pacific part of Costa Rica such as Corcovado and Manuel Antonio National Park. Howlers and white face monkeys can be seen all throughout Costa Rica.
Spider monkeys are common in the Osa Peninsula but can also be seen in Rincon de la Vieja National Park in Guanacaste, the Caribbean coast, Caño Negro and Children's Eternal Rainforest.
You can read more about monkeys in Costa Rica.
Costa Rica Birds
With over 800 species of birds, Costa Rica is an excellent place for birdwatchers. You can find 6 types of toucans, 2 types of macaws, 57 types of hummingbirds and much more! Undoubtedly, birdwatching in Costa Rica ranks as one of the best in the world.
Costa Rica Toucans
The 6 types of toucans in Costa Rica are the Black Mandibled, Keel-billed, Emerald Toucanet, Collarred Aracari, Fiery Aracari and Yellow-eared.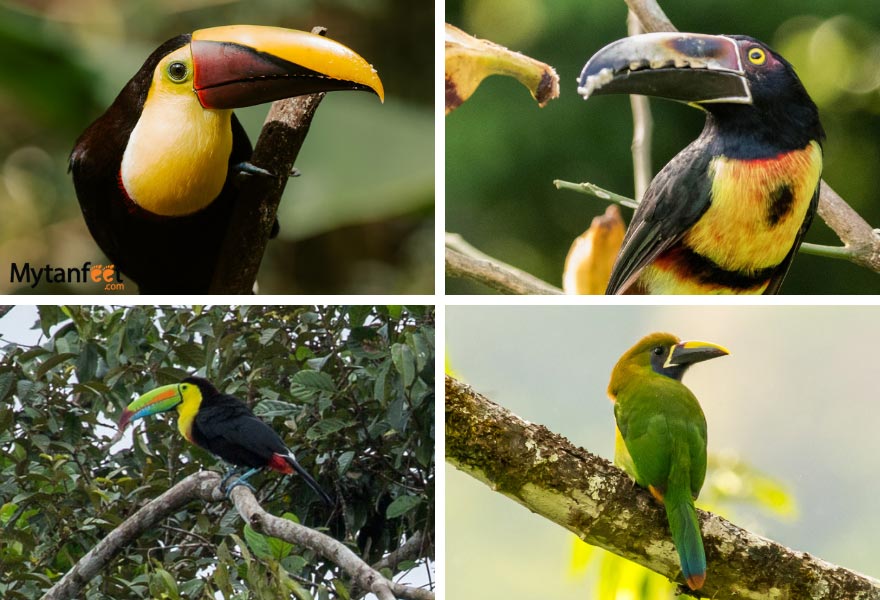 You can't see all 6 toucans in one place in Costa Rica but you can see up to 3 in one.
The best places to see toucans in Costa Rica are Puerto Viejo, Tortuguero, Monteverde, Sarapiqui, Uvita, Manuel Antonio, Jaco, Boca Tapada, La Fortuna, Osa Peninsula and Bijagua.
You can read more about toucans in Costa Rica in this post.
Parrots
Parrots are very common in Costa Rica and the macaws are the most popular thanks to their size and coloration. Unfortunately, the parrot population, particularly the macaws, have been decimated over the past 50 years due to poaching and logging but they are making a come back.
There is now a healthy population of Scarlet Macaws in the Central and South Pacific and they are recolonizing areas in Northern Guanacaste, the Caribbean, Sarapiqui and Northern Alajuela.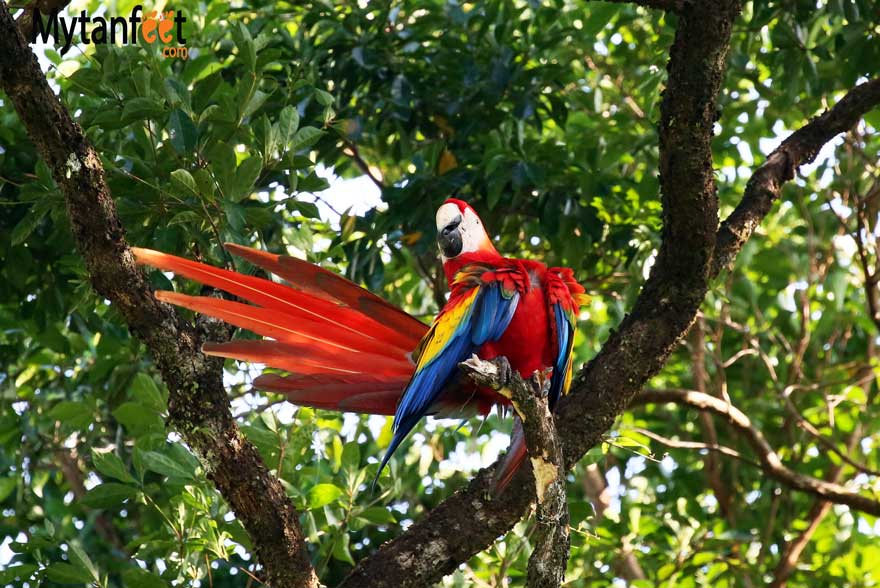 The Great Green Macaw is only found on the Caribbean side and the Continental divide.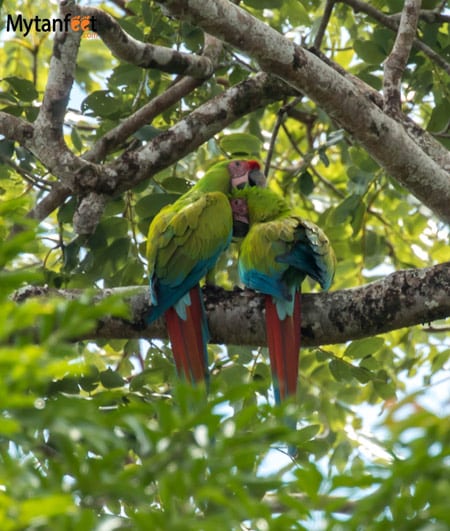 You will always hear parrots before you see them because they are loud! They mate for life and fly in big groups, so if you see one, you will see many.
Trogons and Resplendant Quetzals
Trogons are colorful birds with distinguishing undertail pattersn and eye-ring color. The most famous trogon is the Resplendant Quetzal, the national bird of Guatemala. National Geographic declared Monteverde the best place in the world to see Resplendant Quetzals as these little birds love high elevation forests and the fruits of a certain avocado tree.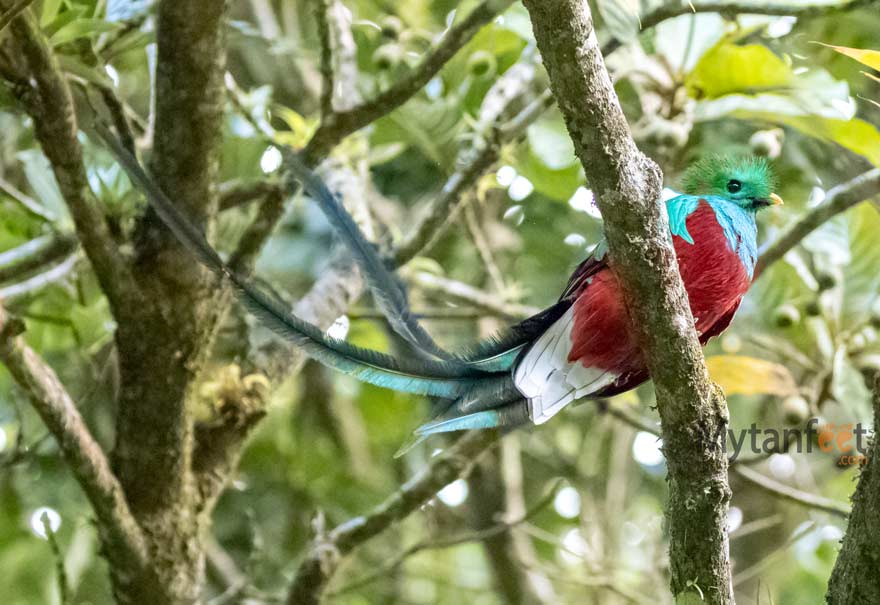 You can also see Resplendant Quetzales in other tropical cloud forest destinations such as San Vito, San Ramon and San Gerardo de Dota. There is even a national park called Los Quetzales National Park.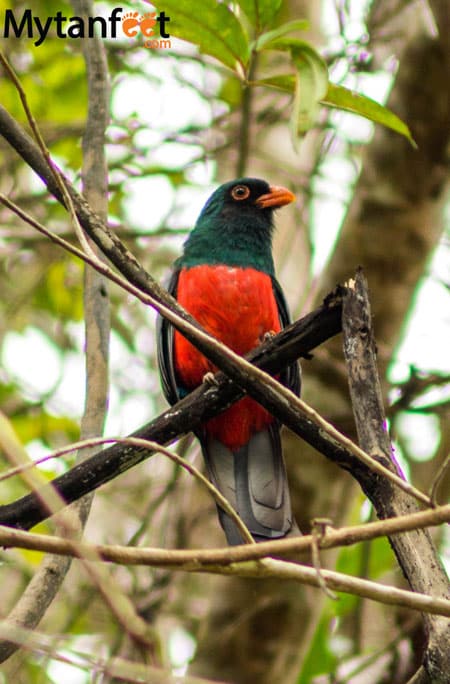 Other notable trogons are the Gartered Trogon and Slaty-tailed. Females and male coloration differ greatly so it is a lot of fun seeing these birds!
Costa Rica Hummingbirds
Beautiful hummingbirds live throughout Costa Rica. Though these little guys are quick, they are absolutely stunning, especially when their feathers catch the light just right!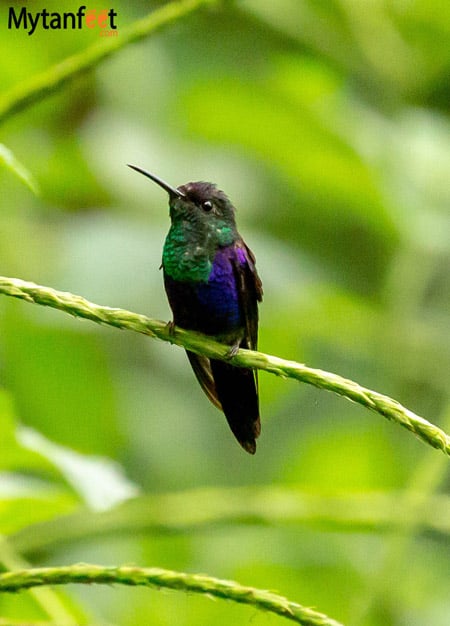 Common hummingbirds in Costa Rica are the Rufous-tailed hummingbird, Green-breasted Mango, Ruby-throated hummingbird (migratory), Crowned Woodnymph.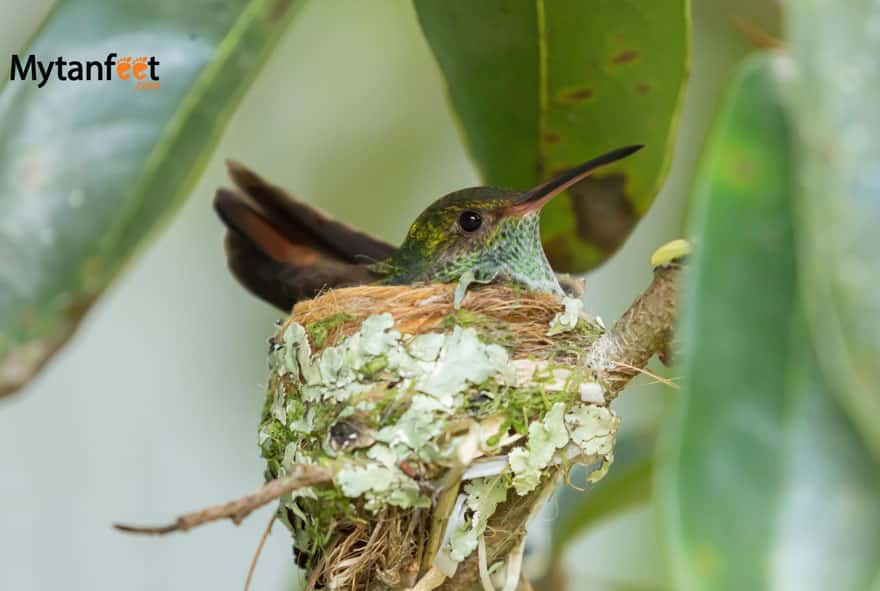 Costa Rica Snakes
Snakes are one of the most dangerous animals in Costa Rica but don't let that scare you from visiting! Snake bites and attacks on tourists are not common in Costa Rica. In fact, most tourists never see a wild snake unless they go hiking deep into the rainforest or on a guided walk through the jungle.
Common snakes in Costa Rica are the viper family, tree snakes and garter snakes. You do need to be careful around vipers as they are more poisonous and dangerous.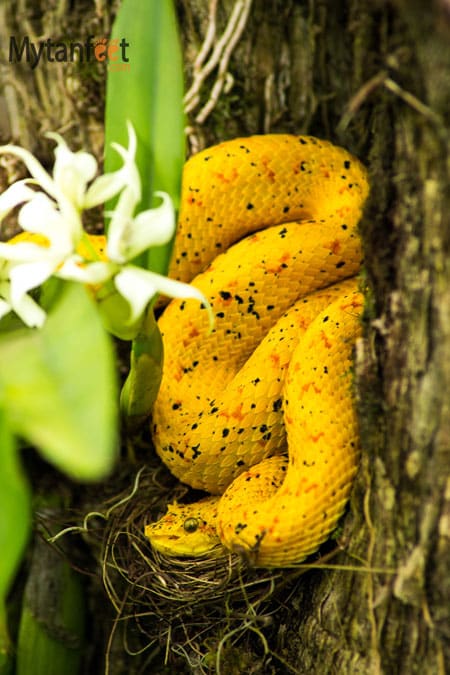 We saw this yellow eyelash pit viper when hiking in the Osa Peninsula. Our guide pointed him out as he was curled up in a tree, behind some flowers. This is why you should NEVER touch trees, plants, flowers, or bushes with bare hands and never stray off the path.
Costa Rica Crocodiles
Crocodiles are commonly found in the rivers of Costa Rica, particularly the Tempisque River and Tarcoles River. They also thrive in estuaries inside national parks such as Las Baulas.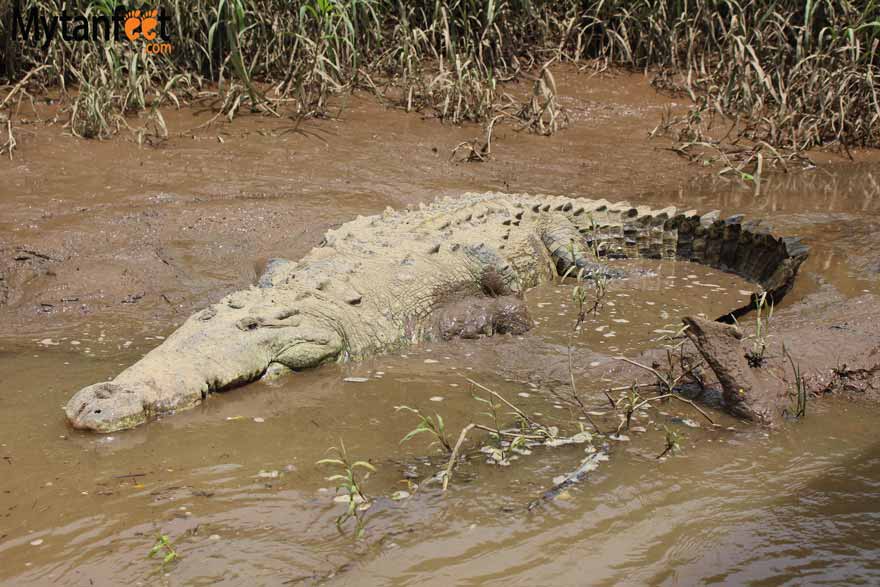 Caimans, part of the alligator family are also found in Costa Rica. They are much smaller than crocodiles but look very similar.
Costa Rica Frogs and Toads
Costa Rica is home to many spectacular frogs, many of which are endangered or threatened. There are poisonous and non-poisonous frogs in Costa Rica such as the dart frogs and glass frogs.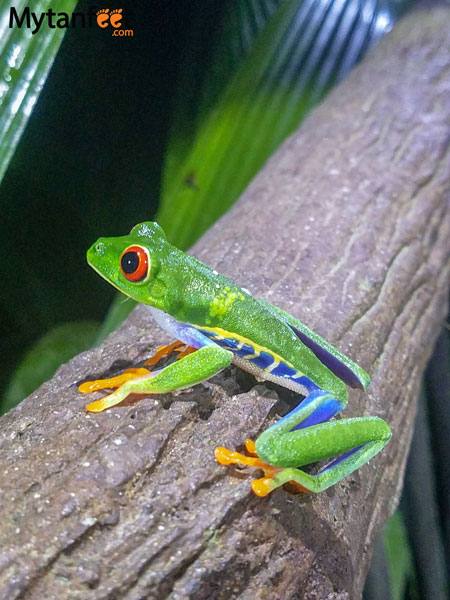 Toads are also very common in Costa Rica. Some toads you can see are cane toads and giant toad. Monteverde used to be home to a beautiful golden toad, which is now said to be extinct sadly.
The best places to see frogs in Costa Rica are humid areas like Osa Peninsula, La Fortuna, Manuel Antonio, Puerto Viejo and the Caribbean. You need to go on a night walk as these animals are nocturnal.
Pictures of Costa Rica wildlife
Here are some pictures of Costa Rica animals that we want to share. We've been lucky to see tapirs, anteaters, jungle cats and many other animals!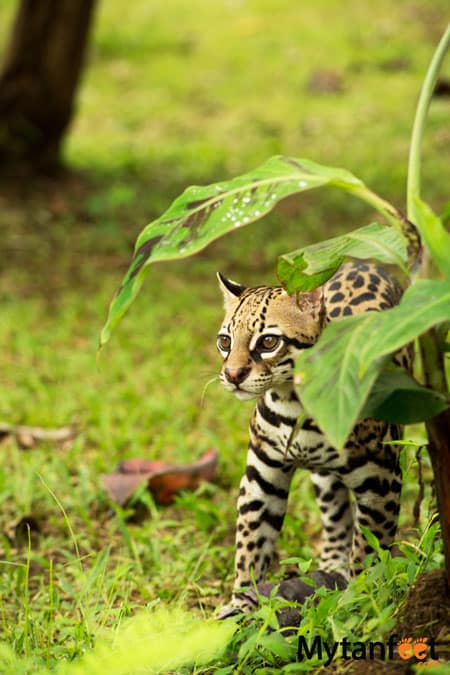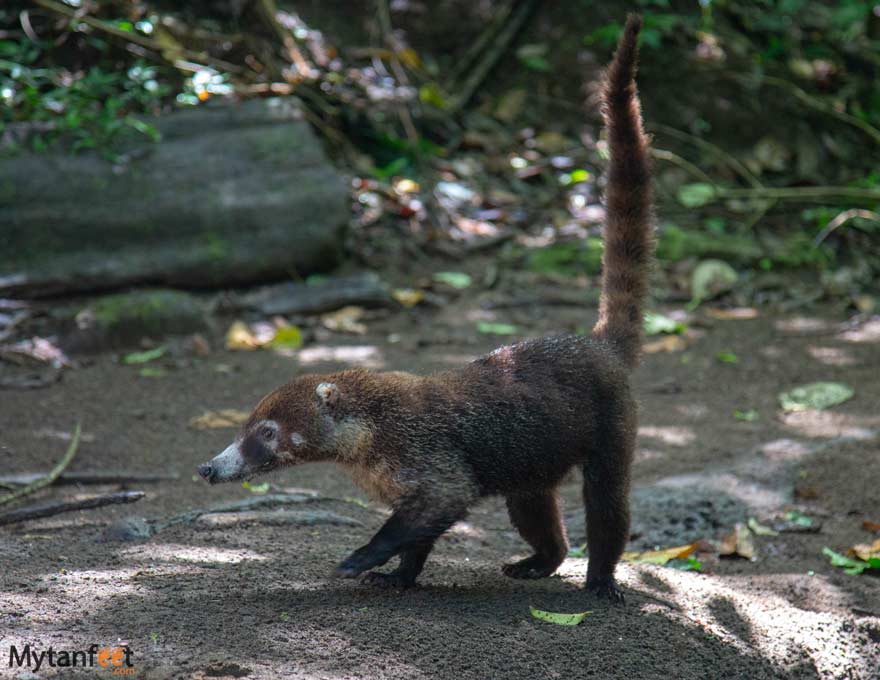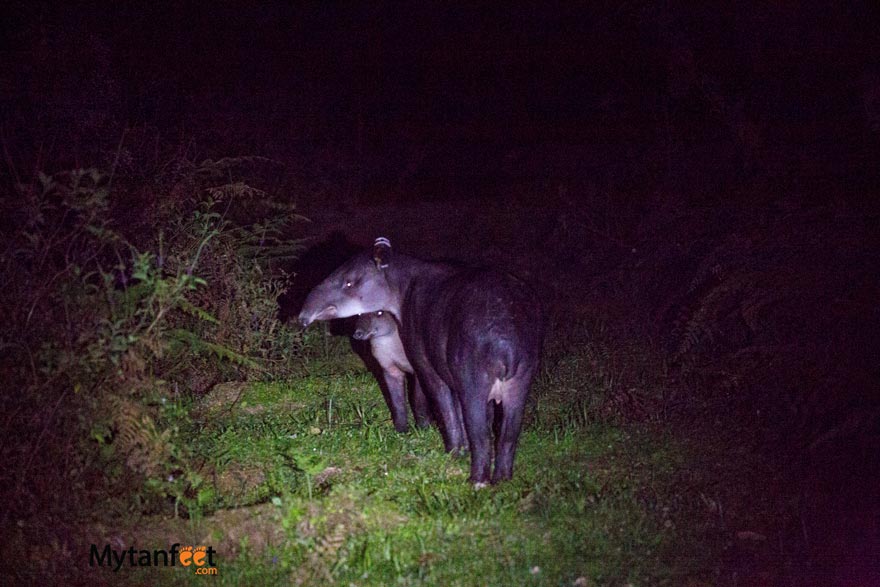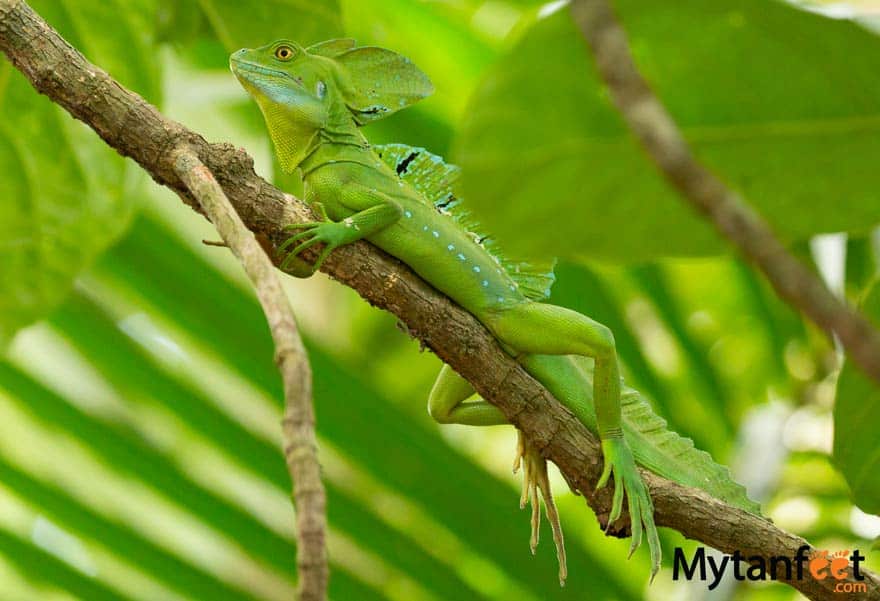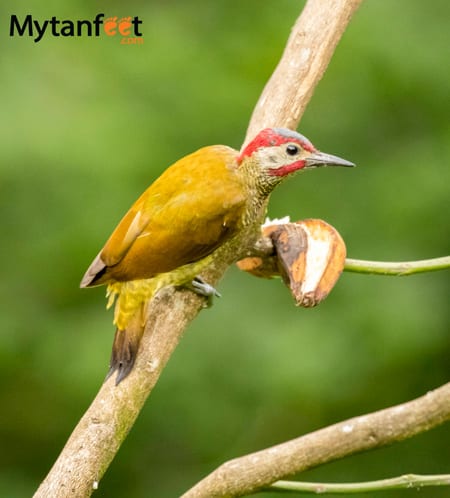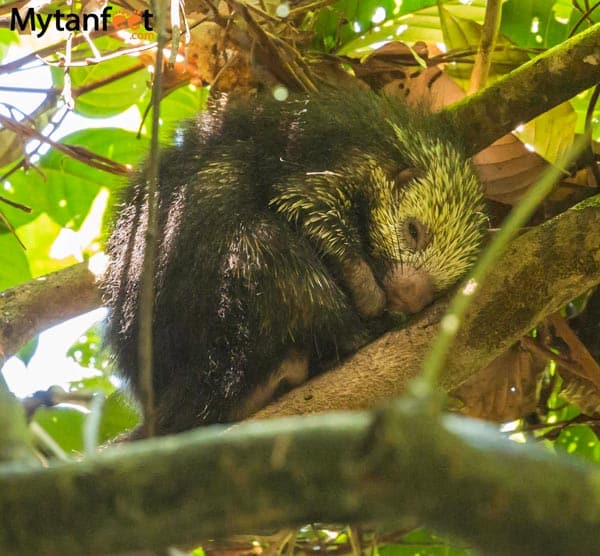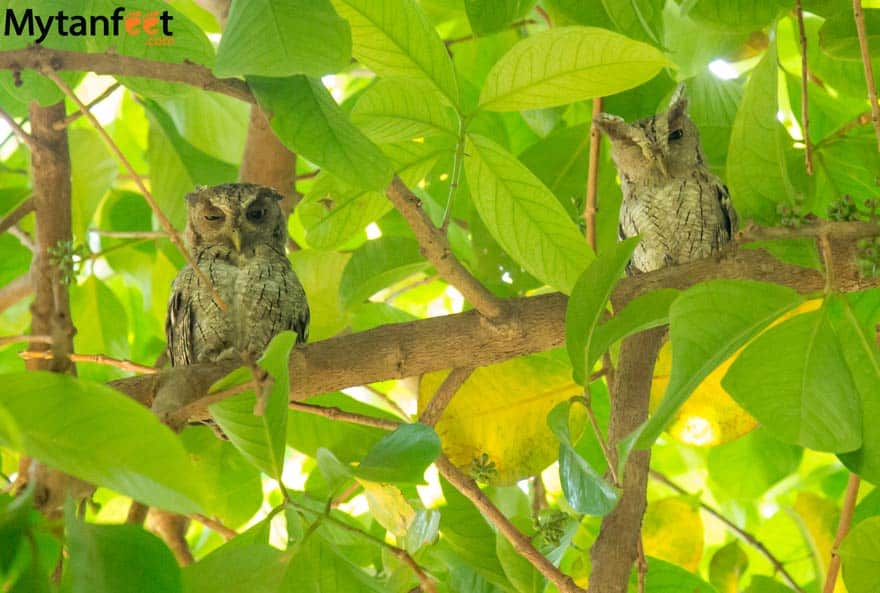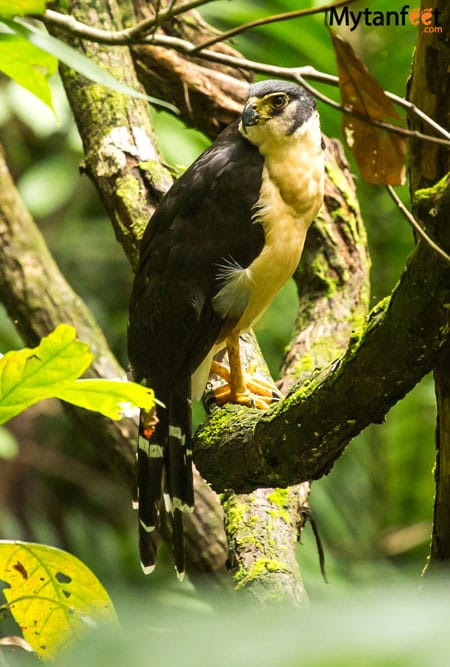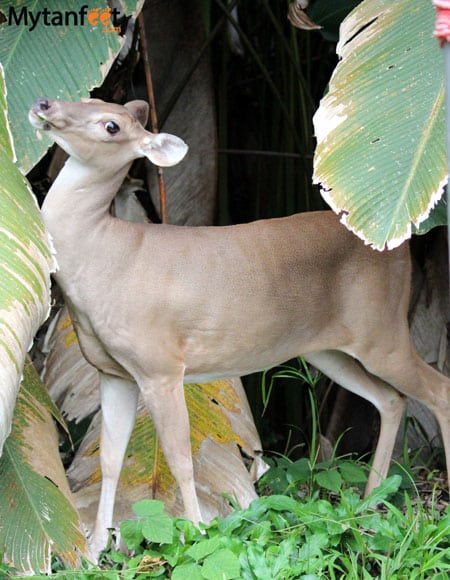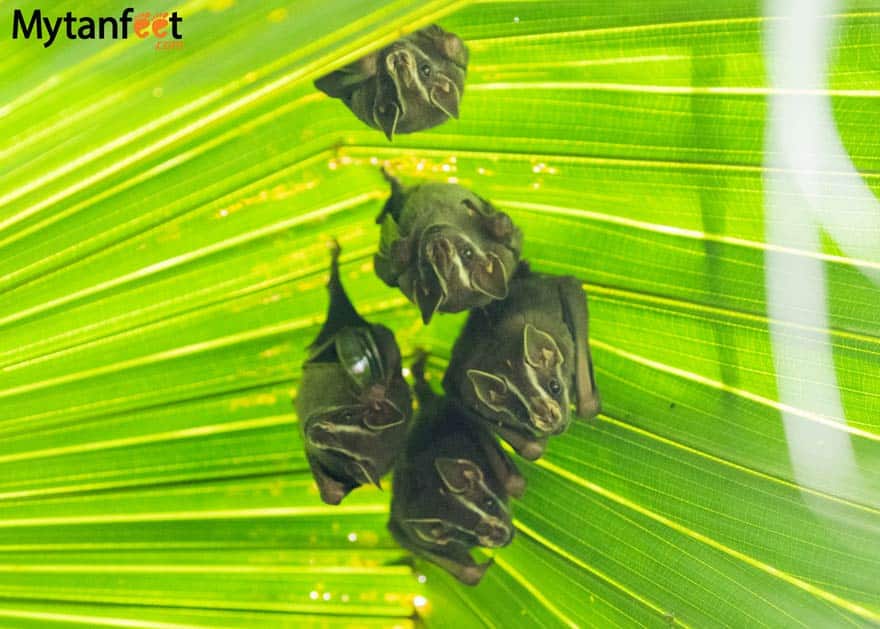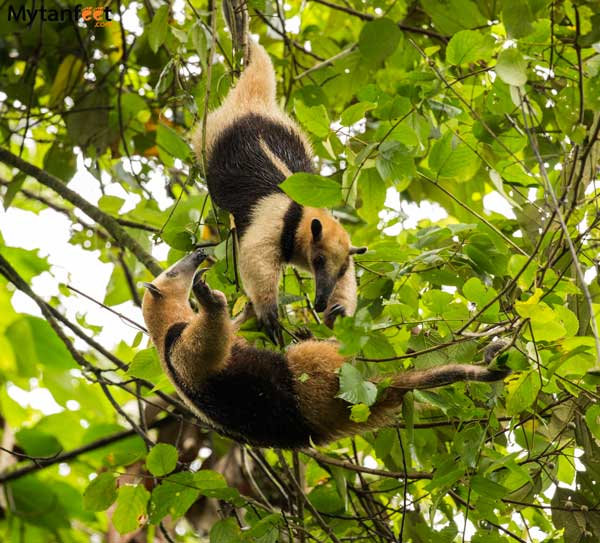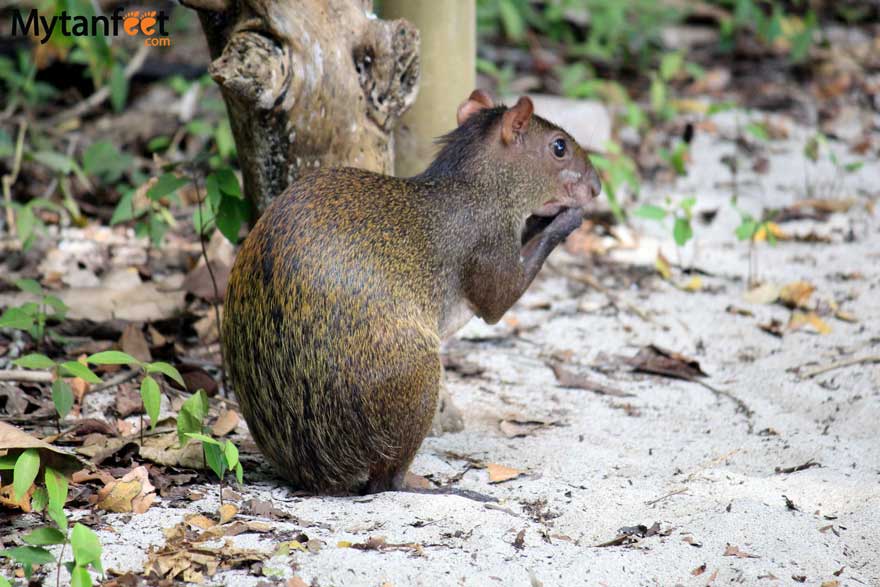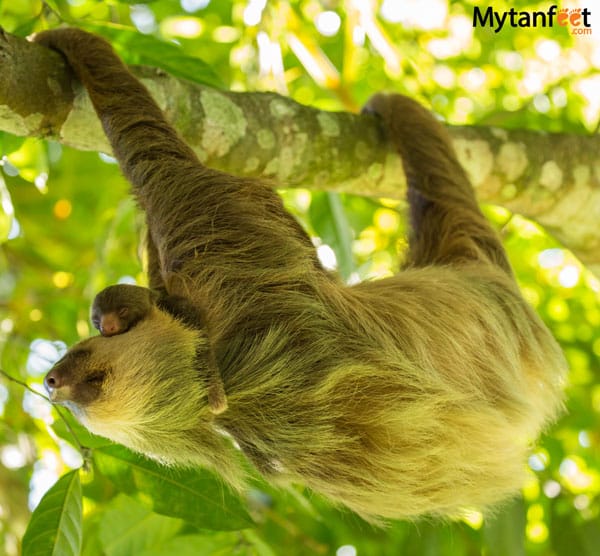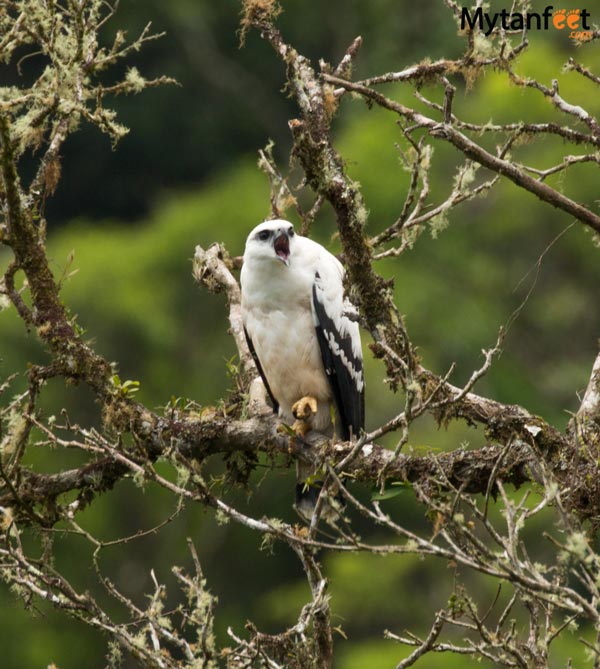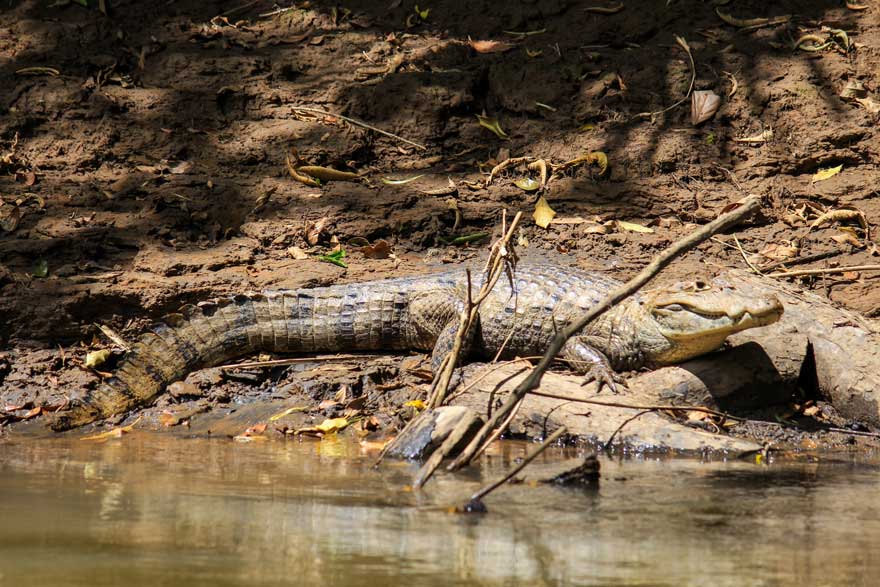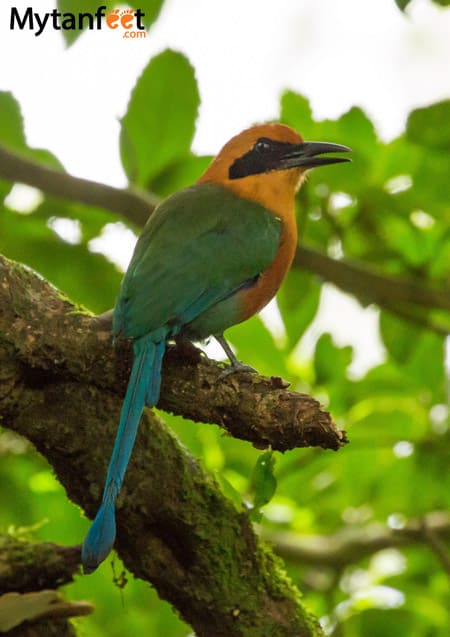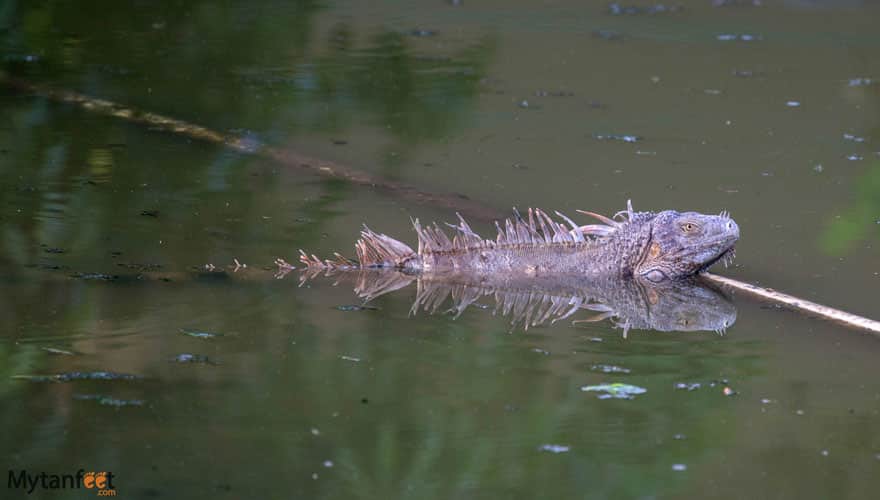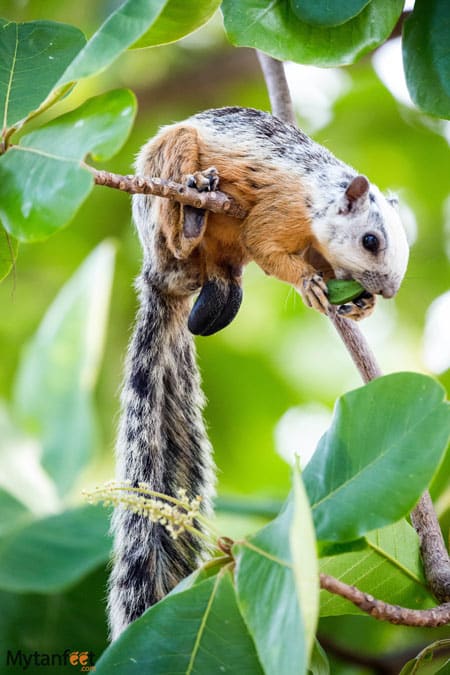 Costa Rica Wildlife Tours
For the best experience, we highly recommend to book tours focused on wildlife. These tours will have dedicated naturalist guides that will go to places full of nature and wildlife. Some of our favorite wildlife tours are:
Heliconias Hanging Bridges + Sloth Walk (Day trip from Guanacaste)
3 in 1 Rainforest Tour from San Jose, Costa Rica
Palo Verde National Park Boat Ride (Guanacaste)
Penas Blancas Safari Float and Pure Nature Safari Float (La Fortuna)
Hacienda Baru (Dominical)
Curi Cancha Reserve (Monteverde)
Damas Island Mangrove Boat/Kayak (Manuel Antonio/Quepos)