The capital of Costa Rica, San Jose, has a favorable location in the Central Valley meaning it's close to everything the country is known for: volcanoes, waterfalls, rivers, beaches, national parks and rainforest.
Therefore, if you decide to base yourself in San Jose, you can experience and see a lot on one day sightseeing trips. The closest rainforest to San Jose is only 45 minutes away so if you are interested in experiencing the tropical rainforests of Costa Rica, consider this 3 in 1 Rainforest Adventure from San Jose, Costa Rica day tour. Read about this tour below and get our San Jose day trips discount here!
This post has affiliate links.
3 in 1 Rainforest Tour from San Jose, Costa Rica
The rainforest tour from San Jose, Costa Rica visits three places on the Caribbean slope: Rainforest Adventures Park for ziplining or aerial tram, Selva Verde Lodge for a nature walk and Sarapiqui River for a river boat safari ride.
The tour includes roundtrip transportation from San Jose, bilingual guide, entrance fees and lunch. It's a full day excursion, with pick up around 630-730 AM and the tour is around 10 hours long.
If you would like to watch a video of this tour, check out our Youtube video!
First Stop: Rainforest Adventures Braulio Carrillo (1 hour drive)
The first stop of the 3 in 1 rainforest tour from San Jose, Costa Rica is the Rainforest Adventures Braulio Carrillo Park. This private park borders the Braulio Carrillo National Park, which is one of the biodiverse places in Costa Rica as it has primary and secondary rainforests, cloud forests, volcanoes and part of the Sarapiqui River watershed.
Guests can choose to do an exciting zipline tour or the aerial tram through the rainforests of the park. We opted for the aerial tram, which was a 1.5 leisurely gondola ride through the rainforest canopy. If you haven't gone ziplining yet, we highly recommend their zipline. It's super fun with amazing views.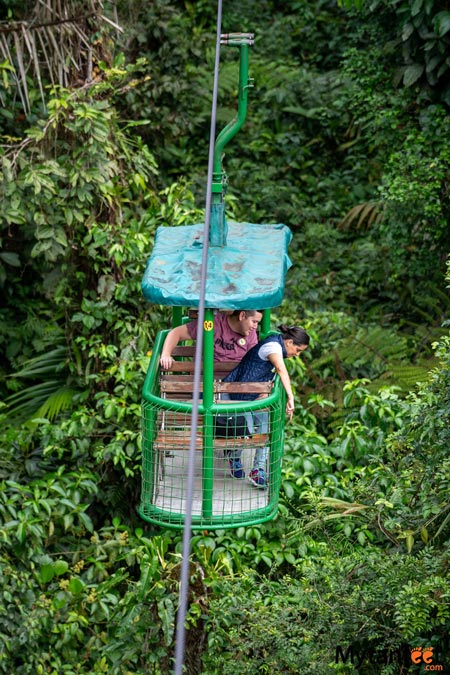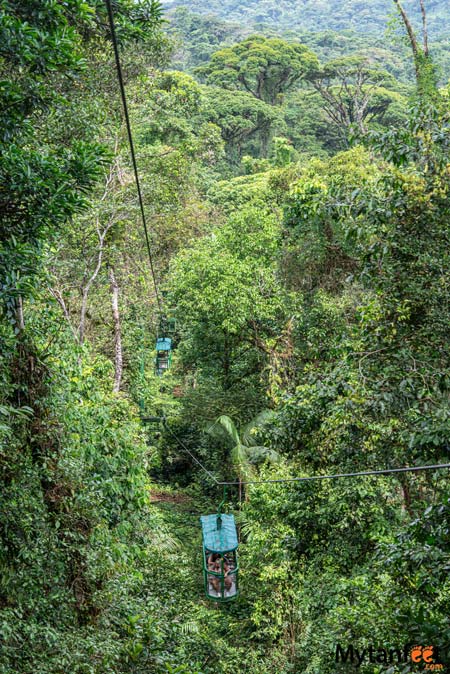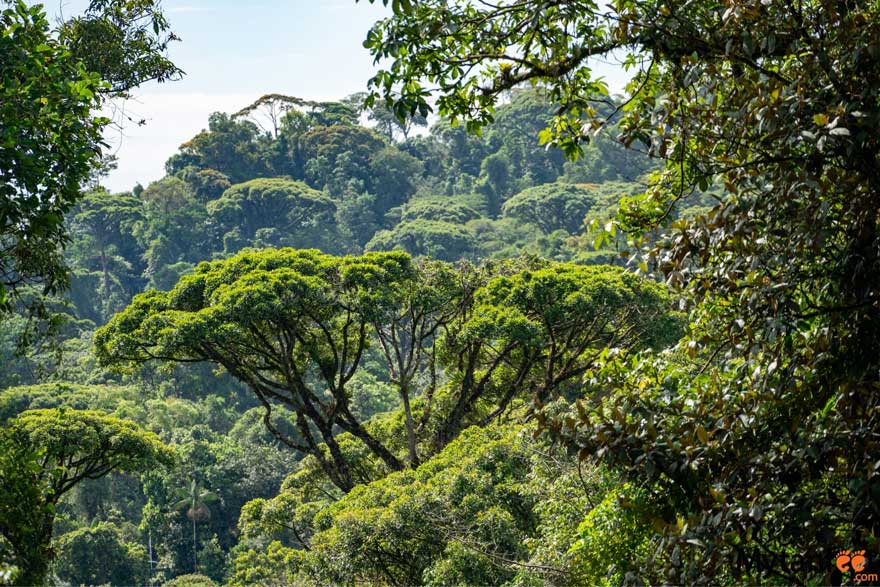 During our gondola ride, we saw some wildlife such as toucans, a sloth and hummingbirds.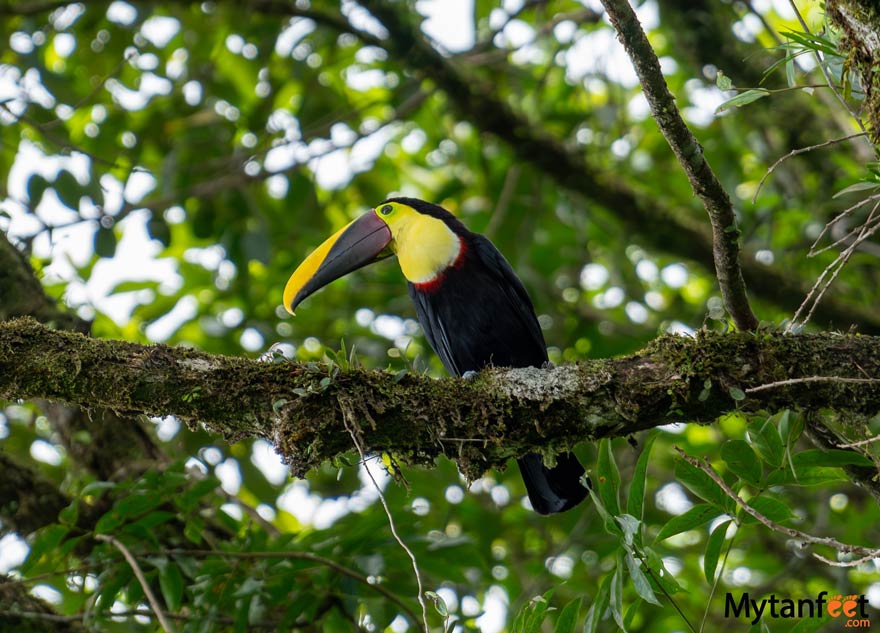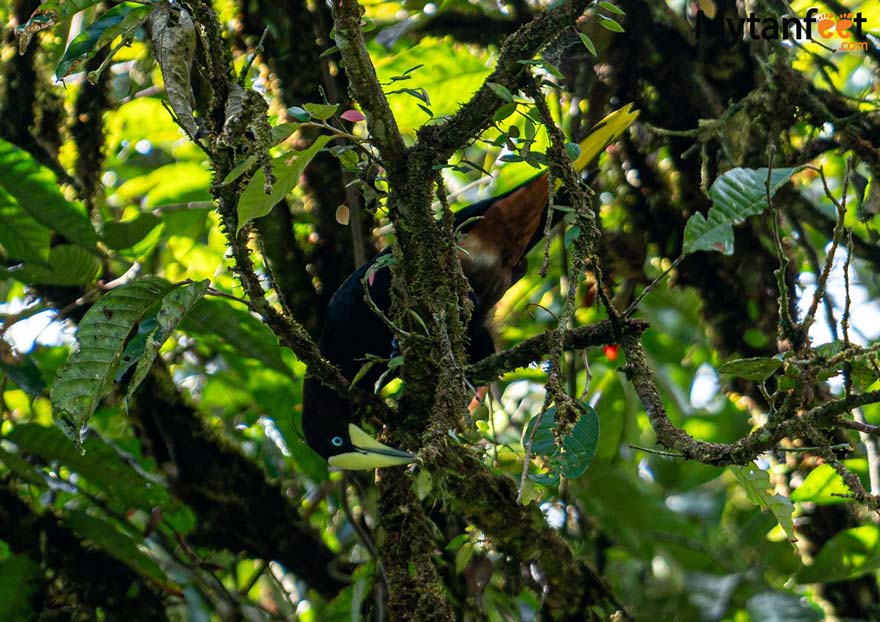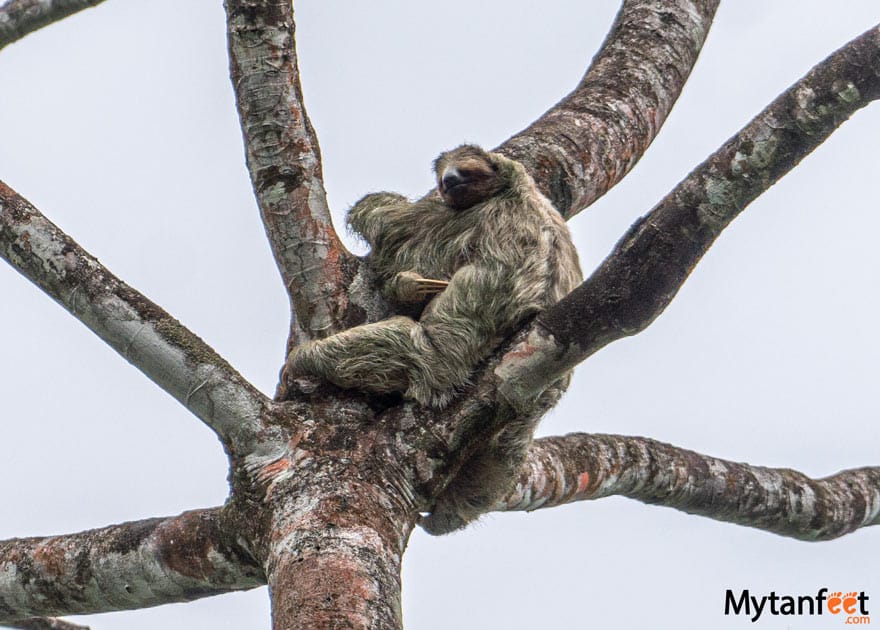 After we finished the aerial tram/zipline, our guide led us to the gardens and reptile/amphibian exhibits. We saw hummingbirds and learned about the various snakes and frogs in Costa Rica.
Second Stop: Selva Verde Lodge (50 minute drive)
The second stop on the rainforest tour from San Jose, Costa Rica was the Selva Verde Lodge in Sarapiqui. This lodge is one of the premiere nature and birding lodges in Costa Rica as it has its own private reserve and trails through a primary/secondary rainforest. Our nature walk went through their property, lasting about 1 hour.
We saw tons of frogs, specifically the blue jean frog and black and green poison dart frog. It began to rain during the middle of our walk which made it a true rainforest experience!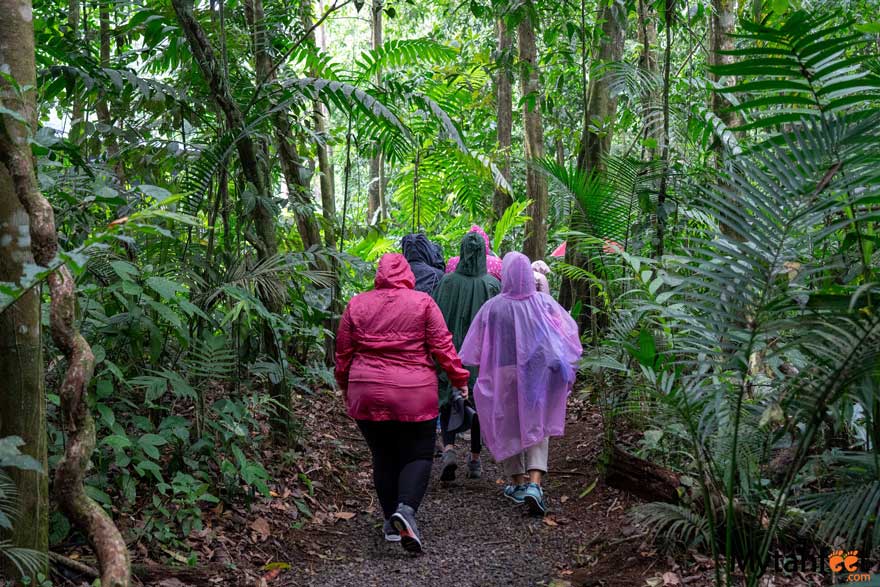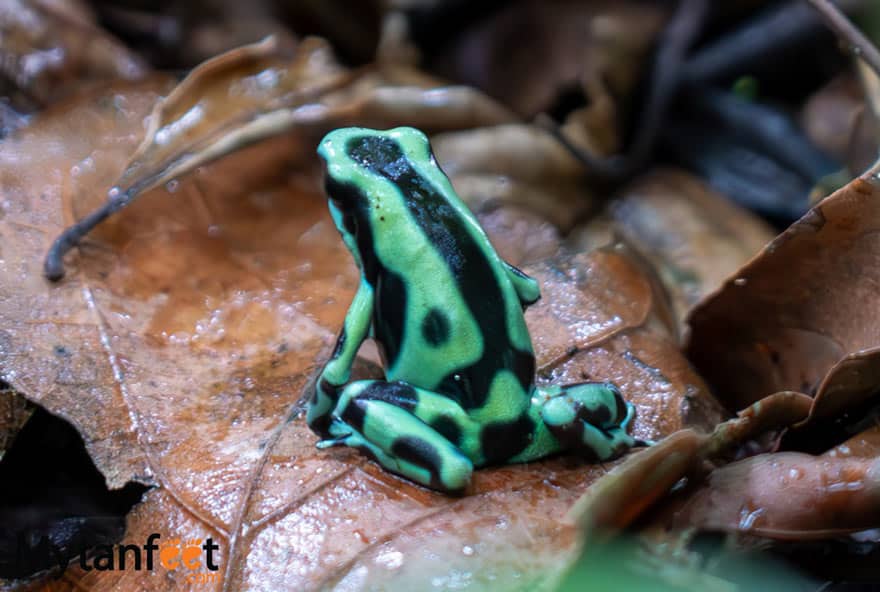 After our walk, we had lunch at their restaurant which was delicious with very good options. The lodge has a viewing platform from the dining area where they put out fruits for the birds and animals so you can do some wildlife watching while eating your breakfast/lunch.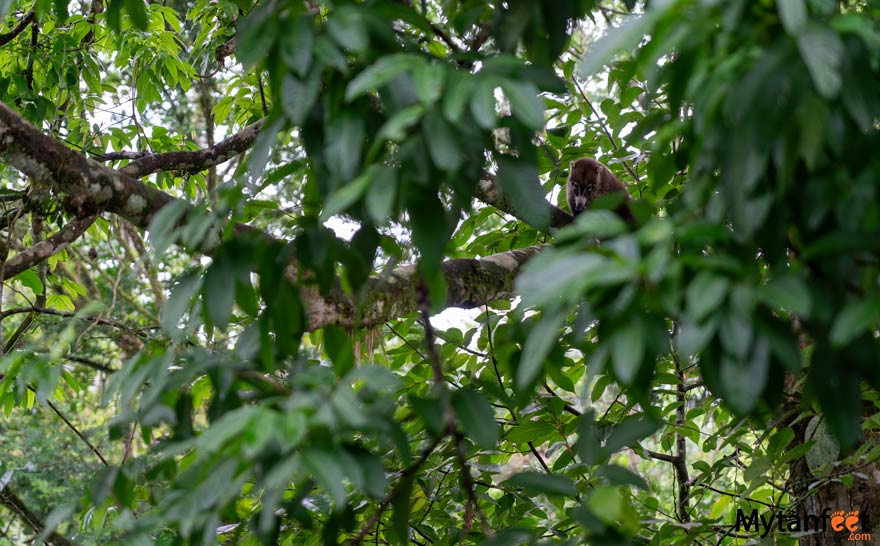 When we were all full from lunch, we headed to the Sarapiqui river to take a leisurely wildlife watching safari boat ride. Unfortunately as it had rained fairly hard a couple hours ago, the animals weren't very active so we didn't see terribly much. We spotted a crocodile, howler and white face monkeys far away, iguanas and some birds.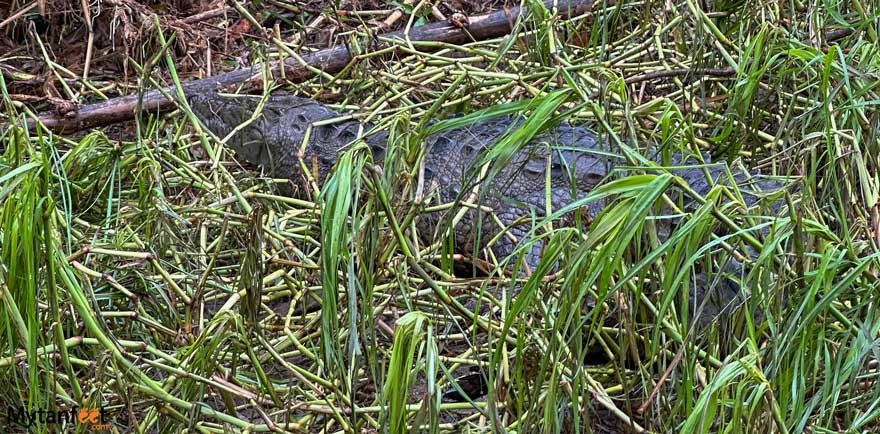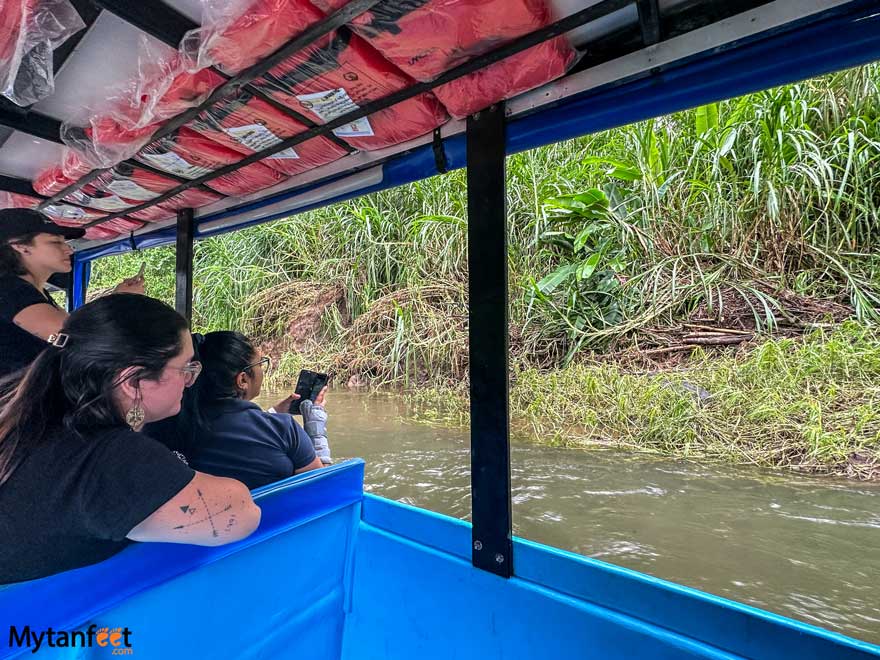 The safari boat ride lasted around 1.5 hours and afterwards, we got back on the bus to head back to San Jose.
All in all, it was a wonderful day trip from San Jose! They picked out fantastic places for guests to experience the rainforest and learn all about the flora and fauna of the Costa Rican tropics.
What to Bring for this Rainforest Tour from San Jose, Costa Rica
A waterproof rainjacket or poncho
Comfortable clothes for walking
Hat
Day pack
Fully closed shoes (mandatory). We wore hiking shoes but you can wear tennis shoes. They may get wet if it rains though.
We highly recommend a good camera if you are a photographer or like to take pictures. There are some great photo opportunities during this tour of nature and animals. We brought our Sony 70-200 lens for the photos taken above. I wish I brought my Sony 200-600 mm lens for some better close ups though.
Breakfast is not included so you'll need to eat breakfast at your hotel, get a hot breakfast to go or bring food on the bus. Lunch is not until about 1 PM so have a good breakfast.
San Jose Hotels They Pick Up At
Roundtrip transportation is included for hotels in San Jose in downtown, near La Sabana, Escazu and near the airport on the San Jose side. They do not pick up in Curridabat, Alajuela, or on the Alajuela side of the airport. Here are some sample hotels they offer transportation from.
Other San Jose Day Trips and Our Discount
If you have more days in San Jose, there are many other fantastic day trips you can take. Here are a couple of our favorites. If you're interested in booking any, we offer a discount for San Jose day trips – don't miss it!
Arenal Volcano 1 Day with Hot Springs
We also offer discounts for the Pacuare 1 day white water rafting tour from San Jose and the Tortuga Island 1 day cruise from San Jose.