Have you ever stayed at a hotel where you dreaded the moment you had to leave? You savored each second of your last night, already planning the day you'll be back because the hotel made your stay that very special. That's how we felt at Casitas Tenorio B&B in Bijagua. This cute five casita hotel captured our hearts the moment we stepped out of our car and were greeted with the warmest hugs and biggest smiles.
If you're looking for a place that is full of nature, close to Tenorio Volcano National Park and has all the comforts of home, you will love Casitas Tenorio B&B. Find out why we adored it and why it is one of the best hotels near Rio Celeste!
Get 10% off your booking at Casitas Tenorio! Use the code MYTANFEET at check out to get 10% off your booking! Or click here to be taken directly to the booking page (make sure to enter the MYTANFEET promo code!)
Casitas Tenorio B&B
We had been wanting to visit Rio Celeste, the enchanting sky blue river for a long time and I wanted to stay in a hotel equally as magical. Casitas Tenorio lived up to my expectations and made our trip to Bijagua even more memorable!
The Rooms
Casitas Tenorio only has 5 rooms but they are 5 of the coziest casitas we've seen. Each one provides a true natural experience as your views are only flowers, trees and the visiting wildlife. We stayed in Casita El Volcan that has a view of the gardens and the forest with Tenorio Volcano in the back.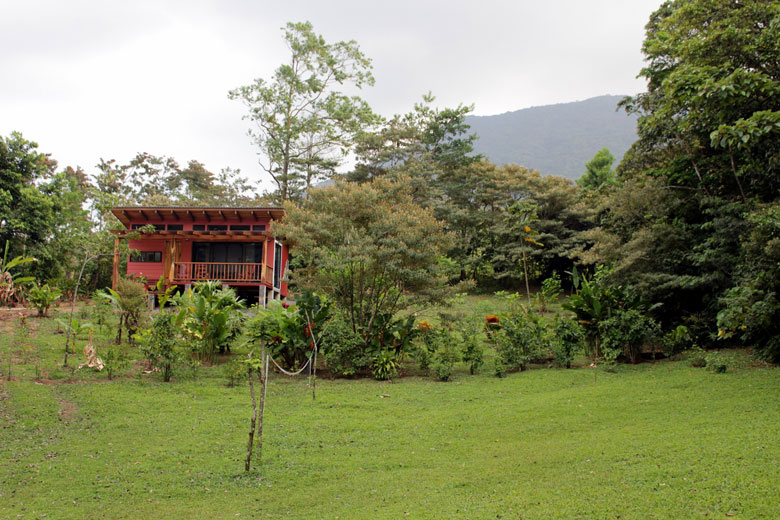 The casita was incredibly comfortable and had a kitchen, microwave and mini-fridge. There's a large deck with rocking chairs for visitors to enjoy the lush forest scenery. Everything you need to feel at home.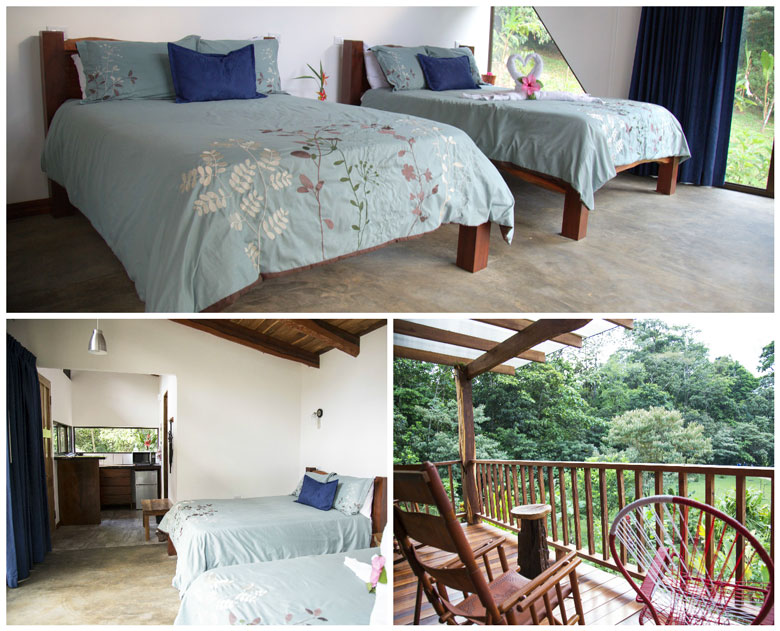 We fell asleep every night and woke up every morning to the sounds of nature: rain, birds chirping, trees blowing and some other noises I wasn't sure which creature it belonged to. I truly felt like I was sleeping in the middle of the jungle all while snuggled in our warm comfy beds.
The Property and Wildlife
One of the things that makes Casitas Tenorio B&B so special is their location. Bijagua is an area rich with wildlife due to the surrounding primary growth forest. Naturally, I was expecting to see lots of wildlife at the national park but we actually saw more at the hotel.
This is due to the primary and secondary rain forest that lies on part of their property and the many beautiful gardens. Casitas Tenorio landscaped the land perfectly in harmony with the casitas, so that every visitor has a chance to see a plethora of flora and fauna straight from their porch.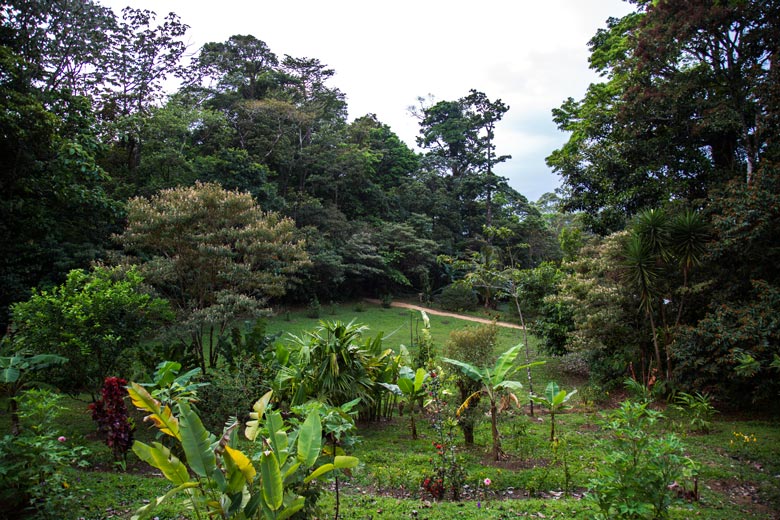 They constructed walking paths through the forest for visitors to practice spotting the many animals and birds that live there. If you wander the trails, you may see a sloth taking a nap, an anteater looking for lunch or colorful birds flying about. We saw a 3-toed and 2-toed sloth and two different toucans as we meandered through the trees.
Then if you make your way over to the mirador, you get a gorgeous view of the Tenorio Volcano and the surrounding rain forest. There is a little gazebo where you can sit back and enjoy Mother Nature's symphony and lush forests as far as the eye can see.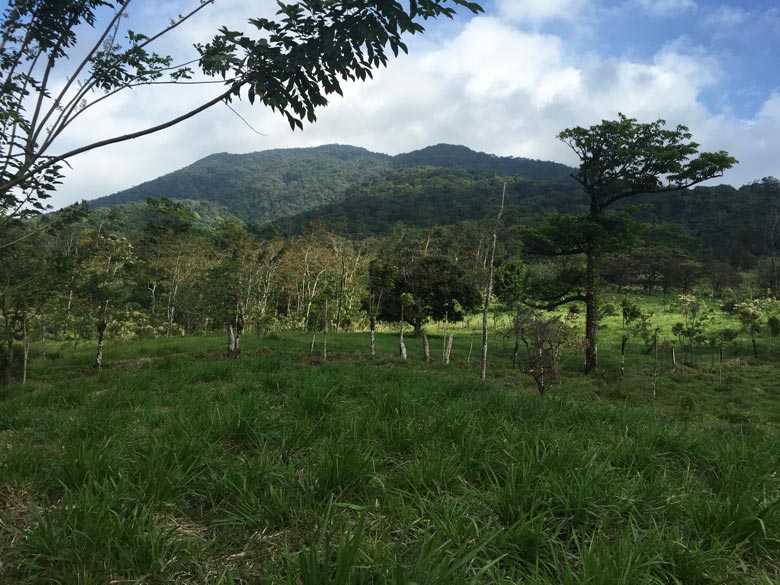 And don't forget to bring your camera when you go to breakfast, there is a garden with bananas that attracts many birds. No better way to enjoy a farm-to-table meal than in the company of beautiful feathered friends!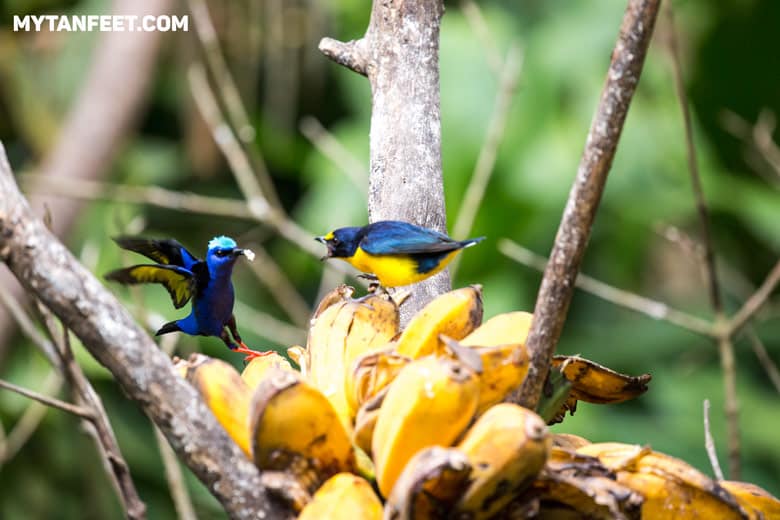 Wildlife lovers will have the best time scoping out rare birds and mammals on the hotel property. From the breakfast area and our porch, I spotted over 10 birds I had never seen before!
Why Stay at Casitas Tenorio B&B
Besides the nature, wildlife and comfortable rooms, Casitas Tenorio B&B is one of the best hotels near Rio Celeste for these other reasons:
They support the local community by hiring locals and accepting volunteers to practice English, learn about hospitality and farming, etc. As members of Pack for a Purpose, they help visitors gather and bring supplies to the local community and schools.
They are also a working dairy farm and working towards being a sustainable rural tourism project. They produce their own cheese and guests can even learn how to milk a cow! (I did this and it was so much fun, plus the milk I milked was used for breakfast the next day!)
The owner, Donald is from Bijagua and is the best naturalist guide we've ever had. He can spot wildlife like no other. Guests can take bird watching and wildlife watching tours with him.
For those interested in booking a room at Casitas Tenorio B&B, we have a special offer! Use the code MYTANFEET at check out on their website to get 10% off your booking! Or click here to be taken directly to the booking page (make sure to enter the MYTANFEET promo code!)
You can see what the hotel is like in Yeison's vlog! (Skip to minute 4.)
We were hosted by Casitas Tenorio B&B and all thoughts and opinions are our own.