Protecting 50,000 square kilometers of cloud forest, the Los Quetzales National Park is home to a variety of unique flora and fauna. Welcoming visitors since 2006, Los Quetzales National Park is a wonderful place to experience a less touristic cloud forest in Costa Rica.
Plan your visit to Parque Nacional Los Quetzales with our guide.
How to Get to Los Quetzales National Park
Los Quetzales National Park is 78 kilometers (48.50 miles) from San Jose, the drive is around 2 hours via the Route 2 highway (Cerro de la Muerte).
On Google Maps and Waze, look for "Parque Nacional Los Quetzales". On Google Maps, select the "Los Quetzales – Entrada Principal National Park." If you are having trouble finding it for some reason, you can also enter "Los Chesperitos 1" which is the restaurant right across the street from the park entrance.
The closest town to the national park is San Gerardo de Dota.
Do you need a 4×4 for Los Quetzales National Park?
Not necessarily. Los Quetzales National Park is right off the Route 2 highway which is completely paved.
Services and Parking
Los Quetzales National Park has an ample parking lot for free. There are bathrooms.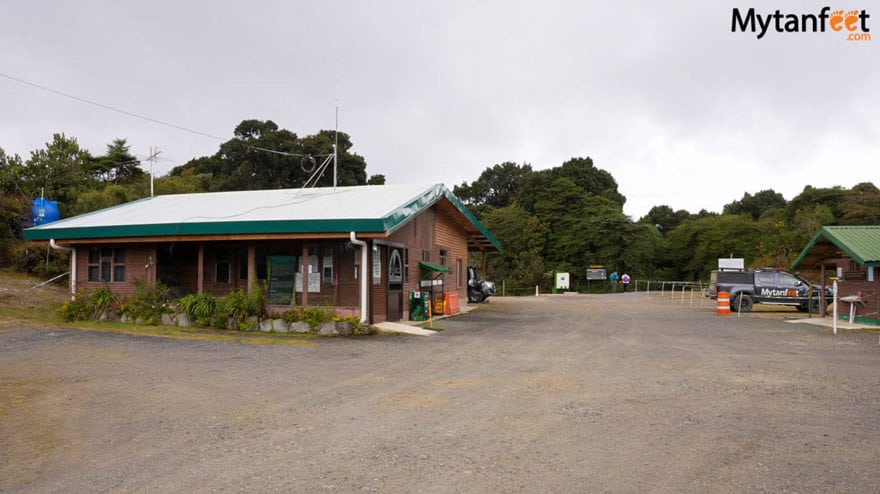 Los Quetzales National Park Entrance Fee and Hours
Prices below do not include tax and can be paid in credit card.
$10 USD per adult foreigner
$5 USD per child foreigner ages 6-12
Los Quetzales National Park is open everyday from 730 AM to 330 PM. The park rangers do speak English (we heard a woman park ranger helping a tourist in English) and are very helpful.
Los Quetzales National Park Map
They do not have paper maps to hand out or a brochure/pamphlet. However, both trails inside the park are linear so you can't get lost.
Los Quetzales National Park Trails
There are two trails in the national park: Circular and Oro de Agua. They are both linear trails so once you reach the end, turn around and walk back. We hiked both trails which takes you through the dense cloud forests, allowing you to meander through towering oaks trees, flourishing ferns and glistening moss covered overgrowth.
Circular Trail ~400 meters/.25 mile one way, ~ 30 minutes
This trail is the one by the parking lot. There is a bill board at the entrance explaining a bit about the park in Spanish.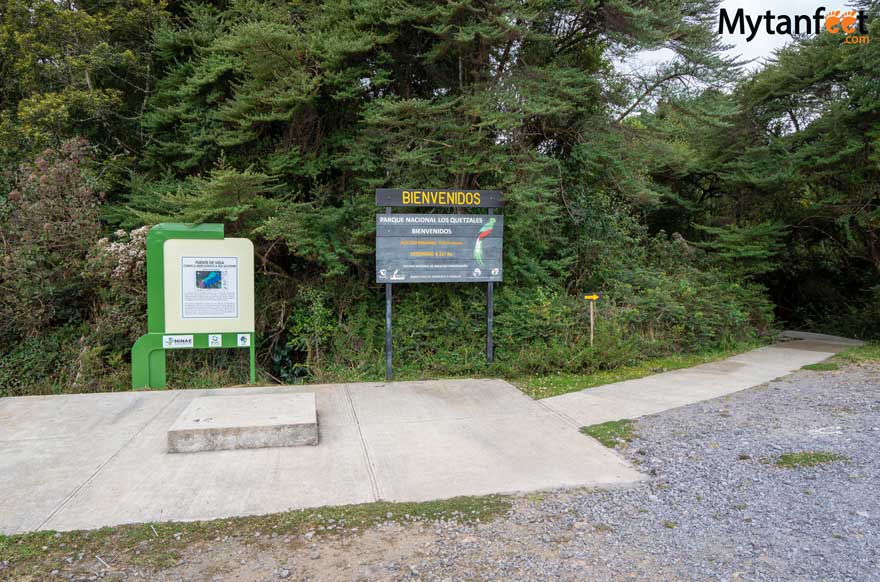 This trail has a concrete path the entire way and also has some metal stairs. The path is very well made and maintained, ending at a small clearing with benches.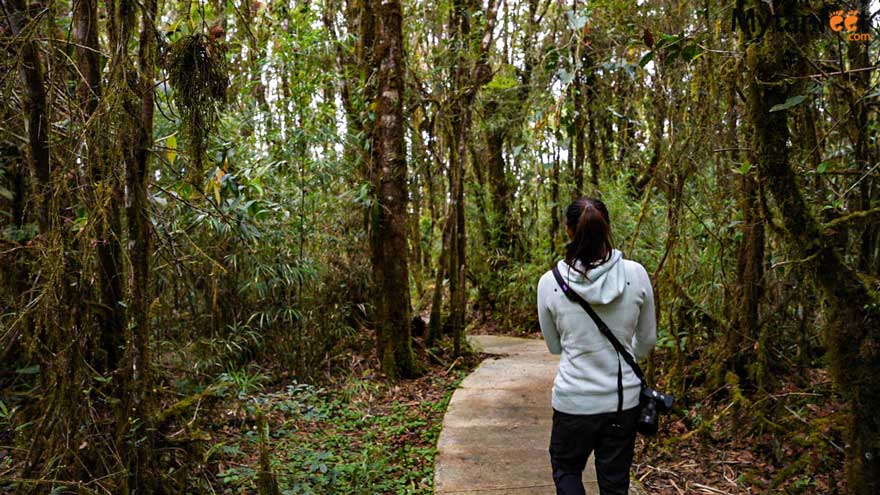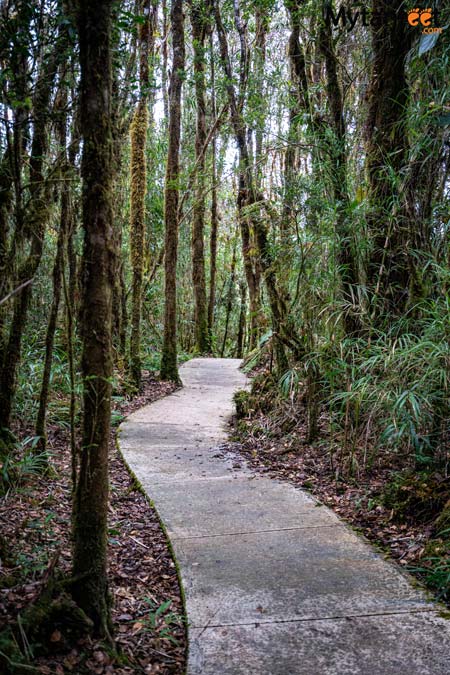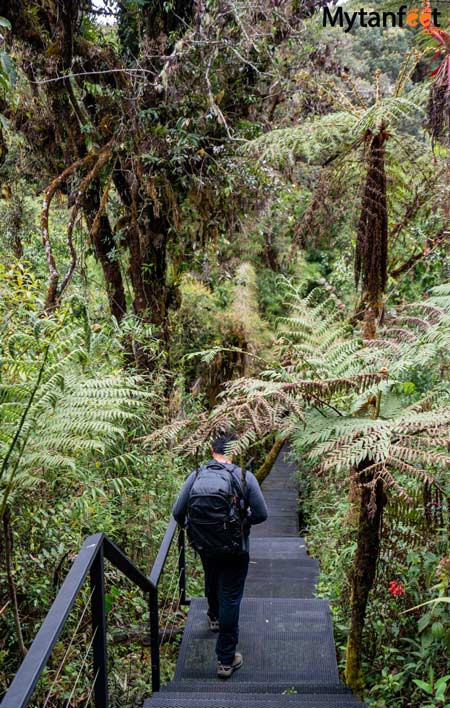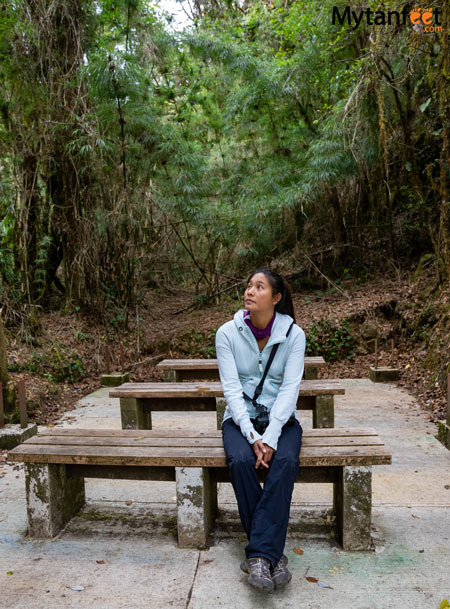 The Circular Trail is relatively easy. The park ranger told us that it's better to see birds on this trail than the other one.
We also hiked the other trail, Oro de Agua.
Trail Oro de Agua 2 km /1.25 mile, ~2 hours
This trail is outside the parking lot and office entrance. When you are facing the office, walk to the left along a road for about 5 minutes. You will see the trail entrance to the left.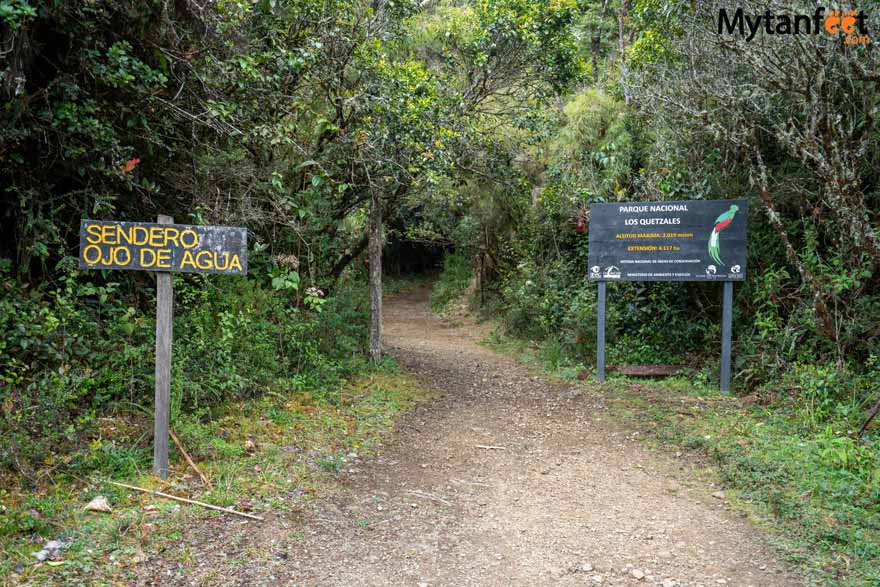 This trail goes through the secondary forest and is mainly used by students to study the flora and fauna. Unfortunately, there weren't any informational signs for this trail.
This trail is all dirt and has a little bit of elevation. Since it's linear, it ends in the forest similar to the other trail.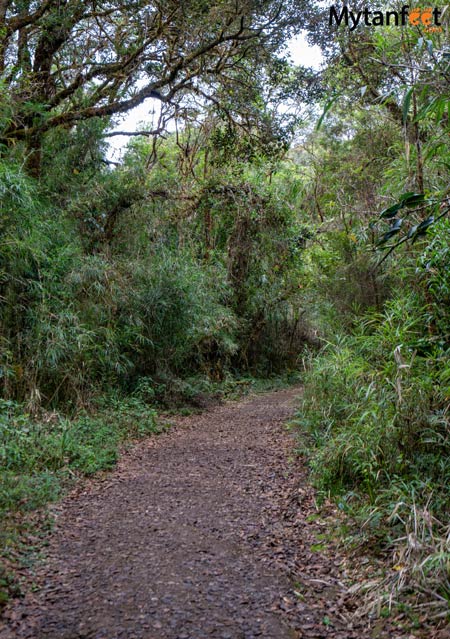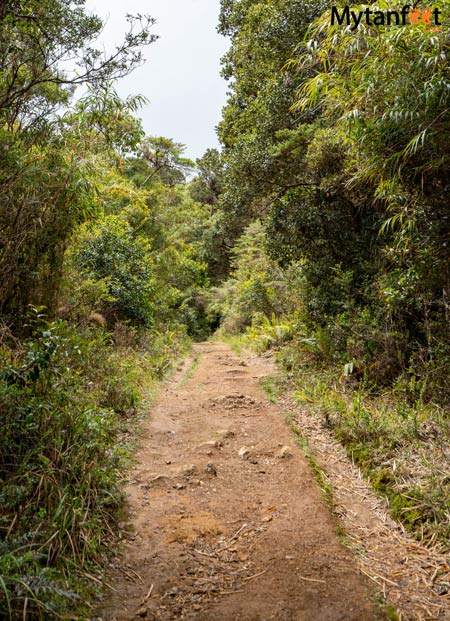 Due to the dirt paths of the trail and placement away from the park entrance, it feels a bit more "foresty" and remote. Unlike the Circular Trail, you can't hear any of the trucks or cars on the highway. On the Circular Trail, you can clearly hear the trailer trucks driving on the highway.
Los Quetzales National Park: Home to the Resplendant Quetzal
The national park gets its name from its most famous inhabitant: the Resplendant Quetzal. This gorgeous bird lives only in tropical cloud forests and birders from all over the world visit the Dota canton specifically to spot this magical green and red little bird. The Resplendant Quetzal is the national bird of Guatemala and Costa Rica has its own subspecies of the Resplendant Quetzal.
However, even though the Quetzal does live in this national park, they are not common to see due to the dense forest and short trails. If you want to see the Resplendant Quetzal or other birds, you must take a guided birdwatching tour which doesn't necessarily go to the park.
What to Know About Visiting Los Quetzales National Park
Here are some very important things to know to plan your visit to the park.
The park is around 3000 meters in elevation so hiking may be a bit tougher due to the thinner air and high elevation. Yeison and I are in fairly good shape and we had a rough time on the Oro de Agua trail, especially as we were carrying heavy backpacks full of equipment.
I recommend to do the short trail first or just the short trail.
We had very good weather in March but it is normally very foggy. Average temperatures in this area is around 12-17 C (53 F to 62 F).
Wear long pants, a sweater/jacket and closed toed shoes. I also recommend some bug spray because on the Oro de Agua trail, there were huge bugs that kept flying into my eyes. Not mosquitoes, but some other type of bug that was annoying. Find out what else you should bring in our Costa Rica packing guide.
There is a cafeteria and small convenience store right across the street called Chesperitos. We recommend to stop by there to get a snack afterwards or warm up with some coffee or hot chocolate.
There aren't any guides for hire at the national park entrance. If you want a guide for the national park, we recommend you to ask your hotel to arrange a guided walk for you.
Remember not to walk off the trail, do not touch, bother or feed the wildlife and take all garbage with you.
Our Thoughts About Parque Nacional Los Quetzales
Although the cloud forest is absolutely beautiful and magical, we personally don't think a visit to Los Quetzales National Park is absolutely necessary for a trip to the Dota canton. This is because the park doesn't offer that much to make it a "must do".
There is a lack of signage so you don't know what you're walking through. There aren't any informational brochures or pamphlets with a map and the one sign is only in Spanish. Despite the trails being well maintained, they don't end at anything that interesting like a view point or waterfall. Furthermore, they are relatively short compared to other national park hikes in the country. For us, the price of admission is a bit high for what it offers to tourists ($10 + tax per adult).
Overall, the national park didn't offer anything more special than what our own lodging offered. Our Airbnb had its own hiking trails on the property with beautiful forest viewpoints and easy birdwatching. Many lodges in San Gerardo de Dota and the area such as Trogon Lodge, Paraiso Quetzal Lodge and Savegre Hotel have more attractions on their property like the Savegre River and observation points/platforms.
We did appreciate the park's ample parking lot, friendly park rangers, nicely maintained trails and clean bathrooms.
We would recommend a visit to the national park if you are not staying in San Gerardo de Dota though. If you are just passing through the area and do not have plans to visit any other cloud forests in Costa Rica, then we do recommend a stop here to at least see and walk through the enchanting tropical cloud forest. Compared to the Monteverde Cloud Forest Reserve, this national park is way less crowded.
For example, if you are driving from San Jose – San Isidro de Perez Zeledon (via Route 2), you can stop by this national park on your drive. Or if you are basing yourself in San Jose for your entire vacation, you can rent a car and drive out to the national park for a day trip.
Read About Other Costa Rica National Parks Below!
Tenorio Volcano National Park (Rio Celeste): The national park near Liberia that is home to the sky blue waterfall and river
Cahuita National Park: A free national park that has hiking trails and white sand beaches on the Caribbean coast
Poas Volcano National Park: A national park in Alajeula home to the Poas Volcano crater and cloud forest
This post has affiliate links