Before you travel, you should always check the Costa Rica passport requirements. In this post, you will learn about Costa Rica entry requirements and Costa Rica passport requirements.
***Due to COVID-19, please read our Costa Rica coronavirus and What to know about visiting Costa Rica during a pandemic post for more information***
Costa Rica Passport Requirements
First of all, you need to have your original passport to enter Costa Rica. It has to be signed, must have enough pages for new stamps and cannot have rips, tears, smudges or holes. If you have a poor passport condition, they may reject it.
Costa Rica Passport Expiration Rules
Previously, passports needed to be valid at least 3 months within the expiration date to enter Costa Rica. And that is 3 months to the last day you are in Costa Rica.
However, in 2016, the Costa Rica Immigration changed the rule so that Group 1 (USA, Canada, European Union and other countries) passports need to have at least one day minimum validity. So your passport could expire in one week and you can still enter Costa Rica if you were going to be in the country for only 5 days. But if you stay for more than 7 days, then you will be in trouble.
You aren't allowed to travel on an expired passport or a passport that will expire during their time in Costa Rica. Many tourists tend to overlook the importance of the passport expiration date. They may not realize that if their passport expires while they're abroad, they will need to apply for an emergency renewal at their embassy or consulate.
My Recommendation
Despite this new rule, my personal recommendation is if you can, renew your passport if it's less than 3 months. Sometimes this kind of information is a bit hazy and not all officers may heed to it…so it's better to be safe than sorry.
If you plan to travel to Panama or Nicaragua, your passport has to have more than 6 months validity. Those countries are much more strict.
Tip: Also make a color copy of your passport and bring it with you in case you lose it or it gets stolen. I like to take a photo of my ID page and entry stamp to have on my phone too.
Costa Rica Entry Requirements (COVID-19)
Please check our Costa Rica COVID entry requirements post for the details.
How Long Can I Stay in Costa Rica and Do I Need a Visa?
*Important. Costa Rica as of Sept 2023 has now extended the tourist visa duration from 90 days to 180 days for Group 1 countries.*
How long you can stay in Costa Rica will depend on your passport country. Costa Rica separates countries into 4 different groups, each with their own requirements. Additionally, tourist visas range from 30 days to 180 depending on the group.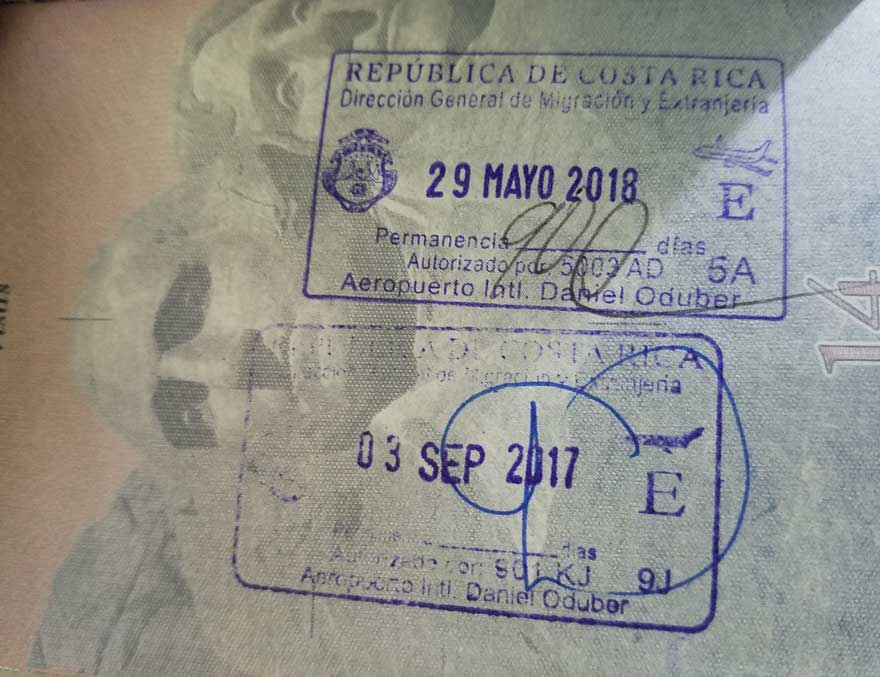 The maximum number of days for a tourist visa is 90 days for countries in Group 1.
USA and Canada passport holders
US and Canada passport holders do not need a visa or a consular visa to visit Costa Rica. Their tourist visa is valid for 180 days. Visitors will receive a stamp in their passport in immigration from the agent and a written number of how many days they are allowed in the country.
Other Group 1 countries are Germany, UK, Chile, Japan, Iceland, Mexico, New Zealand, South Korea, Switzerland, Singapore, Spain, Italy, France, Argentina, Belgium, among many others. Check with your passport country's Costa Rica embassy/consulate if you do not know what group your passport is.
Costa Rica Immigration
You can read this post on how to go through customs and immigration in Costa Rica (airport).
Costa Rica Embassy Website
To find out all the details for entry requirements to Costa Rica, make sure you check the Costa Rica embassy of your passport country for the most up to date information.
More Costa Rica travel tips below!
Pre paid sim card in Costa Rica
Mistakes to avoid in Costa Rica
Costa Rica Vacation Checklist