Finding accommodation in Costa Rica can be one of the toughest thing about planning a trip. There are all types of options from five star resorts to camping so whatever type of vacation you're looking for, Costa Rica has it. It's just finding them and staying within your budget that's the hard part.
In this post I'm going to outline and give tips for the various types of accommodation in Costa Rica to help you find the perfect one for you. Doesn't matter if you're a budget or luxury traveler or traveling solo, coming on your honeymoon or with your family, there are options for everyone.
Accommodation in Costa Rica
Costa Rica Hotels
Hotels are your easiest option. You can find hotels everywhere ranging from boutique B&B's, inns and villas. Many of the international chains are here as well like Marriott and Hilton.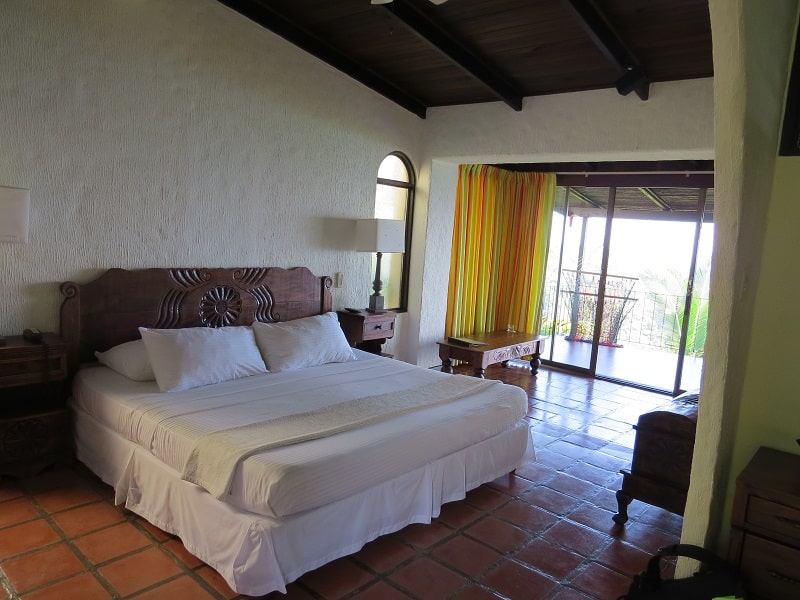 Tips for booking a hotel
First, look for hotels on the typical hotel search engines like Hotels.com or Booking.
Then, after you find a few you like, check the hotel's website first. Prices may be cheaper on their site than the booking site and during certain times of year, they may have promos or extra discounts by booking directly
If you book through the hotel's website, be aware that some hotels may ask you to fill out a form with your credit card information through their own system. Payment methods may be Paypal or credit card. Sometimes they may hold your reservation and you can pay in cash later
Hotels are more expensive during high season (find out more about high/low season and when is the best time to visit Costa Rica)
Pros for booking hotels
Many include breakfast and have free parking
Have tour booking services
Some of the upscale hotels have a car rental/shuttle service
Huge selection, easy to book online
Cons for booking hotels
Can get expensive for longer stays but you can talk to management to see if you can arrange a discounted price
Many budget hotels don't provide bathroom amenities
You can read all the reviews we have written on the hotels in Costa Rica we've visited. Looking for a hotel by the airport? Check our post about best hotels near SJO airport and best hotels near LIR airport.
Costa Rica All Inclusive Resorts
All inclusive resorts are a popular option for those who don't want to worry much on their trip. You can find all inclusive resorts in nearly every popular beach or city.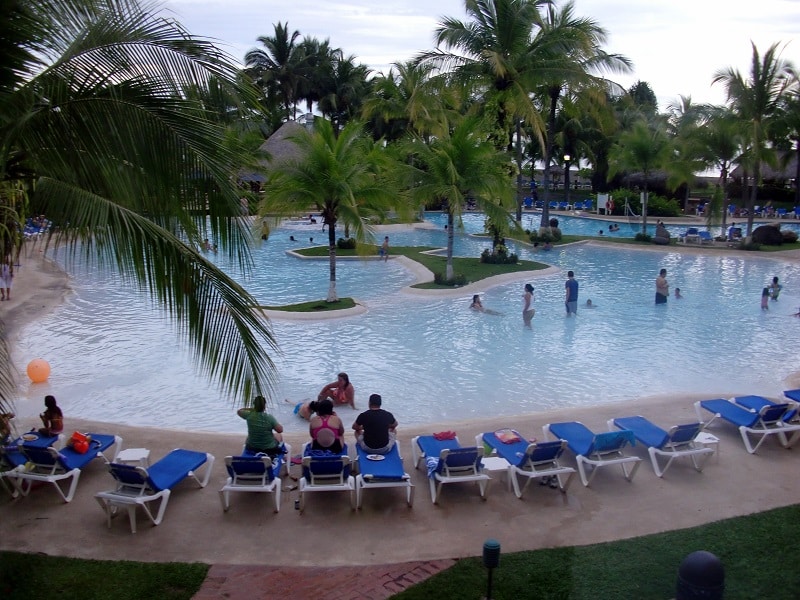 You can also book these on the hotel booking sites as mentioned above and they usually have good promotions during holidays.
Tips for staying at an all inclusive
Many all inclusives are "in the middle of nowhere" so get good directions if you are renting a car or arrange transportation with the resort before
You can book tours through the resorts.
Try to go outside of the resort at some time to explore more of Costa Rica
Check out our list of the best all-inclusive hotels in Costa Rica.
Hostels in Costa Rica
Hostels are ideal for budget or solo travelers to save on accommodation and meet new people. Even if you're not keen on dorming it with 12 other travelers, most hostels have private rooms.
Some hostels aren't advertised on hotel booking sites so if you're flexible, you can walk around town to find the them. Make sure to check websites like HostelWorld in case you aren't flexible and want to book in advance.
There are two times of the year when it would not be wise to arrive without a reservation: Christmas/New Years and Semana Santa (Easter week). These are the two peak times of the year so places book up weeks in advance and are pretty expensive.
Some hostels organize tours so it's easy to meet fellow travelers. Another pro is that they are usually in a convenient location such as in the center of town or on the beach. You can read this post here on the best hostels in Costa Rica.
Costa Rica Airbnb and Vacation Rentals
We've used Airbnb many times and it's been great. One of my best friends used Airbnb to rent a whole apartment with two bedrooms, two bathrooms, fully furnished kitchen, living room, pool, security, AC and wi-fi for $50 USD a night in Playas del Coco.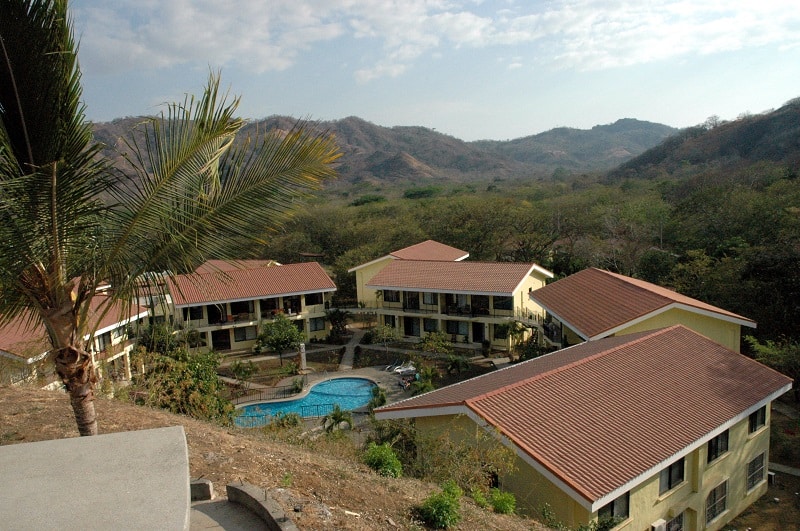 This is a wonderful option for longer stays or bigger parties who don't want to stay in a hotel. There are quite a few apartment/neighborhood complexes that have vacation rentals for a good price.
You can find all sorts of rentals from a whole apartment/condo or a bedroom in someone's home. VRBO is another option. Click here to read our post about tips for using Airbnb in Costa Rica.
We love using Airbnb and have stayed at some really great ones in Costa Rica. Read about our Airbnb in Arenal and Monteverde Airbnb experiences.
Tips for booking vacation rental
Always do your research when using sites like Airbnb. Make sure to email the owner any questions you have and arrange when to pick up keys, check out, etc.
Make sure to get the owner or manager's contact information in case you have any emergency or need anything. The manager may not live in the vicinity.
Get a Costa Rican prepaid SIM card or international data so you can call/email the host in case you have questions.
Pros for vacation rentals
Homier with kitchen, living room, etc. Great for families
More space
Ideal for bigger parties who don't want to be separated by hotel rooms
Wallet friendly, you can make agreements with the owner for long term stays
Usually the owner/manager is a local or someone who has lived there a long time so you can ask them for tips
Many of them are in a complex or neighborhood so you can make friends
Cons for vacation rentals
No maid service normally
Help is not usually readily at hand so you need to arrange pick up, check in, check out, etc. yourself
Many require a car as they are in local neighborhoods
You won't be able to book tours like you would at a hotel (normally). Some hosts do, make sure to ask.
Eco Friendly Lodges
Since Costa Rica focuses heavily on being eco-friendly and using renewable resources, eco-friendly lodges are becoming more common. Costa Rica ranks businesses using a system called CST, or Certification of Sustainable Tourism and they range from 1-5 leaves.
5 leaves means the property is completely self sustaining and use green practices such as recycling oil, generating their own biodiesel and biogas and saving water. Some eco-lodges with 5 stars in Costa Rica are Buena Vista Lodge, Casa Corcovado Jungle Lodge and El Remanso Lodge.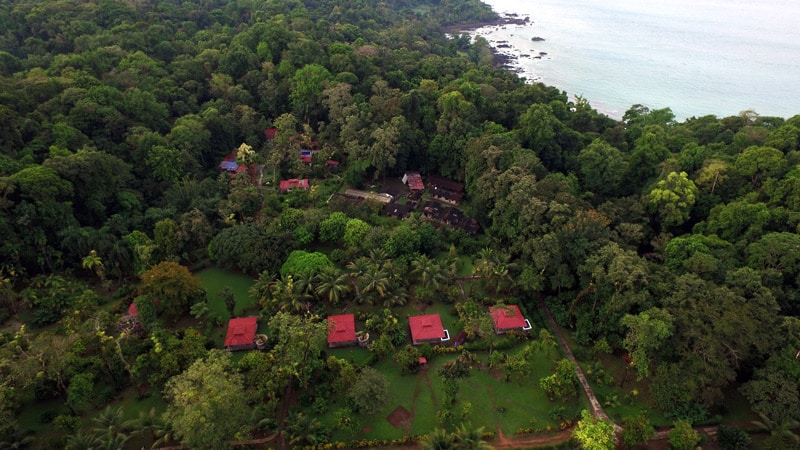 However, these lodges with 5 leaves can get very expensive, depending on their location. Hotel Capitan Suizo in Tamarindo has 5 leaves and starts around $350 a night. Then Bosque de Cabo Rainforest Lodge near Puerto Jimenez is around $400 a night. Hotels with 1-3 leaves are cheaper.
Something that may surprise you is that many of the high end hotels have 5 leaves. Andaz Peninsula Papagayo, Arenas del Mar and even the Occidental Langosta has 5 leaves. So even if you're staying at a very high end hotel or even an all-inclusive, you can have peace of mind that they are self-sustainable and eco-friendly.
Glamping
Glamping is growing slowly in Costa Rica and you can find some glamping resorts in the country. This is luxury camping so you can be close to nature but in luxury and comfort.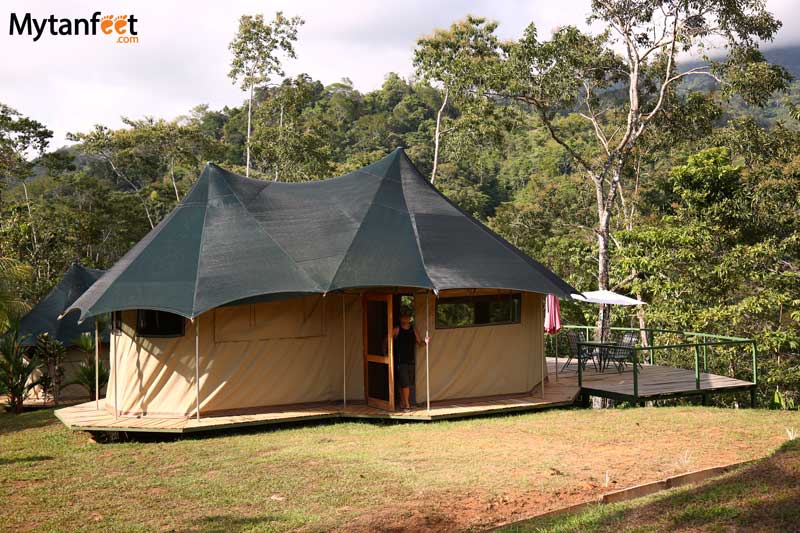 We have gone glamping at Manoas, a beautiful resort in Uvita. There is also Chira glamping in Monteverde, La Leona Eco Lodge in Osa Peninsula, Flor y Bambu in Playa Grande, Driftwood Glamping Hotel in Playa Guiones, Faith Glamping Dome in Manzanillo and a few others.
Costa Rica Housesitting Opportunities
Housesitting is becoming more popular in Costa Rica especially with the amount of snowbirds and retired folk who need sitters to look after their homes when they go back up north. There are several websites to find housesits such as Trusted Housesitters.
We found a housesit in March 2015 through Trusted Housesitters in Playas del Coco for a month. Also got to take care of two cute kitties!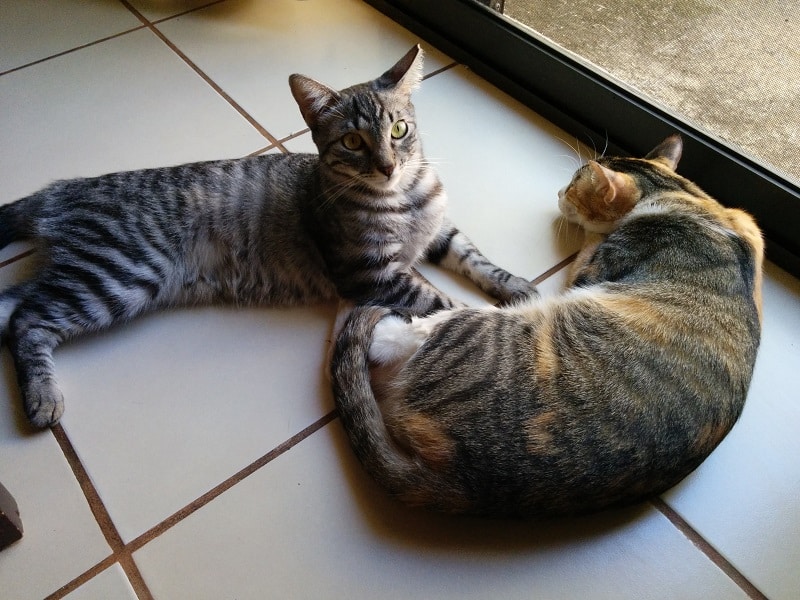 For people who plan to stay in Costa Rica for a long period of time, this a good option since it is free accommodation. Tip: it's easier to find house sits during rainy season (more about Costa Rica's seasons here).
The logistics of your house sit will be completely up to you and the owner. Some people pay a deposit, some people get paid, some people pay absolutely nothing.
Pros for housesitting
Free rent or only pay utilities
Make new friends
Great way to learn more about the lifestyle and living situation in that area
Pets! If the owner has pets, you get free pet cuddles
Sometimes the owner will let you use their car/bikes
Cons for housesitting
If there are pets, you are responsible for the animals. That's a big responsibility.
Restricting if you want to travel since you need to be there to take care of the home, especially if it has plants to water, pets, etc.
You're in charge of the home and everything that comes with it including any gardening, maintenance and upkeep. Not quite like a hotel where you aren't responsible for anything
Must research, plan and talk to the owners in advance. Some owners post their house sits months in advance, sometimes they post it a couple weeks before
Couchsurfing in Costa Rica
Couchsurfing is also another option in Costa Rica. Though it's not quite as popular as some other countries, you can go to Couchsurfing.org, make an account and see who has a couch available.
There are a handful of people on Couchsurfing who offer their home for free to travelers and most of these people do it because they want to meet new people. Great option for budget or solo travelers.
Make sure to lay down the ground rules before you go and coordinate schedules so you're not completely disrupting your host's life.
Pros for couchsurfing
Free!
Meet interesting and like minded people
You can ask your host for tips and recommendations
Sometimes your host will take you around to the local spots
Learn about the culture (if staying with locals)
You'll have someone to help you out
Cons for couchsurfing
Sketchy people are everywhere. Contact the host, read reviews, get to know each other a bit before you confirm
Hosts are allowed to change their mind whenever (you aren't paying after all) so confirm everything a few days before
Not ideal for families or big parties
Less privacy and can be a bit awkward if in close quarters or yknow… your host is a bit weird
Are you OK with sleeping on a couch? (hey everyone has different standards)
Alternative Options
There are also some interesting alternative accommodations in Costa Rica like treehouses, bungalows and hammocks. Finca Bella Vista is a popular tree house camping in Osa Peninsula, there is a tree house hotel in Arenal and Samara as well.
Camping is getting more popular, especially overlanding. Rent an outfitted 4×4 from Nomad America, drive around Costa Rica and camp in the rooftop tent. There are a lot of empty beaches on the Guanacaste and Nicoya Peninsula that are popular for overlanders!
For traditional camping, there aren't many dedicated campsites in Costa Rica but you can use the iOverlander app to find them. We have seen campsites at Pochote beach and lots of people free camping on Playa Montezuma. You can technically free camp at the beach, just know there aren't facilities or security. Some hostels and hotels offer a camping space on their property which we recommend to do instead.
Which One is Right For You?
Finding accommodation in Costa Rica is easy, it's about finding the right one for you. In the end, it depends on your needs and wants. For solo travelers, couchsurfing and hostels are the ideal choice. You have more chances to meet other travelers and new people, plus they're cheaper.
For families, apartment rentals and all inclusives are more appealing. You'll have more space, more things to do for the whole family and parents will have the comforts of home.
Read more Costa Rica travel tips!
How much it costs to travel in Costa Rica
Tips for saving money traveling in Costa Rica
How to pack for rainy season in Costa Rica
Disclaimer: This post contains affiliate links.