If you want to visit a more local beach in Guanacaste, check out Playa Prieta. This small beautiful beach is very close to more popular beaches of Conchal, Flamingo and Las Catalinas so if you want to get away from the tourists, head over to Prieta.
It's an excellent beach to mingle with locals so we highly recommend it for a chill beach day. Here is our guide so you can find out how to visit.
Map
Playa Prieta map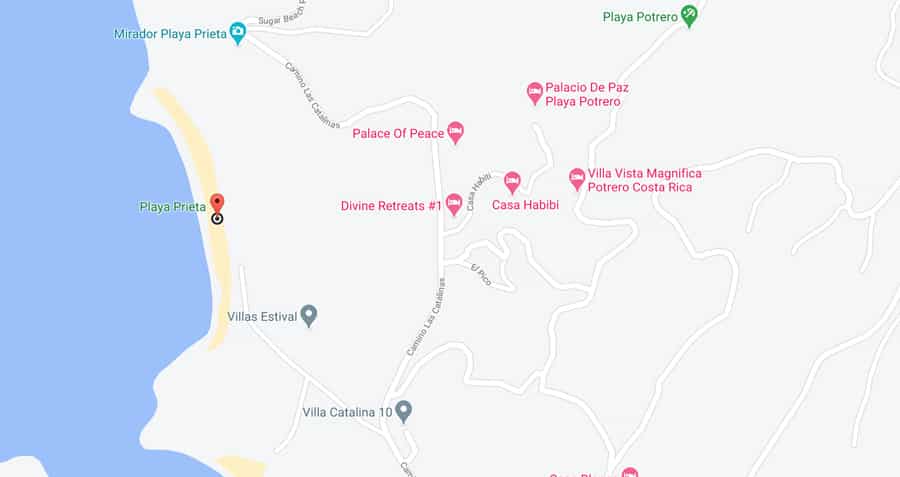 Playa Prieta is 36 kilometers (22 miles) from Liberia International Airport (50 minute drive), a 40 minute drive from Tamarindo and a 15 minute drive from Flamingo.
How to get there
Playa Prieta is in between Las Catalinas and Potrero. When you are driving to Las Catalinas from Potrero, Look for a small sign that says "Playa Prieta, drive carefully. Villas Estival" on the left hand side. Turn left here to go down an unpaved road to the beach.
You can find Playa Prieta on Google Maps and Waze.
There is also a walking trail between Playa Penca and Prieta. You can park at Penca and walk to Prieta (there is a sign). Not too long of a walk. Good option if you don't have a high car.
Parking
They have now blocked off the parking directly at the beach. You will have to park at the small lot about 30 meters from the beach. No parking fee.
There is a "watchman" wearing a yellow vest sitting near the parking lot but this parking lot is not completely secure. Don't leave any valuables in the car, roll up windows and lock your doors.
4×4 required?
Although the main road to this beach is paved, I would recommend a high car, especially in rainy season. It doesn't necessarily have to be 4×4 or 4wd, just at least a high car.
The turn off the main road is a steep drop onto a unpaved, not well maintained road. You could easily hit the front in a low car. It will be difficult to drive up the steep drop too.
When we visited in July, all the cars in the parking lot were high car. We saw a Toyota Landcruiser try to drive out of the parking to the main road but he had to reverse and turn on the 4×4 as one of his tires got stuck in a pothole on the hill.
Can you swim at this beach?
Yes! When we visited in July, this beach had baby waves which broke close enough to shore that a lot of locals were skim boarding at one end. Normally the waves at this beach are fairly calm and we saw many people swimming.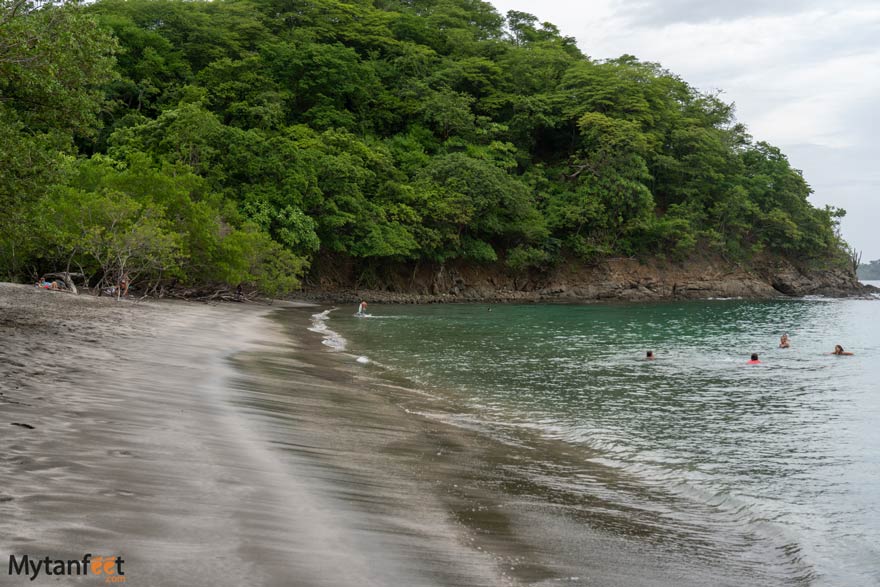 There are some times of the year when there is a swell or high winds when the waves get rough and break hard. So just be careful if you swim.
Playa Prieta – the beach
This beach is not very big and you can walk from end to end in about 10 minutes or less. The tanish sand, shady trees and green water is absolutely beautiful and is a wonderful beach to visit with friends and family. It's very popular with locals so on weekends, you'll see lots of local families and kids having fun.
We took our two dogs here and they had a ton of fun playing in the waves, running around and saying hi to everyone.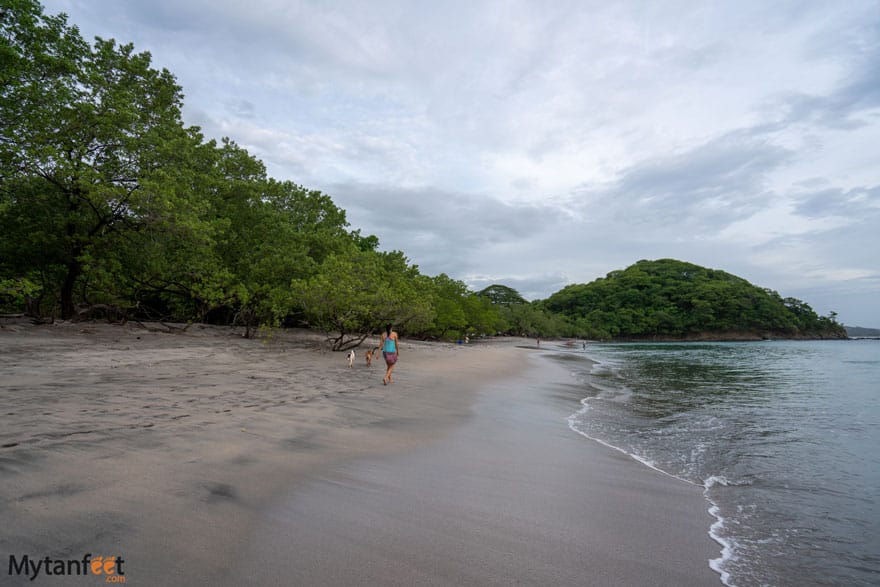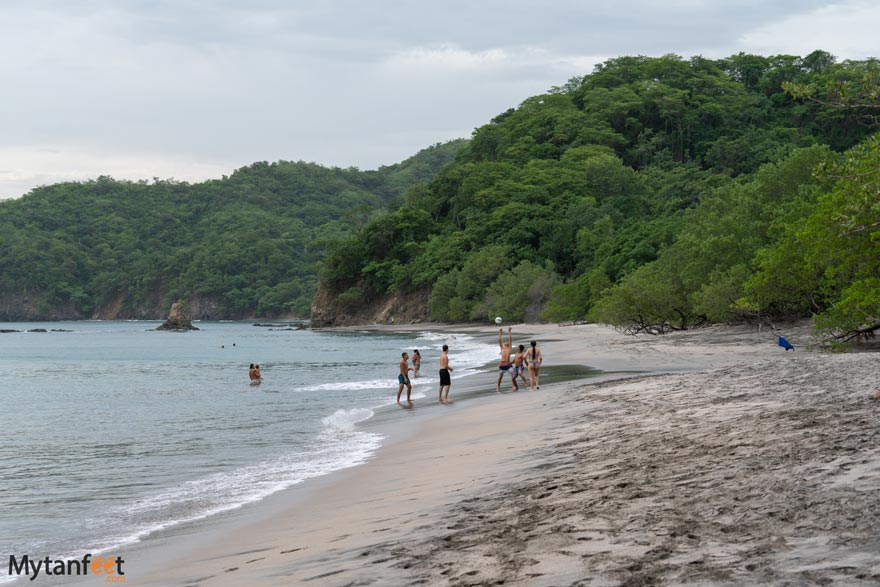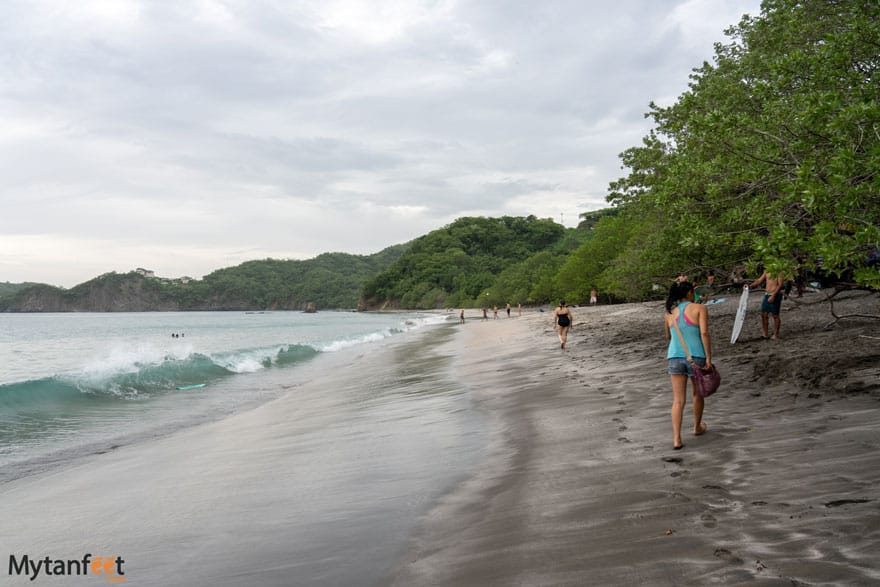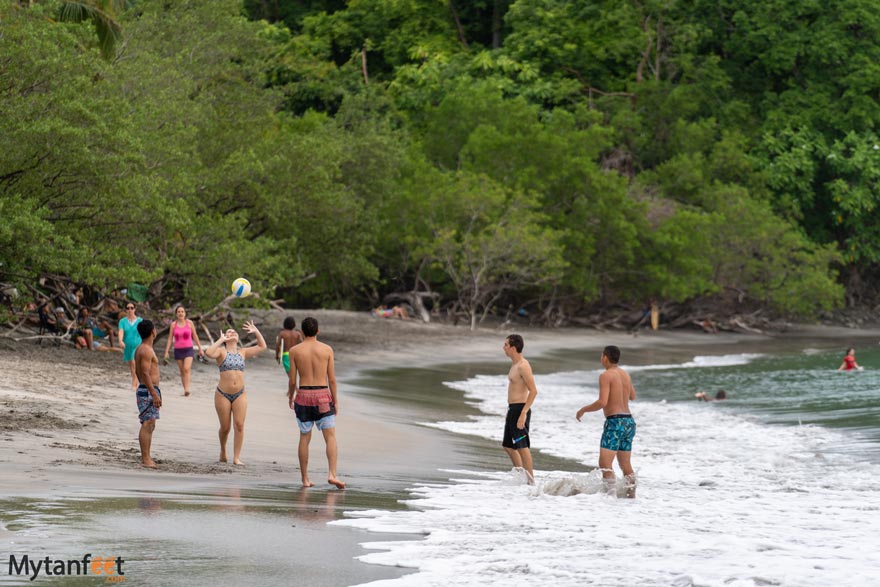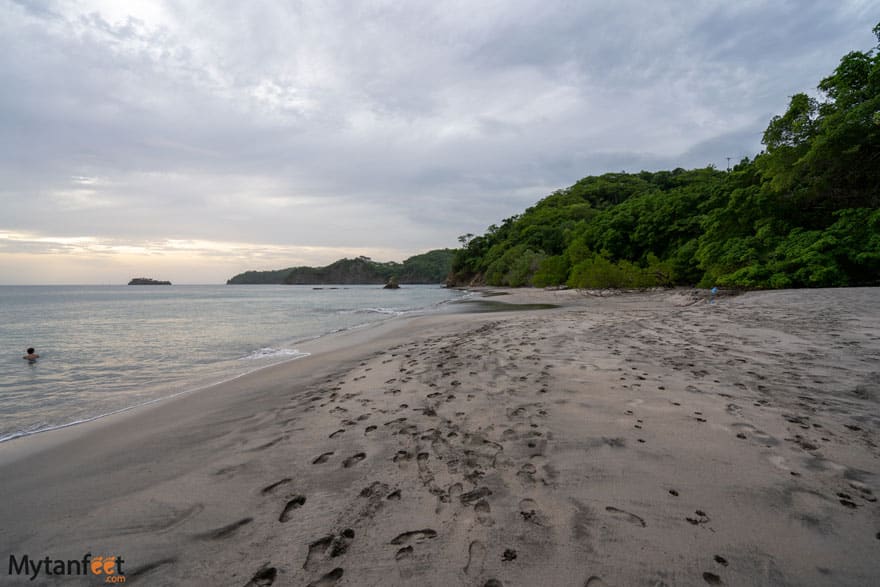 We visited in July so the trees were so green and water was clear. We didn't see anyone snorkeling but you could probably try on the north side of the beach where the rocks are.
In the photo below, you can see what the beach looks like in March, the peak of dry season!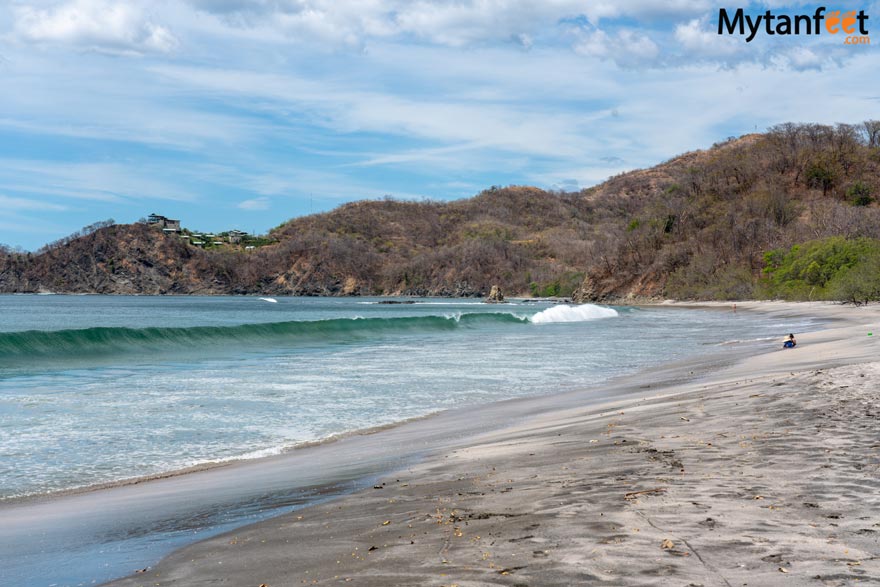 Viewpoint
If you keep driving up Las Catalinas, there is a spot where you get a nice view of Playa Prieta.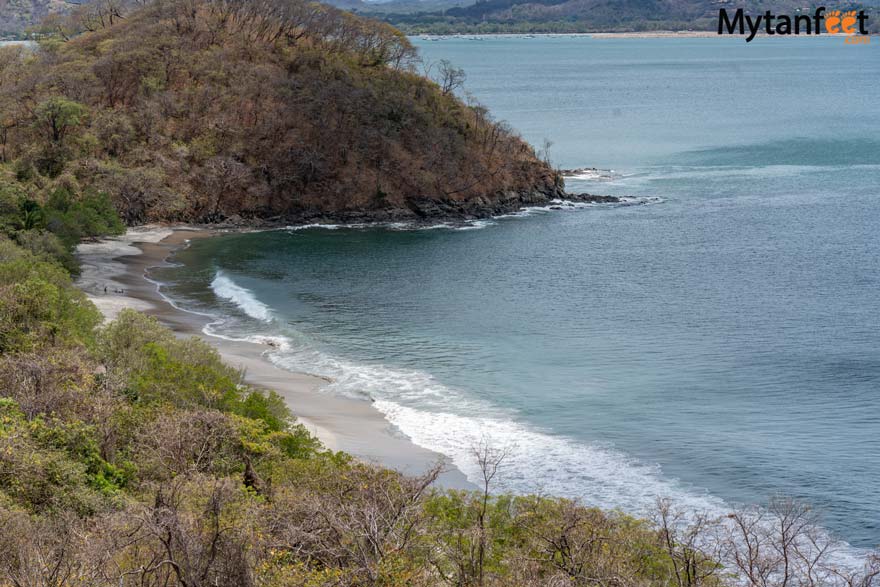 Here is an aerial photo we took of Sugar Beach and Prieta (the small beach in the middle). The far right is Playa Penca.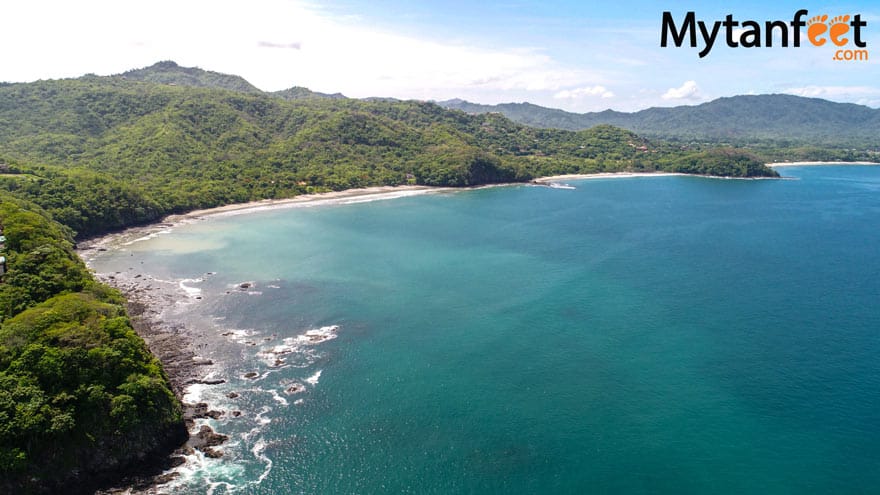 Other Things to Know
No facilities so bring food, water, towels.
Gets busy on weekends and holidays. Lots of locals like this beach.
There are some villas for rent at this beach (Villa Estivals) if you want to stay here. If you want to stay at a nice hotel, check out Casa Chameleon Las Catalinas. It's about a 5 minute drive to Prieta.
The main road that goes to Las Catalinas doesn't have a sidewalk and it's a narrow curvy road. If you walk to this beach, be careful when walking.
You can free camp here (didn't see any signs that say no camping). There aren't facilities so just make sure to keep up after yourselves and lock your doors.
Video
If you want to see other beaches in the area, check our video below! We go to 5 beaches in the Potrero and Las Catalinas.
Read about other beaches like this one!
Playa Hermosa (Puntarenas by Uvita)
Playa Linda (by Dominical)
Penca (Potrero)
Playa Real and Bahia de los Piratas (In Guanacaste near Conchal)
Playa Mina (by Conchal)
Rajada (in La Cruz/Salinas Bay, northern Guanacaste)
Playa Punta de Pelencho: in Northern Guanacaste between Flamingo and Brasilito
Puerto Viejo (by Conchal)
There is an affiliate link in this post.