Playa Conchal, best known for its bright turquoise waters and sparkling shells offers visitors everything they could hope for in a beach vacation. With dreamy sunsets, crystal clear waters and close location to other beaches, Conchal is perfect for either a one day visit or a longer stay.
For those spending more than 1 day and want to add some fun and excitement to their beach bum days, there are plenty of things to do in Playa Conchal and nearby. If you're visiting for a day, here is our list of 5 fun things to do in Playa Conchal, right on the beach. If you're staying at the Westin Playa Conchal, there is a list of day tours from Playa Conchal below.
5 Things to do in Playa Conchal
Jet Ski
Feel the wind in your hair and spray of the ocean on your face as you jet around Brasilito Bay and to other beaches. There are so many incredible beaches in the area that are ocean access only so hop on a jet ski to explore the golden coast of Costa Rica.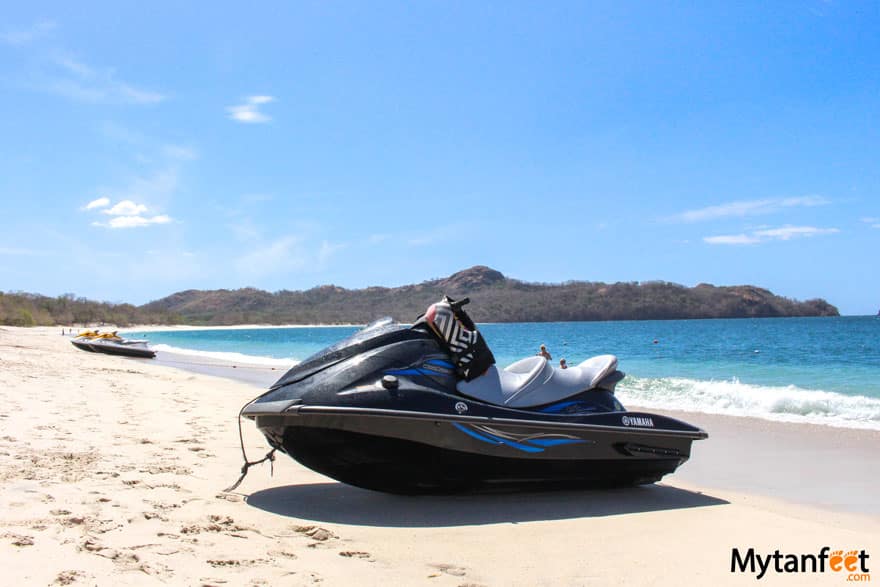 You can take a guided jet ski tour or rent them to go on your own, right on the beach. Guided tours are around 2 hours or you can rent by the hour and by the type of jet ski (single/double). They start around $60 per hour for a jet ski rental on Playa Conchal.
Massage on the Beach
What is more relaxing than getting a massage on the beach? Soothe your sore muscles to the calming sounds of the waves as you can find several massage stands run by locals.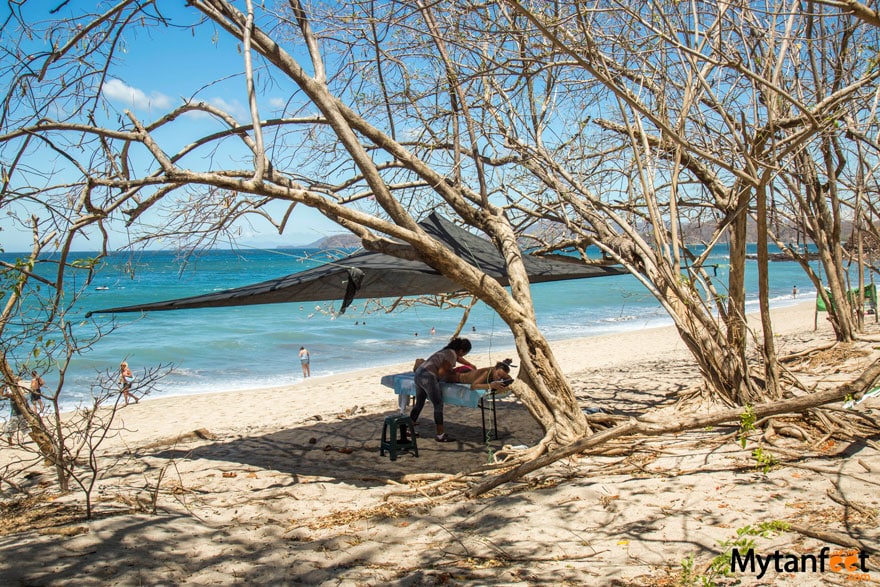 They're pretty cheap and not bad, you can get massages for as low as $20 an hour! It's definitely not as nice as going to an actual spa and it is pretty hot, but it's a cheap massage.
Snorkeling
Though the waves can get a bit rough at Conchal, there is a nice reef at the northern end of the beach that's good for snorkeling. You can find snorkel sets for rent all along the beach so you can swim with colorful tropical fish in clear water.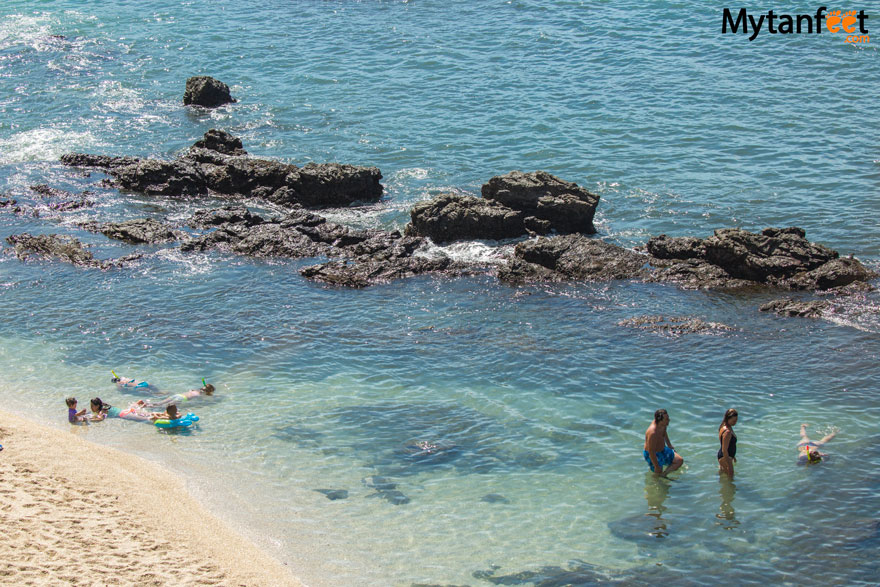 The snorkeling isn't the best at Conchal even though the water is clear. Since there are only a little bit of rocks on the north end, you may be able to see some colorful fish and if you're lucky, some manta rays. For better snorkeling, you'll need to go out into the ocean on a snorkeling trip.
Beach Hop
I know Playa Conchal is so beautiful that you may not even think about visiting other beaches, but I definitely recommend it. All the beaches in Guanacaste are so different! Right next to Conchal is Playa Brasilito, the beach people have to cross if they are not staying at the Westin and it's the complete opposite of the white shell beach.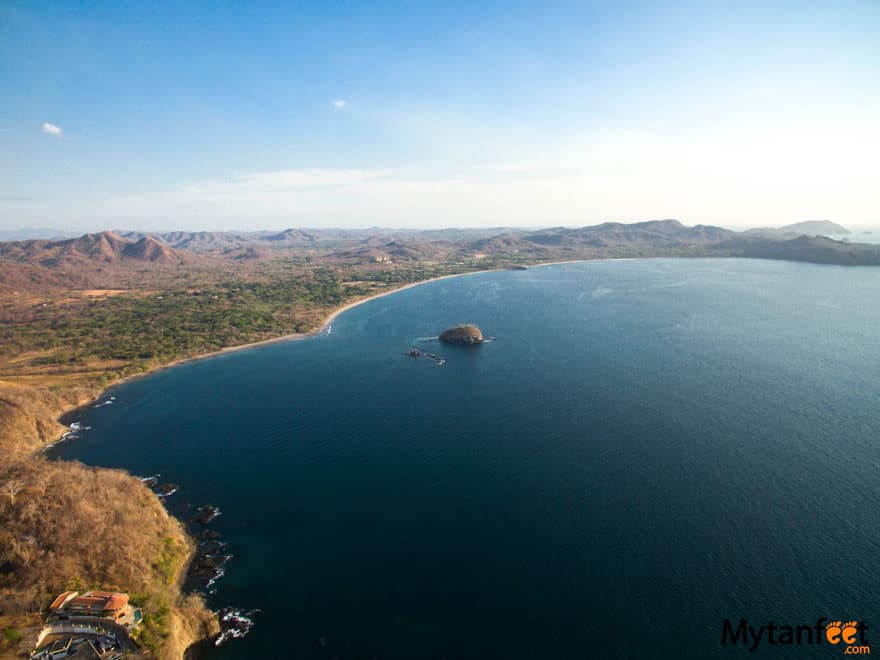 You can also walk all the way down to the south end of the beach past the reserve. You'll see an estuary which is part of the reserve and then you'll notice the beach changes a little bit. The sand and water are a bit different. Locals call this area "Puerto Viejo" and it's not very crowded because mostly locals go there and it's not as "pretty" as the main part of Conchal but for a different beach experience, all you have to do is walk towards that end.
Golf
Golf isn't everyone's cup of tea, but if it's yours, then you have to tee off at the golf course inside Reserva Conchal. This championship 71 par course offers not only an awesome golf experience but excellent views of the tropical dry forests.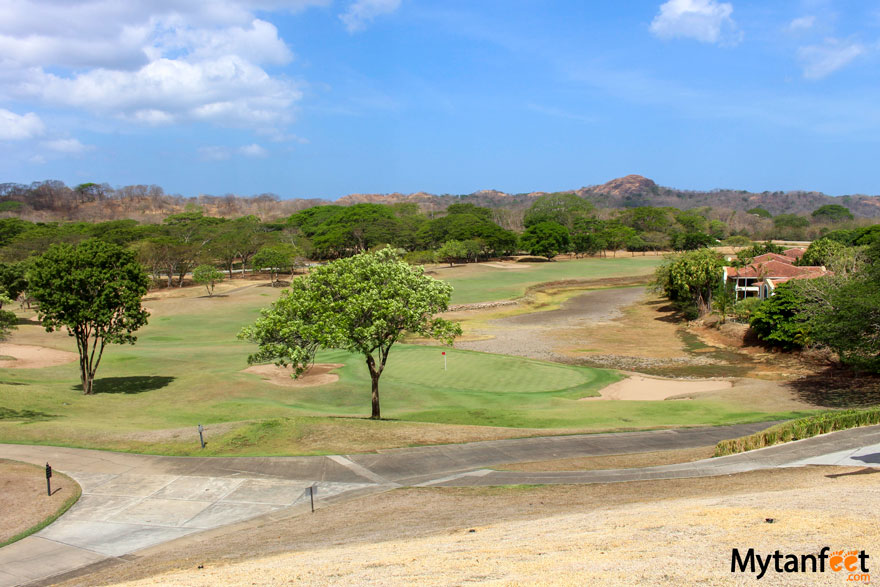 Some of the 18 holes in this golf course run alongside the beautiful Conchal beach and through the forests, utilizing the stunning Costa Rica scenery and landscapes. It was designed by notable golf course architect Robert Trent Jones Jr so you know the course is one of a kind!
Day Tours from Playa Conchal
For those of you who are staying at the Westin Playa Conchal as your homebase in Costa Rica, you're probably looking for some excursions. Luckily Conchal is in a good location to national parks, natural attractions and beaches so there are plenty of fun full and half day trips perfect for couples and families. Here are our favorite day trips from Westin Conchal.
Guachipelin Combo Tour
This is one of our favorite tours in Costa Rica, the Hacienda Guachipelin adventure tour. It's a full day of fun on a large property at the foot of Rincon de la Vieja volcano that consists of ziplining, horseback riding, white water tubing, lunch, hot springs and mud baths.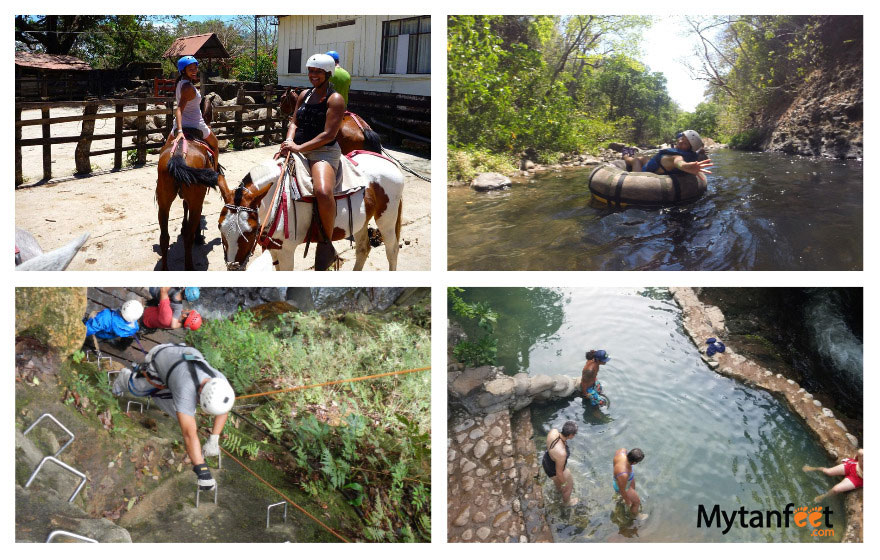 Tours from Conchal start at around $140-150 per person and it's an all day activity. If you have a car, you can drive yourself and the tour is around $98 per person.
Nicaragua one day tour
Conchal is only a couple hours from the Nicaraguan border so if you want to check out another Central American country, go on the Nicaragua one day tour to see the highlights of the country.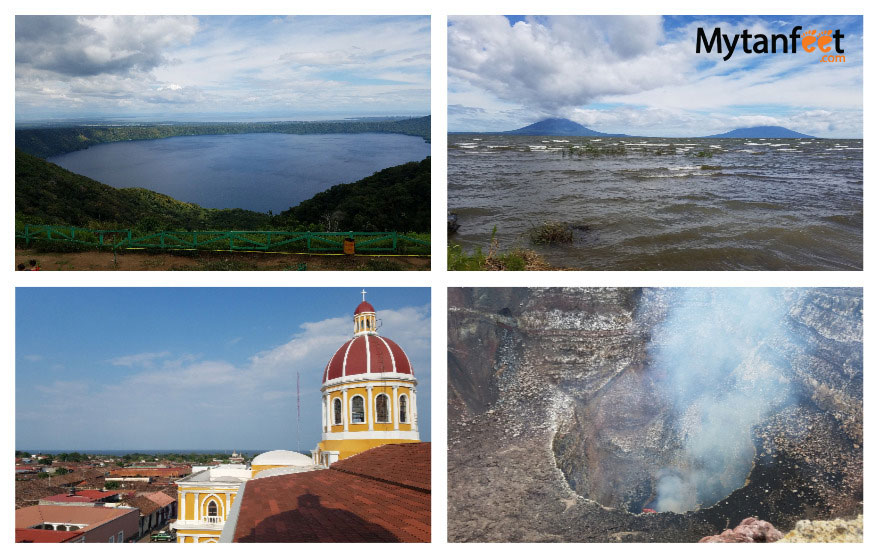 The tour takes you to Masaya Volcano National Park, Laguna de Apoyo, Granada and Masaya market. You'll see lakes, volcanoes, a local market, the colonial town and go on a boat ride around Lake Nicaragua. You see the best of southern Nicaragua in one day!
Get $10 off the Nicaragua one day tour from Conchal below!
Click here to get your Nicaragua one day tour discount
Arenal one day tour
For the ultimate volcano and rain forest experience, head to Arenal. This lush area has primary and secondary rain forests, waterfalls, hot springs and of course, the impressive Arenal Volcano, the only volcano in the area that you can see a "cone" shape. Arenal is one of our favorite places and although we recommend staying a couple nights in the area, you can take a one day trip if you don't have time.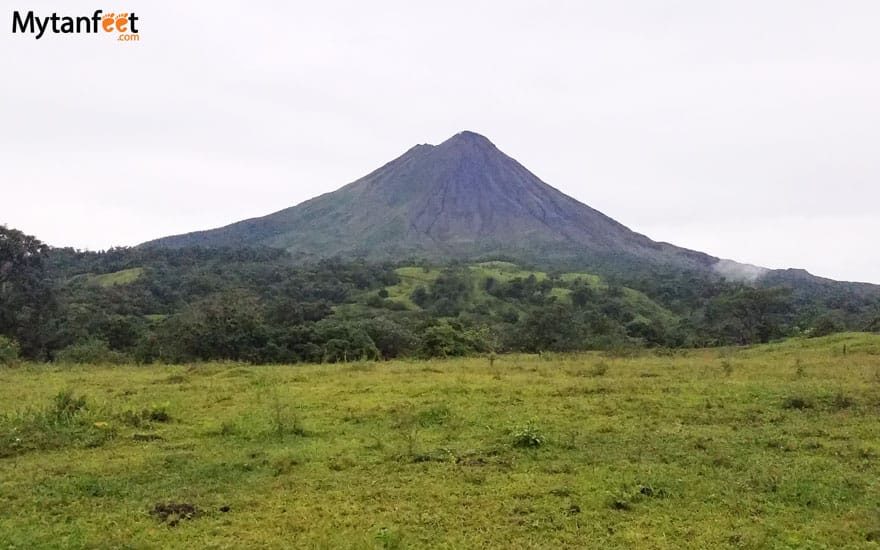 One day tours usually consists of a walk through the national park/rain forest/hanging bridges, the waterfall and hot springs but you can personalize it with the tour company to how you want. It's not a cheap one day tour but since it's about a 4 hour drive from Conchal and everything is included, it's worth it. Day trips to Arenal start at around $170 per person, minimum 3.
Diamante Eco Adventure Park
Looking for an extreme adventure activity? Why not go ziplining! Although there are a few small canopy tours around Conchal, the most exciting one is at the Diamante Eco Adventure Park, about 1 hour from Conchal. This canopy tour only has 4 cables but the second one is a nearly mile long, ocean view zipline!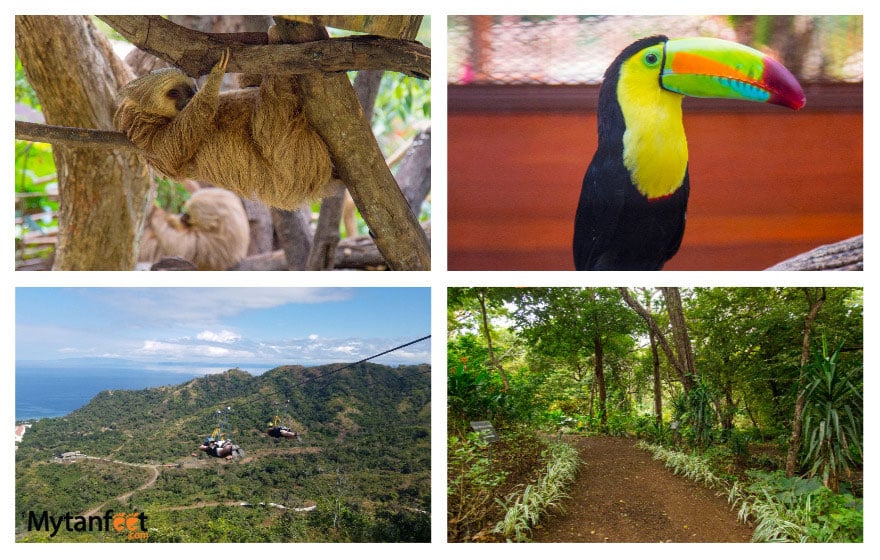 They also have an animal sanctuary where you can see sloths, ATV tours, horseback riding trails and a botanical garden so you can spend all day at the park doing different activities. The Adventure Pass has ziplining, animal sanctuary, botanical garden and water activities or you can do their ATV/horseback riding tour.
Read our experience at the park and get 10% off ANY activity at Diamante Eco Adventure Park!
Las Catalinas Scuba Diving
If you have your scuba diving certification, you can take a 1 or 2 tank dive out to the Las Catalinas islands, one of the best places in Guanacaste for scuba diving. You can see turtles, manta rays, large fish, sharks and lots more.
Palo Verde/El Viejo boat tour
If you want to see wildlife, the Palo Verde National Park is an excellent option. One of the biggest rivers, the Rio Tempisque runs through the national park and is home to dozens of migratory and non-migratory birds, monkeys, caimans, crocodiles, iguanas and much more. You go on a 2 hour boat ride down the river to see wildlife and explore one of the most important ecosystems in the country: the dry tropical forest.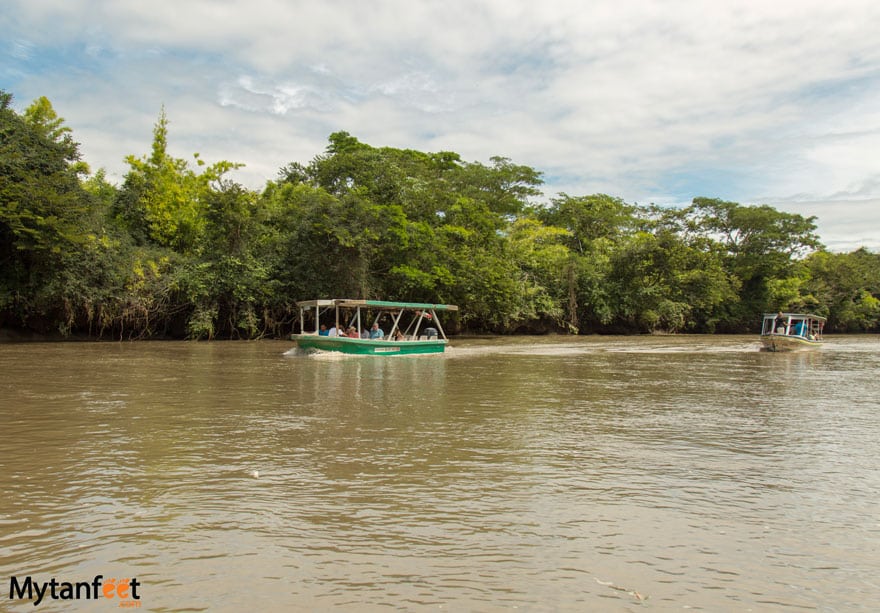 You can go to Palo Verde National Park or to  Hacienda El Viejo (get 7% off!) wetlands for a boat cruise. We like both of them but personally prefer El Viejo wetlands as it is not as crowded as Palo Verde, the boat goes on the same river but you don't see many other people. Additionally, they have a local house where you can learn about the traditional ways of cooking and living and a rum tour! If you have a car, we highly recommend Hacienda El Viejo. If you don't have a car and need to book a tour, it will be easier to go to Palo Verde.
Deep Sea Fishing

You don't have to go super far from Conchal for great fishing. Deep sea fishing is excellent from the Conchal area and you can catch fish such as wahoo, grouper, snapper, sailfish and others. There are quite a few fishing charters in the area such as ConchalFun but you can also book a charter from the bigger towns of Tamarindo and Flamingo and they'll pick you up in Conchal. Some recommendations are Tamarindo Sport Fishing, Dream On Sport Fishing and Billfish Safaris.
Surf Lessons Tamarindo
Want to learn how to surf? You have to take a surf lesson at Tamarindo then! You can book it as a tour or go on your own.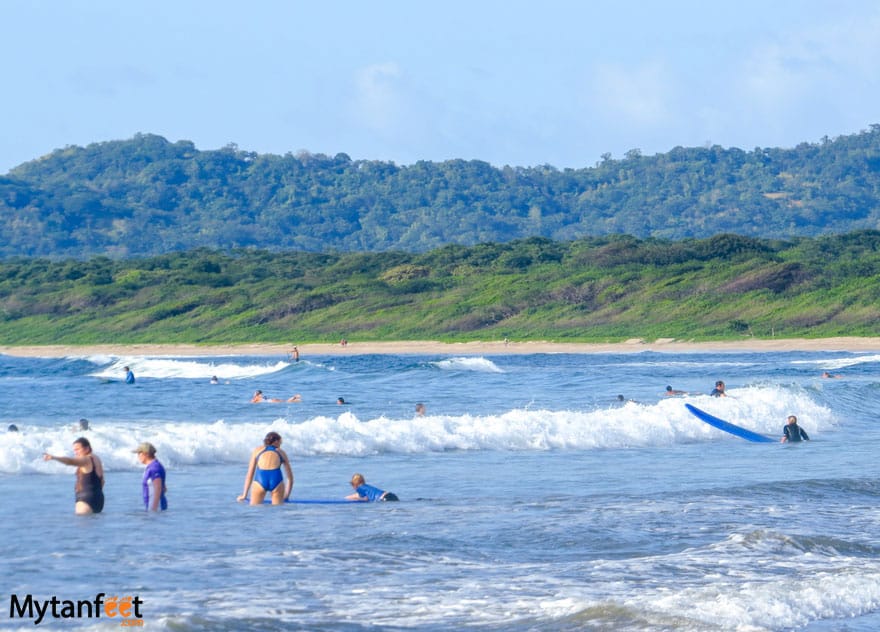 White water rafting
Looking for some outdoor adventure? Go white water rafting at Rio Corobici or Rio Tenorio in the mountains of Guanacaste! Paddle through Class 3 rapids in the beautiful dry tropical forest landscapes. Rios Tropicales operates the Rio Corobici rafting tour and they also operate the Rio Pacuare white water rafting tour (the best white water rafting in Costa Rica) if you will be in San Jose, Puerto Viejo and La Fortuna.
ATV Tours
There are many ATV tours from Conchal and I recommend booking the tour with a tour company beforehand. Swiss Travel offers ATV tours from the tour desk in the Westin or check out ConchalFun tours. They offer 2 hour tours through the hills around Conchal for beautiful views. You can also combine it with a canopy tour.
Scenic Helicopter Tour
Want a once in a lifetime experience? See Guanacaste from above in a scenic Costa Rica helicopter tour! Adventure Air offers beach, island, river and volcano tours. Get 10% off in the link above!
Read about other things to do in Costa Rica here!