As we got out of the taxi, I stared in minor disbelief at the airport we were supposed to fly out of. It was simply a small strip in the middle of a huge farm! The cows and horses stood around the airstrip, undisturbed by the commotion of a twin engine airplane landing in front of them.
You'd think after nearly 7 years of traveling and living in Costa Rica, I'd be used to this kind of scenario by now. But here I was, about to take my first local flight in Costa Rica ever and the airstrip was right in the middle of a cow field!
If you're looking for a fast and efficient way to travel around Costa Rica, flying is your best option especially for those short on time. Adventure never ends in Costa Rica and it's definitely an adventure to take a local flight. If you're considering flying, read our post about flying from San Jose to Tamarindo and you can get our SkywayCR (local airline) 10% promo!
Flying From San Jose to Tamarindo airport

We have flown from Tamarindo to San Jose roundtrip twice, a normal route we've driven many times before. Driving normally takes around 4 -5 hours but flying takes only 35 minutes. Talk about a huge time saver!
If you are flying out of San Jose to Tamarindo, you will not go to the SJO International Airport. San Jose now has its own very nice domestic terminal which is right next to the international terminal. The check in process is the same as international except on a much smaller scale.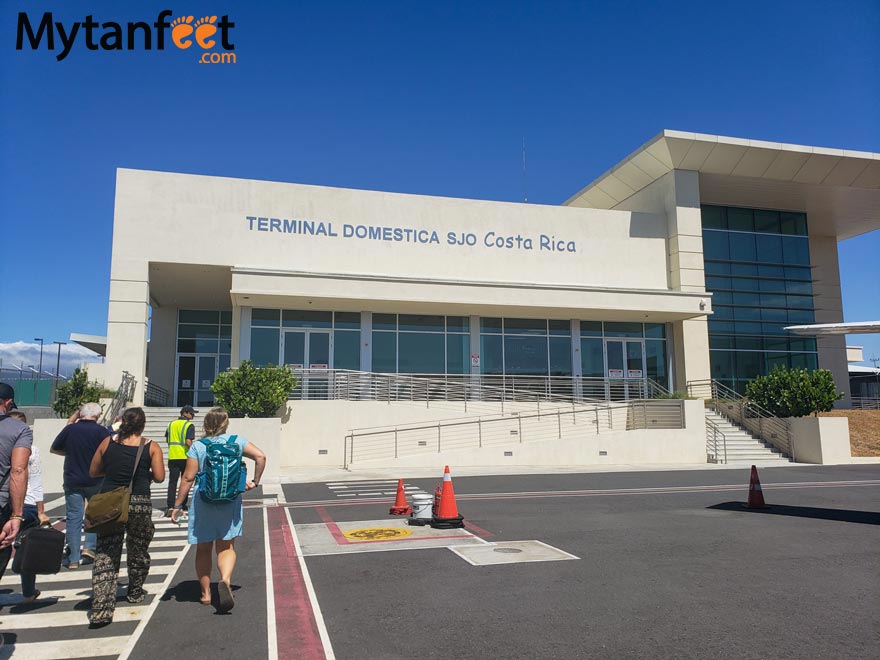 We checked in, went through security and boarded our plane at the domestic terminal. As we flew in March for this trip, the weather was great but a bit windy. However, we got some spectacular views and the wind was not so bad once we left San Jose.
The Plane
The seats were surprisingly very comfortable and the big windows allow passengers to get stunning views of Costa Rica from the air. The planes go no more than 10,000 feet (3000 meters) so you don't feel like you're taking a flight – it feels like you're taking a scenic aerial tour. There were a total of 8 people on our flight.
Depending on your route, you may see volcanoes, beaches, mountains, islands and the coastline. From Tamarindo to San Jose, we flew down Guanacaste, across the Colorado and Nicoya Gulf, over Puntarenas and into San Jose. When Yeison flew to La Fortuna, he went right over Arenal Volcano and saw it from the top. You can't get a view like that any other way!
These are pictures from our flight end of April.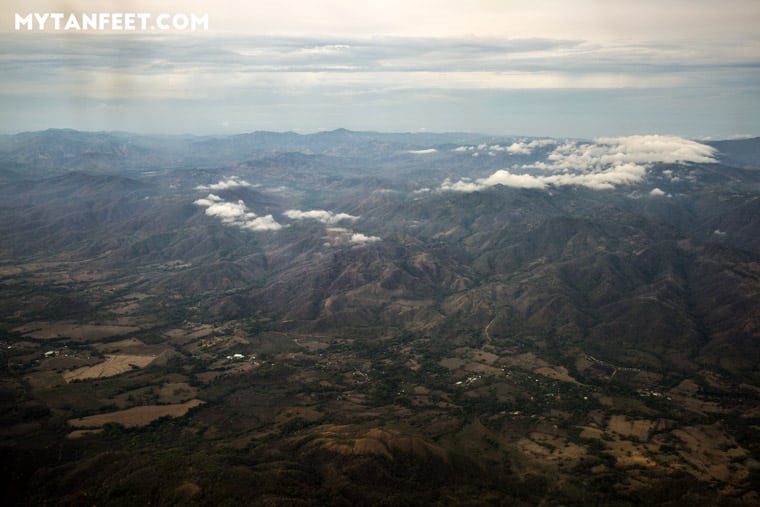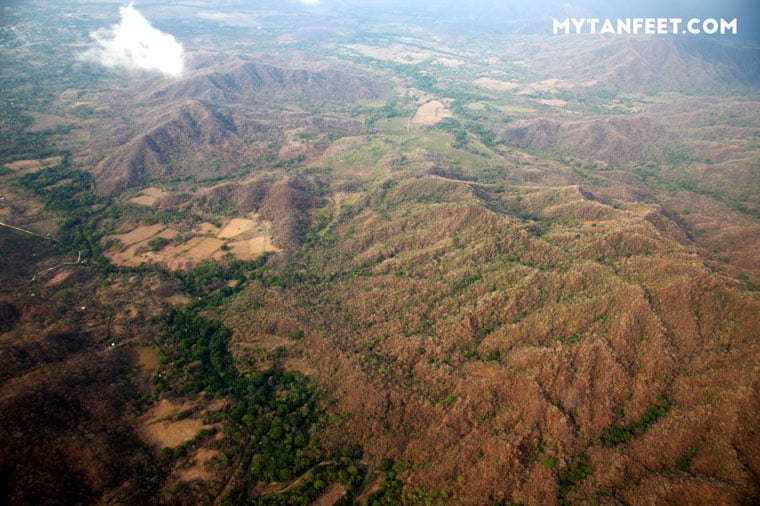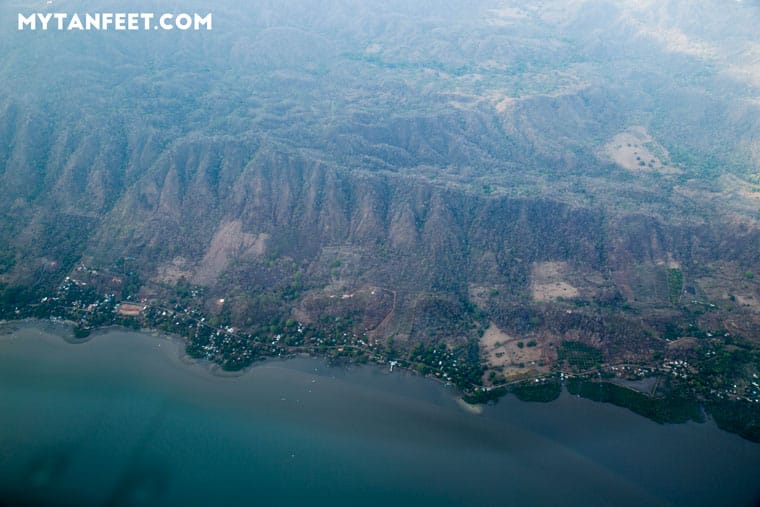 For this flight, it started pouring down rain when we took off. But it cleared up as soon as we left San Jose and was a smooth flight from there.
Then for our flight in March, it was windy but it died down once we got out of San Jose. As it was summer, the skies were clear and blue and we got fantastic views.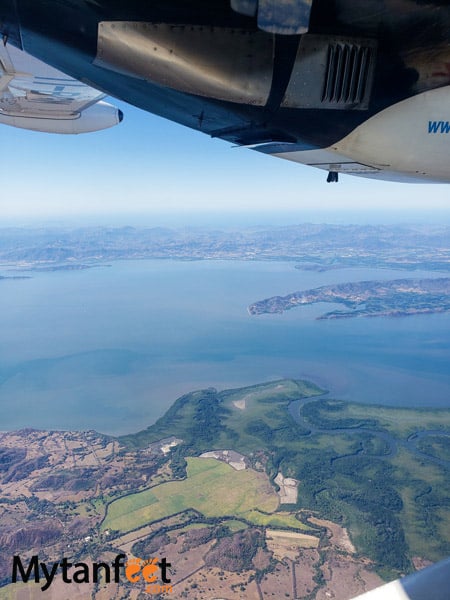 For the flight from Tamarindo to San Jose in March, it was very windy. I didn't really enjoy that flight as much since I was on an even smaller plane (like an 8 passenger plane) and you can feel everything in the wind. The flight from San Jose to Tamarindo was much nicer as we had a bigger plane and the winds died down.
Landing in Tamarindo Airport
Tamarindo airport is tiny, it's pretty much just a strip inside a cow field. It's only a 2 minute drive from the airport to downtown Tamarindo so it's super convenient. You can pick up your rental car or grab one of the taxis (pirate) waiting at the airport. If you're renting a car, the agencies can deliver the car right to the airport so you can get it when you land.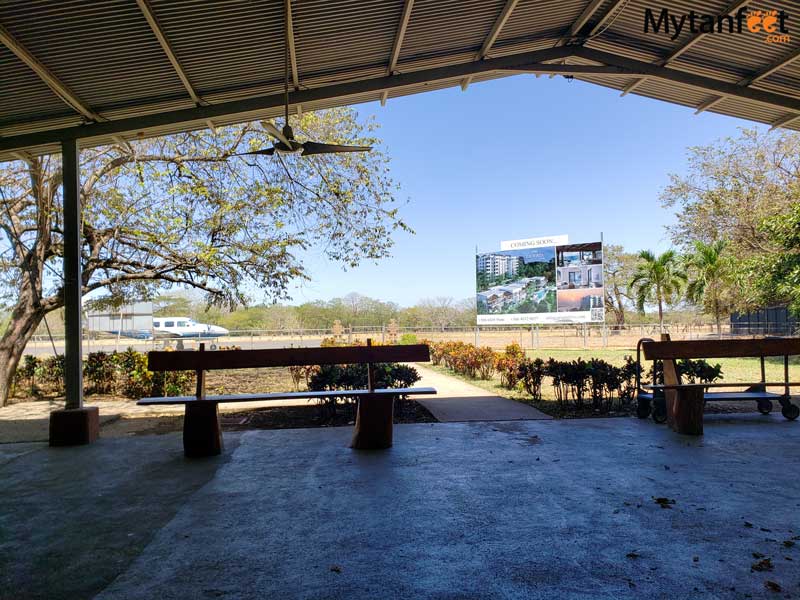 Both planes are fun to fly in and our flight back was 40 minutes. It was hard for me to believe how quick we got back to Tamarindo, I'm so used to driving 4-5 hours everywhere!
It was such a time saver and we avoided all the hassle of driving, dealing with traffic and all that. If budget isn't a huge concern, definitely consider flying around Costa Rica!
Read our experience flying from San Jose to Quepos!
Get Our Discount!
Save 10% and get an extra 10 lbs of luggage with our Skyway promo code here!
Read more Costa Rica travel tips here!
Best places for first time visitors in Costa Rica
The best time to visit Costa Rica