Although it may seem like Guanacaste beaches are very touristy, there a plethora of beautiful under the tourist radar beaches to discover. One of those beaches is Playa Marbella, about one hour south of Tamarindo and 30 minutes north of Nosara.
It's a great surfing beach and for anyone looking for a off the beaten path beach to visit for a day. Although locally known as Playa Marbella, the true name of this beach is Playa Frijolar.
Map
Playa Marbella, Costa Rica map
Playa Marbella is 88 kilometers (54 miles) from Liberia Airport and a 1.5 hour drive.
How to get to Playa Marbella
Driving is the best way to get to Playa Marbella since it's in a rural area. You can find Frijolar and Marbella on Waze which we recommend to use. When you're driving, look for signs that says "Frijolar."
There is one bus that goes from Santa Cruz to Nosara at 4 AM, 12:30 PM and 4 PM every day and only 1230 PM on Sundays that stops at Marbella.
4×4 required?
Not necessarily. It will be better to have a 4wd/4×4 because the road to Marbella is unpaved once you turn from Santa Cruz. The road gets a little hilly with big pot holes during rainy season so a high car is highly advised. If you visit during the drier months like January – April, you can go slow in a sedan.
Parking
There isn't really a dedicated parking lot for the beach but you can park in the small town. Remember not to leave valuables visible and always lock your doors.
Marbella Beach and Surf Breaks
This pretty beach has dark sand, rocks and bright blue waters. As the beach is separated from the main road by the small town, it feels like you've stumbled upon your own hidden beach. Unlike the touristy beach towns of Flamingo or Tamarindo, you'll see pods of pelicans soaring over the water, hear the sound of crashing waves and smell the fresh ocean air. No reggaeton music, no hoards of people. No fighting for a parking spot!
Just you and the ocean.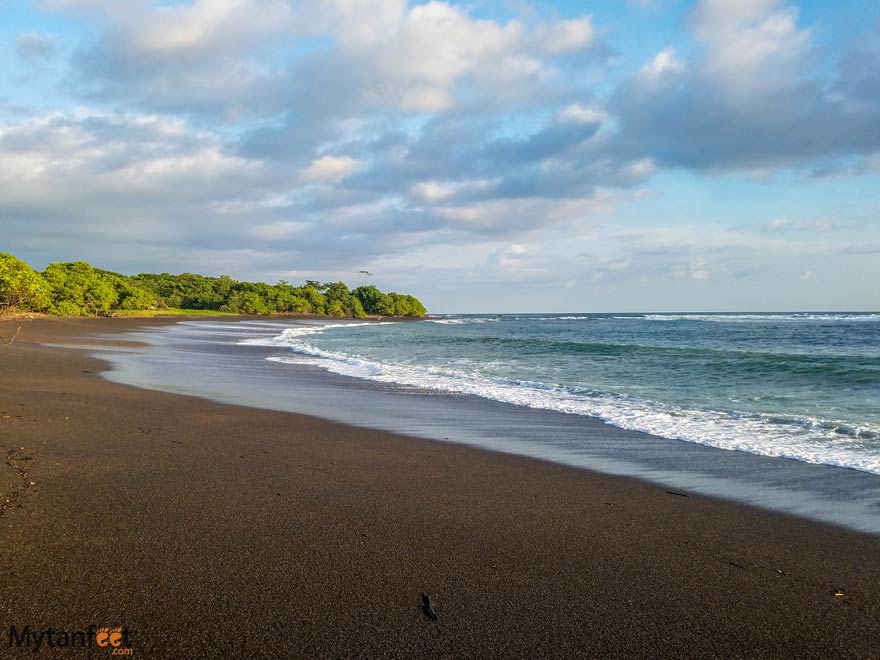 When we visited Marbella, there were absolutely no people there, not even locals! We camped there for one night, barbecuing on the beach and watching the sunset go down. At night, all we heard were the sounds of the waves. It was the perfect beach escape!
We did see a couple of local surfers catching waves early in the morning as this beach has two excellent surf spots. One to the north, which offers big breaks and hollow waves. There is another surf spot to the south, which is a left point break that goes for up to 150 meters. The south spot is where most of the locals go.
Swimming
Playa Marbella is not the nicest for swimming since there are a lot of rocks. If you want to swim or bathe, be careful. You can dip your toes or play in the shallow waves.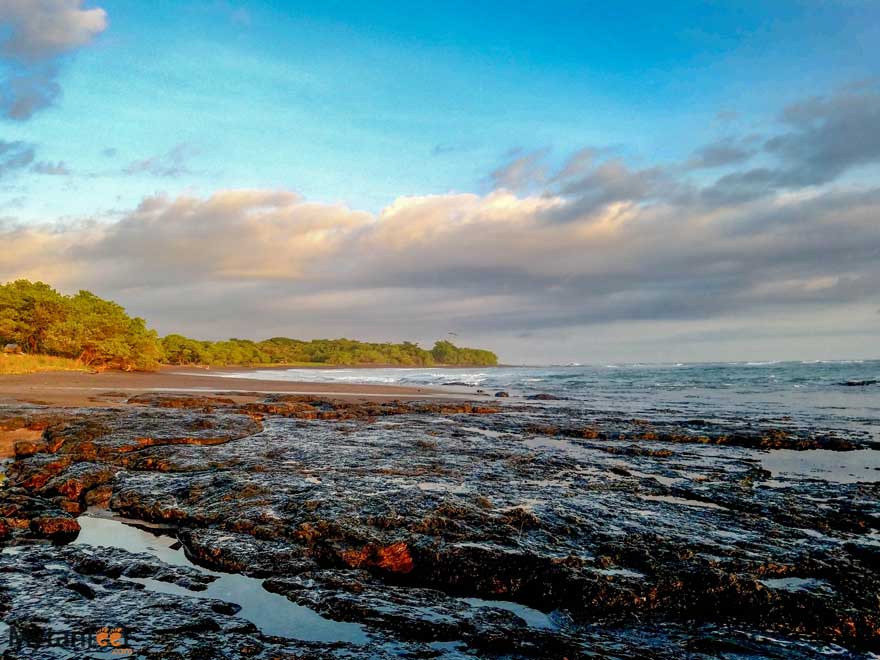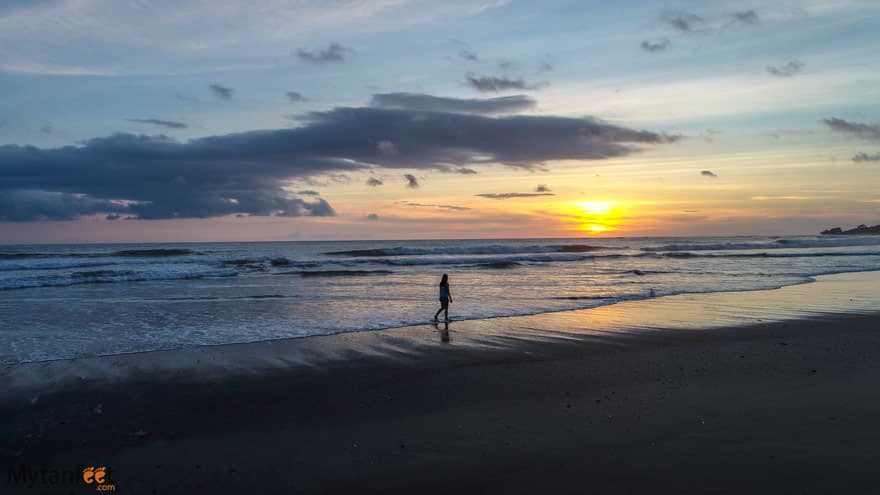 Hotels, The Town, Restaurant
Although there isn't really anything at Marbella, that's one of the best things about this beach. The town is tiny but there is an up and coming luxury development, aimed towards foreigners looking for a beautiful, more remote beach community in Costa Rica.
There is a restaurant called Tiki hut on the north end and there are a few small inns and cabinas such as Casa Alice Surf Lodge and Marbella Surf Inn. There is a small supermarket.
Visitors staying in Marbella should expect basic amenities and services but they will be able to experience a more local part of Costa Rica.
Read about other similar beaches!
Playa Coyote: North of Santa Teresa, in the Nicoya Peninsula. Not developed beach, only a small town and few hotels
Cabuyal: In Gulf of Papagayo. White sand beach, no facilities, local beach
Iguanita: Northern Guanacaste in Gulf of Papagayo. 4×4 required, dark sand beach, local favorite
Playa Cuevas: In Mal Pais, near Santa Teresa. White sand beach with great snorkeling
There are affiliate links in this post.