If you're traveling on a budget, the public bus is your best option to save money on transportation. We recently took the bus from Tamarindo to San Jose and you can read our guide below to find out what you need to know.
***As of 2023, Tralapa and Alfaro bus companies do not work anymore in Tamarindo. There is now one bus company called TIG that operates Tamarindo – San Jose. Unfortunately the below information is for only for the old Alfaro bus, as we have not taken the TIG bus.***
TIG bus: Their office is in the plaza where Nordico Coffee is, called Plaza Tamarindo. Best purchase your ticket the day before if going from Tamarindo – San Jose. Can also try to purchase online on their website tiguanacaste.com.
Tamarindo Bus to San Jose Routes and Prices
We took the 1 PM bus on Sunday with Empresa Alfaro and this route goes through Liberia. This is very important to note because this bus takes longer going through Liberia than if you were to go through the bridge (puente). They also have buses at 530 AM (bridge) and 3:30 AM (Liberia). The 1 PM bus is only on Sundays.
The cost of the Tamarindo to San Jose bus ticket is 5,635 colones. They only accept cash and it is best to pay in Costa Rican colones.
There is another company, called Empresa Tralapa that operates Tamarindo to San Jose and vice versa. Their bus station is across from Hotel Portofino in town and they have routes at 730 AM and 2 PM, both going through Liberia.
We highly recommend purchase tickets beforehand (at least a day), especially in the busy tourism season to guarantee your seats. These are months like December – April.
The guy at the bus station did say we could purchase tickets online on the Empresa Alfaro website which I tried, but their website didn't work.
Location of the Bus Station in Tamarindo
The Empresa Alfaro bus station is right next to Enea's restaurant.
Here are some photos of the station.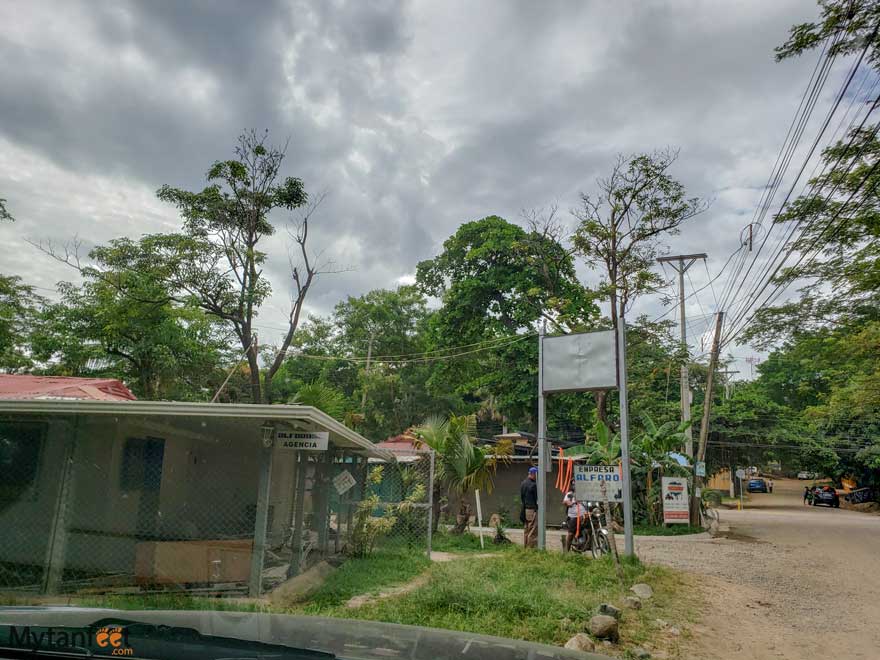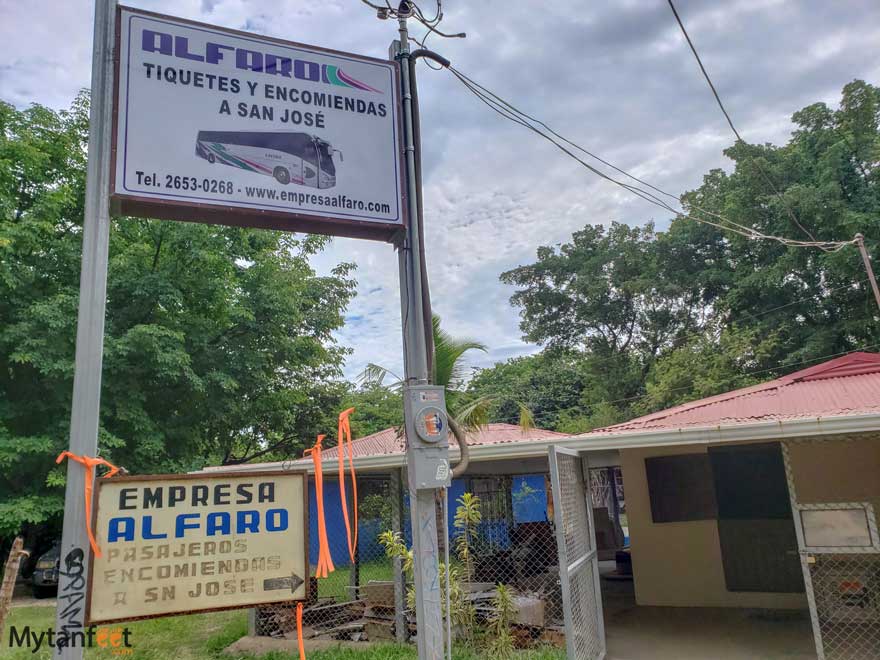 The Bus
The bus we took was white and had air conditioning. Since we purchased our tickets the day before, we got to choose our seats. Here is a photo of the bus.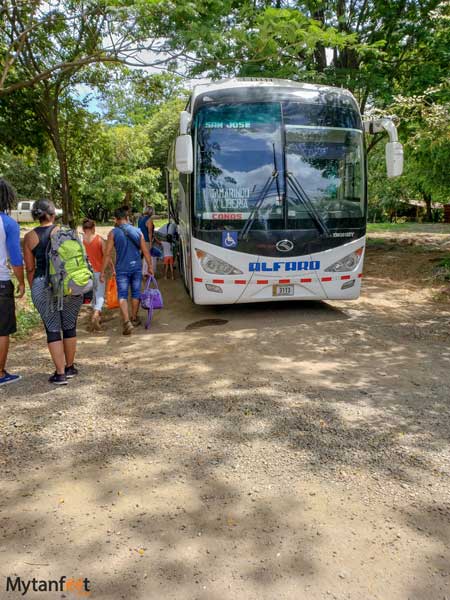 We boarded the bus which was right in front of the station.
The bus was not very full the day we went (June 30, the Sunday before school vacations). It did fill up as the bus makes a lot of stops and it was almost full by the time we went to San Jose. We arrived at the station at 12:50 PM and the bus left promptly at 1 PM.
This bus has air conditioning, reclining chairs and spaces on top for bags. You can also put belongings in the space below the seat in front of you which we recommend instead of putting bags on top (you can't see it all the time and is the best way to avoid theft). You can see in the photo below the legroom.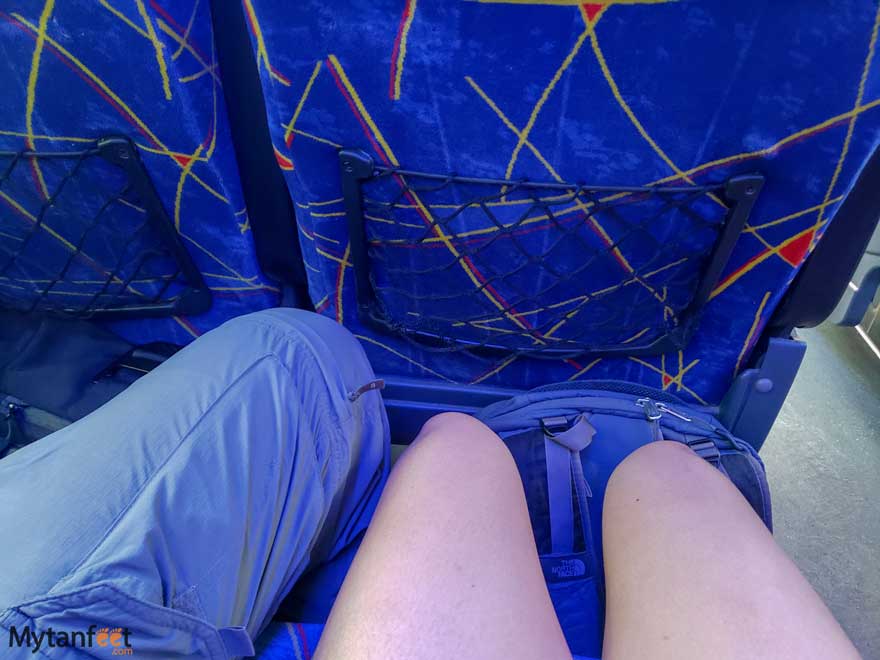 If you have luggage, the driver will put it in the space below and make sure to keep the ticket he gives you. He'll ask you where you are getting dropped off and we told him "Aeropuerto de San Jose." When you get off, make sure the driver knows you have luggage so he can take it out for you. The airport is a popular stop so other people will probably need to get their luggage too.
Safety tips: Don't ever leave your belongings alone, don't ask anyone to watch them for you. Always have them with you at all times. Wait and watch the bus driver put your luggage in the compartment underneath, keep your ticket. When you exit the bus, be alert and aware of your surroundings. Keep your backpack/hand belongings close to you at all times. 
The Bus Ride
The bus ride took us almost 7 hours total, due to lots of traffic and tons of stops. We stopped about 5 hours into the ride for a bathroom and food break.
The bus dropped us off right in front of San Jose Airport and from there, we got a taxi to our hotel.
I'm thankful the bus had air conditioning and somewhat comfortable seats because 7 hours on that bus was pretty rough. Driving normally takes us around 4 hours and since the bus went through Liberia, it took much longer than going the way via the bridge. Taking the bus in Costa Rica is cheap but it does take much longer so it's one for the other. For those on a strict budget, it is your best option otherwise you will be spending quite a bit more for transportation (see below).
Other Ways to get to San Jose from Tamarindo
In case you want to explore your options, there are a few other ways to get from Tamarindo to San Jose.
Shuttle: You can take shared or private shuttles. A shared shuttle is $55 per adult with Interbus and around $200 for a private shuttle 1-6 people.
Drive: You can rent a car and drive, it is around a 4 hour drive. On average in high season, a one day rental of an automatic sedan can go around $40 USD a day.
Rideshare: Check the Tamarindo Chit Chat group or the "Help I need a ride Costa Rica ride share" group to see if anyone can offer you a ride. If you find a ride, it is polite to chip in for gas.
Uber/Taxi: Uber is not readily available in Tamarindo but if you're lucky, you may find a driver available (there are only a few). There are also pirate taxis in Tamarindo. Both taxis and Uber can charge around $160-180 one way from Tamarindo to San Jose.
San Jose to Tamarindo
If you are going from San Jose to Tamarindo, you have to get the bus from the Terminal 7-10. Make sure to arrive at least 30 minutes early to purchase tickets. They have buses at 11:30 AM (Liberia), 330 AM (Caldera), 530 AM (bridge) and 3:30 PM (Caldera) everyday.
Other Bus Posts
We have a few other bus posts you can check out below.
Bus from Jaco to Manuel Antonio National Park
Taking the bus from San Jose to Jaco