The Costa Ballena (Dominical, Uvita and Ojochal) with its lush and tall mountains and wild beaches is just a couple of the reasons why visitors fall in love with this area. In addition to empty beaches, the tall mountains are home to waterfalls and rivers in an unspoiled jungle. One of those waterfalls is Cascada El Pavon in Ojochal, a charming little waterfall perfect for a morning of exploration.
Here's our guide to visiting the El Pavon waterfall.
Location and Directions
Map for Cascada El Pavon.
El Pavon waterfall is 243 kilometers (151 miles) from San Jose and about a 4 hour drive via Route 34. It is 1 hour and 15 minutes from Manuel Antonio, 35 minutes from Dominical and 20 minutes from Uvita.
You can find El Pavon waterfall on both Google Maps and Waze. When driving south on Route 34 past Ojochal, look for this sign to turn to the left. If you passed this sign and crossed the bridge, you've gone too far.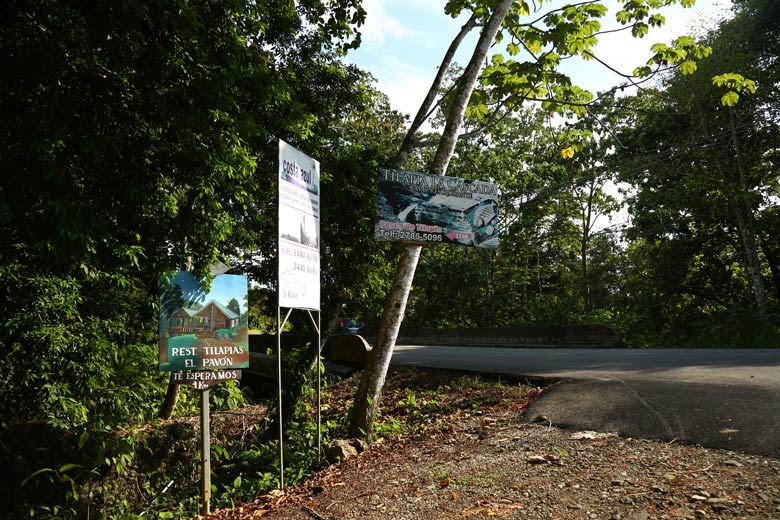 Turn left here and stay to the left on a gravel road. Drive another 4 kilometers (2.50 miles) on the road. There are many signs to the waterfall so you can't miss it.
Pass the restaurant on your left and go another kilometer. On the left hand side, you'll see a small sign that says Cascada El Pavon.
Parking and Entrance Fee
There is no entrance fee to this waterfall.
There isn't really a dedicated parking lot for El Pavon Waterfall. When we visited, we just parked on the side of the road. It's not secure at all, so make sure not to leave valuables visible in your car, do roll up your windows and lock your doors.
The Walk Down

From the street down to the waterfall, it's a super short walk. It's a dirt path with steps and just a couple minutes walk. Be careful as it may be slippery and there is no hand rail. You'll see the waterfall at the bottom.
The Waterfall
Cascada El Pavon is actually smaller than I thought, but still very pretty. It's charm comes from a big rock sitting right in the middle! Who knows how it got there but it sure does give the waterfall some character.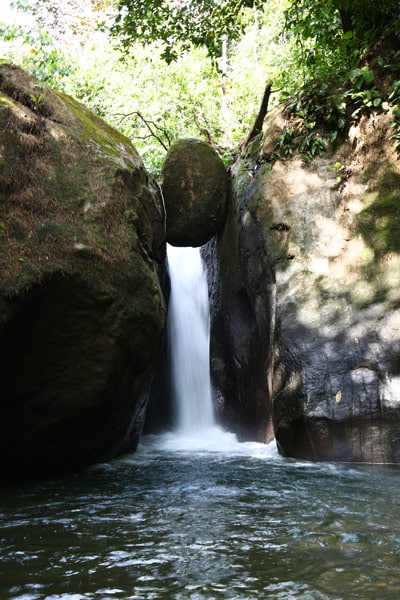 You can swim in the pool and we saw some people with snorkel masks to chase the fish around. There is a small sandy/rocky area where you can sit, have a picnic and chill.
There's a path where you can actually walk to the rock on top of the waterfall! But don't jump off as the pool is not that deep and you can get hurt.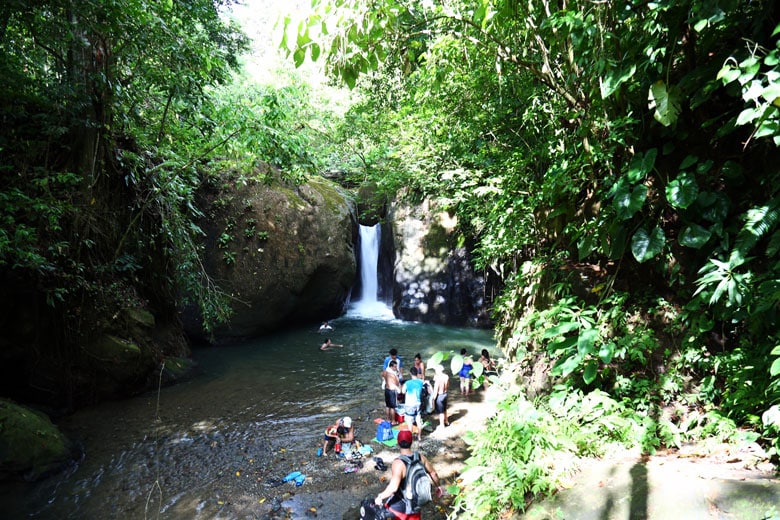 As you can see, the day we went were a lot of people, all locals. We went on a Saturday afternoon during the school summer break in January so if you want the waterfall to yourself, go in the morning on a weekday. Even though the South Pacific is hardly over "touristy" or crowded, El Pavon waterfall was a nice place to mingle with locals.
You can also enjoy the river downstream, sit on the rocks and enjoy nature.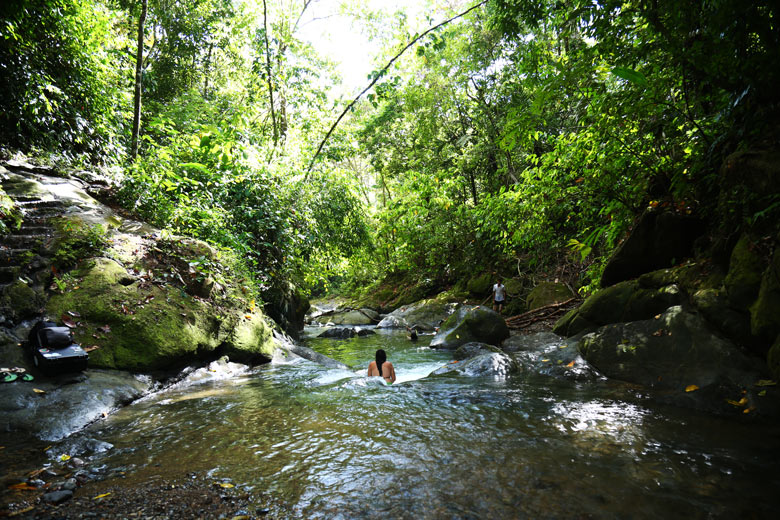 We visited in January, after the rainy season and the waterfall was nice and not too full, perfect for swimming and bathing. But in the rainiest months like September – November, I can see the pool getting too full during the rainy days. It's a great little waterfall to experience the tropical beauty of Costa Rica and cool off from the heat and humidity.
Tips for Visiting Cascada El Pavon
The walk to the waterfall is really short and not difficult so you can wear sandals.
There are no facilities so wear your swimsuit and bring a towel.
You can have lunch at the Tilapia Restaurante nearby, where you can catch your own fish. It's right next door. Nice local restaurant.
A 4X4 would be a good idea, but not absolutely necessarily. Do note that the road is not paved and there are some parts that have some big holes. In the rainiest months, a high car would be most comfortable, especially for the South Pacific where many roads require a 4×4.
Looking for more things to do in the South? Check these out!
Nauyaca waterfalls horseback riding tour
Hiking San Pedrillo and Sirena Station in Corcovado National Park