Cascada El Pavon
Uvita holds a handful of ensconced waterfalls in its lush mountain side, it's quite amazing just how many of them there are. The unspoiled jungle of Southern Costa Rica contains some of the most pristine and incredible natural attractions, with the Cascada El Pavon being one of them.
Location and Directions
The waterfall is near Ojochal and makes for a great day trip. Drive about 5 kilometers past Ojochal on the Costanera Sur until you see a few signs on the left hand side of the road before a bridge. If you cross the bridge, you've gone too far.
Look out for this: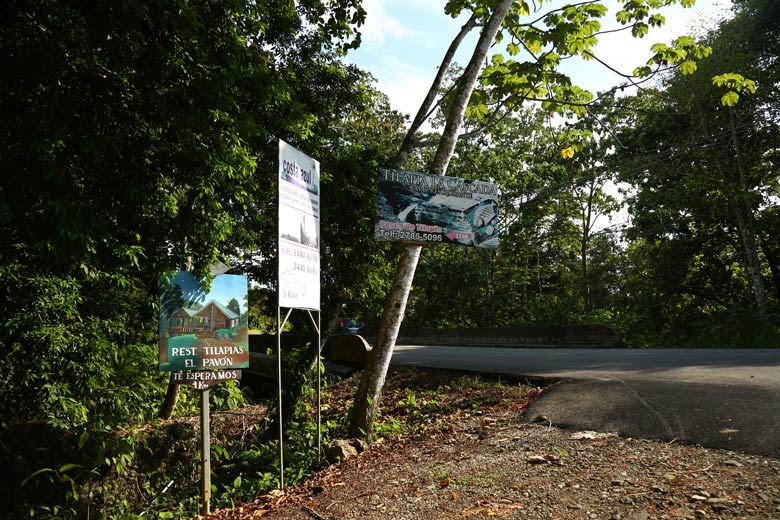 Turn left here and stay to the left on a gravel road. Drive another 4 kilometers on the road. There are many signs to the waterfall so you can't miss it.
Pass the restaurant on your left and go another kilometer. On the left hand side, you'll see a small sign that says Cascada El Pavon. The short 100 meter path to the waterfall is on the left and you can park on the street.
There is no entrance fee or parking fee to the waterfall.
The Waterfall
Cascada El Pavon is actually smaller than I thought, but still very pretty. It's charm comes from a big rock sitting right in the middle! Who knows how it got there but it sure does give the waterfall some character.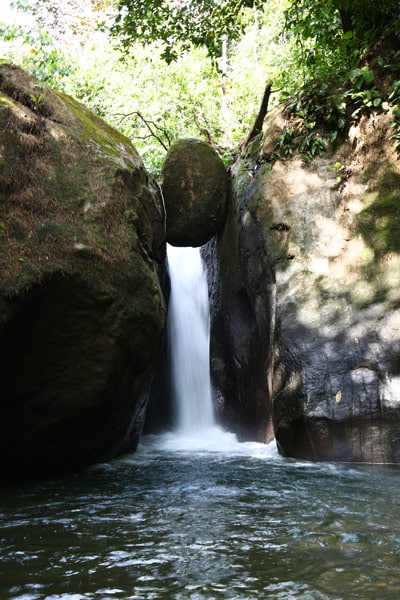 You can swim in the pool and we saw some people with snorkel masks to chase the fish around. There is a small sandy/rocky area where you can sit, have a picnic and chill.
There's a path where you can actually walk to the rock on top of the waterfall!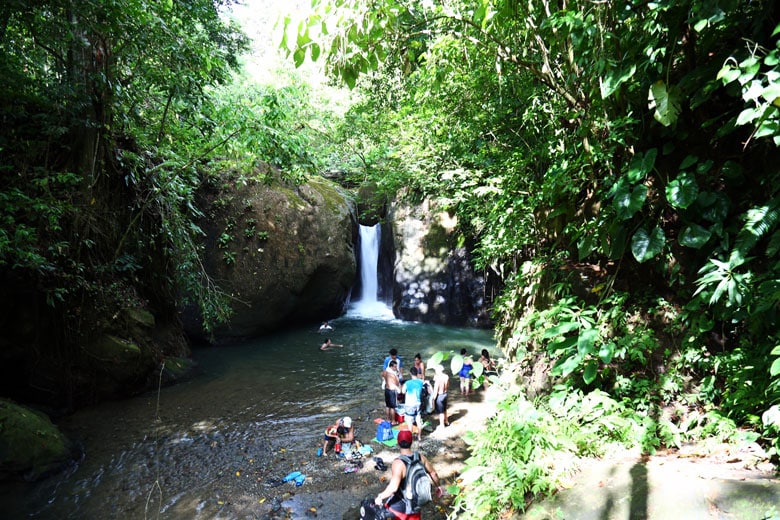 As you can see, the day we went were a lot of people, all locals. We went on a Saturday afternoon during the school summer break in January so if you want the waterfall to yourself, go in the morning on a weekday.
You can also enjoy the river downstream, sit on the rocks and enjoy nature!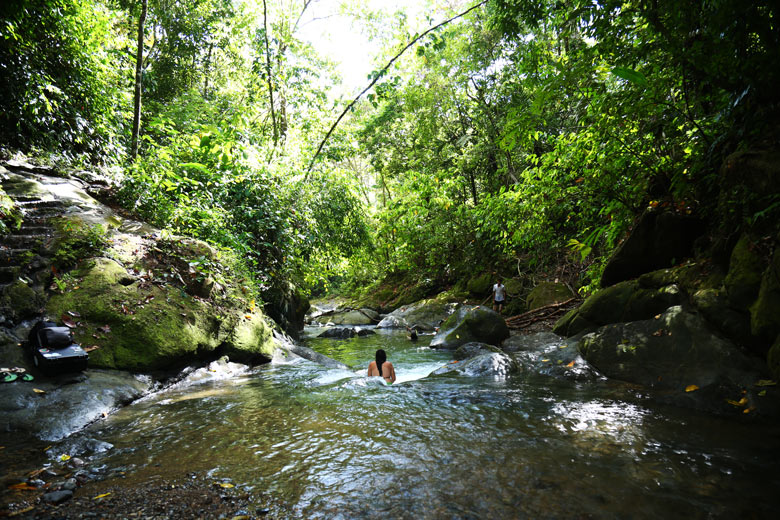 Tips for Visiting Cascada El Pavon
The walk to the waterfall is really short and not difficult so you can wear flip flops
There are no facilities so wear your swimsuit and bring a towel
You can have lunch at the Tilapia Restaurante nearby, where you can catch your own fish
A 4X4 would be a good idea, but not absolutely necessarily. Do note that the road is not paved and there are some parts that have some big holes.
Looking for more things to do in the South? Check these out!
Nauyaca waterfalls horseback riding tour
Hiking San Pedrillo and Sirena Station in Corcovado National Park