Vegetarian food in Costa Rica is much more readily available than people think. Although much of the Costa Rican diet consists of meat as farming is a huge industry, vegetarian dishes are not hard to find. You can find delicious vegan and vegetarian Costa Rican food wherever you go.
Eating Out as a Vegetarian in Costa Rica
Here is what to know about traveling as a vegan or vegetarian in Costa Rica. I personally eat vegetarian or pescatarian (fish only) when we travel in Costa Rica.
Sodas (Traditional Restaurants)
Sodas are what the Costa Ricans call their local restaurants. They are usually small, open air places that serve traditional Costa Rican food. Sodas are where you want to go to eat traditional Costa Rican food.
One awesome thing about sodas is that many of them are buffet style so you can pick and choose what you want. They usually have several different salad and veggie options.
What to Know About Eating Veg if You Go to a Soda
Most sodas don't have a specific vegetarian section on the menu. However, you can turn nearly every traditional Costa Rican dish vegetarian. I will say that it is a little bit more difficult to eat vegan in Costa Rica since many traditional restaurants use butter and milk, it's easier to eat vegetarian.
The most popular and local food is gallo pinto, or rice and beans. Gallo Pinto is a breakfast dish that comes with a few sides. These sides are normally eggs, natilla (sour cream), plantains, tortillas and cheese. Gallo pinto is the best vegetarian dish in Costa Rica.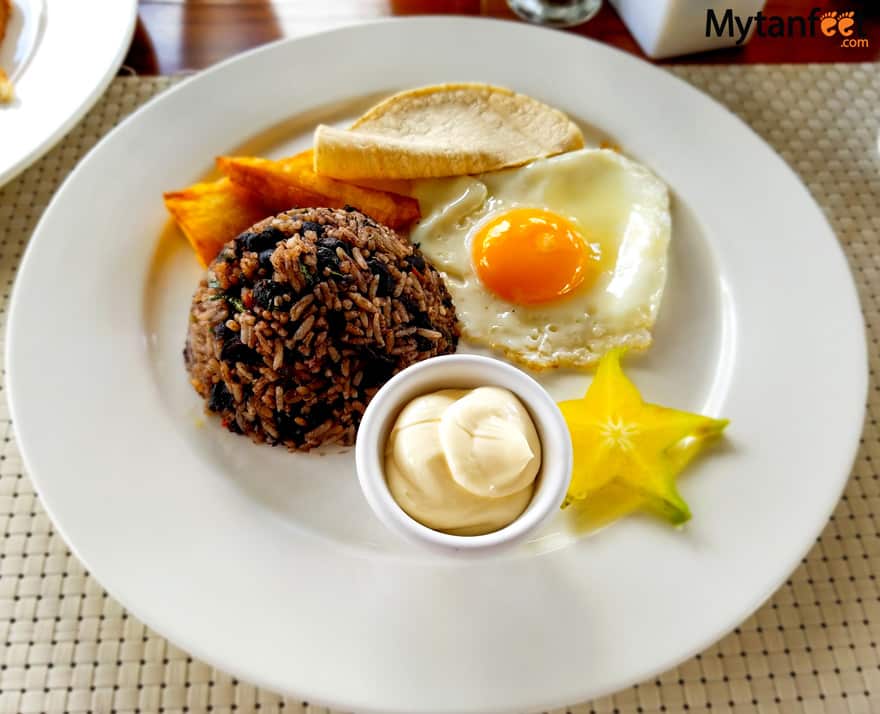 Then for lunch or dinner, you can try a casado. Normally this comes with meat but you can ask for a vegetarian casado even if it's not on the menu. It'll come with rice, beans, salad, plantains, tortilla and some sort of pico de gallo or squash/plantain mix.
Sometimes they'll add an egg or cheese. If you're vegan, make sure you tell them you do not want an egg or cheese.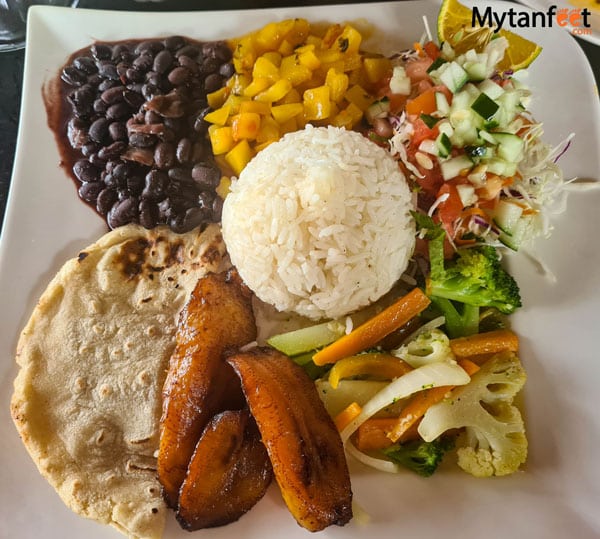 Other Vegetarian Costa Rican Food
Other yummy Costa Rican vegetarian dishes are sopa negra (black bean soup), arroz con palmito (heart of palm rice), chorreada (corn pancakes), crema de pejibaye (peach palm soup), chips and salsa and patacones (smashed fried plantains).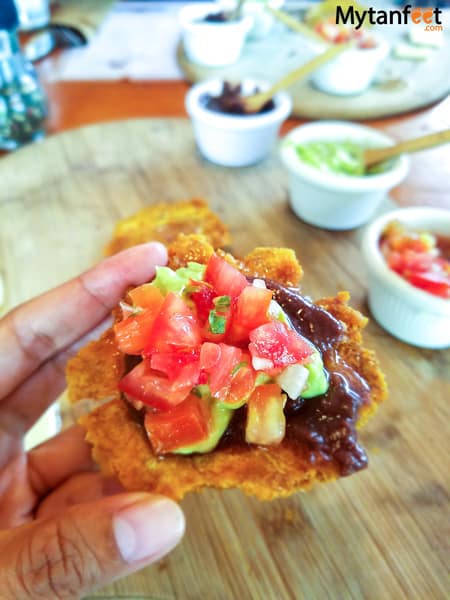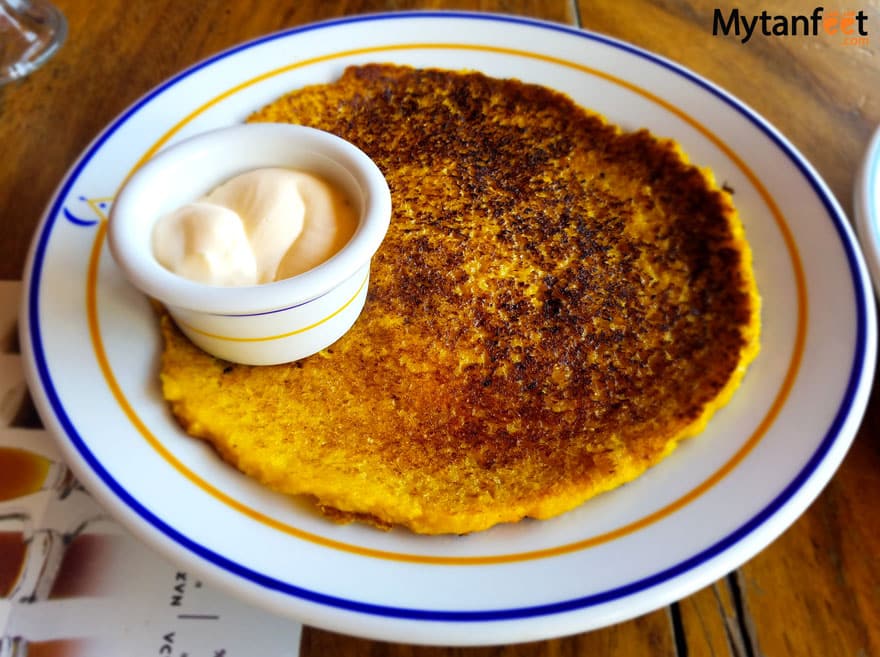 If you go to a bakery, you can get enchiladas de papa (potato enchilada).
Other Restaurants
Higher end restaurants in touristic destinations usually have a few specific vegetarian/vegan options on their menu. For example, the La Fortuna pub has a few vegetarian options and their food was excellent.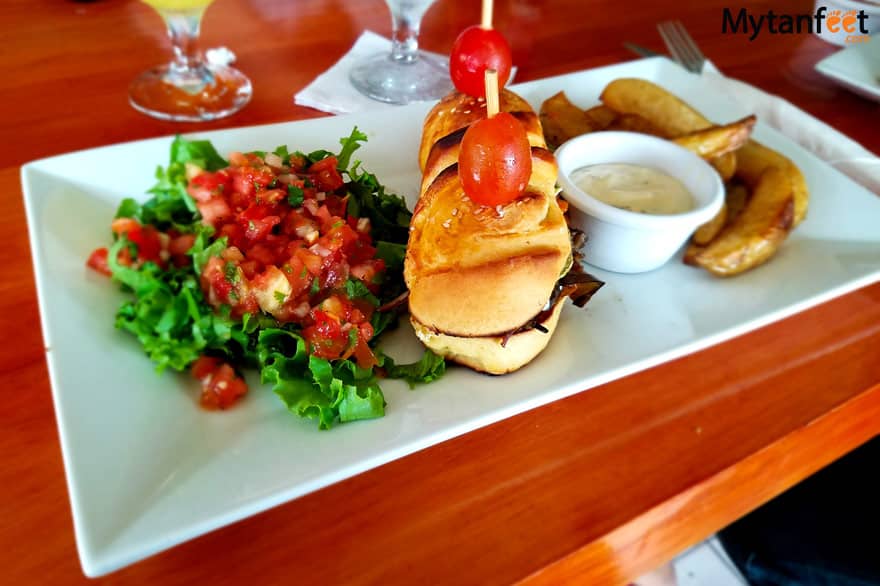 There are way more vegetarian options if you go to the touristic restaurants. I've had some absolutely delicious veggie sandwiches, veggie pasts and mushroom/black bean burgers.
Words to Know
It is extremely helpful to know important words in Spanish so that your order is clear and there are no confusions, especially for vegans. Do not expect all the places you go to speak English, especially if you visit local restaurants or are in small towns.
Also write down any food you are allergic to since some restaurants use the same oil and pans to cook. Here are some important words to know for vegetarians/Vegans in Spanish.
Veg Words and phrases in Spanish
I'm vegetarian – Soy vegetariano/a
No meat/without meat – Sin carne
Vegan – Vegano
No cheese – Sin queso
No egg – Sin huevo
In water – En agua. If you order a fruit smoothie (batido), they will ask you "en agua o leche?" (in water or milk?) and you want to say en agua.
No milk – Sin leche
I don't eat meat – Yo no como carne
I am vegan – Soy vegano/a
No animal products – Sin productos de animales
I am allergic to – Soy alergico a (X food)
No gluten – Sin gluten. It will be better for you to say Sin trigo (no wheat)
since some locals aren't familiar with gluten. To be even more sure, you can say Que la comida no tenga gluten o trigo (no wheat or gluten in the food).
Seasonings and Sauces
It's very important to note if you visit a traditional restaurant in a small town or rural area, the food may not have meat but the stock, sauce, fat or seasoning may have animal products.
Some places use chicken bouillon cubes or chicken stock to make their rice and soups and some salads have mayonnaise so make sure you ask first before ordering. Likewise, some restaurants use butter instead of oil so even though you order gallo pinto, they may have cooked it using butter (butter is mantequilla, oil is aceite). Chicken bouillon cubes in Costa Rica are called consome de pollo. Mayonnaise is mayonesa in Spanish.
Vegetarian Restaurants in Costa Rica
More dedicated vegetarian and vegan places are popping up in Costa Rica. There is even a vegan hotel in Tamarindo!
Here are some excellent vegetarian restaurants in Costa Rica.
Casa Planta: Plant based restaurant inside the Igloo Beach Lodge in Manuel Antonio.
Organico Fortun: Focus on organic food with vegetarian and vegan options. In La Fortuna
Lands in Love between San Ramon and La Fortuna: This hotel and restaurant run by Israelis focuses solely on vegetarian and vegan food. They also have a Kosher restaurant.
Indomitos Cafe in Uvita: Vegan/Vegetarian cafe with breakfast and lunch, fruit bowls, salads, etc.
Cafe Orchid in Monteverde: This cafe not only has delicious coffee and dessert, but excellent food with lots of vegetarian options.
Restaurante Shakti in San Jose: Below Hostel Shakti. Has a great variety of vegetarian/vegan options.
Mixt Costa Rica: Yummy breakfasts, brunch and lunch like wraps, sadwiches, 100% plant based. In San Jose.
Como en mi Casa Art Cafe in Puerto Viejo: A great place to get delicious vegan pancakes, vegetarian wraps, salads and more. Also hasg luten free options.
The Bakery Cafe and Organico in Montezuma: Both have lots of veg options
Arbol de Seda: Vegetarian resturant in Barrio Escalante, San Jose
Drift Bar: A fantastic veg restaurant in Santa Teresa.
Farmer's Market and Supermarkets in Costa Rica – What Fruits and Veggies You Can Find
If you are booking Airbnbs or staying at hostels and have access to a kitchen, you can easily cook fresh vegetarian food that you buy from the supermarket or Costa Rican farmers market. The farmer's market, or feria is usually open only on weekends but you can also find produce markets open every day.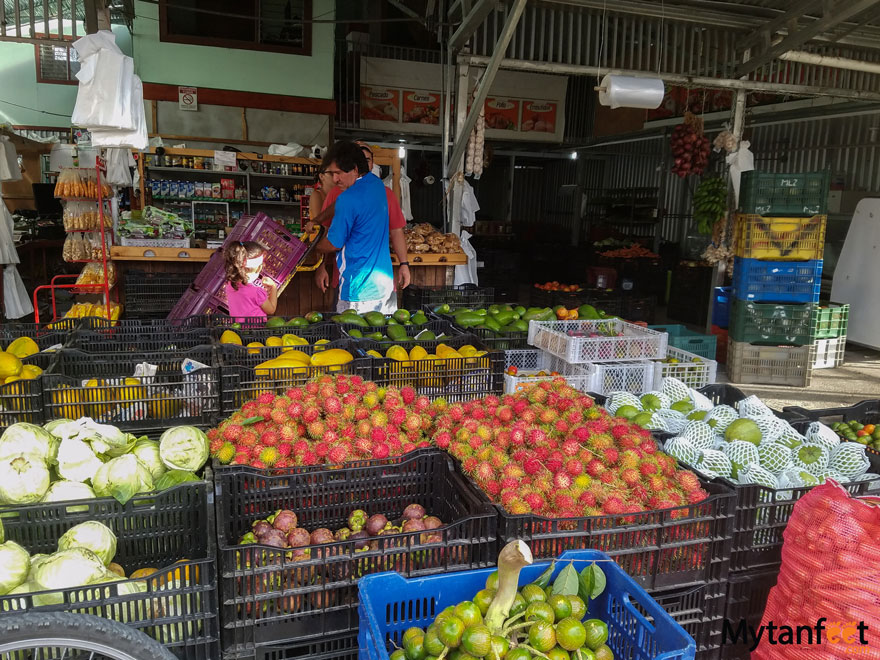 It's usually pretty cheap to buy produce at the ferias and it's all local grown. You can find basics like lettuce, onions, tomatoes, carrots, cucumbers, cilantro, green peppers, cabbage and garlic.
However, if you're looking for foods such as kale, quinoa, fresh mushrooms, arugula, napa cabbage, etc. you will need to go to a higher end supermarket like Auto Mercado.
Eating Pescatarian in Costa Rica
If you're pescatarian, there are lots of seafood options in Costa Rica. You can order ceviche, arroz con camarones (rice with shrimp), seafood soup, fish fingers or a fish casado.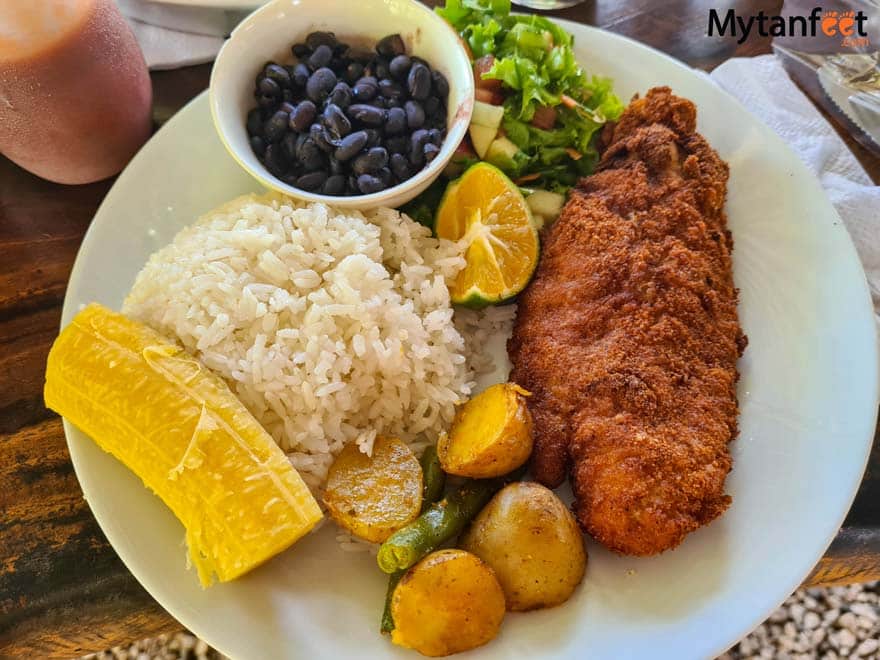 If you love fish, I highly recommend trying a whole red snapper. That is my absolute favorite!
Gluten Free in Costa Rica
If you're gluten free, you're also in luck. The traditional dishes in Costa Rica are very gluten free friendly as their staples are rice, beans, salad and fruit. Most of the tortillas are made from corn but ask since some serve the flour ones. I have a friend who has a lot of food allergies and is gluten free and she was so happy she could eat most of the food.
Remember, no gluten in Spanish is Sin gluten o sin trigo.
For more articles on food in Costa Rica, check out these posts below!