With over 26 national parks, wildlife refuges and private reserves, hiking in Costa Rica offers incredible experiences exploring the stunning scenery, landscapes and nature. From easy coastal walks to challenging mountainous climbs, Costa Rica has plenty of of diverse hiking trails suitable for every level.
Most of the hikes in Costa Rica lead to a natural attraction but even for those that don't, the journey is half the fun as you wander through the various forests and changing landscapes. Whether you want an easy or challenging hike, this country's got them all. Here are 10 great hikes in Costa Rica.
Mount Chirripo
Chirripo is the Everest of Costa Rica. It's the highest mountain standing at 3,820 m (12,530 ft) in Chirripo National Park and requires an overnight stay at the base and up at the top. Many people do a 2 night stay to watch the sunris.
The national park is highly regulated and reservations are needed at least 3-6 months in advance. An easier option is to book with a tour company that provides everything. You can carry everything yourself or hire a donkey to bring your belongings up. For intense hikers and climbers, the Mount Chirripo hike is the cream of the crop.
Corcovado National Park
Of all the national parks in Costa Rica, Corcovado National Park has arguably the best hiking trails. Not because there you're trekking up a mountain or to a great view point, but because you get to experience what Costa Rica is famous for – the wildlife.
As one of the most biologically diverse places on earth, Corcovado National Park in the Osa Peninsula protects around 5% of the world's biodiversity. Due to the park's remote location, you will find monkeys and macaws greatly outnumber humans and civilization feels a worlds away.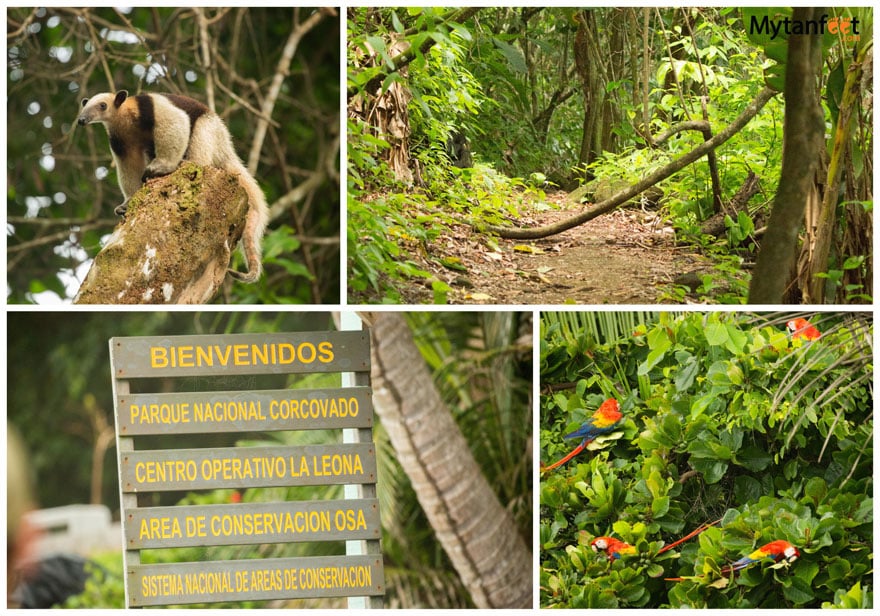 There are four ranger stations in Corcovado National Park that people can visit: Los Patos, Leona, San Pedrillo and Sirena. Visitors can do day trip hikes, the most popular being San Pedrillo and Sirena but those who truly want to dive deep into the wild jungles of Costa Rica, must do the 16 kilometer trail overnight hike from Leona to Sirena.
The meandering trail takes you on the beach, crossing rivers (that in high tide may have sharks and crocodiles) and deep into the rain forest. Due to the conditions, all hikers must go with a guide. Along the way, you may encounter wildlife such as 4 different species of monkeys, anteaters, wild pigs, tapirs and even the elusive puma.
Spend the night at Sirena station where you can even higher chances of seeing these animals up close and trek back the next day in the hot and humid jungle.
Nauyaca Waterfalls
Not all hikes have to climb high in elevation or go through varying landscapes to be incredible. The Nauyaca Waterfalls hike is one of those. It's a 4 kilometer walk on flat, easy to follow trails to reach one of the most beautiful waterfalls in Costa Rica.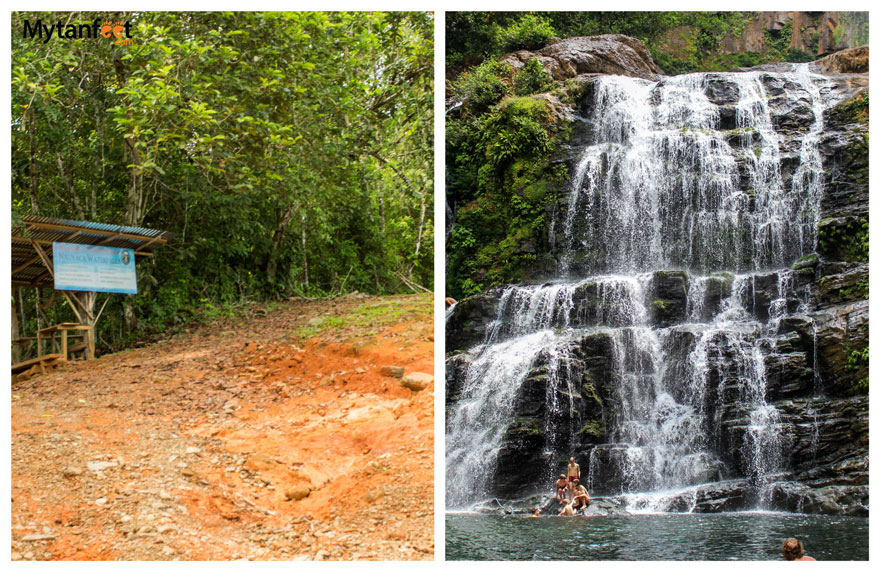 After trekking through the very humid rain forest for about an hour, the reward is 2 gorgeous waterfalls. The lower falls has a sparkling pool to cool off in and you can even climb up the rocks to jump off. Since the Nauyaca Waterfalls are located in the South Pacific, hikers can hear toucans calling, monkeys howling and may even spot a sloth or two along the way.
Manuel Antonio National Park
Though Manuel Antonio is the smallest national park in Costa Rica, the infrastructure and trails are perfect for anyone who wants to experience an easy and convenient hike. With excellent signage, nicely laid out platforms and well chosen view points, hiking Manuel Antonio National Park is a must.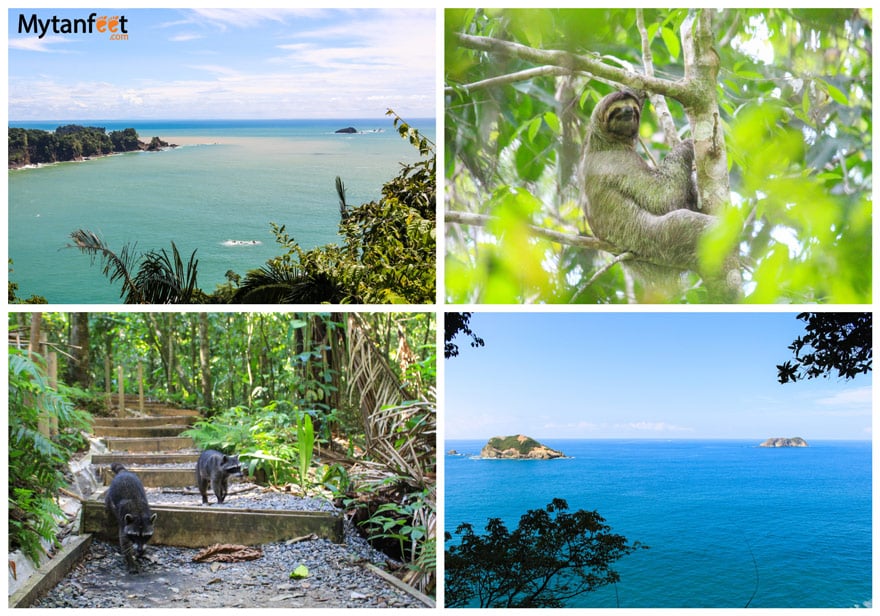 Since the park is not that big, visitors can hike the whole park in one day. Keep your eyes open as monkeys, sloths and raccoons are frequently seen crossing the path!
Rincon de la Vieja National Park
This is one of our favorite national parks in Costa Rica: Rincon de la Vieja. It consists of a large active volcano, part of the Guanacaste mountain range.
Though it may not seem like it as Guanacaste has dry, arid weather, this national park has everything from the "hot" end of the spectrum: boiling mud pots and hot springs to the "cool" end of the spectrum: over 30 year round rivers and many waterfalls. With easy to moderate trails in the national park, visitors can experience the wonders of the Rincon Volcano area.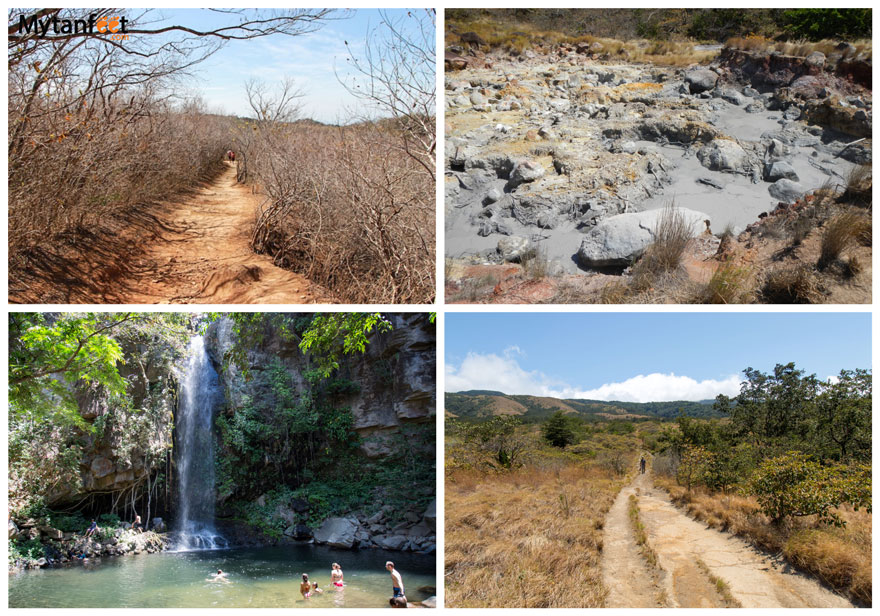 Visitors can do an easy hike around the mud pots to witness the powerful geothermal energy released by the volcano or a bit more challenging one through the tropical dry forest to charming waterfalls and rivers. The landscape is breathtaking, as hikers can see the changing colors of the forest going from lush green to dry yellow depending on where the rivers are located.
Barva Volcano
For a less crowded hike, head to Barva Volcano right outside Heredia. It's a tough hike but with extremely rewarding views of a lake, the city and volcano. The 6 mile hike doesn't see too many foreign visitors as it's more of a local hot spot so it offers a nice experience away from tourists.
The hike is best done in summer or dry season (January to April) as it can get rained out in winter.
Rio Celeste & Tenorio Volcano National Park
The Rio Celeste in Tenorio Volcano National Park hike has to be one of the most magical ones in Costa Rica. The trail is very straight forward with great signage but the river is what makes this hike so incredible. Walk along a river so blue, it almost seems unreal!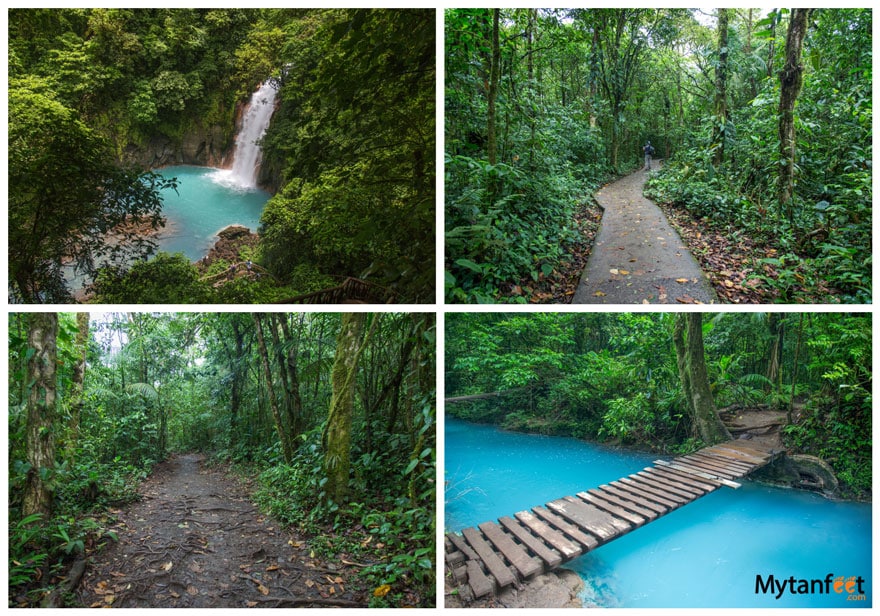 This 7 kilometer round trip walk offers stunning views of the waterfall, the rain forest and river. It is not too difficult as it is mostly on flat lands. However, there are sections of the trail with lots of tree roots.
You can take a day trip from La Fortuna or Guanacaste to Rio Celeste. If you are in La Fortuna, check out our 10% discount on the Rio Celeste hike here!
Arenal Hanging Bridges
Though you can find hanging bridges in many places in Costa Rica, the Arenal Hanging Bridges is one of the most popular. It's an easy 3.2 kilometers (2 mile) walk with 10 regular bridges and 6 hanging ones, offering visitors spectacular views of the volcano and rain forest forest.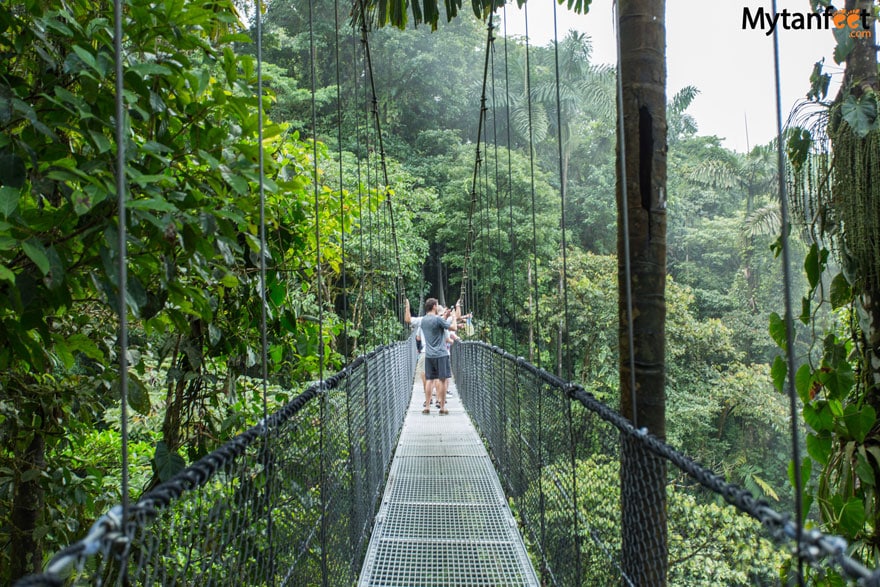 Other popular hanging bridges are in Monteverde such as Selvatura Park or Sky Adventures or the Heliconias Hanging Bridges in the Miravalles Volcano area.
Barra Honda National Park
This is one of the least visited parks in Costa Rica: Barra Honda. Established to protect the 42 caves found in the area, the park also has some wonderful trails for those who aren't interested in cave exploring.
They have trails going up to great views of the Nicoya Peninsula, huge ceiba trees and the caves. Since it's not a very popular park, visitors can feel like they are the only ones there! Trails range from easy to moderate. We highly recommend the cave tour. It's an hour and a half hike to the cave and another hour in the caves. It's an incredibly unique experience that is not very well known.
Monteverde/Santa Elena Cloud Forest Reserve
The tropical cloud forests are one of the most treasured yet vulnerable ecosystems in Costa Rica and in the world. In Monteverde, there are 3 large reserves with many trails so visitors can experience the extraordinary cloud forests.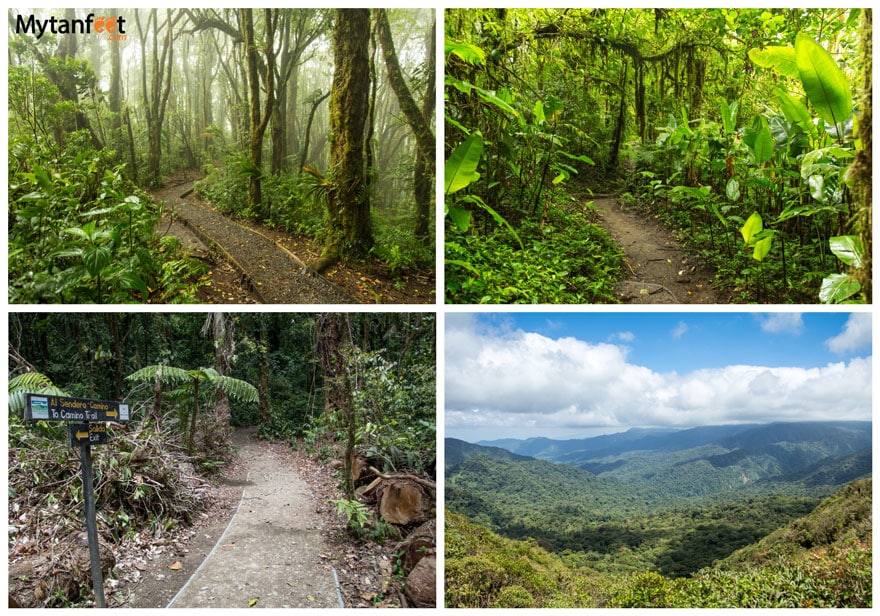 Monteverde Cloud Forest Biological Reserve is the most popular with stunning views of the forest, Santa Elena is higher in elevation with glistening moss and constant drizzle and Children's Eternal Rain Forest is the largest private reserve in the country. No matter which one you visit, the hike through the cloud forest is an experience you'll cherish forever.
Other Hiking Trails in Costa Rica Worth Mentioning
Arenal Volcano National Park Hike
Trek around the base of the Arenal Volcano National Park through the old lava fields for views of the volcano and lake.
Catarata Bajos del Toro Hike
This is a short walk down to the Catarata del Toro, a 270 foot waterfall in an extinct volcano crater in Bajos del Toro. The hike is actually not very long but its a lot of steps. They do have some gardens and short trails on their property.
Cahuita National Park
Walk along the beach in Cahuita National Park to see birds, monkeys, sloths and for lovely coastal views. Free entrance fee!
Guided vs Self Guided Hikes in Costa Rica

Though most of these hikes can be done self guided, a guided hike is recommended. We recommend a guide especially to see wildlife. Guides are required for Corcovado National Park and highly recommended for Chirripo. There are many Costa Rica hiking tours for those interested in doing many of these great walks during their vacation. You can read about booking guided tours in Costa Rica here.
Essential Items for Hiking in Costa Rica
Whichever trail you're doing, here are a few of our recommended items.
Insulated water bottle: It is very hot and humid on the coasts. An insulated water bottle is the best thing in the world when you've been walking under a hot sun all day! Barra Honda and Rincon de la Vieja are one of the hottest and driest areas in Costa Rica so make sure to bring at least 2 liters of water.
Micro fiber towel: When you're dripping sweat, a micro fiber towel is amazing. Wipe the sweat off your face, cover yourself in the rain, wipe off sand. So many uses for one! We especially appreciated them when we were hiking in Corcovado!
Mosquito repellent: Mosquitoes are found in nearly allCosta Rica except for the high elevations. You'll want to bring mosquito repellent for your hikes in the jungle like Nauyaca, Manuel Antonio and Corcovado.
Hiking shoes: For most of these hikes, you don't necessarily need tall hiking boots or shoes. You can wear closed/open toed hiking sandals (like these KEENs) to Nauyaca, Manuel Antonio, Rio Celeste, Rincon de la Vieja, hanging bridges, Cahuita and Arenal but hiking shoes/boots are recommended for Chirripo, Monteverde, Barra Honda (if doing caves) and Barva. You can read our post best shoes for Costa Rica for more information.
For more fun things to do in Costa Rica, check out these posts below!
There are affiliate links in this post.