Monteverde's favorable climate and unique cloud forest is home to a abundance of ficus trees, also known as stranglers trees. These strangler trees leave behind a unique formation when it kills the host tree and in Monteverde, you can actually climb one of these hollow ficus trees!
Climbing the hollow Monteverde ficus tree is one of the best things to do in Monteverde. We visited in January 2021 so in this guide, you can plan your visit to this awesome tree!
**This post was originally published January 2021 and our last visit was in Jan 2021. As of March 2022, we had learned they did fence off the property and aren't allowing people to enter to see the tree anymore sadly**
How to Get to the Hollow Monteverde Ficus Tree (El Arbol Hueco/Ficus Tree)
Finding the hollow ficus tree in Monteverde is actually very easy. The entrance is right off the main road in front of the Monteverde Cloud Forest Lodge sign. It is on Google Maps as "El Arbor Hueco/Ficus Tree" so put that into your Google Maps and it's very easy to find.
Driving and Walking
If you can, we recommend to walk there. If you drive, there is no parking, you'll literally just have to park off the side of the main road. Although Monteverde is safe, if you drive, try not to stay too long at the tree and do not leave anything visible in your car like purses, backpacks, bags, etc. Roll up windows and lock your doors.
You can also call a taxi or Uber and ask them to wait for you. It is very close to downtown Santa Elena so it shouldn't be super expensive.
Entrance to the Hollow Monteverde Ficus Tree
The entrance is to the left into the woods and last time we went in January 2021, there was a string going all around so you'll have to walk underneath it. There were some workers there who said the owner wanted to build a fence but as of now, it's open and anyone can still go. We'll try to visit again later in the year and see if that has changed.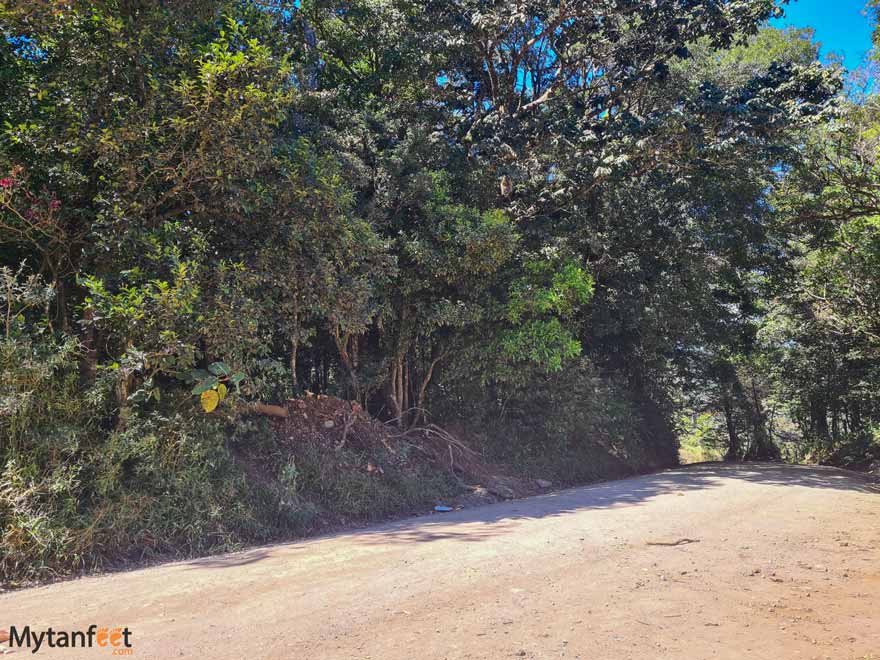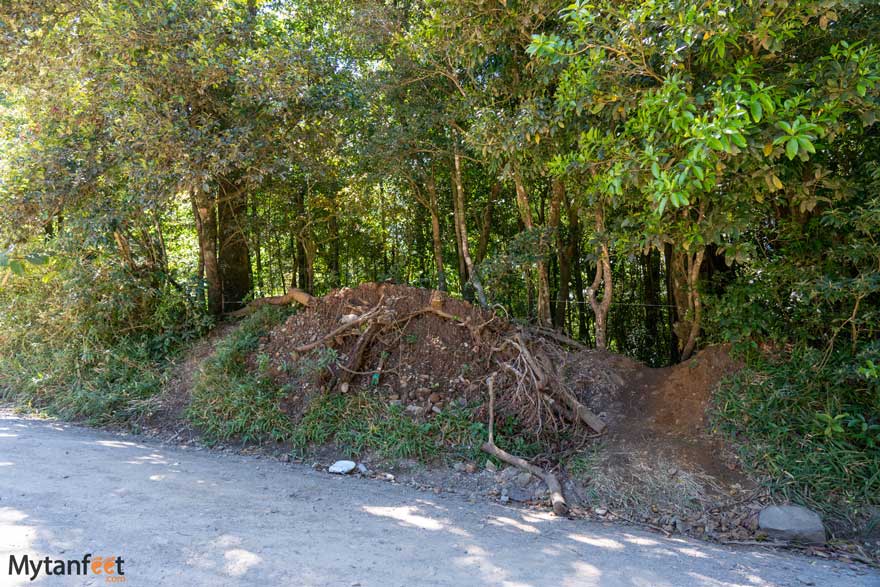 After you walk under the string, just keep walking down about 2 minutes. There isn't really a straightfoward path but you can't miss this tree, just keep walking and it'll appear in a minute. You'll see several ficus trees but you'll know you've reached the right tree since it stands out from the other ones!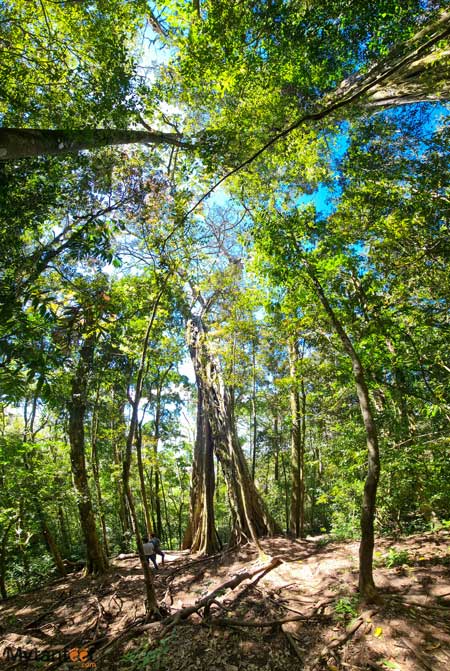 When we visited, there was one group ahead of us and a family arrived when we were about done so this is a popular tree. The tree can fit one person at a time so you'll have to wait and take turns but it's a lot of fun!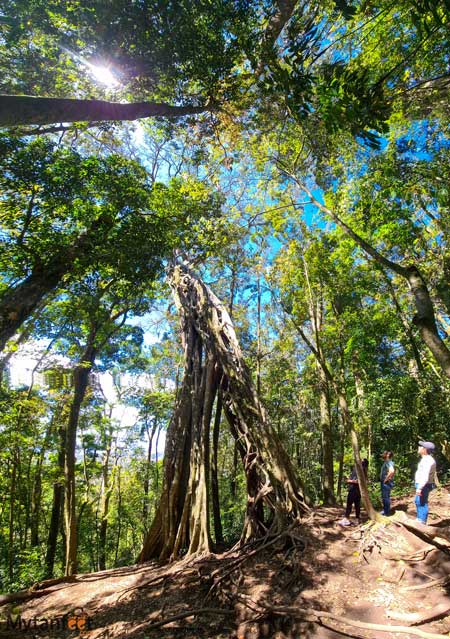 Climbing the Monteverde Hollow Ficus Tree
The root system inside the hollow ficus tree provides easy to find handles and holds. But if you get claustrophobic or are afraid of heights, I don't recommend it! I'm not very good at rock climbing or else I think I would have been able to climb higher but it was still a lot of fun!
To be fair, I feel like I climbed a lot higher than it looks! I got about halfway and chickened out because the space got a lot smaller and I'm a tiny bit nervous about enclosed spaces.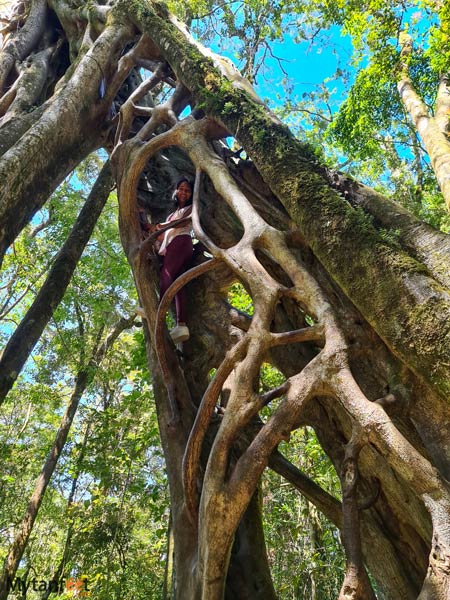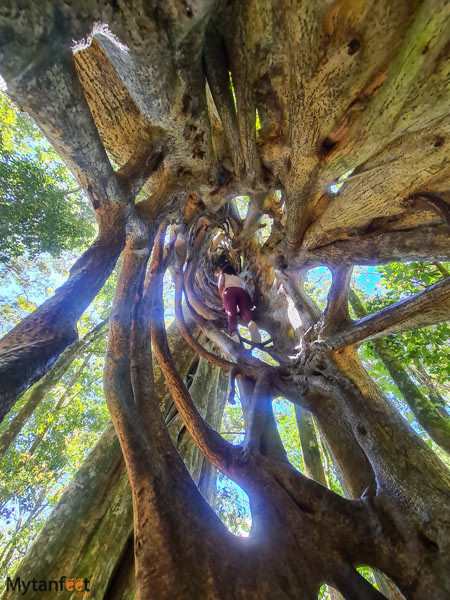 You can climb allllll the way to the top and come out the other end of the tree for an amazing view. I couldn't make it to the top but the guide of the family after us scrambled up there in two seconds! He said he had been going there since he was a kid, that was like his playground growing up!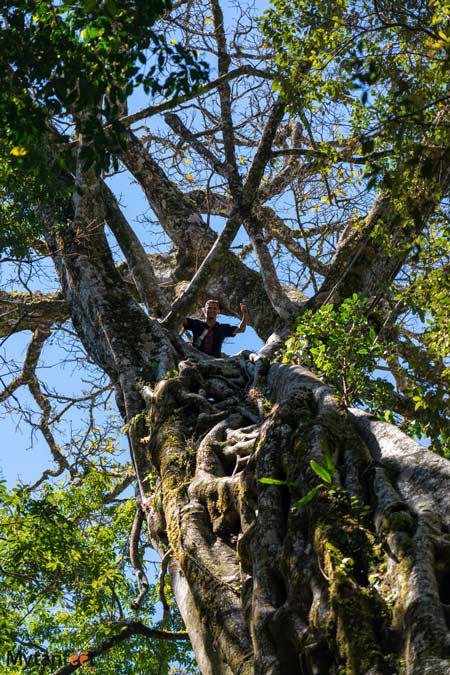 You only need about 30 minutes to an hour at the tree, depending on how busy it is. We went on a weekend morning and stayed about 20 minutes or so since there weren't many people.
After this, we had lunch at Cafe Orquidea (super good breakfast, lunch, crepes and coffee).
Video
We made a short video of us climbing the Monteverde ficus tree and you can also see 4 other free cool spots in Monteverde!
Plan Your Trip to Monteverde
We wrote a lot of posts about Monteverde to help you plan your trip. Check them out!
Monteverde Road Conditions: Find out if you need a 4×4
Monteverde Cloud Forest Reserve: The most popular cloud forest reserve
Selvatura Park: ziplining, hanging bridges, sloth sanctuary, butterfly garden, hummingbird garden
Sky Adventures Monteverde: ziplining, hanging bridges, aerial tram
Curi Cancha Reserve: Best place for birdwatching
Santa Elena Bosque Nuboso Reserve: Our favorite cloud forest reserve for hiking