Although Monteverde is famous for its soaring ziplines and breathtaking cloud forests, it's also a great destination in Costa Rica to explore and travel on a budget. If you have an extra day in Monteverde after ziplining, hiking and birdwatching and want to see some cool local spots in the area, this post is perfect for you.
In this post, we highlight 5 free things to do in Monteverde. And if you're looking for tours, check out our things to do in Monteverde post.
The five free things to do in Monteverde are San Luise Viewpoint, hollow ficus tree, Mirador Valle Escondido Preserve, Ficus Root Bridge and Monteverde Volcano Lodge.
Map
Click here to go to our interactive map of the five free things to do in Monteverde, Costa Rica.
We drove to all these spots although there are a couple you can get to without a car. Remember, a 4wd/4×4 is necessary for Monteverde, especially to a couple of these places!
Read our driving in Costa Rica, renting a car in Costa Rica and our Costa Rica car rental discount posts here to learn more.
Free Things to Do in Monteverde Video
We made a short video of all these spots which you can watch below and then read on for more details on how to get each place.
San Luis Viewpoint
This is one of our favorite free places in Monteverde to see the sunset. It's also a short drive from Santa Elena but and not as popular as the other viewpoint we'll talk about later in this post. It's not on Google Maps and since it is in the middle of a very curvy, narrow road, a lot of people drive right by it.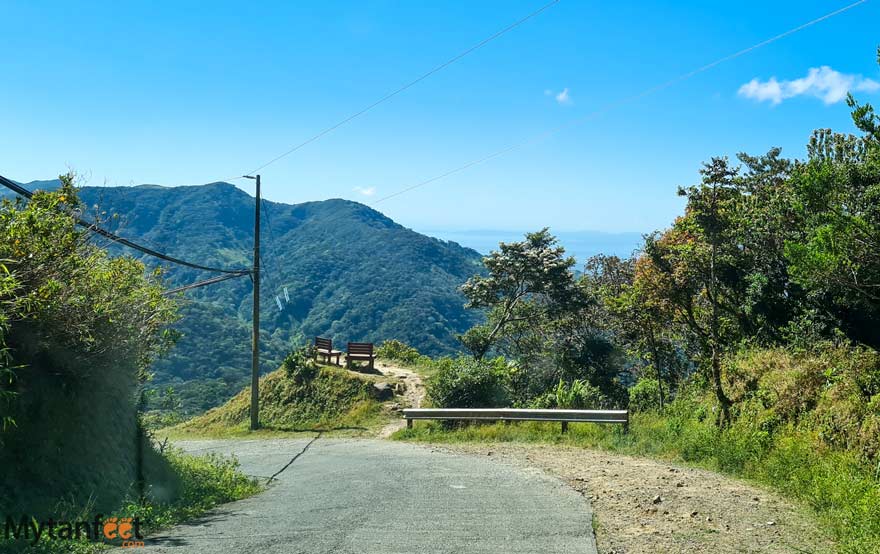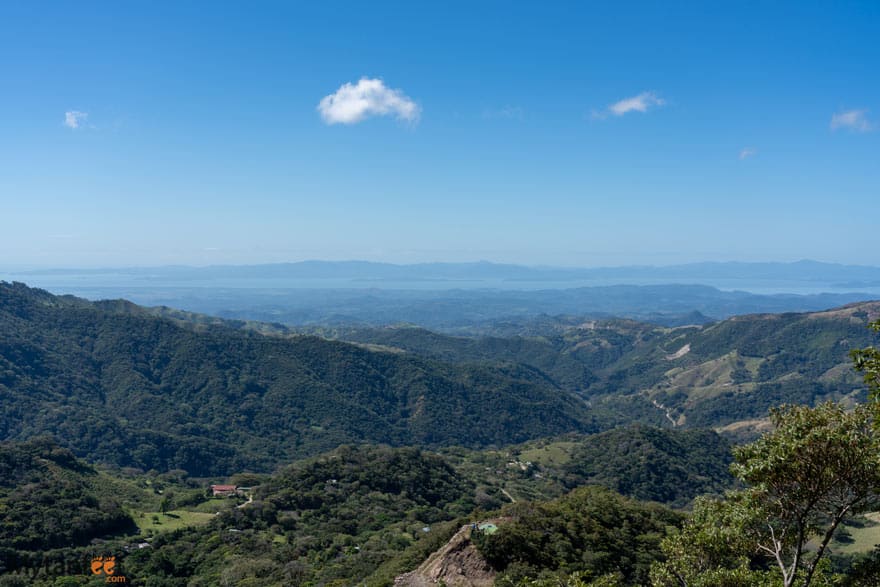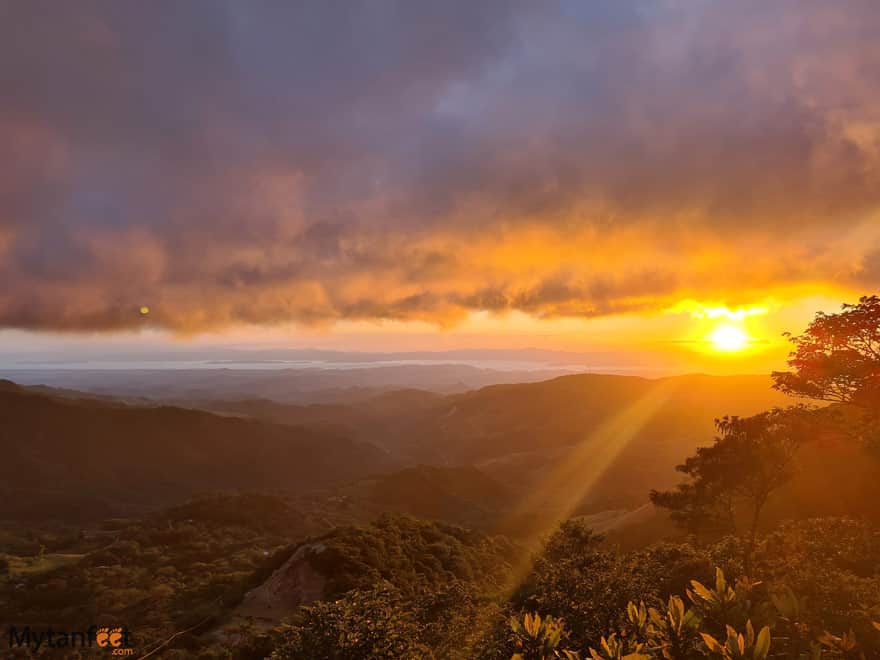 There are two benches where you can sit at this lookout spot and enjoy the view. To your left, you'll see the cloud forests and even a waterfall in the distance. Right ahead is the Gulf of Nicoya and you can watch the sunset from this point.
How to Get To the San Luis Viewpoint:
It's not marked on Google Maps but I marked it on our map above and included the GPS coordinates. Drive slow because it's super easy to miss the spot to pull over as this road is super curvy and narrow.
There is a small area to pull over to the right side of the road and park but if it's full, unfortunately you will have to drive all the way down to the bottom to turn around and hope that a spot has opened up.
You can also walk there from town if you want to hit your 10,000 steps or do some exercise. It's a bit of a hike so put on your good shoes!
Hollow Ficus Tree
*March 2022 – We have heard that it's been fenced off now and aren't allowing people in 🙁 *
The hollow ficus tree is one of the coolest free things to do in Monteverde! Thanks to the climate and cloud forest ecosystem, Monteverde is home to a ton of different types of ficus trees. And many of these ficus trees display a type of "strangling" habit meaning they'll start growing on a host tree as a hemiepiphyte. Sometimes this will kill the host as the roots grow downward over the years.
If the host trees dies and hollows out, all that's left are the strangler trees' roots and that is what you see here in this tree.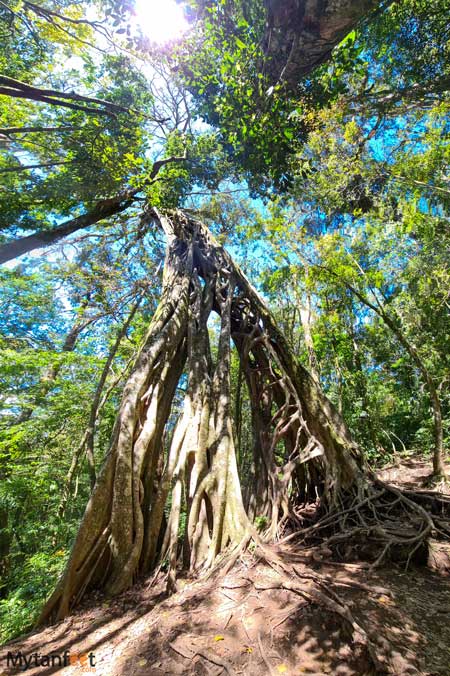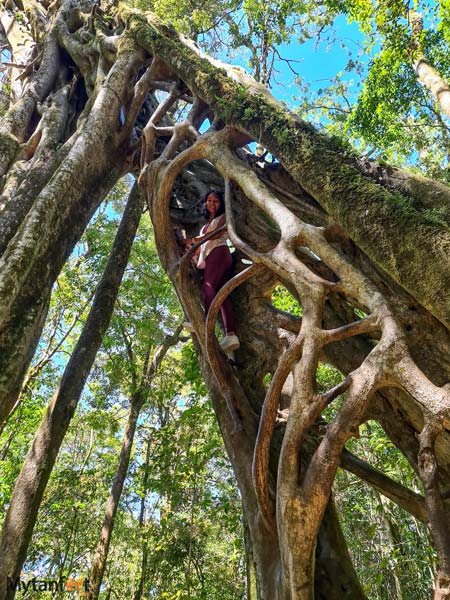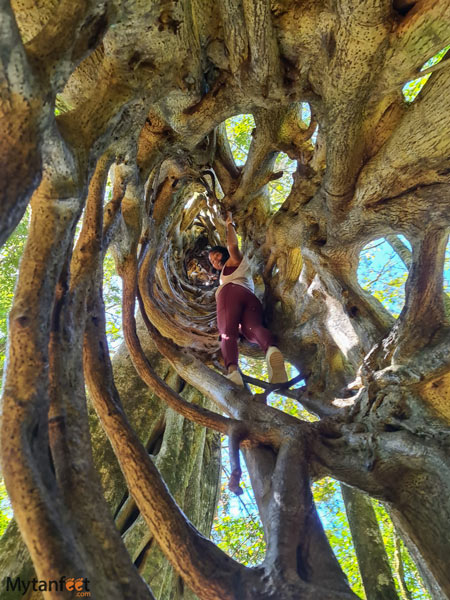 Although there are many of these types of tress in Monteverde, this one in particular happens to be the perfect size for a person to climb up inside. The roots actually offer the perfect climbing system with easy to find handles. If you make it to the top, you get a beautiful view of the surrounding forest and valley.
How to Get to the Hollow Ficus Tree in Monteverde:
It is marked on Google Maps as "El Arbol Hueco" so select that as your destination. You have to walk in the forest off the main road and the entrance is literally right off the main road. We parked our car off the main road, near the sign of the Monteverde Cloud Forest Lodge.
Then you walk like 3 minutes through the forest (entrance on the left) to get to the tree. There are many trees and paths but you will see it right away.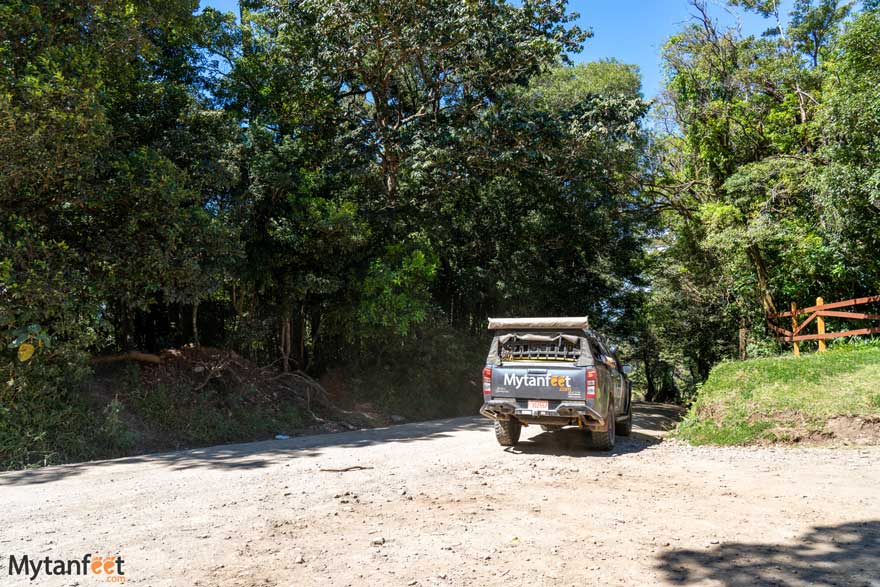 When we visited in January 2021, there was a fence line that we had to walk under. We also saw some workers building a fence. As of March 2021, they completed the fence around the private property and aren't allowing people to enter.
We only stayed about 10 minutes at the tree but we don't highly recommend doing what we did – parking off the side of the road, because it's very open and there isn't any security. It is better if you walk but if you drive, make sure to roll up windows, lock your doors and don't leave any valuables visible. Try not to stay too long at the tree in this case.
Cerro Plano Viewpoint (Mirador Valle Escondido Preserve)
This is one of the most popular viewpoints in Monteverde because it's super accessible. It's right off the main road in front of the CPI Spanish School and is in walking distance from many hotels like Hotel El Establo and Los Pinos Cabañas and Jardines. Definitely one of the best free places in Monteverde.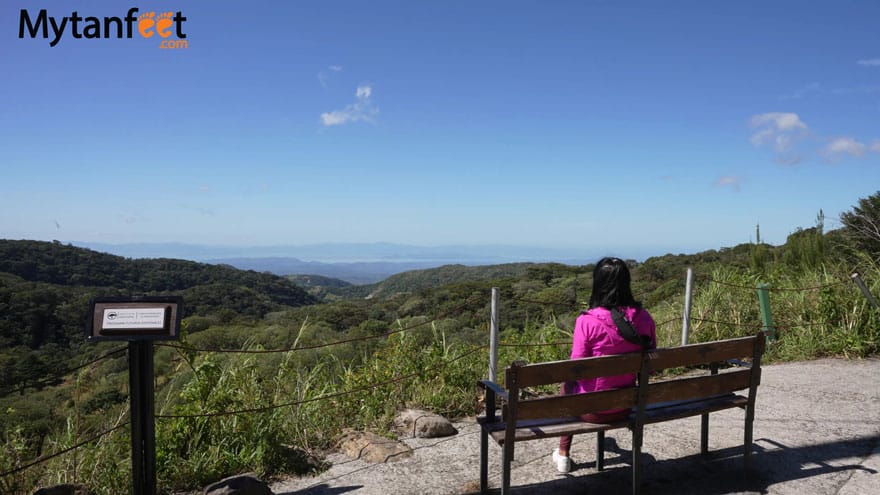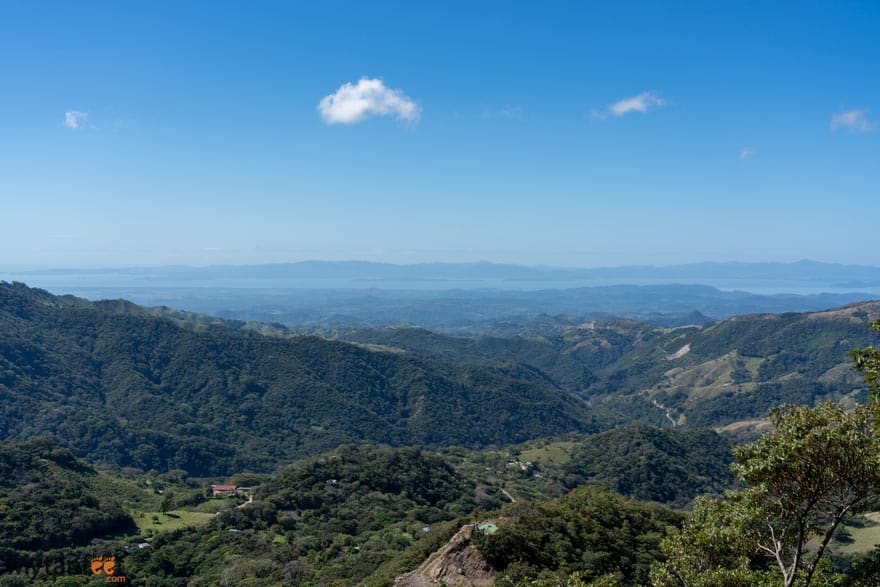 There are several benches and it's a great place to see the sunset.
How to Get to Valle Escondido Preserve Viewpoint in Cerro Plano
It's super easy as it's marked on Google Maps as "Mirador Valle Escondido Preserve." However, there isn't really anywhere to park as it's off the main road. We just pulled over to the side really quick. If you can, walking is the best way and then you can stay there longer.
Ficus Tree Bridge
The ficus root bridge is an awesome free spot in Monteverde, particularly for those of you who like to post Instagram photos. It's the ficus tree root bridge and surprisingly, it's very close to downtown Santa Elena!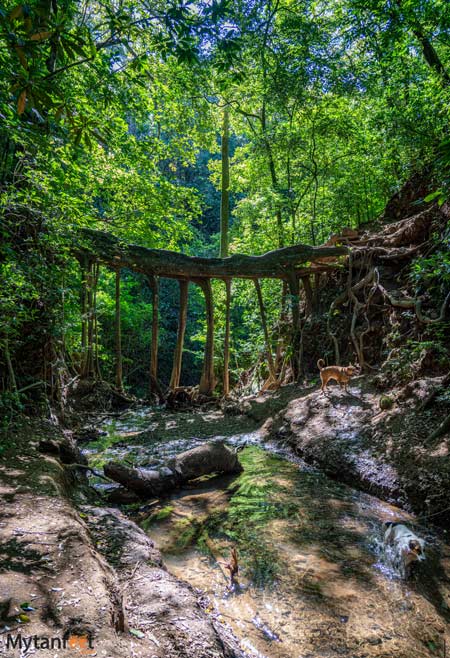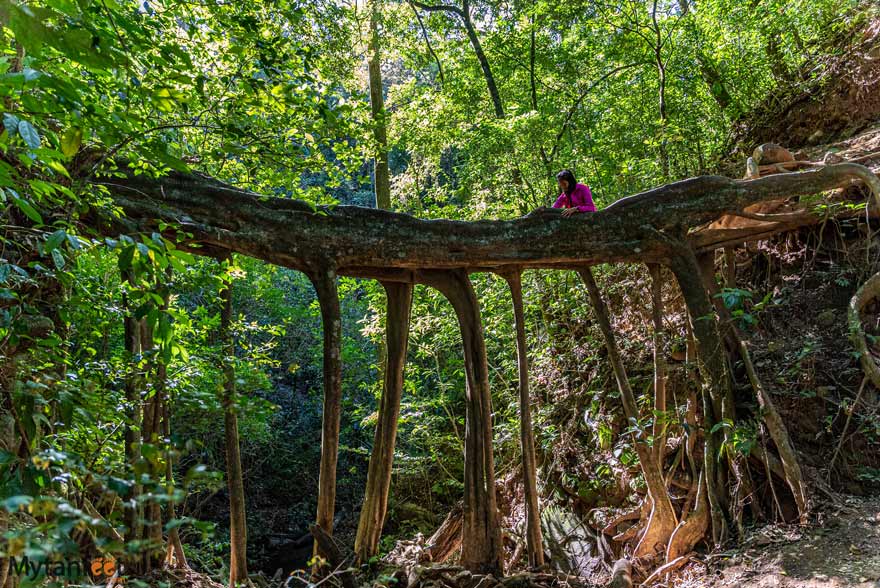 This bridge is made up of a the ficus tree roots and you can actually climb up the bridge and walk across for those braves ones! When we visited in January, the river was quite low and it was dry but you still need to be careful. In rainy season, I can see it being super muddy.
This isn't a spot for anyone who has trouble walking on uneven surfaces, has knee or ankle problems though. Even though it's a short walk down from the entrance to the bridge, there isn't really a path and it's quite steep. I had to use my hands a little bit and I saw a man slip going down so be very careful!
How to Get to the Ficus Root Bridge
The entrance is right by Felix Room. We parked our car by the Restaurante El Jardin on the side of the road and walked. There were several tourism vans parked on the same street so we felt OK leaving our car there.
From there, you have to walk up the curve. The entrance is straight to your right hand side. Go down this short steep path, keep to the right, go across the river and you'll see the bridge.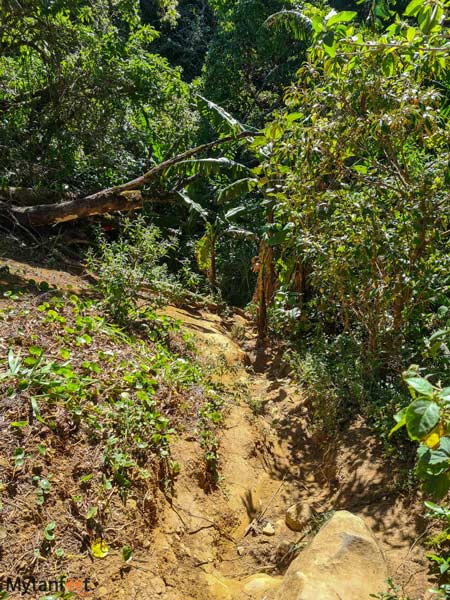 It is on Google Maps as "Ficus La Raiz."
*We have heard the owners (this is private property) are making a new path and asking for a monetary donation.*
Monteverde Arenal Lodge Viewpoint
From Monteverde, there are some places you can actually see Arenal Volcano. Santa Elena Bosque Nuboso Reserve has a viewpoint and then there are some other spots, such as the Monteverde Volcano Lodge up in San Gerardo.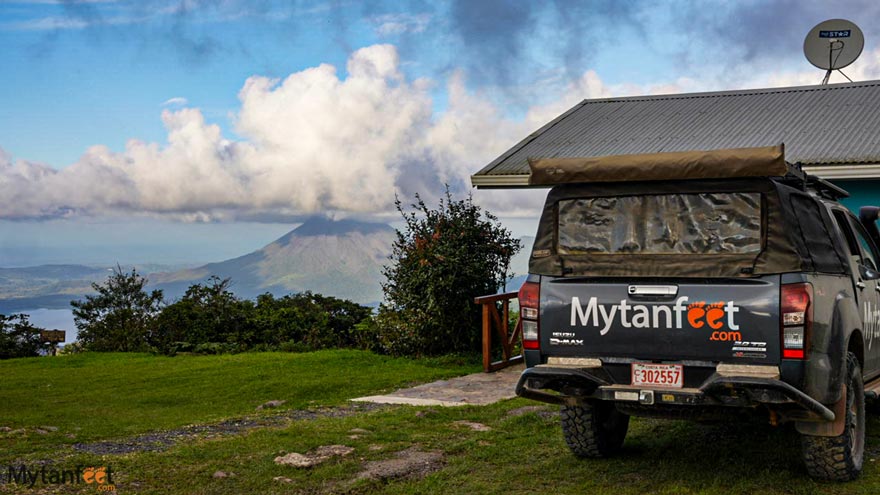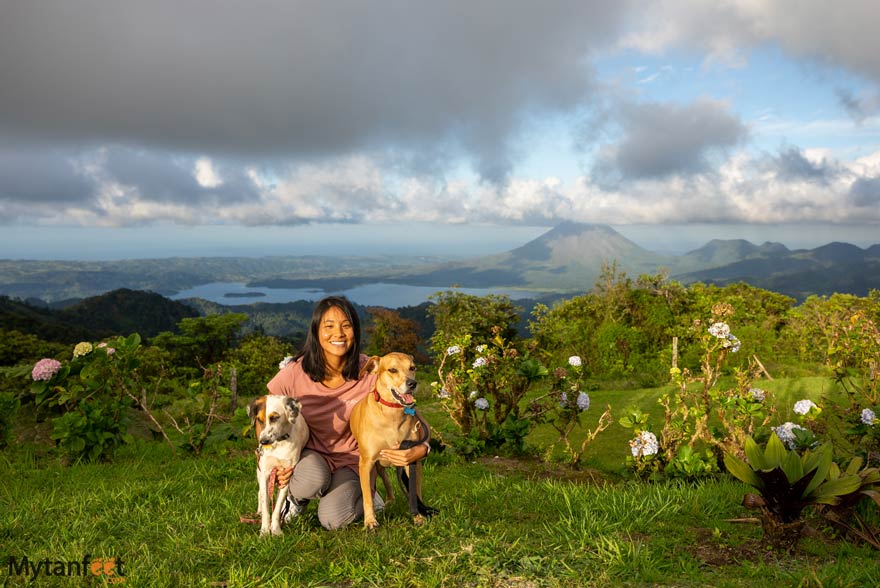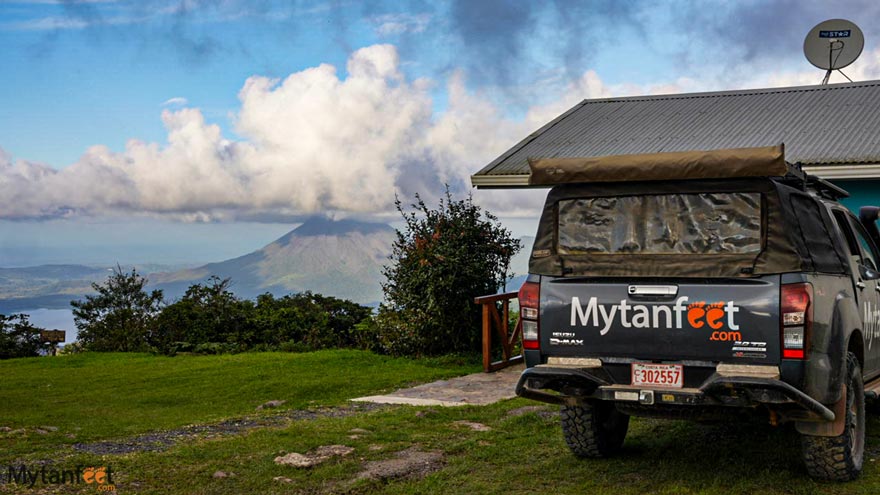 This hotel has one of the best views of Arenal Volcano and Lake Arenal I've ever seen. It's so impressive on a clear day!
Although this viewpoint is one of the free places in Monteverde, it is on a hotel's property. We recommend to give a tip or buy a drink from their restaurant. Or have a meal at this restaurant. This view is simply spectacular!
How to Get to Monteverde Arenal Volcano Viewpoint
Just put your destination on your GPS as Monteverde Volcano Lodge. 4×4 definitely required!
PS. Check out our 5 day La Fortuna/Arenal and Monteverde itinerary if you plan to visit both places!
Read About Other Things to Do in Costa Rica below!
13 Things to do in Puerto Viejo de Talamanca