Going grocery shopping is essential to any trip to Costa Rica whether you need to pick up any items you forgot, are staying in a vacation rental with a kitchen or are staying for a long period of time. Shopping in another country can be intimating, especially if you don't speak the local language but it's quite easy in Costa Rica.
Costa Rica has a range of supermarkets with a variety of items and brands and you can find nearly everything you'd find at home in their grocery stores. However, there are a few things to know before you grab a shopping cart and dive in which you can read in the post below.
What You Need to Know About Grocery Stores in Costa Rica
Tax is usually included in the price tag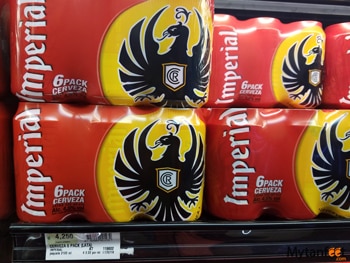 Don't worry about calculating the tax because it's usually included in the price tag. Costa Rica has a sales tax of 13%, you can check your receipt to see how much the tax is but it's normally included.
Most grocery stores take USD and colones
Most grocery stores in Costa Rica take both USD and Costa Rica colones so if you don't want to pay with your credit card, you can use cash.
If you use USD, they will use the exchange rate of the day (which should be posted somewhere at the front of the store, around 560 in Jan 2020) and give you your change back in colones.
This is a good way to get some Costa Rican colones without having to make an extra trip to the bank. Big supermarkets will use the correct exchange rate, not the lazy 500 to 1 ratio. However, if you are at a small convenience store (called pulperia or abastecedor in Costa Rica), check the exchange rate. Read more about handling money and Costa Rican currency here.
Not all supermarkets have the same quality, carry the same items or have the same prices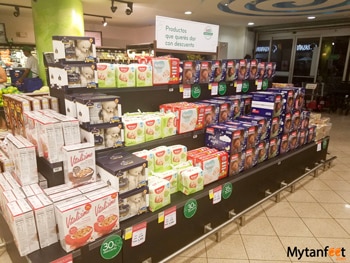 There are many supermarkets in Costa Rica but not all of them carry the same items and have the same quality or prices.
For example, Auto Mercado, a Costa Rican owned store is well known for being a high end supermarket with high quality items, a bigger range of foreign products and a wide selection of produce. They also have conveyor belts, air conditioning and misting machines, a few things that are not super common in other grocery stores in Costa Rica. They have a sister store called Vindi which is pretty much a smaller Auto Mercado.
Pali, a supermarket chain owned by Walmart is a very basic market. The few times we have been to a Pali hasn't been the most pleasant experience as they were messy and the workers were very slow. Maxi Pali, the bigger version of Pali has more items and is cleaner. Interestingly, even for local products, not all supermarkets carry them. Auto Mercado doesn't carry one of the Costa Rican snacks I like but you can find it in Maxi Pali.
Then there are the middle-high range supermarkets like Mega Super or Mas X Menos (also owned by Walmart) which carries some American and foreign products, is usually pretty clean and has a decent selection of produce.
Not every supermarket chain carries the same items or have the same prices. What's cheap in the Auto Mercado San Jose is usually more expensive in Auto Mercado Coco because Coco is a touristic beach town.
You can find American and foreign brands and they are more expensive
The middle to high end supermarkets in Costa Rica do carry a good amount of American and foreign brands but they are more expensive.
For example, a bottle of Hawaiian tropic sunscreen is around 9,000 colones ($17 USD) when in the US, you can buy it on Amazon for around $6 USD (which is why we recommend bringing sunscreen and mosquito repellent). Shampoo and face wash brands like Neutrogena and Dove are also more expensive. Toiletries are one of the things more expensive in Costa Rica.
This also goes for food. If you see American brands, they will be more expensive in Costa Rica.
Anything they have to import will be a lot more expensive because of the 13% sales tax and the import tax which depends on the item.
You can find local products for a lot of items like peanuts, pepper, ice cream, spaghetti sauce, rice and things like that which can be around half the cost of the imported products, so if you want to save money traveling in Costa Rica, then buy local brands.
24 hour supermarkets in Costa Rica are not common

Most supermarkets in Costa Rica close by 8 PM.
Some supermarkets have a pharmacy but not all
In Costa Rica, not all supermarkets have their own pharmacy. The only one I've been to that has their own pharmacy is the Walmart and Maxi Pali.
Hard to find vegan/vegetarian friendly options…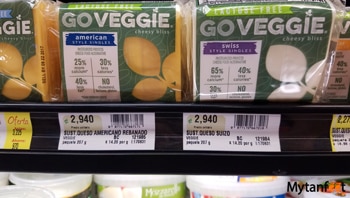 …in some supermarkets. But more grocery stores in Costa Rica are stocking vegan and vegetarian products and is getting easier to find.
Currently in Guanacaste, I haven't been able to find tofurkey or vegan cheese in any supermarket except Auto Mercado. They also have tofurkey, vegan eggs and cheese and veggie burgers (they just got the Beyond line). So this is a good supermarket to go to if you are vegan. (Read more about eating vegetarian/vegan in Costa Rica here) but keep in mind that it is not very cheap.
Some common veg items you can find in most supermarkets are almond/soy/rice milk and box tofu. You may be able to find more options in the supermarkets in San Jose since it is the city.
You can also find gluten free items in Costa Rica, particularly at the Auto Mercado which had a dedicated section. My friend who has Crohn's disease and is allergic to many things had a much easier time buying snacks and things to eat there. You can find gluten free items in other supermarkets but they don't really have a whole aisle dedicated to it, they usually have just a few items.
You can find all basic cuts of meat in Costa Rica

For meat, you can find your basics: beef, pork and chicken and you can find all the normal cuts. Only some stores have a seafood section (or they have a frozen seafood section) and it's hard to find things like ground chicken, ground pork and turkey on a daily basis. But you can get chicken breasts, wings, thighs, sirloin steaks, pork chops, marinated meats and more.
Remember that all the names of the cuts will be in Spanish so it will be handy to write them down if you're looking for a certain one like lomo (tenderloin), costillas (ribs) and entraña fina (skirt steak).
Popular Grocery Stores in Costa Rica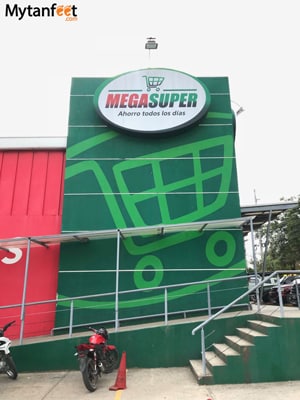 Auto Mercado (throughout Costa Rica, mostly Central Valley, Jaco and Guanacaste)
These are popular grocery stores in San Jose and Northern Guanacaste.
BM (in Uvita and Costa Ballena area)
Main grocery store in Uvita and Dominical. Mostly in the South Pacific like Puerto Jimenez, Palmar and San Isidro de General.
Mega Super

Tons of locations in Costa Rica.
Vindi
A smaller grocery store chain under Auto Mercado. In San Jose, Heredia and Tamarindo.
Walmart (Liberia and San Jose)
Full service Walmart with a cafeteria, clothes, produce, furniture, electronics and more.
Fresh Market
Small market, good produce. Only in San Jose and Heredia.
Maxi Pali and Pali

You can find Maxi Palis and Palis all throughout Costa Rica.
Super Compro
You can find Super Compros in San Jose, Guanacaste and Monteverde. I personally don't like these supermarkets very much, they are usually very slow and messy but they are a large chain.
Mas X Menos
This is the most popular grocery store in Jaco as it is right in downtown.
Perimercado (San Jose, Central Valley)
Popular supermarkets in San Jose.
Pricemart (a membership only store like Costco)
In Liberia, San Jose, Heredia and Central Valley. You can't use your Costco membership card at Pricemart since they are different companies (but you will feel like you were transported to a Costco in the USA).
Costa Rica Grocery Prices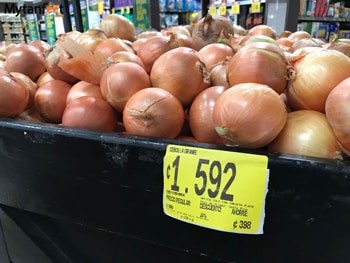 Here is a list of how much groceries cost in Costa Rica. These prices are from the Mega Super/Auto Mercado in the Tamarindo area so they are generally a bit more higher.
This is just to give you an idea of how much basic items cost. On average, they may differ from 100-600 colones (or greater depending on the item).
For 2 people living in a touristic area of Costa Rica, groceries are usually the biggest chunk of our monthly budget since we love to eat and I love to bake and cook.
Prices are quoted in Costa Rican colones and USD and are an average.
Costa Rica grocery prices
1 kg sugar: 650 colones (~$1.15)
Yellow onions: 1800 per kg (~$3.10)
Can of OFF family mosquito repellent: 4920 (~$9)
1 loaf of white bread: 1600 (~$2.80)
1 liter of milk: 890 (~$1.50)
Tomatoes: 2000/kg (~$3.5)
.660 kg (~1.5 lbs) of ground beef: 4860 ($8.60)
A dozen jumbo eggs: 2000 (cheaper for regular size) (~$3.50)
15 regular eggs: 1500 (~$2.60)
6 rolls of toilet paper: 2000 (~$3.50)
1 Gillette mens razor: 4110 (~$7.20)
1 kg of white rice (local brand): 1270 (~$2.25)
~1.5 lbs of chicken breast: 4018 (~7.10)
1 123 ml Colgate toothpaste: 2600 ($4.60)
Tampons (10 pack): 2450 ($4.33)
500 ml Listerine: 3900 (~$6.90)
Local Turrialba cheese: 2675 ($4.70)
6 pack of Costa Rican beer (Imperial): 4620 (~$8.10)
Gouda/smoked/other types of cheese: 2500 – 4500 ($4.50-8)
Grand Old Parr Whisky: 31,400 (~$55)
1 kg flour: 590 (~$1)
Special K cereal: 4080 (~$7.20)
24 pack of water: 8390 (~$14.85)
1750 ml of water: 1000 (~$.170)
1 L olive oil: 7495 (~$13.20)
Discounts and Deals
Some supermarkets have certain days where they offer really good discounts (up to 50%). Auto Mercado has the farmers markets promos on Wednesdays, Mega Super is usually on the weekends.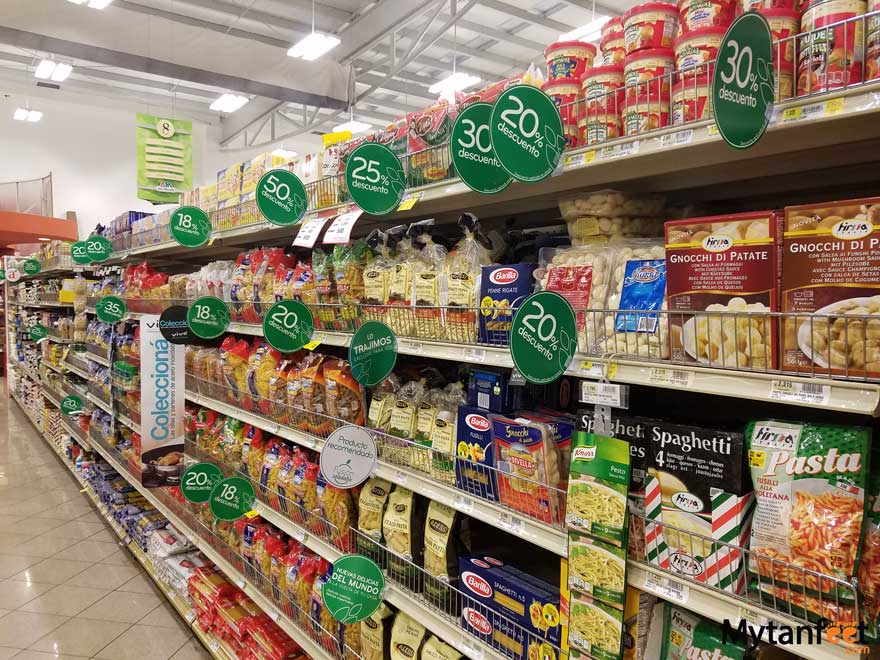 Something to note that if you are renting a vacation rental or want to drink a lot of alcohol during your trip, stop by the duty free store in the airport and buy alcohol there when you land. It's a lot cheaper and you can find a good variety of hard alcohol.
Costa Rica Farmers Markets
If you get a chance, we highly recommend checking out a local farmers market in Costa Rica (called feria in Spanish). They usually have excellent local produce for good prices and it's a fun cultural experience. Read more about Costa Rica farmer's markets here.
Read more posts about Costa Rica below!