Costa Rica has a range of supermarkets which you can find nearly everything you need. Wherever you are in the country, there will be a supermarket, mini market or convenience store where you will be visiting. However, there are a few things to know before you grab a shopping cart which you can read in this post to help you navigate getting groceries in Costa Rica.
Visiting grocery stores in Costa Rica is also a great way to see the cost of living if you are thinking about moving to the country.
What You Need to Know About Grocery Stores in Costa Rica
Costa Rica has full service markets, mini markets and convenience stores
In Costa Rica, there are full supermarkets that have a variety of fresh produce, meat counter, home goods, a deli, frozen food section, bakery, alcohol, etc. Then they have pulperias, abastecedores and mini supers which are like mini grocery stores/convenience stores with basic items, snacks, some home and personal goods and a small produce section.
Supermarkets are locally owned in Costa Rica. However we do have Walmart and they bought out several chains: Mas x Menos, Maxi Pali and Pali.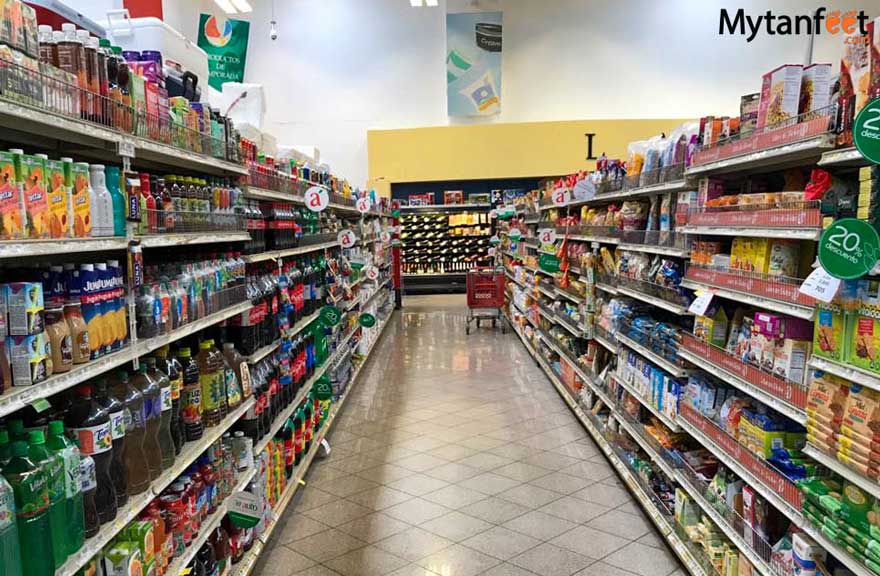 Nearly all gas stations have their own convenience store with snacks and basics. Some of them have a hot food counter with hot dogs, a coffee machine and pastries.
Most grocery stores take USD and Costa Rican colones
Most full size grocery stores in Costa Rica take both USD and Costa Rica colones. Likewise, you can pay with credit card (Visa/Mastercard/AMEX). For the small local owned mini markets, it is best to pay with credit card (Visa is the most widely accepted) or Costa Rican colones. Read more about handling money and Costa Rican currency here.
If you pay in USD, they will use the exchange rate of the day and give you your change back in local currency, Costa Rican colones. Since the supermarkets give you your change back in local currency, this is a good way to get Costa Rican colones without having to make a trip to the bank. However, something important to know is that the exchange rate fluctuates daily. The supermarket should have the exchange rate posted somewhere near the register so you know which rate they use. You can also ask the cashier. The exchange rate is around 540 to 1 USD but it changes daily.
Tourist tip: If you are at a smaller market, always ask for the exchange rate and calculate your change before you leave if you pay in cash. Some may try to pull an exchange rate of 500 to 1 which will make you lose out. Read more about tourist scams in Costa Rica to stay safe.
Not all supermarkets have the same quality, carry the same items or have the same prices
Despite the many supermarkets and grocery stores in Costa Rica, not all of them carry the same items, have the same quality or have the same prices. Whenever I need to do a big shopping trip, I normally have to visit at least two different markets to get everything I need.
For example, Auto Mercado, a Costa Rican owned store is well known for being a high end supermarket with higher quality items, a bigger range of foreign products and a wide selection of high quality produce. They also have conveyor belts, air conditioning and misting machines, a few things that are not super common in other grocery stores in Costa Rica. Their prices are normally a little bit more expensive in touristic areas such as Herradura, Tamarindo and Playas del Coco. They have a sister market called Vindi which is a smaller version.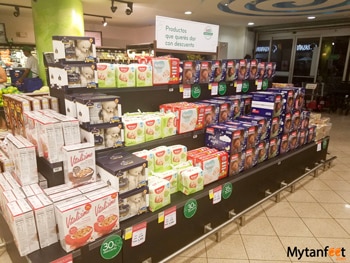 Pali, a budget supermarket is a small and basic market. The few times we have been to a Pali were not very pleasant, as they were messy and the workers were very slow. Maxi Pali, the bigger version of Pali is a full service supermarket with clothes, home goods, electronics, food, pet supplies, OTC medicines and cleaning supplies. Many Maxi Palis also have their own pharmacy inside the market.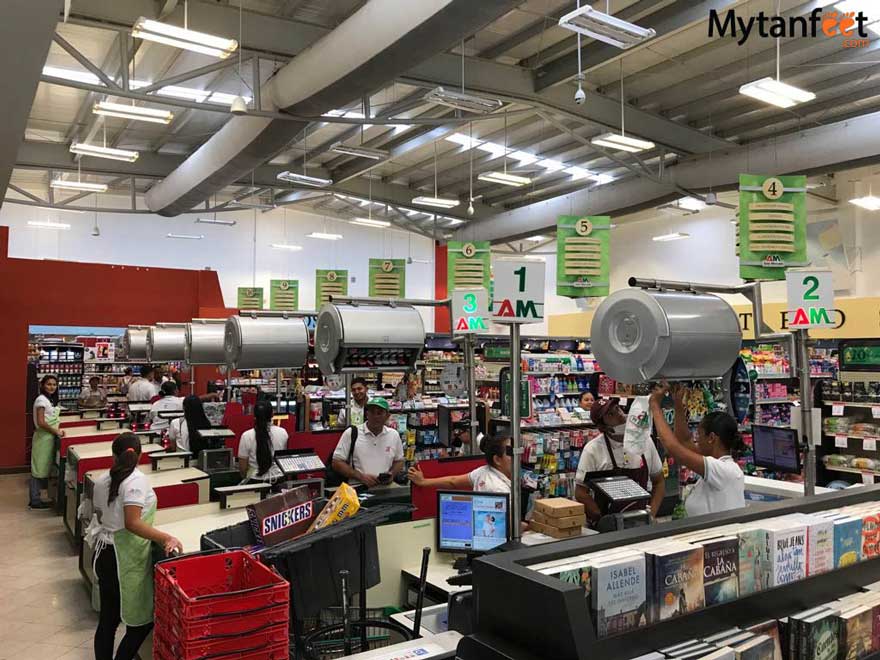 Then there are the middle-high range supermarkets like Mega Super, Super Compro, Perimercados, BM and Mas X Menos which have pretty much everything and are usually fairly clean.
You can find American brands and foreign brands and they are more expensive
The middle to high end supermarkets in Costa Rica do carry a good amount of American brands but they are more expensive. Anything they have to import will be a lot more expensive because of the high import tax.
For example, a bottle of Sun Bum SPF 50 spray sunscreen is around 14,500 CRC (~$27 USD) in grocery stores in Costa Rica. On Amazon, it costs around $15 USD. This why we recommend bringing sunscreen and mosquito repellent. American brands like Neutrogena, Head & Shoulders, Pantene and Dove are more expensive. This also goes for food. If you see American brands like Doritos, Jiffy and Prego, they will be more expensive in Costa Rica.
Instead of buying only foreign/American products, you can save some money by purchasing the local brands instead. The cost can be around half of the imported products, so if you want to save money traveling in Costa Rica, then buy local brands. Personal tip: in case you need shampoo/conditioner/hair products, the Bioland line is my favorite.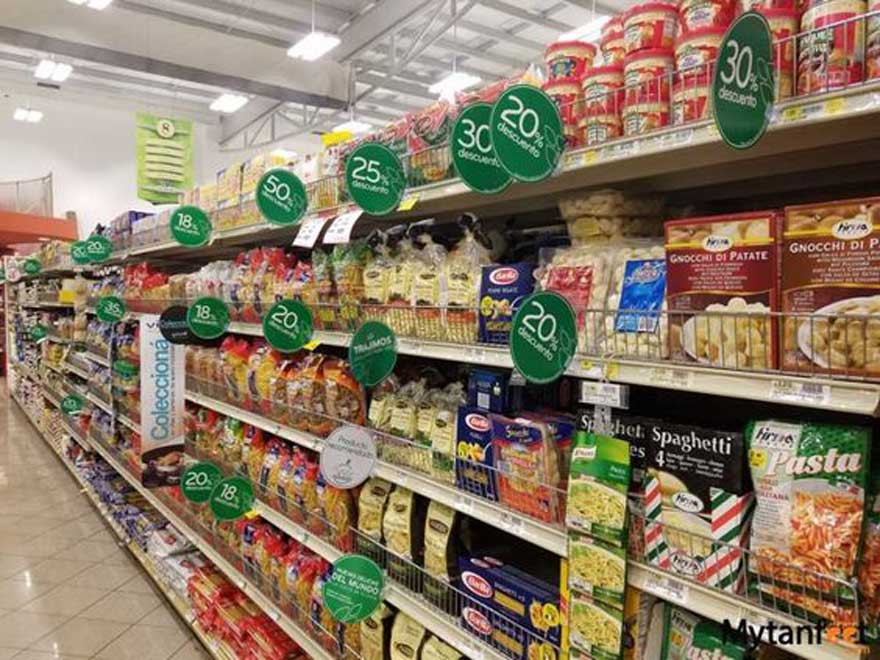 Tip: Many supermarkets have a dedicated day where they offer discounts. For example, Auto Mercado has Wednesdays as the Dia de la Feria where many products are on sale. Mega Super has different promos everyday. However, many supermarkets require you to be a member in order to get the discounted prices. Foreigners can join their membership by registering with their passport.
24 hour supermarkets in Costa Rica are not common
Most supermarkets in Costa Rica close by 8 PM. A few close at 9 PM/10 PM.
Some supermarkets have a pharmacy but not all
In Costa Rica, not all supermarkets have their own pharmacy. The only one I've been to that has their own pharmacy is the Walmart, Mas x Menos and Maxi Pali. You can find basic over the counter medicines in all supermarkets in Costa Rica.
Easier to find vegan/vegetarian friendly options…
…in some supermarkets. I've been able to find pretty decent veggie options in the Auto Mercado supermarket. They have tofurkey, vegan eggs, cheese and they also carry the Beyond line. So this is a good supermarket to go to if you are vegan. (Read more about eating vegetarian/vegan in Costa Rica here.)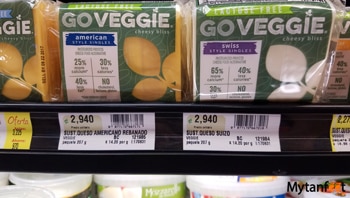 Some common vegetarian/vegan items you can find in many supermarkets in Costa Rica are almond/soy/rice/oat/nut milk and box tofu. You may be able to find more options in San Jose since it is the city.
You can also find gluten free items in Costa Rica. Some of the higher end supermarkets may even have a dedicated aisle to them. My friend who has Crohn's disease had a much easier time buying snacks and finding things to eat in Costa Rica. If there isn't a dedicated section, many grocery stores in Costa Rica will still carry gluten free products. Look for the label "libre de gluten."
There are organic markets in Costa Rica
This is kind of more common in touristic places like Nosara, Tamarindo, Samara, Santa Teresa, San Isidro de el General where there is a more of a holistic community of foreigners. You can find local artisan products there and it is a dedicated organic market.
You can find all basic cuts of meat in Costa Rica
In Costa Rica, you will find all basic cuts of meat for beef, pork and chicken. Only some stores have a seafood section. It can be difficult to find very specific cuts or certain meats like ground chicken, ground pork and turkey products in some supermarkets.
Remember that all the names of the cuts will be in Spanish so it will be handy to write them down if you're looking for a certain one like lomo (tenderloin), costillas (ribs) and entraña fina (skirt steak).
Cost of Groceries in Costa Rica
Here is a list of how much groceries cost in Costa Rica. Prices vary depending on where you are going. Touristic destinations and coastal areas tend to be more expensive than the inland cities.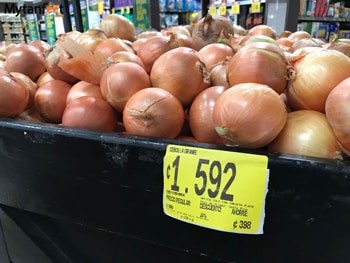 The prices below (listed in USD and CRC) are just to give you an idea of how much basic items cost. For 2 people living in a touristic area of Costa Rica, groceries are usually the biggest chunk of our monthly budget. Our average monthly budget for groceries in Costa Rica is around $600 USD for 2 people and 4 large dogs. Dog food and dog supplies are expensive in Costa Rica unless you get the very cheap, not good quality stuff.
Prices are always quoted in Costa Rican colones at the supermarket. These are average prices of 2022/2023 and may vary depending on the supermarket chain and location.
Average Estimated Costa Rica grocery prices
1 kg white sugar: 850 CRC ($1.24 USD)
2 kg brown sugar: 1875 CRC ($2.73 USD)
15 limes: 2600 CRC ($3.76 USD)
1.5 kg yellow onion: 2300 CRC ($3.33 USD)
1 kg bananas: 850 CRC ($1.59 USD)
Can of OFF! Deep Woods Mosquito repellent: 6675 CRC (~$9.77 USD)
1 loaf of white bread: 1800 CRC ($2.63 USD)
1 liter of 2% milk: 1260 CRC ($2.35 USD)
1 kg tomatoes: 2800 CRC ($4.08 USD)
1 kg carrots: 650 CRC ($.94 USD)
1 kilo of ground beef 95%: 8800 CRC ($16.44 USD)
1 kg boneless chicken breast: 4500 CRC ($6.54 USD)
30 eggs: 4100 CRC ($7.66 USD)
12 rolls of local brand 3 ply toilet paper: 5500 CRC ($10.28 USD)
1.8 kg of white rice (local brand): 1750 CRC ($8.56 USD)
800 g raw black beans: 1550 CRC ($2.25 USD)
1 box 170 ml Colgate Total toothpaste: 4460 CRC ($8.33 USD)
6 pack of Costa Rican beer (Imperial): 5495 CRC ($10.27 USD)
Grand Old Parr Whisky: 31,400 CRC ($51.80 USD)
1 kg flour: 1085 CRC ($1.58 USD)
24 pack of water: 8390 CRC ($13.84 USD)
1750 ml bottle of water: 1000 CRC ($1.65 USD)
900 ml soybean oil: 2300 CRC ($3.34 USD)
Something to note that if you are renting a vacation rental or want to drink a lot of alcohol during your trip, stop by the duty free store in the airport before you leave and buy alcohol there when you land. It's a lot cheaper and you can find a good variety of hard alcohol. Tourists can buy up to 6 liters of alcohol per person at the duty free store in the international airports.
Best Grocery Store in Costa Rica
Although there are many difference supermarket chains in Costa Rica, you won't find one in every single city. For example, we love the Fresh Market but it's only in San Jose, Heredia and Cartago. BM is a local chain that is concentrated in the South Pacific of Costa Rica (San Vito, Uvita, Palmar Norte, Quepos, Rio Claro, etc.).
Generally, the best grocery stores in Costa Rica are Auto Mercado, Mega Super, Fresh, Perimercado and Maxi Pali. These supermarkets normally all have the same quality, cleanliness and high level of customer service in all their locations. I would say the exception are Mega Super and Maxi Pali… we have been to some very slow and disorganized ones.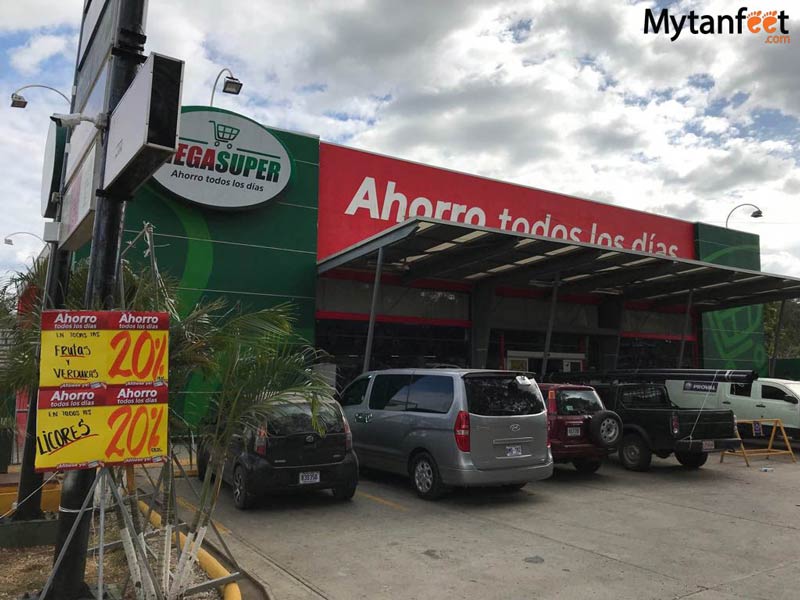 There is Walmart in Costa Rica in Liberia, Perez Zeledon, Ciudad Quesada and in the central valley (San Jose, Heredia, Alajuela, Cartago). It is nearly exactly the same as the Walmart's in the United States except they are not as big but they do have food, clothing, pharmacy, home and garden, pets, etc.
Costa Rica Farmers Markets
If you get a chance, we highly recommend checking out a local farmers market in Costa Rica (called feria in Spanish). They usually have excellent local produce for good prices and it's a fun cultural experience. Read more about Costa Rica farmer's markets here.
Read more posts about Costa Rica below!
Things to do with kids in Costa Rica
Costa Rica Vacation Checklist
Join our mailing list and get our free Costa Rica eBook!
There are Amazon affiliate links in this post.