Looking to buy an authentic Costa Rican souvenir to remind you of your amazing trip to Costa Rica? Here are our ideas for the best authentic and special Costa Rican souvenirs! Whenever I go back to visit my friends and family, I always do a little bit of shopping to bring back some cute trinkets and gifts. These are my favorite souvenirs to bring back.
*This post was updated December 12, 2019.* Scroll down to see a map of our favorite Costa Rica souvenir stores!
*Click here for latest Costa Rica coronavirus information.*
Our Favorite Souvenirs from Costa Rica
Personally for us, the best Costa Rican souvenirs are coffee, Salsa Lizano, magnets, hot sauce, printed towels, wood painted items, handmade jewelry, soap, bath products, paintings by local artists, bikinis, sarongs and bamboo clothing.
Costa Rican Coffee
Costa Rica grows some of the highest quality coffee in the world so you HAVE to bring some home! Additionally, coffee is the easiest souvenir to buy from Costa Rica since you can find it everywhere. It's always my go to present!
Here is our tip for buying coffee from Costa Rica: do not limit yourself to the Britt coffee. They have the biggest marketing department and the shiniest presentations so it seems like they are the "best" brand at the supermarket and airport. However, in reality, if you ask the average Costa Rican, maybe 1 out of 10 Costa Ricans buy Britt on a regular basis.
We're not saying it's not good coffee though, don't get us wrong! It is actually very good and we like the Tarrazu one but there are plenty of other brands that are just as good, if not better and less commercial. I would say for tourists, you can buy a bag or two and then look for other brands so you can have a variety, especially if you love coffee. For prices, Britt coffee costs around $13 USD a 390 gram bag.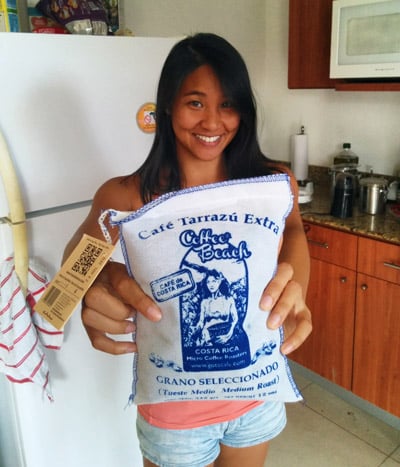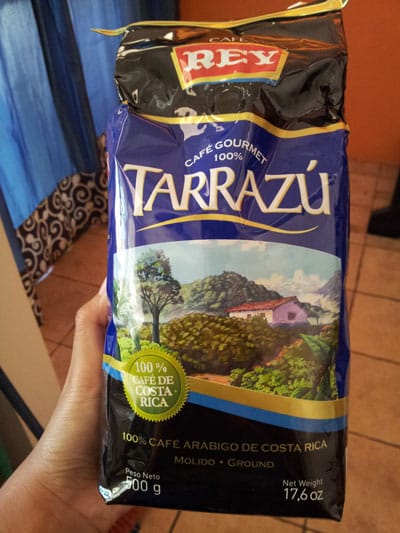 To get the best Costa Rican coffee, you must take a coffee tour. That way, you can purchase the coffee directly from the plantation because believe it or not, most of the coffee Costa Rica grows doesn't stay in the country! Most coffee plantations export their highest grade quality coffee instead of selling it to local supermarkets, so you can only buy the best stuff at their estate. You can even take a tour of Hacienda Alsacia which is the coffee plantation owned by Starbucks.
We did a coffee tour at Doka Estate and bought a ton of their coffee since it's one of our favorites! Other good ones we like are Sunburst (in the Do-It Center by Liberia), Golden Bean (Turrialba), Coopedota (in San Gerardo de Dota but you can also find the coffee in Walmart), Espíritu Santo Coffee Tour (Naranjo), El Cafetal Coffee (Monteverde) and San Luis Coffee (Monteverde). These ones around $7-10 USD a bag.
If you are only able to buy coffee from the supermarket, 1820 and Cafe Rey are good cheaper options. You can find 1820 for around $4 USD a bag. There are quite a handful of small coffee brands that are popping up in the market so you have many options.
Salsa Lizano
Salsa Lizano is the hallmark sauce of Costa Rica that they use in many of the Costa Rican traditional dishes. It tastes kind of like English sauce but you can use it as a condiment for meat.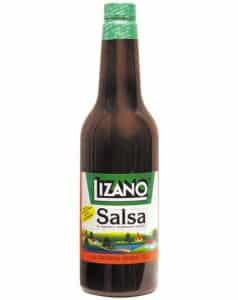 It's a cheap Costa Rican souvenir and you can find it at any supermarket in Costa Rica.
Hot Sauce
Costa Rica has really upped their hot sauce game and there are some awesome Costa Rican hot sauces! Our absolute favorite is Shade Time. We found it at Auto Mercado and also saw it at Cafe Milagro in Manuel Antonio. In addition to being absolutely delicious, they also donate a little bit of their profit to orphanages in Costa Rica.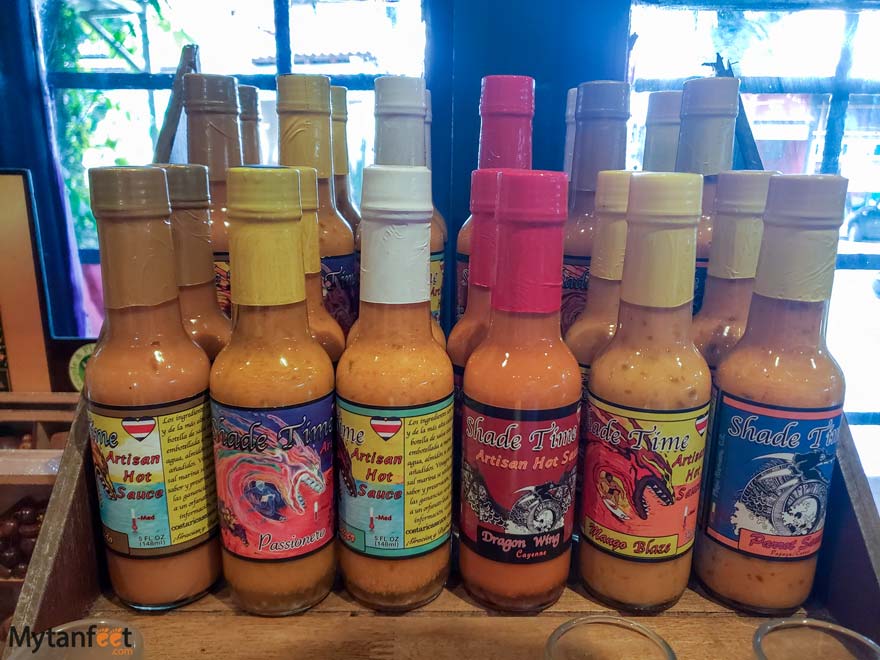 We also love the Iguana hot sauce, that one is really good too!
Cacique
For those who enjoy alcohol, bring back some Cacique which is the Costa Rican hard alcohol. Cacique is made out of sugar cane and is like vodka with an alcohol volume of 30%. You can buy it at the supermarket or at the duty free stores. Cacique is a cheap Costa Rican souvenir and alcohol, you can buy those small sample bottles for like $2 USD.
Great to make chiliguaro shots at home! 😉
Cajetas de Leche
This is one of Yeison's favorite treats as a kid. Sugar cane is an important product of Costa Rica and the locals make these sugar candies with milk.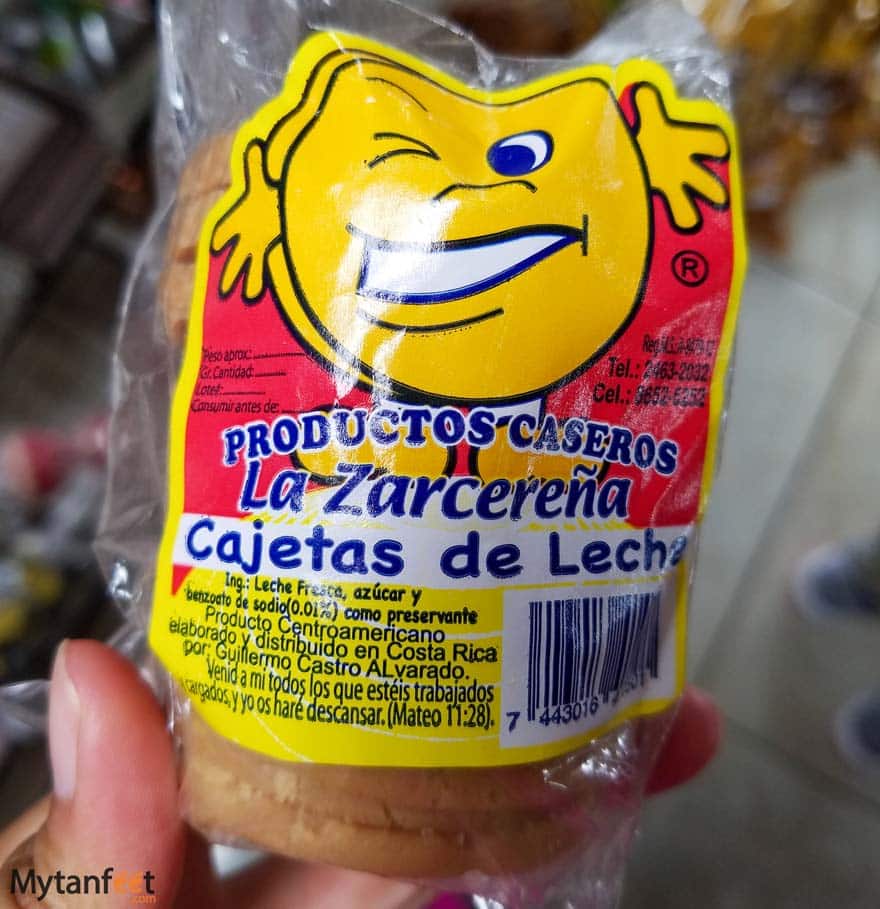 These are super common in the small towns in the Central Valley such as Zarcero, Poas and Vara Blanca. You can find them at any pulperia (small convenience store) and the souvenir stores. Yum!
Printed Towels
I personally love the printed towels in Costa Rica. I've bought a few of the currency towels as gifts and for myself actually! Since Costa Rican currency is very colorful, they make beautiful prints on towels.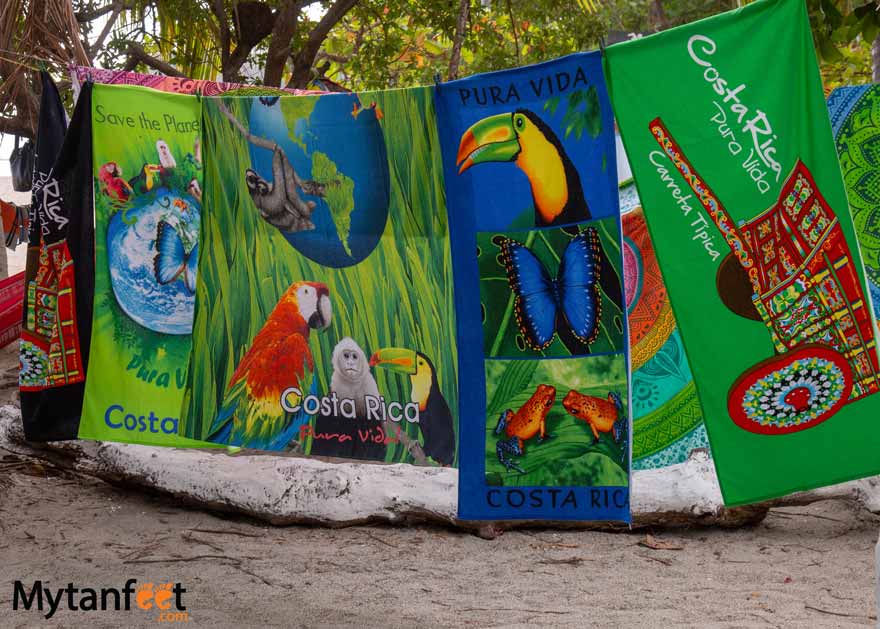 You can also find towels with toucans, macaws, turtles and other exotic Costa Rican wildlife. They are usually pretty cheap, around $10 USD a towel or so.
Chonete Hat
The chonete is an iconic symbol of the people that built Costa Rica. This is the "hat of the farmers" and one of the most representative items in Costa Rica history.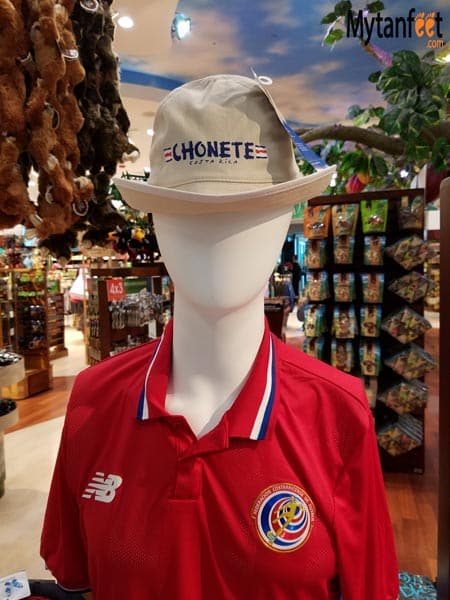 You can find the hat in pretty much all the souvenir stores but if you want the real one, go to a "Agropecuaria" where they sell products such as farming tools, machetes and seeds. They sell the real ones that farmers wear.
A Futbol Jersey
Costa Ricans sure love their futbol and if you're also a fan, then a team jersey is a must on your list of souvenirs from Costa Rica to buy. Especially since their goalkeeper, Keylor Navas is very popular right now!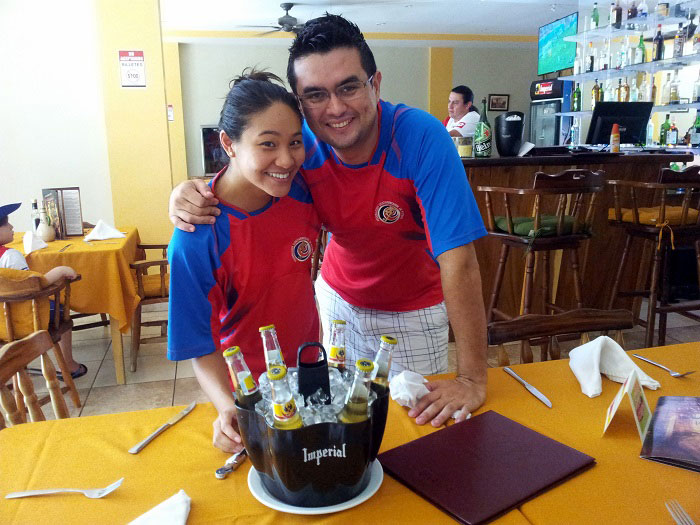 The one we are wearing are the la sele (team selection) jerseys but they also have the league jerseys like Saprissa, Heredia and Alajuela. You can find them in all the souvenir shops and on game day, you'll see vendors hanging selling them on the street.
Bamboo Clothing
There is a store in Costa Rica that sells organic bamboo and banana clothing which I absolutely love. It's a bit more expensive because of the material (~$40 USD a shirt) but it lasts SO long, is super comfortable and doesn't stretch. Plus it's all organic and have cute Costa Rican designs! They have super cute tshirts for women, men, kids and babies. Also has dresses and pants and organic cotton clothing.
The store is called Bam Bam Boo and you can find them in Manuel Antonio, Marina Pez Vela marina, Tamarindo, La Fortuna and Jaco. My mom absolutely loves their clothes so I try to bring a couple articles back each time I visit her.
If you aren't able to visit the store, the Britt souvenir store in the airports has organic bamboo shirts for sale too. They are around $50 USD a shirt so they're not not cheap but I do love their designs and fit. I bought one for my mom and it's one of her favorite shirts.
Soap
I absolutely love buying soap when I travel and Costa Rica is no exception. There is a nice soap shop in Tamarindo called Alegria Soap Shop & Factory and some spas sell their own soaps and products.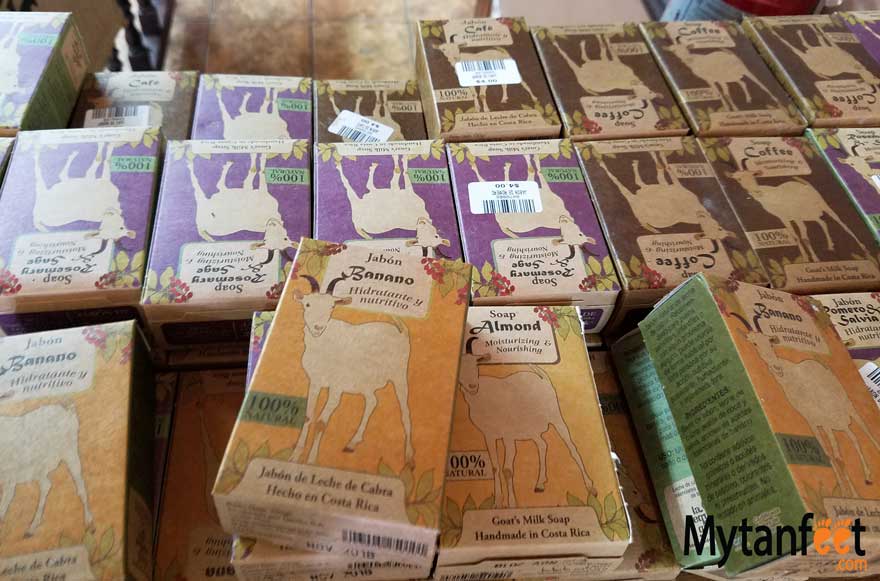 There is also one organic Costa Rica beauty product line called Raw Botanicals that supplies shampoo, soap and conditioner to some hotels in Costa Rica. I love their products! They smell delicious and are all organic which is amazing. They have products like ylang ylang shampoo (the flower that supplies Chanel No 5 perfume), banana conditioner and citrus face and body soap. I haven't seen their store but you can purchase them online on their website.
The hotels we've stayed at that uses Raw Botanicals are Hotel Bahia del Sol, Borinquen, Hotel Poco a Poco, Monteverde Country Lodge and Rio Perdido but they supply many more.
Chorreador de Café (Costa Rican Coffee Maker)
Costa Rica is well known for its coffee and you can enjoy a nice cup of steaming Costa Rican coffee made the traditional way with a chorreador, the Costa Rican coffee maker. Before coffee machines and Keurigs, Costa Ricans used these 3 simple items to make delicious coffee. They use what they call a "sock" for the filter, a wooden stand and the blue tin pitcher to make coffee.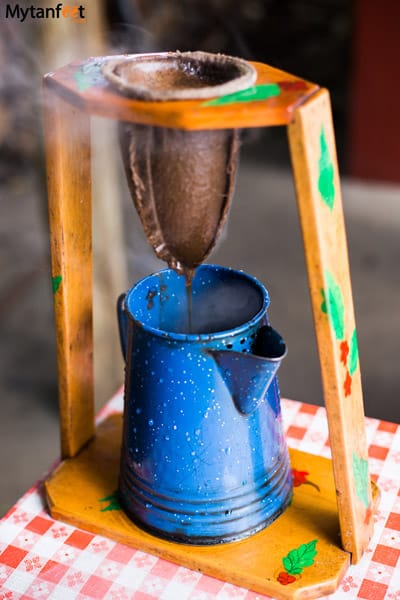 This is a great Costa Rican souvenir for several reasons: it is 100% usable, they are very common and it's as Costa Rican as you can get! You can find painted and plain ones at any souvenir store or supermarket. The painted ones are very beautiful since they have paintings of toucans, macaws and other iconic Costa Rican symbols.
Depending on which one you get, they are usually around $20 and they usually come in a package so you get a small bag of coffee, a small mug or the sock. They are much cheaper if you get the non-painted ones at the supermarket though.
If you're planning on using it to make coffee, you should buy extra socks. You can also get some painted wooden coffee mugs to go with your new Costa Rican coffee maker to complete the package. Perfect Costa Rican souvenir for any coffee lover!
Ox Cart/Wheel Figurine
The ox cart, or carreta, is one of the most important tools in Costa Rican history. Back in the 1800's, ox carts were used to carry coffee and other products and also a means of transportation. Painting the ox cart started in the 20th century as a way to signify the driver's home.
Since ox carts aren't needed as they once were, artisans make little figurines of the carts and wheels as decoration and souvenirs.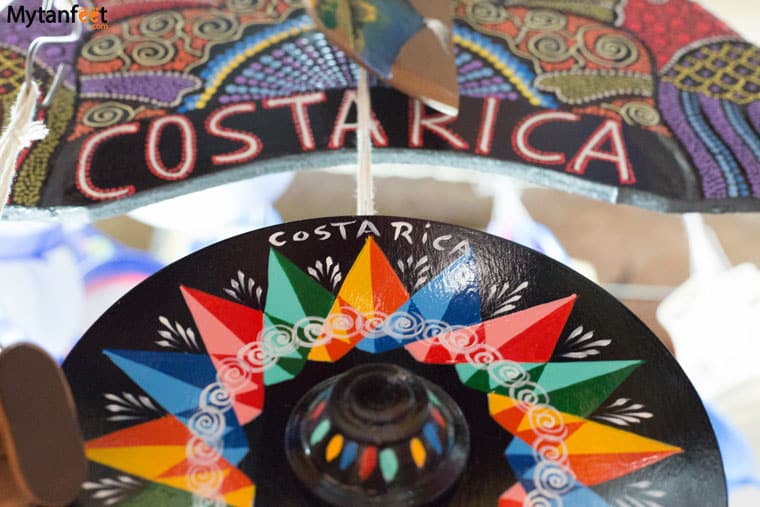 You can find carts of all sizes and they're quite beautiful painted red with animals and scenes of nature. It's a trinket of Costa Rica that you can put on a shelf to remind you of the good times you had!
Sarongs and Bikinis

I LOVE sarongs and have a collection from countries around the world. Costa Rica makes some beautiful ones and it's so useful and cute for a beach vacation. Wear it as a cover up, a skirt or even lay it down as a towel!
For the ladies, I also recommend to do some bikini shopping, especially if you're a surfer. In the surf towns of Tamarindo, Jaco, Puerto Viejo and Samara, you can find some cute local bikini shops. Some of them are handmade and made locally and you can also find custom made bikini stores. I loveDelohana in Tamarindo and Bikini Love Designs in Jaco for surf bikinis. Felicity Swimwear is another good one that makes all their bathing suits out of plastic bottles so it's an excellent sustainable option.
Stuffed Animals
The best souvenir from Costa Rica for little kids! You can find sloths, monkeys, toucans, turtles and other cute animal stuffed animals.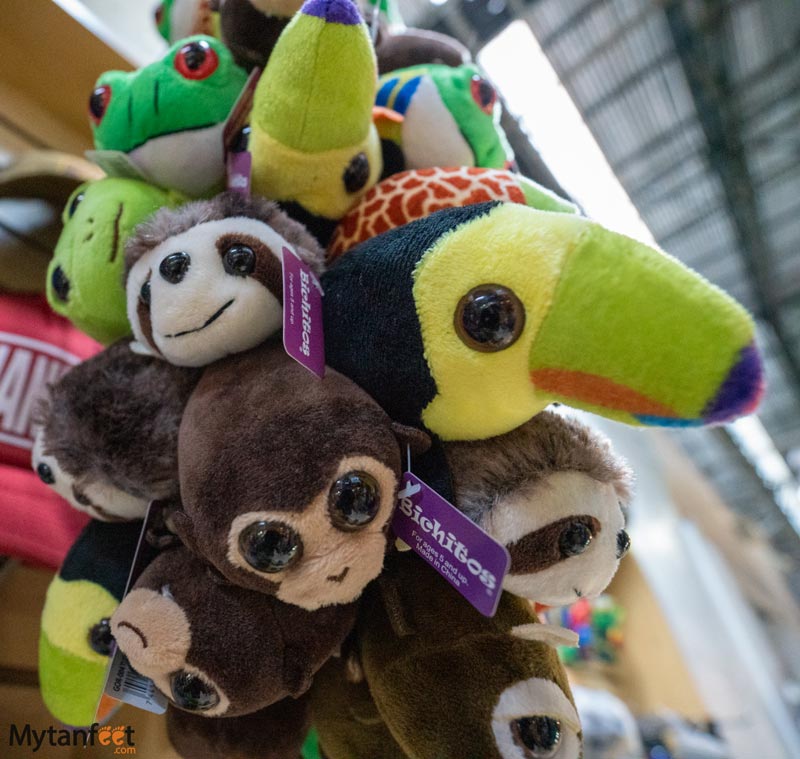 I always love buying one for my friend's kids when I go back to the US.
Costa Rican Wood Souvenirs
You can find a handful of nice wood souvenirs. Here are some examples.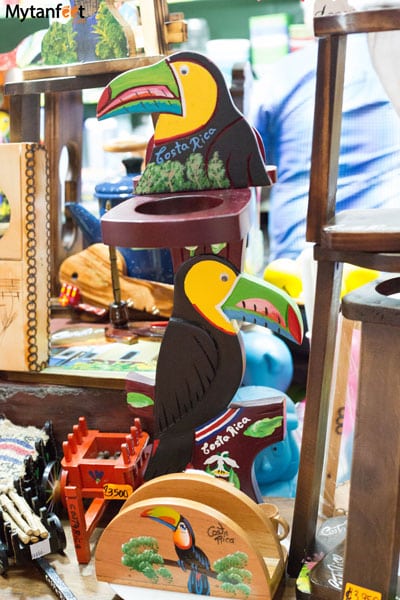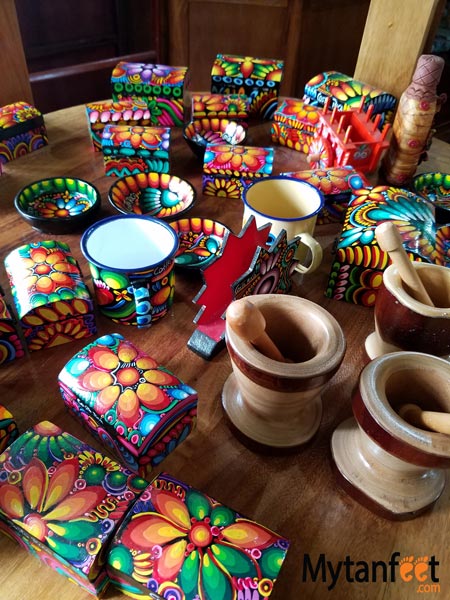 I've brought some napkin holders and coasters back for friends and they really liked them as they're colorful with animals painted on them.
Jewelry
You can also find many unique handmade jewelry made in Costa Rica. I found some at a store in Sarchi I really liked that was made by a local lady. All the pieces were organic, made from coffee!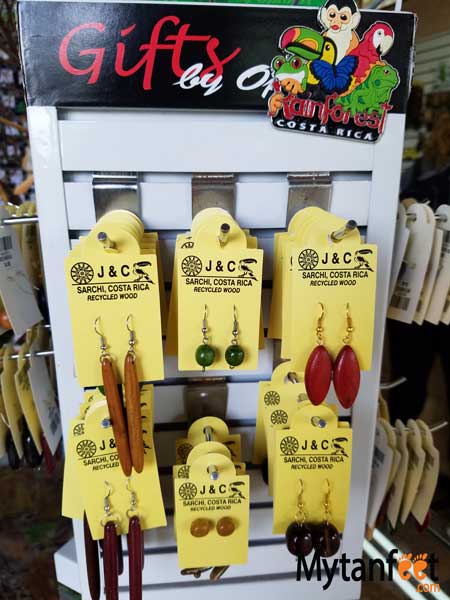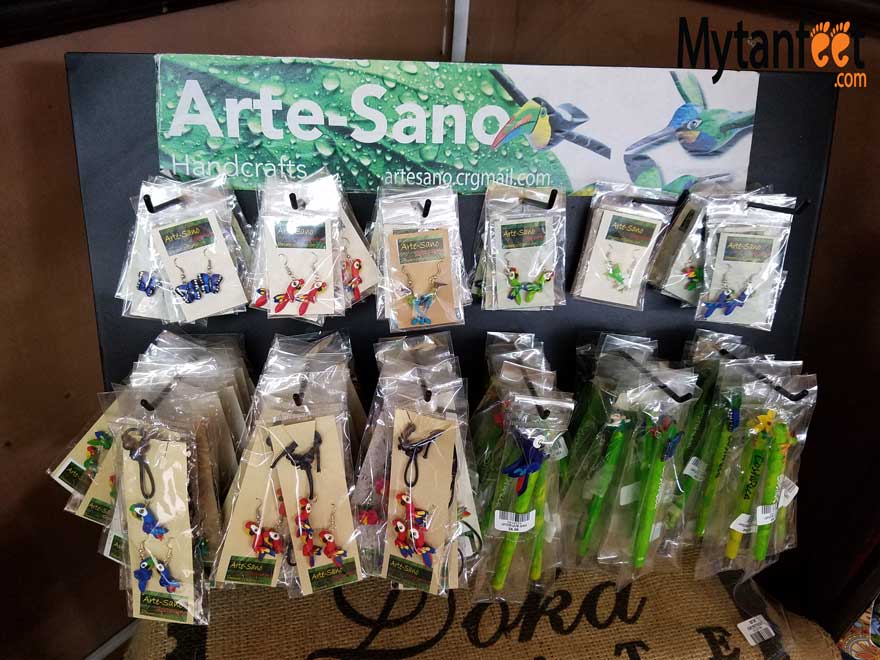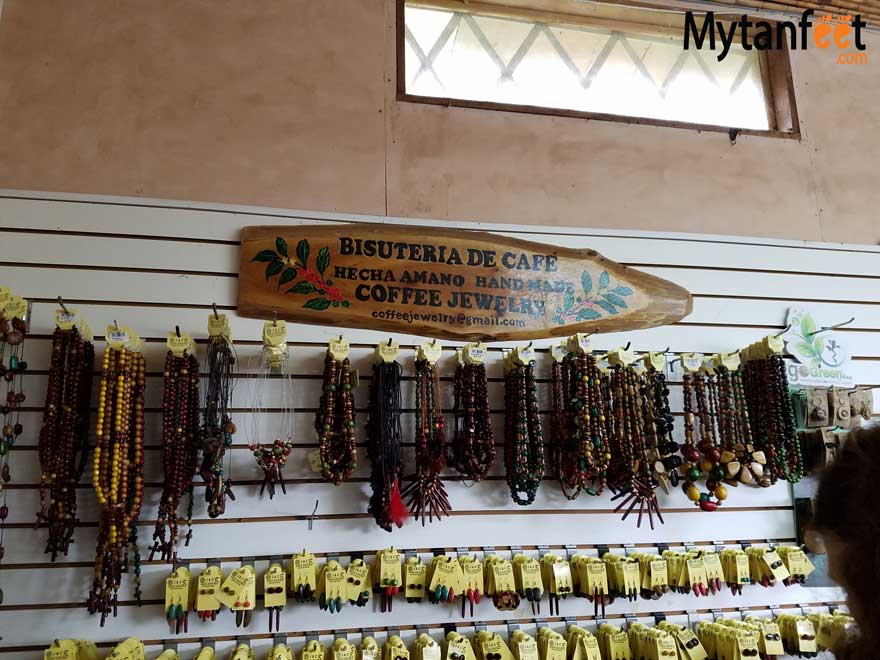 Books
If you have space/weight in your luggage, books are a great souvenir. I'm a huge bookworm so I like to collect photo books. There are a couple very nice ones which you will see at the Britt souvenir stores at the airport. One is Costa Rica from Above which showcases breathtaking aerial photos of the country.
You can also find coloring books and cookbooks. If you like to cook, we highly recommend this cookbook: Recipes from Costa Rica. If you aren't able to bring it back or you didn't get a chance to buy it in Costa Rica, you can purchase it through Etsy and get free shipping and tote bag in this link! It makes for an excellent souvenir and gift!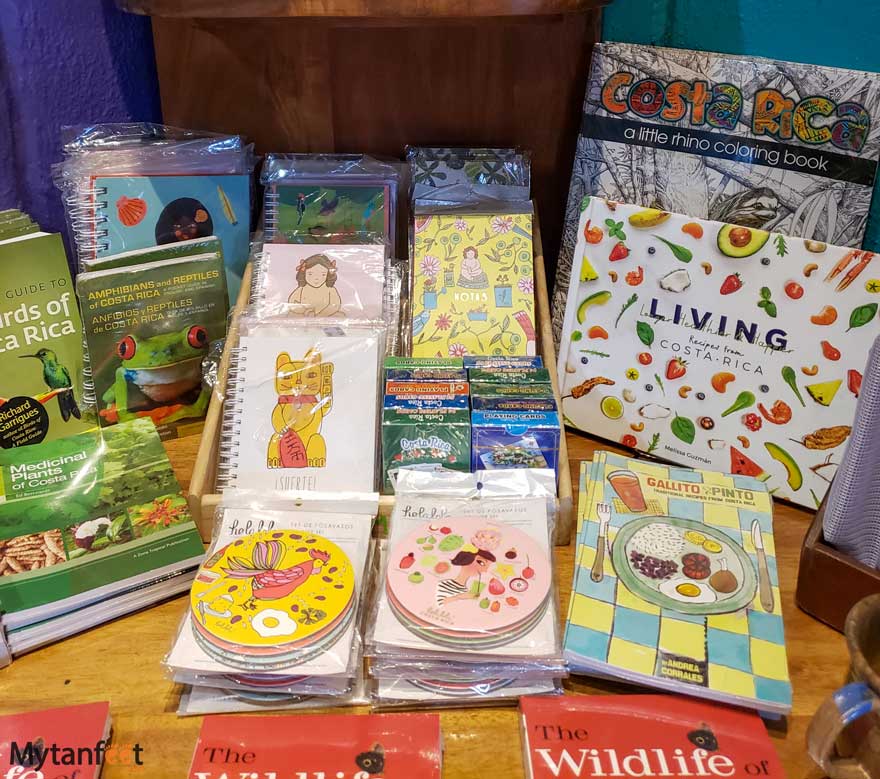 Along with books, you can also find cute notebooks, journals and playing cards.
Magnets
We love getting magnets from countries we've visited and you can find some cute magnets from Costa Rica.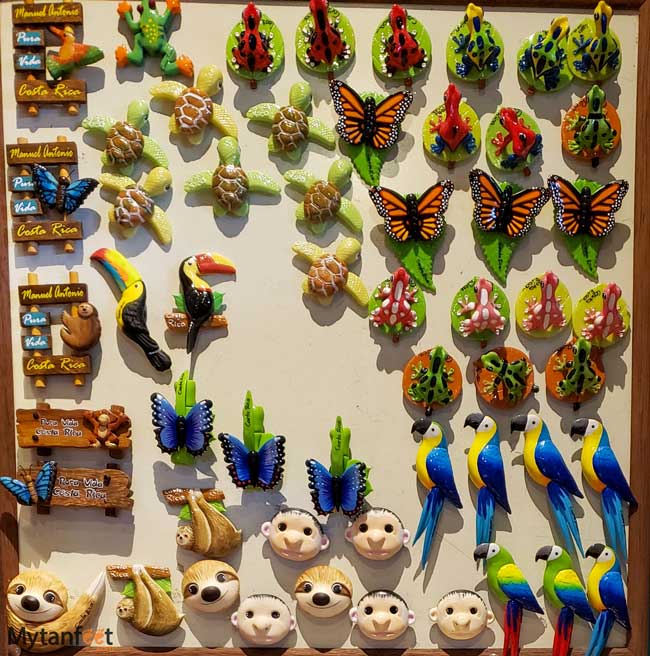 It's really funny when you look at Costa Rican magnets because if you visit places like Madrid, New York City or South Korea, they will have magnets of an iconic building or cultural landmark. In Costa Rica, their magnets are usually of animals!
Paintings
If you or someone you know loves art and nature, then you have to purchase a local painting. It's a wonderful way to hang a piece of Costa Rica in your home! You can find paintings of animals or of beautiful Costa Rican landscapes.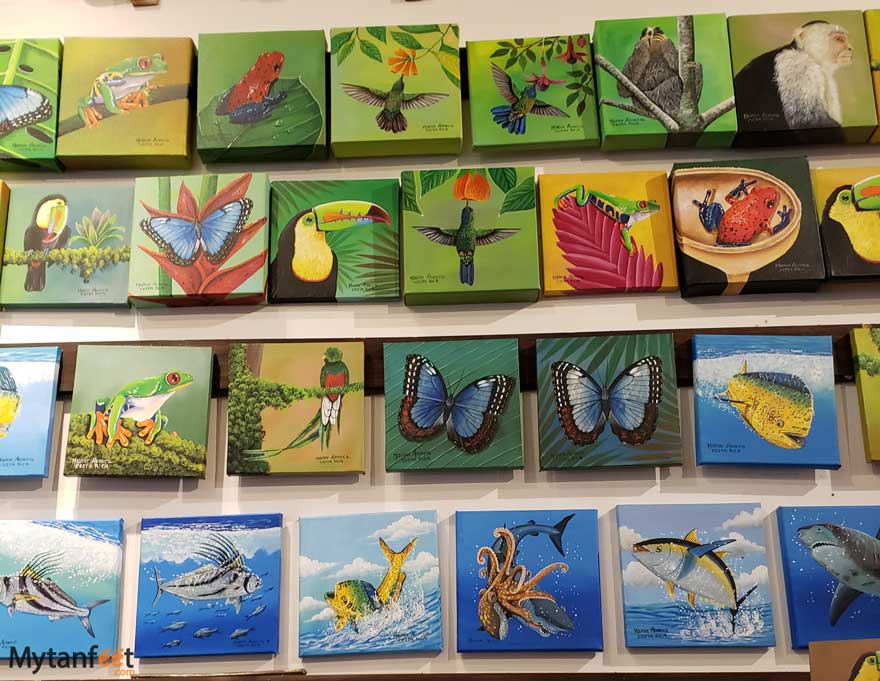 At La Paz Waterfall Gardens, there is a local painter at the end of the waterfall trail who has a display of his artwork which you can purchase. He is usually there, painting and happy to share his talent. The La Paz Waterfalls is a gorgeous area and he does an amazing job capturing all that natural beauty onto a canvas.
Other Costa Rican Souvenirs
Some other great souvenirs from Costa Rica are shot glasses, sarongs and painted Boruca masks and feathers. You'll also find lots of animal figurines and statues, shopping bags, chocolate, lotions, bowls, pots, purses and other knick knacks.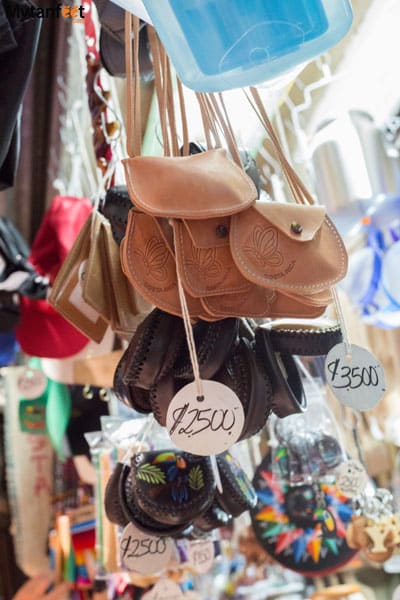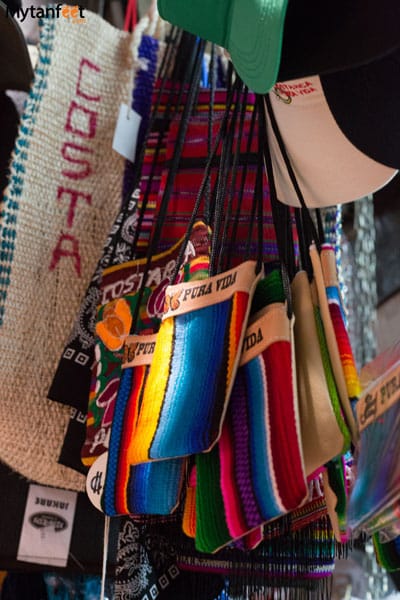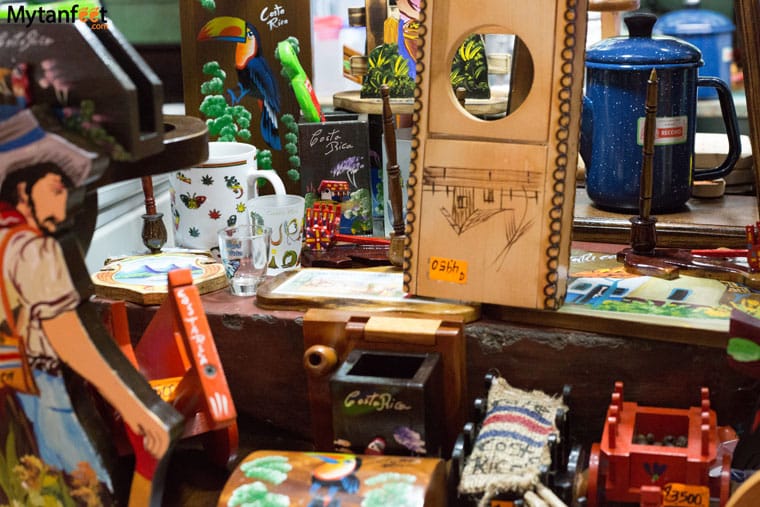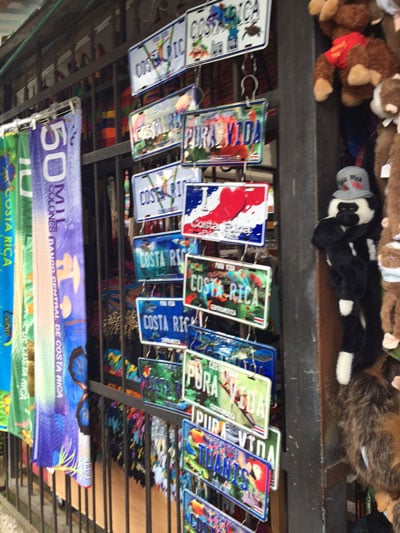 Although it's not exactly a souvenir, there is a Costa Rican sunscreen called Sombra we love that you can buy in the macrobiotica stores here. It's a great gift if you know anyone who will be in need of sunscreen. It's 100% natural, reef safe, water resistant, non greasy, SPF 40, not animal tested and made in Costa Rica. (You can also buy on their website).
Best Places to Buy Costa Rican Souvenirs
Below are our favorite stores and places to buy Costa Rican souvenirs.
San Jose
For the best souvenir shopping in San Jose, Costa Rica, check out the Artesenal Market in downtown San Jose which has over 90 local vendors, Sr y Sra Ese in San Jose which has a wood factory, Souvenir Museum in Alajuela and Heredia Central Market.
Sarchi/Poasito
Sarchi is known for their woodwork and Poasito is known for their local candies. In Sarchi, Mercado de Artesanía and Fabrica de Carretas Eloy Alfaro are excellent for wooden crafts.
In Poastio, as you drive up to Poas Volcano National Park, you will see lots of little stalls and stands by the side of the road. The locals will usually have lots of strawberries, candies and cheese. Those stalls usually also have local sweets, coffee, wine, and other yummy snacks.
If you're in San Jose, our partner, Expediciones Tropicales runs day tours to Doka Coffee Estate and Grecia/Sarchi. Sarchi is a small town famous for their woodwork and is home to the largest ox cart in Costa Rica. This is an excellent day trip from San Jose to buy souvenirs. You can get Doka coffee, coffee jewelry and original wooden trinkets from Sarchi. Book the tour and get our San Jose discount here!
Puerto Viejo de Talamanca
Luluberlu and Wanderlust are two cute stores with trinkets, clothing and arts and crafts.
Manuel Antonio
In Manuel Antonio, we really like Cafe Milagro, they have a nice selection of souvenirs. The store Altair in Marina Pez Vela is also very nice and we found many things we liked there. Around 80% of their items are all local handcrafted products and then the rest are products from other places (they have things like Ecuadorian and Panaman hats, etc.) Hotel La Mariposa also has their own souvenir store which is cute.
La Fortuna and Monteverde
In La Fortuna, Hecho a Mano (Hand made art shop) has some beautiful local arts and trinkets. You'll find the normal pieces like Boruca masks, jewelry and paintings. The Sky Adventures zipline park also has a small store with some cute souvenirs.
The CASEM in Monteverde (Cooperative of Artisans Santa Elena) has all local trinkets. Around Lake Arenal, we like to stop at Cafe Y Macademia and they have a small souvenir store.
Jaco
If you like knick knacks and statues to display around your house, Dantica Gallery has some beautiful pieces. I found an adorable sloth Christmas tree ornament! Dantica is in Jaco downtown, San Jose (Lincoln plaza), San Gerardo de Dota and Plaza Herradura. In Jaco, I like Ticopod for paintings and art and Fruity Monkey Poop for tshirts, coffee and other fun things.
Guanacaste
In Guanacaste near Liberia Airport, you can stop by La Gran Nicoya or Souvenir Ocarina.
Tamarindo
Suspiro Esmerelda for bikinis, Azul Profundo Boutique for clothing, the Tamarindo Night Market for trinkets, Papaya con Leche for beachwear and clothing and Lydia Beech Art Boutique.
Sarapiqui
In Sarapiqui, the CATUSA info center in Puerto Viejo has a very nice souvenir store with all local handmade items.
If you forgot to buy souvenirs or didn't have time…
… don't worry! There are large souvenir stores inside San Jose and Liberia International Airport. Britt has the largest stores with clothes, chocolates, books, keychains, hats, coffee and more.
Another nice store is Luni, which has luxury travel trinkets all about Costa Rica. Their oxcart beach towel is beautiful. These places are more expensive and commercial but it's a good choice for last minute shopping.
Here is a map of our favorite souvenir stores in Costa Rica.
Tips for Buying Souvenirs at the Store or Local Market
Use Costa Rican colones
Although USD are readily accepted in Costa Rica, the rule of thumb is that when it's listed in colones, pay in colones. When it's listed in USD, pay in USD. Since supermarkets and souvenir stores (souvenir stores majority of the time) list prices in colones, it is best to use colones.
This is due to the exchange rate which is not 500 to 1 anymore, it is closer to 600 to 1 now. If you do use USD, make sure to calculate the correct exchange rate as some vendors will try to use the 500 to 1 ratio and you will lose out quite a bit! Learn more about handling money in Costa Rica here.
Some souvenir stores will take credit card and if they do, we recommend to use credit card instead so you don't need to calculate the exchange rate.
Pay in cash
Many souvenir stores will give you a small discount if you pay in cash instead of credit card.
Double check the price
Make sure when you check out to double check the price and ask to reconfirm whether it's in Costa Rican colones or USD. This is a small scam that you just need to be aware of. Don't let the vendor confuse you into thinking the price is in USD and then they charge you in colones!
So for example, if they tell you it's 50, ask if that's 50,000 colones (around $88 USD) or $50 USD and remember, if the price tag is in colones, pay in colones. If it's in USD, pay in USD.
Read more travel tips below!
Cost of traveling in Costa Rica
Prepaid sim cards in Costa Rica