Looking for a unique travel experience during your vacation in Costa Rica? Want to connect more with locals and try something different from the typical all-inclusive resort?
Why not try Airbnb in Costa Rica? Airbnb opened the world up to alternative lodging options when it launched in 2008 and is now one of the go-to travel booking websites when it comes to vacation rentals and different accommodation options.
What is Airbnb?
For those who are new, Airbnb is a website/app that allows people to list their properties or residencies and travelers can book them directly on their platform. There are all sorts of interesting lodging options from your standard hotel room to tree houses and castles.
We have used Airbnb in Costa Rica quite a few times. I love the variety of listings and more Costa Ricans are catching onto Airbnb so you can use it as a way to connect to the locals. I have found that on average, prices are a bit cheaper than hotels and you have way more options than the standard hotel room.
But before you start booking, there are a few things you need to know about using Airbnb in Costa Rica so you don't run into any issues.
How to Get Started Using Airbnb in Costa Rica
First, you need an account. It's free to sign up.
Then you need to fill out your profile information and include a picture. Try to fill it with useful information and put up a nice photo. Some listings need pre-approval before booking so if you're new and don't have any reviews, you'll want to put a nice first impression.
Start Searching!
Once your profile is all set up, type in the search box your destination, dates and how many people. On the next page, Airbnb has a lot of filters which makes it easy to find what you want.
You can select if you want an entire home, private room or shared room and there is also a slider to set a price range. Click on "Filters" to apply. You can search for places that have Wi-Fi, a TV, # of bedrooms/bathrooms /beds, pets allowed and much more.
Once you've done all that, the next thing I like to do is to check the map.
This is my search box when I looked for places in Playa Tamarindo. As you can see, Airbnb puts the destinations on the map along with prices which you can click on.
Important Factors to Think About When Choosing an Airbnb
You need to choose a place that will be suitable for your trip so you need to think about these things.
Are you renting a car in Costa Rica or taking the shuttle/bus? Do you need to be close to public transportation?

Do you want to stay close to town, be on the beach or further away?
Are you a solo traveler?
How big is your group?

What kind of amenities do you need? Are you looking for something off the grid or do you need good Wi-Fi?

These factors are important in narrowing down the right Airbnb for you. If you're not renting a car and relying solely on taxis or public transportation, you'll want a place that's close to town so you are in walking distance to restaurants, the bank, pharmacies, etc.
This also applies for solo travelers as most of them want to be around other travelers to meet people, so picking a place close to town is best.
Ready to Book?
Once you've found a place you're interested in, you can do 3 things.
Contact the host if you have other questions
Save it to your wish list if you still need some time.
Book the place if you know you want it. Airbnb gives hosts two options when it comes to booking. Guests can Instant Book or Request to Book.
If you need a place immediately, find a place that has Instant Book. Request to book requires the host to approve you and not all hosts reply quick enough. However, if you scroll down past the reviews, you will see the profile of the host and how fast their response time is to help you decide if waiting is worth it.
Prepare For Your Trip
Once you've confirmed the booking, there is a section where you can introduce yourself to your host. Let them know who you're coming with, what your plans are and what time you are planning on arriving so they know when to expect you. Make sure to read the guest manual as well since they will put house rules and other important information in there.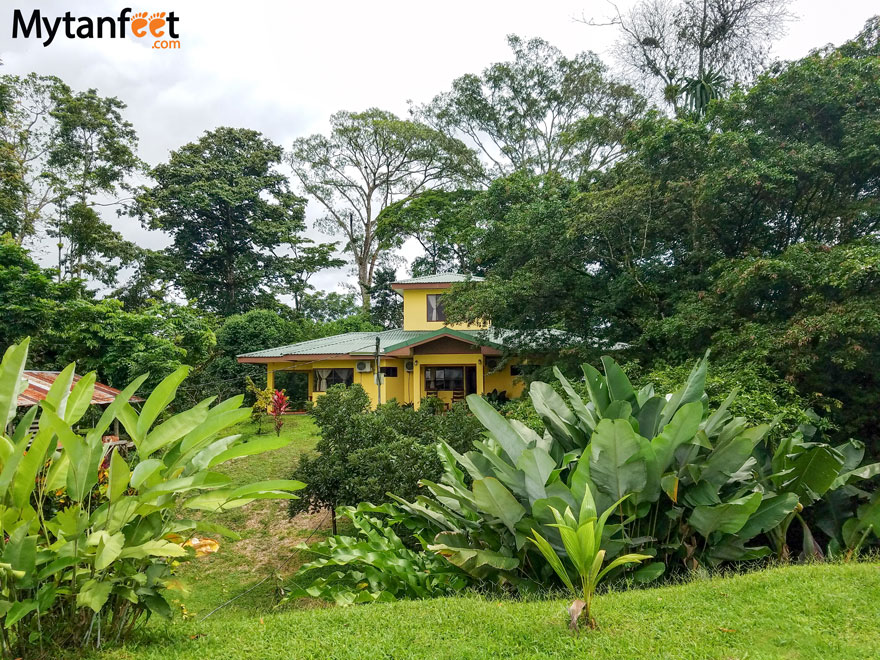 Respect the rules, respect the check in and check out time and treat the place as if it's your own.
Tips for Using Airbnb in Costa Rica
Most Airbnb hosts are foreigners. More Costa Ricans are using it but still not as many as foreigners. If you want to stay with locals, you will have to read the host description. It takes a bit of sifting through, but to get that true local experience, it's worth it.
Even if the dates on the Airbnb calendar say the place is available, do not believe it. I've noticed that many hosts don't update the calendar so make sure you request more than one place and have back up choices in case the place is not available. This has happened to me 3 times when I did Instant Book because the calendar said it was available and the host wrote back saying it was not.
Most Costa Ricans speak good English, particularly those who work in tourism.
Make sure to ask your host if the water is drinkable if you are staying in an apartment/condo.
Most Airbnb in Costa Rica do not offer breakfast or charge for breakfast so make sure to check that if you want it.
Most Airbnbs don't have any toiletries so bring your own shampoo, soap and other bathroom essentials. They do have towels.
Make sure to communicate with the host what time you are arriving and how to pick up/drop off the keys. Some rentals are managed by a third party property manager and you may have to go to a separate location to pick up keys.
Read reviews. Seems like common sense but I like to read reviews to get tips from previous guests. I specifically chose our Airbnb in Arenal because the reviews mentioned that it had a lot of wildlife which was what I was looking for.
Shared shuttles do not pick up or drop off at Airbnbs. You will also need to find the closest hotel to your location.
You may also see some hotels/hostels listing their rooms on Airbnb. I booked a room in a hostel once on Airbnb and found out later it was cheaper on their website which was very bad travel planning on my end. Make sure to compare prices.
I recommend getting a pre-paid sim card if you're planning on using Airbnb in Costa Rica. This way you will always have access to email and you can call/text your host in case of emergency or if you have any questions.
Download the app. This makes getting messages and checking your listing a lot easier.
If you want to rent a place for long term (more than a month), message the host directly to set up a rental plan/contract. That way you can avoid extra Airbnb fees.
Our Favorite Airbnbs in Costa Rica
We have used Airbnb pretty much every time we travel around Costa Rica. We've stayed in an Airbnb in Monteverde, San Jose, Turrialba, Cartago, Puerto Viejo, Heredia and even hosted travelers in our apartment in Jaco. Our experience at each one has been wonderful.
In fact, we made some very good friends in Monteverde! Our hosts were tour guides in the area and when they found out that we like photographing wildlife, they took us to their friends house to see a white hawk. In La Fortuna, our host gave us local snacks in the morning and knocked on our door at night to show us a wild sloth walking around!
You can read about our experience with our Arenal Airbnb and our Monteverde Airbnb.
Read more Costa Rica travel tips here!
Things to know before you visit Costa Rica
**There are affiliate links in this post.**